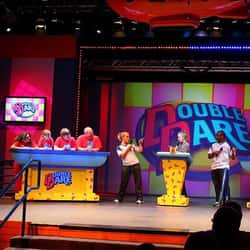 Double Dare is a children's game show, originally hosted by Marc Summers, that aired on Nickelodeon. The show combines trivia questions with occasionally messy "physical challenges". It originally... more
#37 of 83 The Best After School Shows from the '90s#25 of 113 The Greatest Game Shows of All Time#153 of 312 The Best Shows of the 1980s, Ranked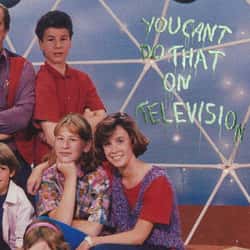 You Can't Do That on Television is a Canadian television program that first aired locally in 1979 before airing internationally in 1981. It featured pre-teen and teenaged actors in a sketch comedy... more
#194 of 263 The Best Cult TV Shows of All Time#16 of 137 The Best Sketch Comedy Groups#37 of 72 The Best Kids Live Action TV Shows Ever Made
Hey Dude is an American Western comedy series that aired from 1989 to 1991. The show was broadcast on the Nickelodeon network, and aired reruns on Nickelodeon until early 1999, and on TeenNick since... more
#111 of 112 The Best Cartoons of the '90s#1230 of 1,315 The Best Guilty Pleasure TV Shows#9 of 13 The Cheapest Stuff Our Favorite Childhood TV Shows Got Away With
Inspector Gadget is a French-Canadian–American animated television series that revolves around the adventures of a clumsy, dim-witted cyborg detective named lnspector Gadget—a human being with... more
All Of Inspector Gadget's Gadgets, Ranked By Ludicrousness#94 of 289 The Greatest Cartoon Characters In TV History#63 of 508 The Best TV Theme Songs of All Time
With the help of his young assistants, Mr. Wizard starts each episode with a demonstration that at first glance should be impossible, but is actually based firmly on basic scientific principles. Mr.... more
Eureeka's Castle is an American children's television series created by Judy Katschke and R.L. Stine.... more
#36 of 45 The Best Noggin TV Shows#17 of 63 The Best Musical Kids TV Shows Ever Made
Danger Mouse is a British children's animated television series which was produced by Cosgrove Hall Films for Thames Television. It features the eponymous Danger Mouse, an English mouse who works as... more
#231 of 373 The Best Kids Cartoons of All Time#116 of 199 The Best Saturday Morning Cartoons for Mid-'80s to '90s Kids#369 of 667 The Best Cartoons of All Time
Count Duckula is a British children's animated comedy-drama horror television series created by British studio Cosgrove Hall as a spin-off from Danger Mouse, a series in which the Count Duckula... more
#133 of 222 The Greatest Cartoon Theme Songs of All Time#43 of 82 The Most Unforgettable '80s Cartoons#188 of 416 The Greatest Animated Series Ever Made
Today's Special is a 1985 Juno Award nominated artist.... more
Pinwheel is a children's television show that aired on the Nickelodeon cable network from 1977 to 1990. The show originally aired on channel C-3 of Warner Cable's interactive system QUBE in Columbus,... more
"Picture Pages" is an educational television segment aimed at preschool children, teaching lessons on basic arithmetic, geometry, and drawing through a series of interactive lessons that used a... more
Out of Control is an American comedy television series that ran on Nickelodeon from 1984 until 1985 with reruns until 1991, and was the first series produced specifically for that channel.... more
Finders Keepers is a children's game show that debuted on Nickelodeon and later aired in first-run syndication. The show featured two teams of two children attempting to find hidden objects in... more
#36 of 60 The Best Game Shows of the 1980s#14 of 51 The Best Game Shows For Kids Ever Made
Kids Court is a children's television/nontraditional court show aired by Nickelodeon. First airing on September 10, 1988 and ending in 1989, it was hosted by actor Paul Provenza. It was created and... more
Make the Grade is a children's game show that aired from October 2, 1989 through December 29, 1991 on Nickelodeon.... more
#20 of 29 The Best Nickelodeon Game Shows Ever Made#8 of 11 11 Nickelodeon Shows You Kind Of Remember
The Third Eye is a mini-series anthology that aired on Nickelodeon that consisted of a variety serials from the UK and New Zealand. The Third Eye premiered on Nickelodeon in January 1983. It was a... more
Think Fast is an American children's game show which aired on Nickelodeon from May 1, 1989 to June 29, 1991. For the first season, the show was hosted by Michael Carrington, and announced by James... more
Standby: Lights, Camera, Action! is an educational TV show that was aired on Nickelodeon from May 1982 to December 31, 1987. The executive producers of Standby: Lights Camera Action, Roger Yager and... more
Nick Rocks is a television show that aired on American cable channel Nickelodeon from 1982 to 1989, which featured pop and rock music videos for 30 minutes. The show's host was identified only as... more
Hocus Focus is the name of a children's television series in 1979 which aired on Nickelodeon.... more
Against the Odds was an early Nickelodeon show profiling inspirational stories of people throughout history. It was hosted by Bill Bixby. It ran from 1982 to 1984 on Nickelodeon and was described as... more
Science International, later retitled What Will They Think Of Next?, is a Canadian television series produced by Global Television Network from 1976 to 1979. Each episode featured approximately 20... more
Sours: https://www.ranker.com/list/best-1980s-nickelodeon-shows/ranker-tv
11 Nickelodeon Shows From the '80s
Plenty of former Nickelodeon viewers think of the network as the home of Clarissa Explains It All, Rugrats, You Can't Do That on Television, and SpongeBob SquarePants. Here are 11 shows from the '80s that may not be remembered quite as fondly, but are still worth another look.
1. Out of Control
The network's first original live-action series has another big distinction to its name—it was the first home of Dave Coulier's "Cut...it...out!" catchphrase. A sketch comedy show that skewed a bit older, Out of Control came complete with recurring characters, wacky skits, and bits like "Let's Eat," a segment that saw Coulier hitting various restaurants that claimed to have "the world's best" of a certain item. The show ran for only one season, from October 1984 to May 1985.
2. Eureeka's Castle
Co-created and written by popular Goosebumps author R.L. Stine, Eurkeea's Castle was a charming, family-friendly outing that relied on puppets and wizardry to present some pretty clever characters and situations. Set in a wind-up castle that doubles as a music box (that's also owned by a lovable giant), Eureeka's Castle focused on wizard-in-training Eureeka and her pack of wacky friends, most notably the tail-challenged dragon Magellan. The show first debuted in 1989 and ultimately carried on for six full seasons.
3. Adventures of the Little Koala
If there's one big takeaway from the cartoon series The Adventures of the Little Koala, it's that the sleepy marsupials go nutty for eucalyptus leaves. But the Japanese production was all about multiculturalism—both in execution and release—as it followed the eponymous little koala, Roo-bear, and his many animal and human friends. It was translated and dubbed into other languages, including Greek, Italian, and French. The English-language version first aired on Nick in October of 1984, running 52 episodes until March of the next year.
4. Count Duckula
This British show focused on, you guessed it, an animated duck version of Count Dracula. Originally spun-off from the Nick series Danger Mouse, the dastardly duck-centric cartoon debuted on the network in September 1988, eventually running on the channel for just one season (though 65 episodes were made). The series was set in Transylvania and primarily used bird versions of classic characters—Doctor Von Goosewing filled in for Dr. Abraham Van Helsing, for example—to tell kid-friendly versions of frightful tales.
5. Don't Just Sit There
The early years of original Nick programming were punctuated with kid adaptions of adult formats, like the talk show Don't Just Sit There, which was a mix of chat and comedy. The show was hosted by various kids and teens over its three-season run, most notably Will Friedle, who went on to star in the classic series Boy Meets World. The show boasted plenty of cool guests—from William Shatner to New Kids on the Block—along with its own late night TV-style house band, Out of Order.
6. Standby: Lights, Camera, Action!
Nick has long tried to make educational fare fun and relevant, and there's no greater example of that than Standby: Lights, Camera, Action!, a series that went behind the scenes to show its younger viewers what it takes to make a movie. It's a cool idea on its own, but you know what made it even better? It was hosted by Leonard Nimoy. Spock himself took kids behind the camera for films like Return of the Jedi, The Dark Crystal, Octopussy, and yes, even Star Trek III: The Search for Spock.
7. Kids' Court
A frightening idea to parents during any era, Kids' Court sought to settle the grievances of viewers by way of mailed-in issues, on-camera child representation, and a scream-o-meter to determine winners. Very true to real-life court! The audience got to choose sentences to mete out to the bad guys, all but guaranteeing a wild and raucous time for everyone. While its grasp on the legal system was loose, the show tried to inject some education during commercial breaks, when it would present quiz questions about the actual legal way to do things. The show aired briefly from 1988 to 1989.
8. PopClips
How progressive is Nickelodeon? PopClips is generally viewed as the direct predecessor of a little something called MTV. Created by former Monkee Mike Nesmith, the '80s-era program was the first music video-centric show, featuring clips from bands like The Pretenders, Huey Lewis and the News, The Police, and The Rolling Stones. The show even had VeeJays. PopClips only aired for a bit—from late 1980 to early 1981—but its influence is felt even now.
9. Think Fast!
Nick has long loved game shows (perhaps even more than talk shows), and the energetic Think Fast! was one of their first. Airing between 1989 and 1991, the show combined some classic tropes—two teams of two, buzzing in, playing for money—with some interesting new twists, including an event that echoed the repetition of the classic Simon toy, a misdirection game that involved a random clown, and the ever-weird "Leaning Tower of Stuff" (that's the one where you need to craft a leaning tower of, uh, stuff).
10. Turkey Television
This Canadian sketch comedy show was centered around an animated turkey named Thurman T. Turkey, who specialized in repackaging TV shows from around the world. For example, it featured a Dr. Joyce Brothers parody. Weird Al Yankovic showed most of his videos on the series. Like the show's "Hams Across America" sketch, it was all very strange and very funny. Sadly, it lasted just one season (from 1985 to 1986).
11. Hey, Dude
Sure, this may be a bit of cheat—who can forget Hey, Dude?—but you might not realize the show actually started in the '80s, not in the heady days of the '90s. The dude ranch-set teen sitcom made its debut on the network on July 14, 1989, and continued on for five seasons. The series followed the hijinks of the Bar None Dude Ranch's charming teen staff. Fans will be happy to know that Hey, Dude still pops up on TeenNick from time to time.
50 StatesListsThe '80stv
Subscribe to our Newsletter!
SIGN UP NOW
Sours: https://www.mentalfloss.com/article/54929/11-nickelodeon-shows-80s-you-may-have-forgotten
On MeTV
1. Pinwheel
1977–1991
Kicking off in December 1977, the network originally carried the name Pinwheel. Its flagship program was traditional children's fare — ABCs, puppets, people and animation. Essentially, it was a Sesame Street clone. It's theme song was just as catchy. Its buried in the back of your brain if you ever caught the opening credits: "Pinwheel, pinwheel, spinning around…" Aurelia was the main puppet. She looked like a sort of bohemian offspring of Madame and Kukla.
Image: The Everett Collection
2. Livewire
1980–86
Nick's youth-oriented chat show, a kind of Donahue for tweens and teens, became its top-rated program in 1982. The blond Fred Newman was the host, though it's the guest list that makes Livewire so important in hindsight. R.E.M. made its television debut here. KISS, the Ramones and Afrika Bambaata performed, too. Outside the world of music, TV luminaries (and MeTV icons) like Valerie Harper and Gene Roddenberry popped in, too.
Image: The Everett Collection
3. You Can't Do That on Television
1981–1990
This Canadian hybrid of Monty Python and SNL delivered two massive contributions to pop culture — "sliming" and Alanis Morissette. The adolescent comedy troupe (which at one point included Alanis), alongside their adult foil Les Lye, created several memorable recurrings skits. There was Alisdaire tied to a post trying to talk his way out of a firing squad. There was the digusting Barth, Lye's most popular character, serving up health-code violations disguised as hamburgers. In the intermittent studio bits, the kids would have to be careful not to say "Water" or "I don't know." Spouting these words would lead to a bucket of water or green slime being dumped on your head. The green slime became a key part of Nickelodeon's branding, from its award shows to its logo. And it all traces back to some delightful oddballs from Ontario.
Image: Nickelodeon
4. Standby… Lights! Camera! Action!
1982–87
Leonard Nimoy was a big get for the nascent network. The Star Trek star hosted this behind-the-scenes look into the world of filmmaking. There was one catch — he would not allow Nickelodeon to identify him as "Star Trek's Mr. Spock." Still, he took a significant pay cut to host such a show, because he believed in its principles, and the network at large. "Nickelodeon has a good attitude toward children," he told The New York Times in 1984.
Image: The Everett Collection
5. Mr. Wizard's World
1983–2000
Mr. Wizard was certainly no newcomer to television. Don Herbert, a WWII Air Force veteran, began playing the science expert Mr. Wizard on television way back in 1951. His simple, fascinating science experiments demonstrated physics to some wowed youth at his side. By the time he hit Nickelodeon, Mr. Wizard was an old pro, like a sterner Mr. Rogers with a bunch of liquid nitrogen and magnets in his kitchen. There was a bit of a fictional narrative underlying it all, as we were to believe young neighbors were dropping by Mr. Wizard's house for some fun lessons. Lessons like "How many pretzels can you eat in one minute?" Hey, if that's science, we'll take a Ph.D., please!
Image: Nickelodeon
6. Danger Mouse
1984–94
Nickelodeon plucked much of its live-action content from Canada, and several cartoons from the Brits. Danger Mouse had originated a few years earlier in the U.K., a spoof of classic British spy stuff like James Bond, The Avengers and Secret Agent. It was far and away the biggest animated hit for early Nick, spawning a spin-off (Count Duckula) and allowing other quirky English superhero satires to piggyback (Bananaman). With his trusty hamster sidekick, Penfold, Danger Mouse brought to mind another rodent agent, Secret Squirrel.
Image: FreeantleMedia Enterprises
7. Finders Keepers
1987–90
If Double Dare tapped into our adolescent urges to be disgusting, Finders Keepers scratched our itch for destruction. Contestants ransacked a massive, dollhouse-like set for prizes, trashing stuffy old libraries, tearing through kitchens, pilfering in garages, all to find a prop that would answer a riddle. It looked like a blast. Honestly, if we could play this game right now, it would make our life.
Image: Nickelodeon
8. Hey Dude
1989–91
The Olsen Twins were not the child stars using "dude" to achieve fame. This wonderfully named sitcom centered around a dude ranch in Arizona, bringing back the feel of classic comedies like Petticoat Junction and Hee Haw, with enough adolescent drama and young idols to fill Degrassi scripts and Tiger Beat centerfolds. After its original run ended in 1991, Hey Dude continued to cross over into Millennials' memories as reruns aired through 1999.
Image: Nickelodeon
SEE MORE: 8 EXPERIMENTAL '80S SHOWS YOU WATCHED ON HBO AND TOTALLY FORGOT UNTIL NOW
Parody news, fake football teams and brain games made us want to pay more for cable. READ MORE
Sours: //metv.com/
Top 8 Best 90s Nickelodeon TV Shows
List of programs broadcast by Nickelodeon
Current Nick Holiday programming blocks
Thanksgiving Weekend on Nick (Thanksgiving: November 26, 2009 – present)
Nick Holidays (Christmas: December 25, 2009 – present)
Former Nick Holiday programming blocks
10 Nights of Frights (Halloween: October 21–31, 2011)
12 Days of Drake & Josh (New Year's Eve: December 20–31, 2009)
Crush Week (Valentine's Day: February 5, 2011 – February 8, 2015)
Ha! Ha! Holidays (Christmas: December 1, 2004 – December 25, 2008)
Halloween in September (Fall: September 5–21, 2009)
Nick New Years (New Year's Eve: December 31, 1993 – December 31, 1999)
Nick Horrors (Halloween: October 31, 2002 – October 31, 2009)
Nick or Treat! (Halloween: October 1, 1985 – October 31, 2002)
Nickmas (Christmas: December 2, 2002 – December 25, 2003)
Non-Stop Nicktoons Weekend (Thanksgiving: November 19, 1993 – November 30, 2002)
Shriek Week (Halloween: October 2001 – October 2002; October 2006; October 25–31, 2009)
Shriekin' Weekend (Halloween: October 27, 2005 – October 31, 2006)
Shocktober (Halloween: October 1–31, 2007)
Shocktober 2 (Halloween: October 1–31, 2008)
SNICKtoons Xmas Gift Pack (Christmas: December 1, 1994 – December 25, 1997)
Super Stuffed Nicksgiving Weekend (Thanksgiving: November 22, 2003 – November 29, 2009)
Super Stuffed Nicktoons Weekend (Thanksgiving: November 22, 2007 – November 30, 2008; November 23, 2013)
Super Stuffed Thanksgiving Weekend (Thanksgiving: November 21, 2011 – November 27, 2011)
Valentine's Day Mushfest (Valentine's Day: February 14, 1993 – February 14, 1996)
Former Summer programming blocks
Henry & June's Nicktoons Summer Jam (July 5 – September 3, 1999)
Jam Packed June (June 1–30, 2008)
Nicktoons Summer Beach House (May 27, 2002 – September 4, 2003)
The Nicktoons Summer Film Festival (June 11 – September 3, 2004)
Non-Stop 5 at 5 (July 1 – August 28, 2008)
Sizzling Summer (July 1 – September 1, 2008)
Summer Invasion (June 17, 2012 – 2013)
Summer on Nick (July 22, 2004 – September 26, 2007)
Summer PickNick (May 27, 2002 – September 4, 2003)
SpongeBob's Nicktoons Summer Splash (June 28, 2000 – September 3, 2001)
Surf and Burp (June 30, 2006 – September 19, 2008)
Sours: https://en.wikipedia.org/wiki/List_of_programs_broadcast_by_Nickelodeon
90s nickelodeon and shows 80s
In my head, it was just spinning, to be in time in 10 minutes. You have to be obedient. But her hands did not obey her, they trembled finely, and everything fell. Katya pulled off her tights.
Nickelodeon Saturday Morning Cartoons - 1995 - Full Episodes with Commercials
The destruction of vodka and snacks began. After twenty minutes, everyone was amused. Olya ran to the bathhouse, toss logs and said that in half an hour she could go to steam.
You will also be interested:
Of his dominion. ABOUT. What a blessing that now there is not a soul near him. I timidly approached him and, pressing my cheek to his huge gnarled trunk and clasping it in my arms, I closed my eyes.
7036
7037
7038
7039
7040