Well I've owned my mighty Kawasaki KLX250S for a little while so I reckon it's time for a thorough review. In this review I'll cover the engine, transmission, suspension, brakes, fuel range, things I like and things I don't like.
Just some details on the bike, it is a 2009 model and has 8138 miles (just run in for a KLX!). It also has a few mods, a FMF pipe, an opened up air box, upgraded handle bars, hand guards, a Seat Concepts seat and a rear luggage rack. Pretty standard mods really. The KLX250S is pretty well unchanged since 2009, bar the edition of EFI.
The main type of riding I do is, well dual sport riding! For me that usually involves a mixture of back roads and gravel roads (minimum 25 minutes riding) to get to off road sections. I ride the bike hard, but I don't thrash it. Now, into the review!
Engine
The engine is certainly no powerhouse, but it does suit the bike. On the road, it could certainly use more power. Overtaking on back roads can certainly make the old ass pucker, but off road it actually works quite well. You won't have any trouble keeping up with mates in the scrub, providing you really rev it out.
Where the bike is let down is a lack of torque and low end grunt (it is a 250cc 4 stroke after all). This becomes an issue in the bush when you want to lift the front wheel over logs and obstacles. One thing I will say though, the bike can lug, doesn't stall easy and has great traction. This makes it especially good in slippery conditions and hill climbs.
I like the 6 speed gear box, it shifts very smoothly and the ratios are well pretty well spread. I've kept the gearing stock because it suits the style of riding I do. It's not perfect, first gear could be slightly shorter for off road work (it's about right on road), but then 6th wouldn't be tall enough. I think 6th gear could be slightly taller; there isn't a lot of difference between 5th and 6th. But then you would have a problem where the bike would struggle to pull it due to a lack of power.
The bike will sit on 70mph all day, but much more and it's a struggle. I generally take the smaller highways on trips where she'll sit on 60-65mph all day.
Fuel economy wise, I get 60mpg and that seems to be pretty among KLX250S owners. So with a 2 gallon tank, you have a 120 mile tank range.
Suspension
The KLX has surprisingly good suspension! For a budget bike, there isn't much to complain about here at all. Both the front and rear offer a smooth ride, on and off road. I've got into some, ''Oh f*#k'' situations and the Kwaka has just soaked it up with no issues.
When you push the bike hard, it can and will bottom out, especially at higher speeds. For me at 185lbs and the pace I ride at, some harder springs should fix this.
I haven't touched the clickers yet as I've been really happy with how it's been performing. I've noticed the bike could use some more ground clearance. It scraps pretty easy over logs and obstacles.
Brakes
I like the brakes all round. The front brake is really good off road and has a solid amount of power. On road, it could use more, but is adequate. The rubber brake lines can get a bit squishy when you work them hard, but I'm not sure I'd bother changing them.
The rear there is solid and works well, no complaints.
Something to be wary of is the front brake line needs to be rerouted. Why? Because when you brake, it kinks the brake line and causes the front brake to lock up. I learnt this the hard way recently with some crashes, good times! The fix is simple; move the plastic grommet that threads the front brake line to inside the fork leg instead of outside.
Things I like
One of the main things I like about the KLX is that it's just so versatile. It doesn't do anything great, but does nearly everything well. It's easy to ride for long periods and doesn't tire you out.
The second thing I like is there are plenty of aftermarket parts. Exhausts, tanks, seats, foot pegs, racks…you name it, it's out there. On top of that, you can get them new or second hand. I was lucky in that my bike came with everything that's on it. Oh, and it only cost me $2000! Bargain.
Third up are the stock luggage points. On the rear sub frame there are two on either side and on the lower sub frame there is another. This certainly makes things a butt load easier when you want to strap on some camping gear. There is also a helmet lock which I find handy for when you need to grab something from the shops or have a beer at the pub.
The last thing I like is the build quality. The KLX250S is built like a tank! All the fasteners are good quality and so are the plastics and switches. This bike is built to last.
Things I Don't Like
I already mentioned earlier that I think it's underpowered, so I won't touch on that again. The bike is cold blooded though. It's a common problem among KLX250's. I think its carb related as the EFI models don't do it. I can confirm it's pretty annoying in the Illinois climate with our brutal winters.
The fuel range, it's just not enough. The bike really needs another gallon, especially for the style of bike it is. Another gallon would give you roughly 180 miles fuel range which would be just about right.
The KLX feels good to throw side to side through single track and on the street. When the going gets slow, it becomes a handful because it's simply too heavy. This coupled with the lack of grunt make the bike tiring in technical terrain. Realistically the bike needs to lose at least 10lbs, 20 would be better.
The bars are too low. I'm 6ft and have to crouch when standing. This becomes tiring and is pretty uncomfortable. Normally I'd just chuck a set of bar risers on the bike and be done with it, but some of the cables aren't long enough then! I know some people have got certain sizes to work; I'll have to do more research on this to see what I can do.
The foot pegs are too small. For street riding they are ok and I'm happy they are proper steel pegs without crappy rubber inserts. But off road, I struggle with how small they are. Yes this is an easy fix, but when other bikes in the competition have better pegs stock, there's not excuse.
Last up is the lack of a bash plate. I know most bikes don't come with a bash plate stock, but the KLX's motor really sticks out on the sides and is venerable to rocks and damage.
Should You Buy One?
If you are thinking about getting a KLX250S, yeah I think you should. The green meanie is a solid bike that does lots of things well and nothing great. Just be wary, if you are looking for an excitement machine, this isn't it. You're not going to be on the back wheel out of corners and blasting your mates.
I got one because its suits the riding I'm doing and they are cheap AF. Would I get one if I had more money? Probably not, I'd get a DRZ400.
But the bike has good bones. The suspension is good and it's built like a tank. With some mods, it will take you pretty much anywhere and be bloody reliable while doing it.
Sours: https://onthebackwheel.com/2020/12/10/kawasaki-klx250s-should-you-buy-one/
2020 Kawasaki KLX250 [Model Overview]
2020 Kawasaki KLX250 & KLX250 Camo
The 2020 Kawasaki KLX250 is the latest in a long line of dual sport motorcycles, with the first generation being released in 1979. Powered by a 249 cc liquid cooled DOHC single producing 24 crank HP and 15 lbs-ft of crank torque, the KLX250 is only 304 lbs wet weight, leading to a fun, tossable, agile dual sport.
To meet modern emission regulations, the KLX250 has a digitally controlled fuel injection system. As well, there is a variant model of the KLX250 known as the Camo Edition, which replaces the standard green Kawasaki Racing paint scheme with a grey mottled camo.
The 2020 Kawasaki KLX250 starts at $5,399 US/$5,999 CA and the 2020 Kawasaki KLX Camo Edition starts at $5,599 US/$6,199 CA
On this page:we've curated specs, features, news, photos/videos, etc. so you can read up on the new Kawasaki KLX250 in one place.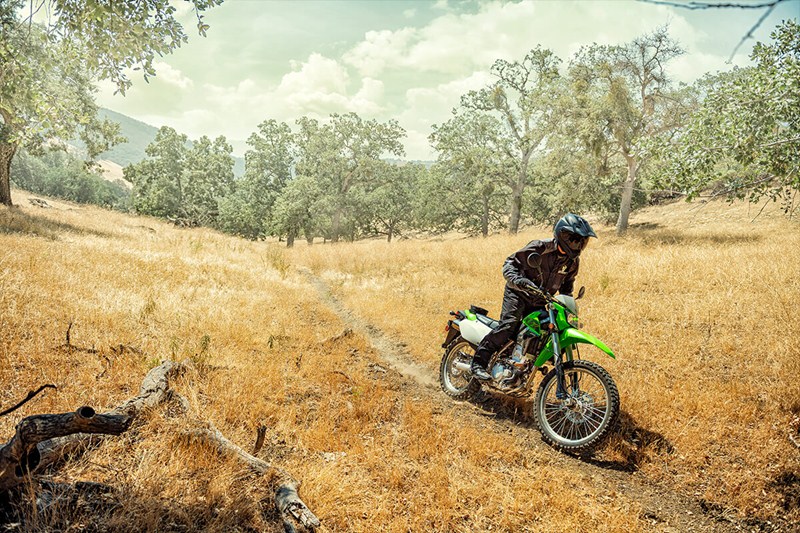 ---
Model Overview
General Info
Price:  $5,599 US/$6,199 CA
Key Features:

Low seat height
Comfortable ergonomics
Fragment Camo Gray color scheme
Key Specs
Engine type: 249cc, 4-stroke, 1-cylinder
Power: 24 Hp

Wet weight: 304 lb
Seat height: 35.0 in
---
2020 Kawasaki KLX250 Specifications
From Kawasaki
ENGINE

Engine
249cc, 4-stroke, 1-cylinder, DOHC, 4-valves, liquid-cooled
Power
24 Hp
Bore x Stroke
72.0mm x 61.2mm
Compression Ratio
11.0:1
Fuel System

DFI® with 34mm throttle body

Starter
Electric
Lubrication
Forced lubrication, wet sump

DRIVETRAIN

Clutch
Wet multi-disc, manual
Transmission
6-speed, return shift
Final Drive
Sealed chain

CHASSIS

Suspension Front
Telescopic fork/10.0 in
Suspension Rear
Uni-Trak® swingarm/9.1 in
Brakes Front
Single Disc
Brakes Rear
Tires Front
3.00-21 51P
Tires Rear
4.60-18 63P
Fuel Tank Capacity
7.5 L (2 US gal.)
Color
Fragment Camo Gray

ELECTRICAL

Ignition
TCBI with digital advance
Spark Plugs
Headlight
LED
Tail Light
LED

DIMENSIONS

Overall Length
86.6 in (2,200 mm)
Overall Width
32.3 in (820 mm)
Overall Height
47.4 in (1,200mm)
Wheelbase
56.3 in (1,430 mm)
Ground Clearance
11.2 in (285 mm)
Seat Height
35 in (890 mm)
Curb Weight
304 lbs (137 kg)

WARRANTY

Warranty
12 Month Limited Warranty
Extension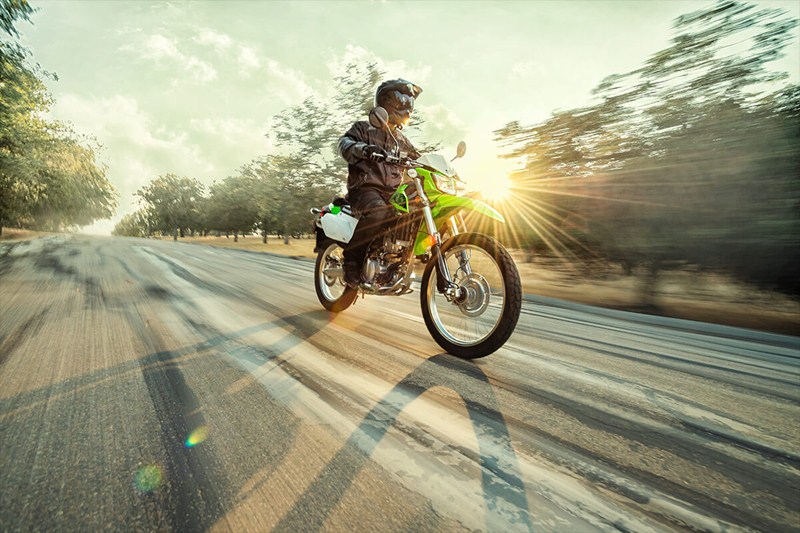 ---
2020 Kawasaki KLX250 Features
---
2020 Kawasaki KLX250 Photos
---
Links
Kawasaki Official Websites
Sours: https://www.webbikeworld.com/2020-kawasaki-klx250-model-overview/
Middle of the Off-Road: Is Kawasaki's KLX250 Just Right?
By Fish, with Surj Gish
Photography: Max Klein
Rider: Fish
My time on our 2018 KLX250 began in front of Max's lens, on some amazing property owned by friends of his. Our instructions: don't disturb the cows, everything else is fair game—including the miniature motocross track. I don't think I could have asked for a better playground on which to get to know the bike.
The KLX isn't new—it hit the US market way back in 2006 but had been absent from the US since 2014. For 2018, Kawi's little dualie has returned to America, graced with electronic fuel injection, a refinement that puts the KLX on even ground with its Japanese competitors.
Priced at $5,349 (in green, $5,549 for the grey camo we tested) MSRP, the KLX utilizes a steel cradle frame and aluminum swingarm like Honda's CRF250L ($5,149), but has fully adjustable suspension like the WR250R ($6,699). Its spec sheet paints the KLX as a compromise between the CRF and the WR: the CRF on the milder, more road-oriented end of the spectrum; the WR having more dirt cred right out of the showroom.
The primary thing everyone seems concerned about with these little enduros is power. Let's get this out of the way right now: though the numbers differ a bit on paper, the KLX is really no more or less powerful than its competition. The differences just aren't material in day-to-day riding, but none of these bikes are underpowered. The KLX has all the power needed to drag me up most any incline that I can stay on the bike for.
It won't throw copious roost and wheelie on power alone, but the counterbalanced single is tractable and smooth throughout its rev range, delivering friendly and useful power that lets you concentrate on controlling the bike rather than your right hand. Fueling is nothing short of perfect, with nary a hint of flat spots to be found, although I did perceive an almost "dual" powerband: a very pleasant wave of torque down low that mellows before a finishing touch of peaky power up high. I wouldn't call the middle a valley, but sort of a plateau. It's not like a two-stroke powerband, but it helps with climbing.
Further aiding the KLX's excellent controllability is its adjustable suspension. Sporting a cartridge fork with 43 mm diameter tubes (same as the CRF250L, 3 mm smaller than the WR250R), the addition of 16-way compression adjustability, plus adequate spring rates for my 200-pound body, really help the KLX's cause. For all my jumps, wheelies, and general nonsense, I never heard the dreaded clunk of the fork bottoming out. This may not sound like a big deal, but the reality is that many bikes are easily overwhelmed in stock form.
The back half of the KLX features 16-way compression and rebound adjustability in addition to the usual preload. In a world where every bike I ride seems to be sprung for someone lighter than me, the KLX's rear spring rate had no issues with my body or the terrain I subjected it to. One of my favorite activities on these kinds of bikes (well, most bikes) is sliding the rear around on gravel roads. I ran into issues with the CRF250L in this area, as the underdamped rear suspension reacted to my inputs with wheel hop instead of wheelspin. Not the case with the KLX: loose gravel, mud, hard-packed dirt, even dust covered "roller rocks" are all managed with minimal drama.
Travel is 10" up front and 9.8" out back, again placing the bike in between the Honda (9.8" front, 9.4" rear) and the Yamaha (10.6" front and rear).
My father bestowed upon me an expression about selling motorcycles: "It doesn't matter what wrong seat or wrong bars are on the bike when you sell it." This rings especially true for dirt bikes, where the first mods are often an upgraded seat and handlebars with a different bend. The KLX's cockpit, however, avoids the need for immediate upgrades, at least for me. Both on and off-road, I found the appointments functional and comfortable.
I'm 6' tall with a 34" inseam, and thus usually unaffected by seat height. The KLX's 35" seat height is admittedly high—but the bike does settle a little under the rider's weight. Again, the KLX is in the middle—the Yamaha's seat 1.6" taller ("real dirt bike," remember?) and the Honda's is .4" lower.
While braking off-road is usually traction-limited, on the road, components and setup make a difference. The front half of the KLX sports a fairly typical 250 mm petal style rotor, squeezed by a two-piston, sliding style caliper. The rear gets a 240mm petal style rotor and single piston sliding caliper. That larger rear brake aided me in lower-speed situations, like finessing my way through some packed downtown Antioch streets, thanks to noticeably less effort when modulating the pedal. It's not overly sensitive, but does require a bit of mindfulness.
When talking about off-road and dual-sport motorcycles, weight always finds its way into the discussion. I've made my personal "don't give a fuck" stance very clear by buying the heaviest 250 dual-sport, but for those of you more concerned about poundage, the KLX tips the scales at 304.3 pounds—almost ten pounds more than the WR, and about thirteen pounds less than the CRF. These are all wet weights, of course—full of fuel and ready to ride.
Despite my cavalier attitude on bike weight, the KLX feels lighter than the CRF in turn-in and responsiveness of the chassis. But it also feels thinner between your legs.
The 56.3" wheelbase is not dramatically shorter than the Honda's 56.9", nor substantially more than the Yamaha's 55.9", cementing the KLX as the middle child.
There are no surprises when the dirt ends and it's time to ride home—the digi-camo bikeis equally capable on pavement and dirt (and probably the green one too). The KLX offers reasonable road manners, and its mixed-use Dunlops do a great job both in town and on the highway. Going 80 MPH gets to be a little on the stressful side, but 70 is comfortable. The addition of luggage or cargo does complicate things a bit—there's only so much you can do with a 250. Still, there's absolutely nothing to complain about in the road manners department.
As you can see, this middle of the road theme repeats itself over and over except in one subjective area, and that's fit and finish. This is not to say that the KLX is bad, but there are a few details that don't stack up as nicely to the competition. I've yet to find a Honda that didn't have what I would call top notch fit and finish for its segment, and Yamahas are also typically very well-constructed. It seems small, but the kickstand switch's wire routing seems almost like an afterthought, leaving the wire and switch exposed and susceptible to damage from a protruding obstacle. Up on the bars, the switchgear lacks the rounded edges of the Honda's, and seem slightly less robust in design and action. The Kawi's instrument cluster is plenty informative, and our tester's speedometer was remarkably accurate, but its overall look is a bit less elegant than the clusters on the others.
These are small complaints, and totally reasonable compromises given the price point of this bike, perhaps simply the explanation behind how Kawasaki can make such a great package for less than the cost of our beloved CRF250L.
Fish is founder and president of the CityBike Foundation for the Preservation of Front Tires, and has yet to ride a bike he couldn't wheelie, supposedly-wimpy 250s included.
Surj: Street Smarts
I'm not much of a dirt rider. Sure, I've been known to show up at the occasional dual-sport ride to trash some hardware, maybe break a bone or two, and I do occasionally head to Carnegie for a bit of dust 'n' dehydration and a good schooling by little kids on TTR125s, but I'm mostly a street rider. So I treated the KLX to my usual utili-thrasher routines, round town rowdiness and such.
There's a case to be made for 250 dual-sports as the ultimate round-towners. They tend to be relatively cheap to acquire and maintain, and are very capable, whether used as a good ambassador runabout, quietly picking up groceries, or a hellraising hooligan, launching off ledges and taking arguably pedestrian-only shortcuts like staircases.
If the bike falls over, who cares? It's easy to pick up, and it's not like there's bodywork to trash, really. In the case of the camo KLX (which will be the title of my next detective novel), the uh… paint scheme, as it were, will hide a lot of signs of abuse anyway.
The only real downside of a 250 is limited freeway prowess—yes, they're hypothetically fast enough, and I've done tons of freeway miles on a fully-loaded 250 to prove it—but they lack headroom. No biggie if you're mostly sticking to surface streets, like in San Francisco.
The KLX is good mount for such malarkey, offering willing power delivery and a lithe feel. Plus, the camo paintwork meant The Fuzz couldn't see me!
Sure, it doesn't set anyone's hair on fire with eyeball-flattening acceleration, but the old adage "fast enough to get into trouble" applies. I like trouble, so Surj+KLX=G2G. And the bike's brakes and suspension are certainly good enough to manage that trouble.
Stoplight-to-stoplight, block to block, neighborhood to neighborhood? The KLX is quick enough to outrun most cars in low speed urban environments, agile enough to slice between obstacles both moving and stationary, and cheap as hell to insure.
Here's the funny thing. Like Fish, while riding the KLX, I couldn't help but run constant comparison scenarios in my head between the Kawi and Honda's CRF250L, because—also like Fish, but I was first—I own a CRF250L, which I bought new in 2014. It's been extensively modded, and has served me well. One of the key modifications was comprehensive upgrades to the suspension, thanks to Race Tech, because the stock suspension is, as Fish says, "easily overwhelmed." Translation: it sucks, unless you're Shayna Texter-sized.
Shit. She's a Husqvarna rider. Who rides a Honda and is small, like Lilliputian?
Oh, here we go: the CRF250L is sprung for Dani Pedrosa.
Anyway, at the time, the KLX250 was still carbureted and cost $5,099, $100 more than the EFI-equipped 250L. It was a no-brainer, even though the Honda is a little heavier—I'm kinda with Fish on the "who cares what it weighs" thing, within reason.
But if I was shopping today, I'm not sure I'd make the same decision. On paper, it's harder to choose the Hondanow (although smart folks know that Hondas seldom look as good on paper as they perform in the real world). Sure, the CRF is $200 less than the plain green KLX and has optional ABS, which isn't available on the Kawi. But the KLX is now fuel injected, and you'll piss away the $200 (and probably a lot more) you saved buying the Honda on making the suspension functional (unless you're Pedrosa), meaning the KLX's adjustable suspension (with cartridge fork!) alone is worth it.
Plus, the camo is cool.
Editor Surj doesn't think it's at all strange that he and Fish both own a CRF250L and a Buell Ulysses. Fish's is a Rally, after all, and Surj's is better anyway.
This story originally appeared in our August 2018 issue, which you can read in all its original high-res glory here.
Related
Sours: https://www.citybike.com/bikes/kawasaki-klx250-review/
2018 Kawasaki KLX250 First Test Review Video - Riders Domain
Kawasaki's profilation of this bike
KLX®250 motorcycles are among the most capable mid-size motorcycles in the dual-purpose category, featuring a light curb weight and ample ground clearance. With full-size wheels and tires, confidently tackle off-road trails, while also comfortably cruising the pavement with ease.
General information
Model:
Kawasaki KLX 250
Year:
2020
Category:
Enduro / offroad
Price as new:
US$ 5399. MSRP depends on country, taxes, accessories, etc.
Rating:
3.3 Check out the detailed rating of off-road capabilities, engine performance, maintenance cost, etc. Compare with any other bike.
Engine and transmission
Displacement:
249.0 ccm (15.19 cubic inches)
Engine type:
Single cylinder, four-stroke
Power:
21.5 HP (15.7 kW)) @ 7500 RPM
Torque:
20.5 Nm (2.1 kgf-m or 15.1 ft.lbs) @ 7000 RPM
Compression:
11.0:1
Bore x stroke:
72.0 x 61.2 mm (2.8 x 2.4 inches)
Valves per cylinder:
4
Fuel system:
Injection. DFI with 34mm throttle body
Fuel control:
Double Overhead Cams/Twin Cam (DOHC)
Ignition:
Electric CDI
Lubrication system:
Forced lubrication, wet sump
Cooling system:
Liquid
Gearbox:
6-speed
Transmission type,
final drive:
Chain
Chassis, suspension, brakes and wheels
Frame type:
Tbular, semi-double cradle
Rake (fork angle):
26.5°
Trail:
105 mm (4.1 inches)
Front suspension:
Telescopic fork
Front wheel travel:
255 mm (10.0 inches)
Rear suspension:
New Uni-Trak
Rear wheel travel:
230 mm (9.1 inches)
Front tire:
3.00-21
Rear tire:
4.60-18
Front brakes:
Single disc. Dual -piston hydraulic caliper
Rear brakes:
Single disc. Single-piston
Physical measures and capacities
Weight incl. oil, gas, etc:
138.0 kg (304.2 pounds)
Seat height:
890 mm (35.0 inches) If adjustable, lowest setting.
Overall height:
1205 mm (47.4 inches)
Overall length:
2200 mm (86.6 inches)
Overall width:
820 mm (32.3 inches)
Ground clearance:
285 mm (11.2 inches)
Wheelbase:
1430 mm (56.3 inches)
Fuel capacity:
7.70 litres (2.03 US gallons)
Other specifications
Color options:
Lime Green
Starter:
Electric
Factory warranty:
12 Month Limited
Update specs
Report missing specs or required updates.
Further information
Insurance costs
Compare US insurance quotes from the nation's top providers.
Finance options
Compare US motorcycle loan quotes from the nation's top providers.
Parts finder
Revzilla offers up to 50% off motorcycle accessories.
Ships to most countries. CMSNL provides online schematics & OEM parts
and ships to Australia, Austria, Bahamas, Belgium, Canada, China, Croatia, Cyprus, Czech Republic, Denmark, Estonia, Finland, France, Germany, Greece, Hong Kong, Hungary, Iceland, India, Ireland, Italy, Japan, Kuwait, Latvia, Lithuania, Luxembourg, Macedonia, Malta, Montenegro, The Netherlands, New Zealand, Norway, Poland, Portugal, South Africa, Spain, Sweden, Switzerland, Taiwan, Ukraine, United Kingdom, The United States and more. Also check out our overview of motorcycle webshops at Bikez.info.
Dirt-bike parts
Dirt-bike parts and gear available from Mega Motor Madness
. Ships to most countries.
Maintenance
Find parts, fluids. filters, maintenance tools and service manuals at Amazon.com.
Ask questions
Join the 20 Kawasaki KLX 250 discussion group or the general Kawasaki discussion group.
Related bikes
List related bikes for comparison of specs.
Rating sample for this Kawasaki bike
Design and look for the 2020 Kawasaki KLX 250:




(69.2 out of 100)

Click here for complete rating. You can also compare bikes.
Pictures, trademarks and logos of third parties are the exclusive property of the respective owners. Technical specifications are subject to change without notice. Bikez.com has been developed by ObjectLabs.
Sours: https://bikez.com/motorcycles/kawasaki_klx_250_2020.php
250 review kawasaki klx 2020
2020 Kawasaki KLX250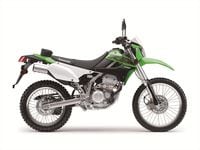 Despite dual sports being around since the '60s, they have recently seen another spike in popularity in recent years for their do-it-all characteristics and lighter weight than larger adventure motorcycles, so it makes sense for manufacturers to have a couple of models in their lineups. The Kawasaki KLX250 is Team Green's highest-displacement dual sport for 2020, the other offering being the air-cooled KLX230.
What the KLX250 offers is still a new-rider-friendly mount that borrows from the KX line for dirt capability with long suspension travel, high ground clearance, and large-diameter tires, but this has a slightly-shorter-than-dirt-bike seat height at 35 inches. Further, its slim design makes it easy to maneuver down both dirt roads and through the urban jungle.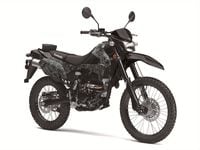 2020 Kawasaki KLX250 Reviews, Comparisons, And Competition
When the KLX250 returned for the 2018 model year after a four-year break, we had to throw a leg over the returning dual sport. Our test rider found the bike to be very smooth and mild in the power department. "The meat of the power is found in the midrange, and, if you keep it there by keeping up your momentum and flowing down dirt roads, the 250 is pleasantly capable," test rider Sean Klinger reported.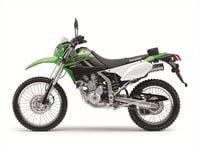 Kawasaki KLX250 Updates For 2020
No significant changes were announced for the 2020 model year. The KLX250 is available in two colorways: green ($5,399) and camo ($5,599).
2020 Kawasaki KLX250 Claimed Specifications
| | |
| --- | --- |
| Price: | $5,399/$5,599 (camo) |
| Engine: | Liquid-cooled DOHC single-cylinder |
| Displacement: | 249cc |
| Bore x Stroke: | 72.0 x 61.2mm |
| Horsepower: | N/A |
| Torque: | N/A |
| Transmission: | 6-speed |
| Final Drive: | Chain |
| Seat Height: | 35.0 in. |
| Rake: | 26.5° |
| Trail: | 4.1 in. |
| Front Suspension: | 43mm telescopic fork, compression adjustable; 10.0-in. travel |
| Rear Suspension: | Fully adjustable; 9.1-in. travel |
| Front Tire: | 3.00x21 51P |
| Rear Tire: | 4.60x18 63P |
| Wheelbase: | 56.3 in. |
| Fuel Capacity: | 2.0 gal. |
| Wet Weight: | 304 lb. |
Sours: https://www.cycleworld.com/story/buyers-guide/2020-kawasaki-klx250/
KAWASAKI KLX 250
Really all this time I was two meters from the street, I did not know this, but why, why did not I hear anything. She opened the door, it creaked softly, two girls ran alongside with a dog on a leash. What happened to me, what. Do I want to think about it now.
You will also be interested:
Very soon he shot her in the face with sperm. Looking at this, I myself brought myself to another death. Irene licked his dick, we rinsed, smoked and went to bed. I didnt even want to remember Nina - for me it wasnt.
7050
7051
7052
7053
7054