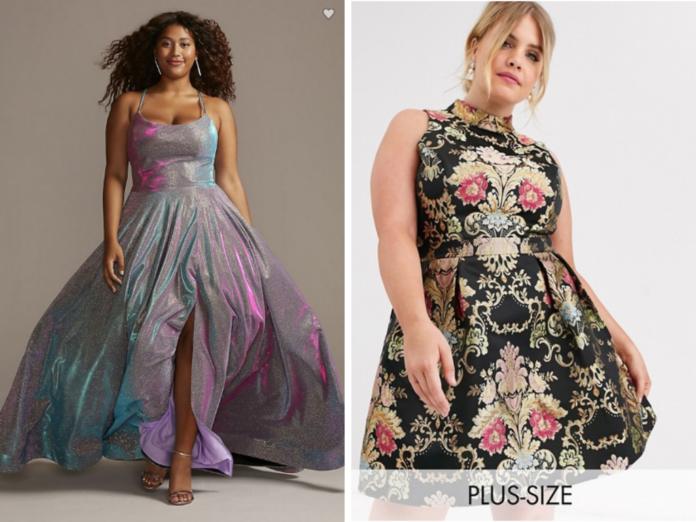 Sharing is caring!
Hey there! This post contains affiliate links.  Using my links means I earn a commission, which helps me create more rad content.  More on affiliates here.
Y'all, I really REALLY love formal wear. From wedding dresses to suits to couture gowns – I want it ALL.
Recently, a reader named Ashley wrote in and said "Hey Brianne! I really appreciate your body positive content. I'm currently looking for plus size prom dresses… Do you have any advice on where to go? I'm worried about ordering online!"
I felt so honored that Ashley asked me this question! Prom dresses are a big freakn' deal, and every girl wants to find the perfect dress.
Before we get into my favorite brands and designers that offer plus size prom dresses, I want to share a few tips about shopping online for a prom dress.
Tips for Buying Plus Size Prom Dresses Online
Rule Number 1: Beware Scams!!
If it sounds too good to be true, it probably is! If you see a beautiful gown that looks like it's $5,000 USD and it's listed for $50 USD – it's probably a scam.
Unfortunately, many companies steal high quality images from designers and then ship out the most heinous and trashy dresses that are low-quality. Don't fall for this!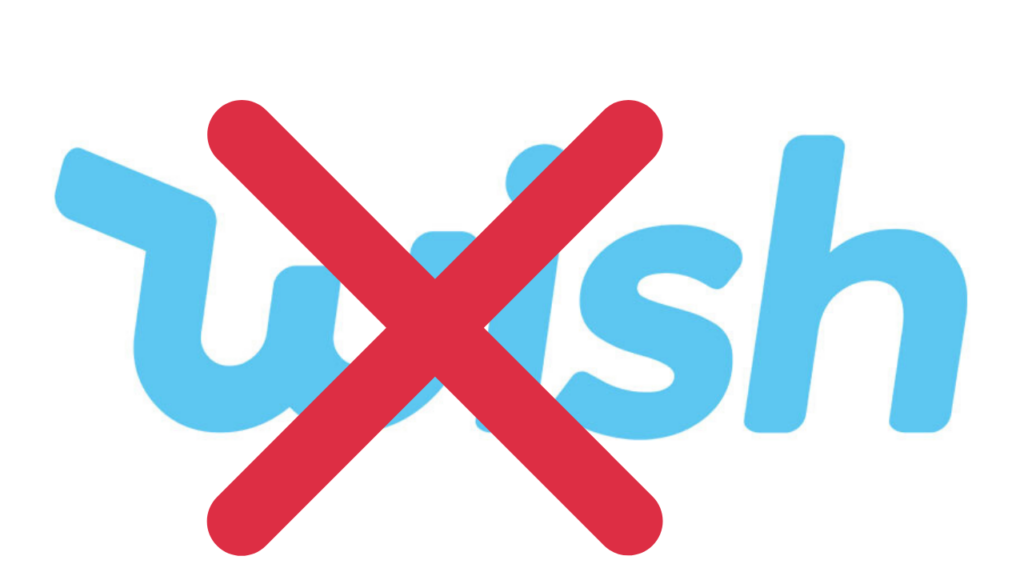 Rule Number 2: Invest in Alterations/Tailoring!!
In my opinion, a good tailor can make a $150 dress look like a $2,500 dress, and vice versa. Be sure to ask around for recommendations so that your prom dress fits perfectly!!
Where to Buy Plus Size Prom Dresses – My Fave Brands!
Okay, now that I've shared tips – let's jump into where to buy plus size prom dresses.
Brand #1: AZAZIE Plus Size Prom Dresses
Y'all, AZAZIE is the best kept secret when it comes to plus size prom dresses. The brand lets you customize just about everything, helping you make sure you get a unique dress that stands out at your prom!
AZAZIE is known for their simple chiffon gowns and velvet plus size prom dresses! If you want a dress that doesn't scream "PROM!" then you'll def want to check out AZAZIE.
Shop plus size prom dresses here.
Brand #2: David's Bridal Unique Plus Size Prom Dresses
I know that the brand has "Bridal" in the name, but David's Bridal has an incredible selection of plus size prom dresses! From jewel tones to more simple designs, this is a great place to start!
David's Bridal makes plus size prom dresses in up to a size 24. For plus size dresses in up to a size 30, you'll want to shop in the bridesmaids section!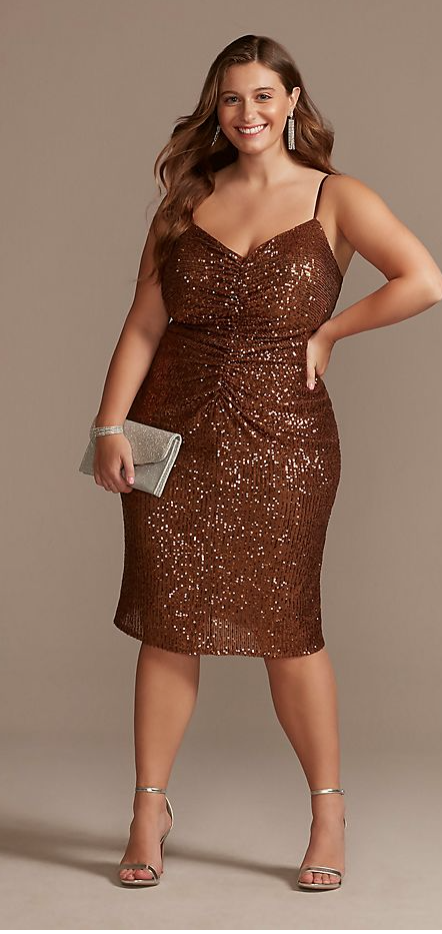 Most David's Bridal stores don't carry a lot of options for plus size prom dresses IRL (ugh!!), so consider looking online and shipping to your local store! I love the unique and iridescent fabric on this plus size prom dress!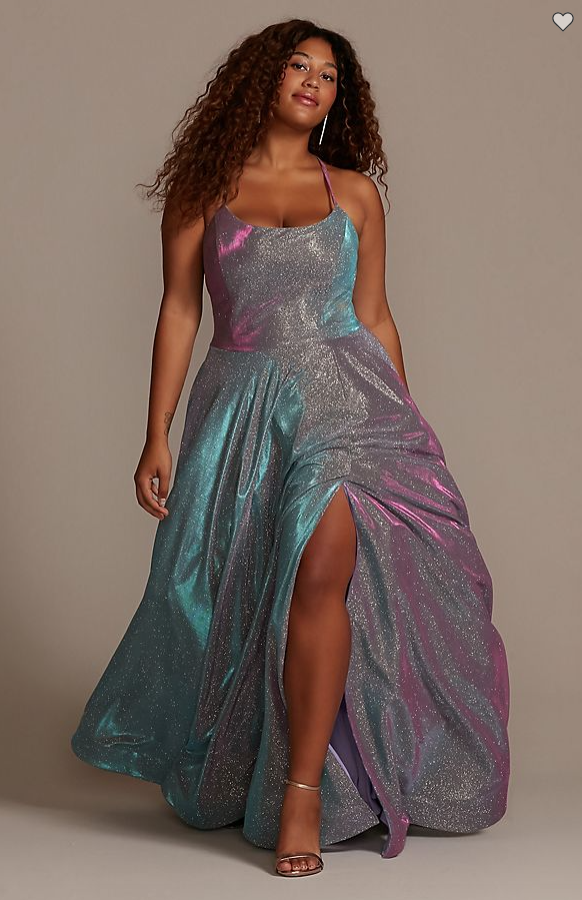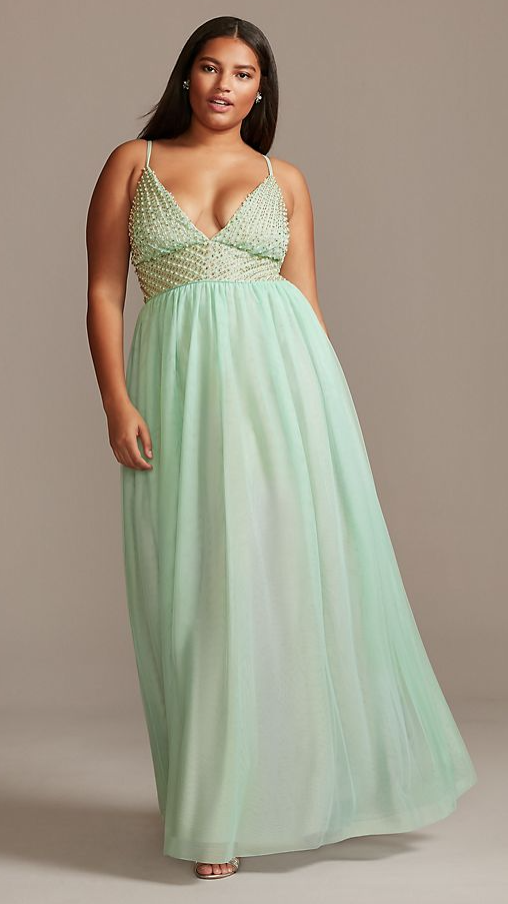 Shop plus size prom dresses here!
Brand #3: Amazon Plus Size Prom Dresses
Many folks don't know that Amazon acts as a warehouse & logistics manager for thousands and thousands of brands – when we say, "I got it on Amazon" we usually did not, in fact, buy it from Amazon! A brand sold us something using Amazon.
This is important to know, because many people think that they don't need to look at the size chart when shopping on Amazon, and you absolutely do!
Below, I've shared a few of my favorite plus size prom dresses on Amazon!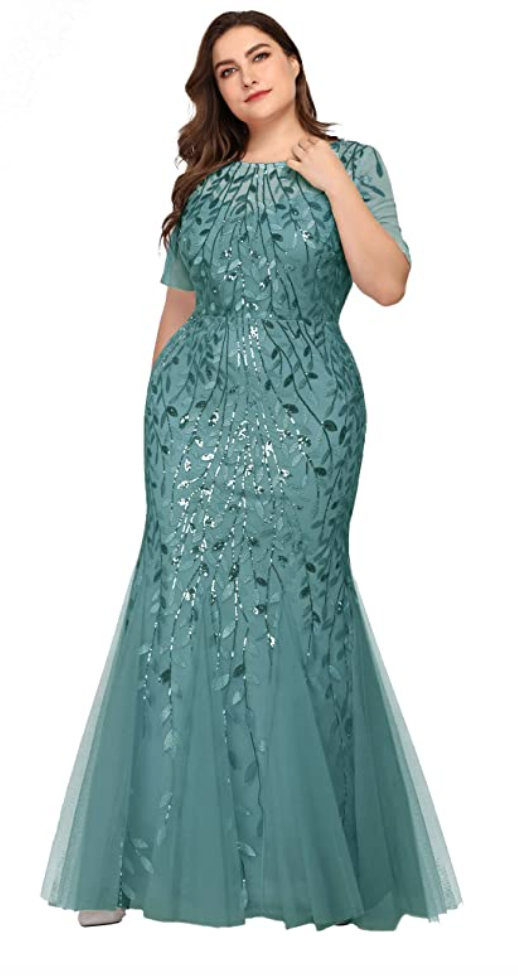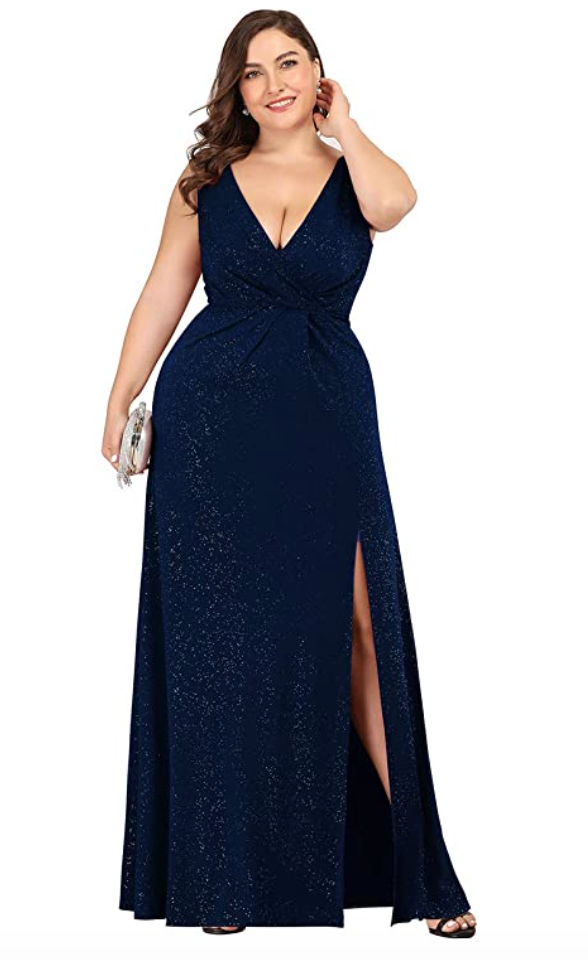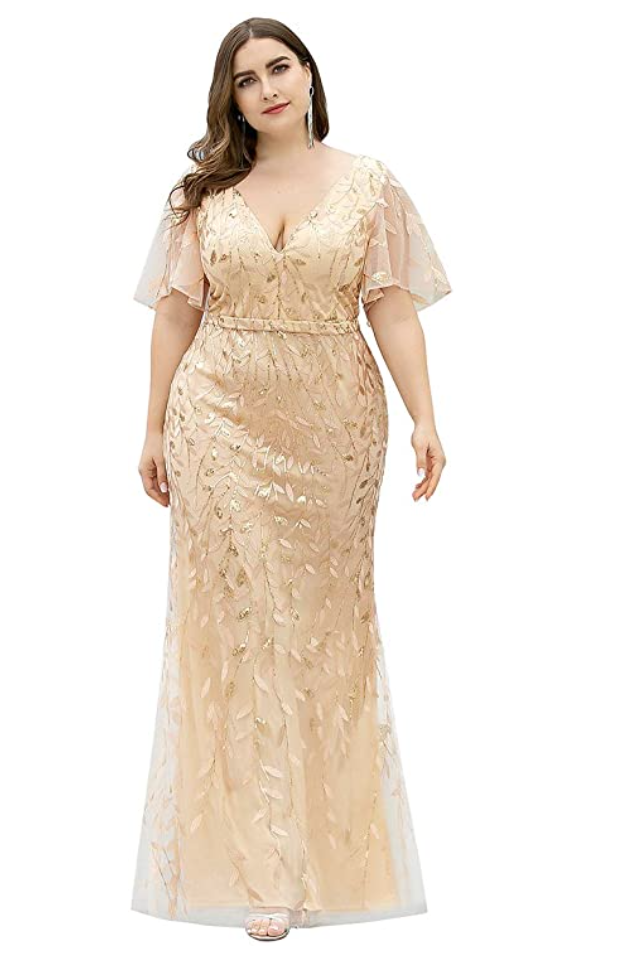 Brand #4: Plus Size Prom Dresses from ASOS
ASOS has a great selection of more boho-chic dresses as well a some slick metallic plus size prom dresses, like this one below!
ASOS makes plus size prom dresses in up to a 6X, or about a size 28.
Click here to check out their plus size prom dress offerings in 2021!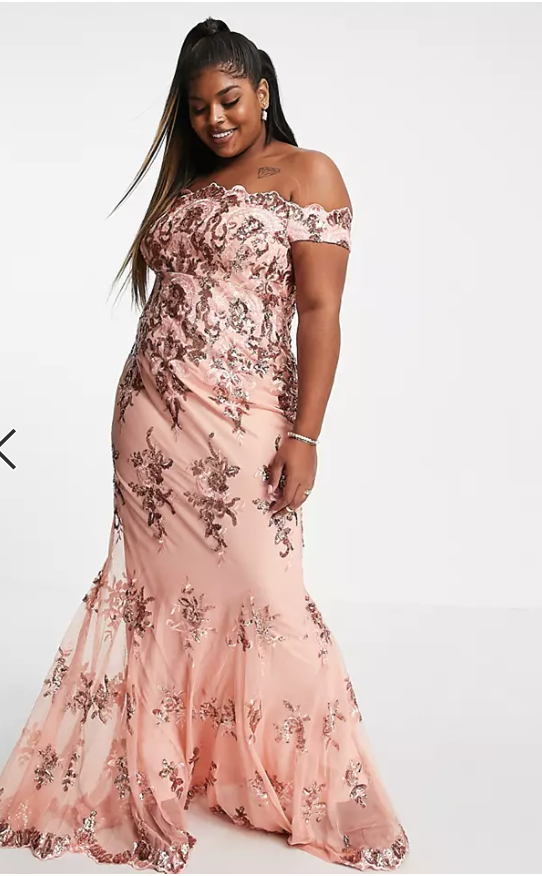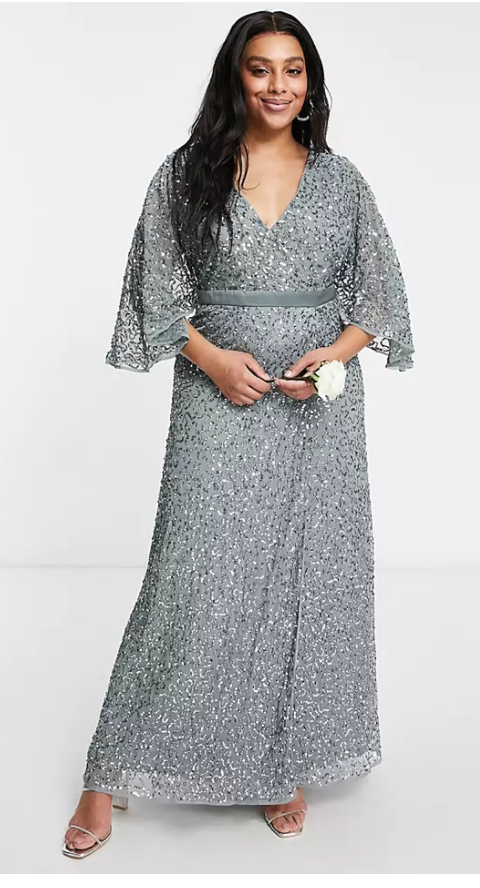 Brand #5: eShakti Customizable Plus Size Prom Dresses
eShakti is one of my favorite brands, as you can do a bunch of customization on the website.
If you have a vision in your head of EXACTLY what you want, eShakti is a great place to go! You can customize sleeve length, hemline, neckline, and more!
Best of all, they go past a size 28 – up to a size 36!
Shop eShakti here!
(Unfortunately, they don't show plus size models on the site. Ugh.)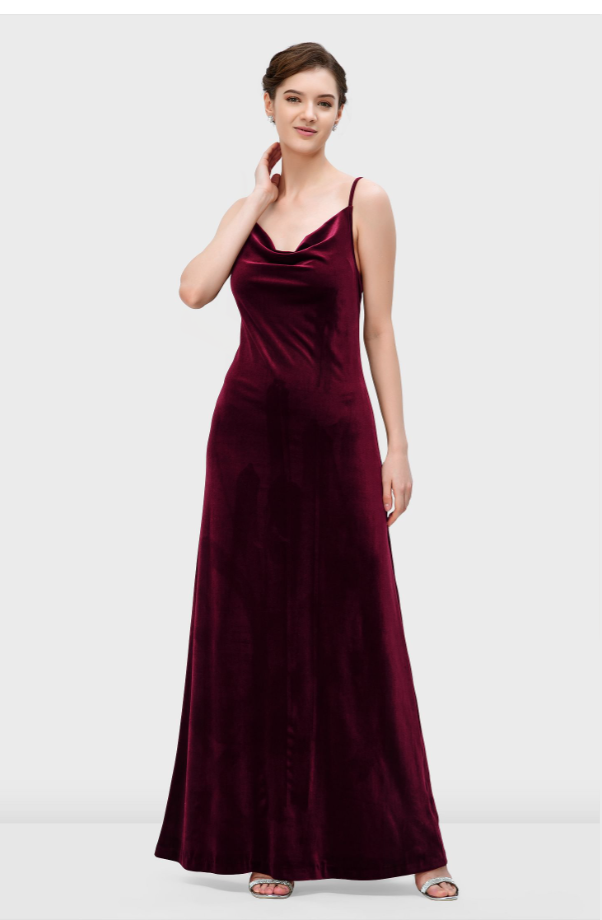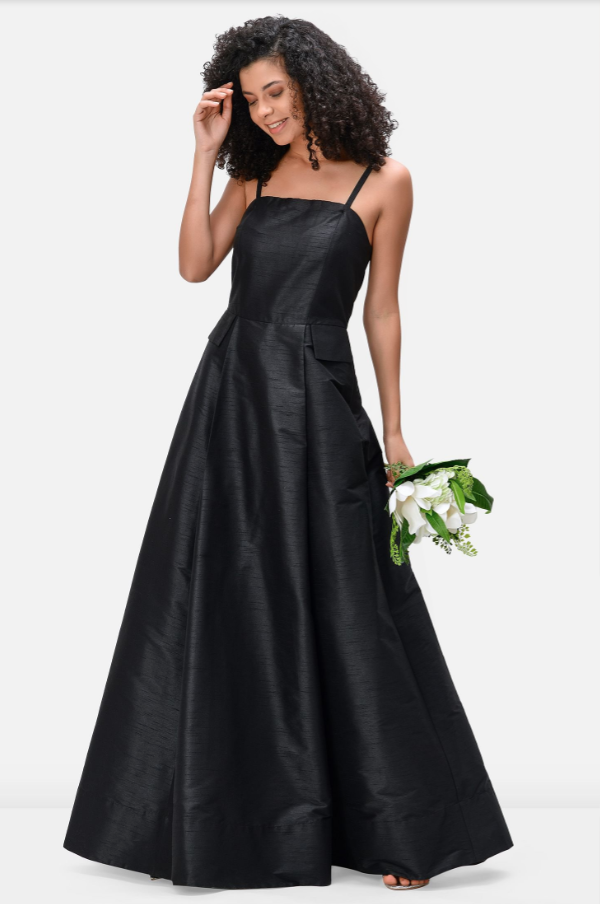 Brand #6: Plus Size Prom Dresses from Eloquii
Do you want to sparkle at prom? Looking for sequins?
Then Eloquii is definitely the place to go! This plus size retailer is well-known for having unique and fashion forward plus size options, and this sequin dress would be so fun at prom!
Eloquii makes plus size clothing in up to a size 28!
Shop plus size prom dresses at Eloquii here.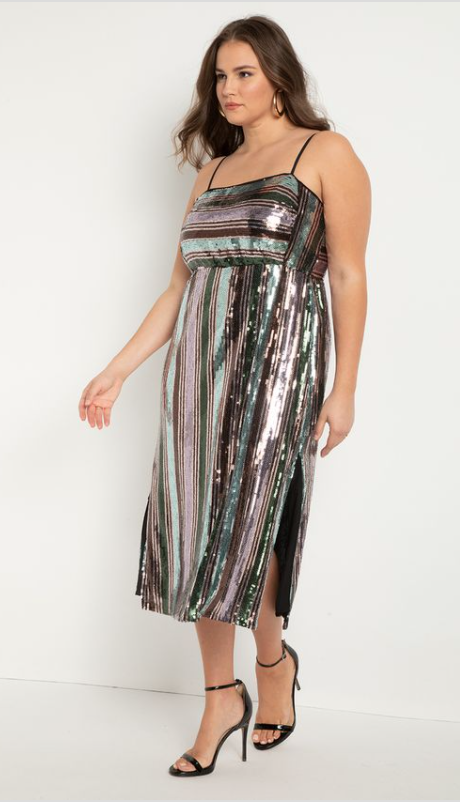 Brand #7: Plus Size Prom Dresses from Rent the Runway
Are you looking for a plus size formal dress for prom – but you don't want it to scream "PROM"?
Then Rent the Runway might be a fit for you! The service offers runway and luxury gowns – for rent, making it possible to wear a dress that's $$$$ – for around $100.
At time of publishing, I wasn't able to snag photos of RTR looks on a plus size model </3.
Shop plus size prom dresses at Rent the Runway here!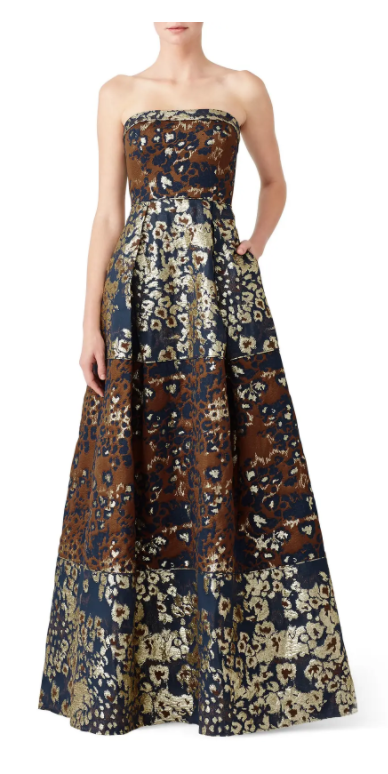 Brand #8: Plus Size Prom Jumpsuit from JIBRI
JIBRI is known for creating stunning silhouettes, and their collection of gowns and jumpsuits are what dreams are made of!
JIBRI makes plus size prom outfits in up to a 4X!
Shop this Atlanta-based brand here!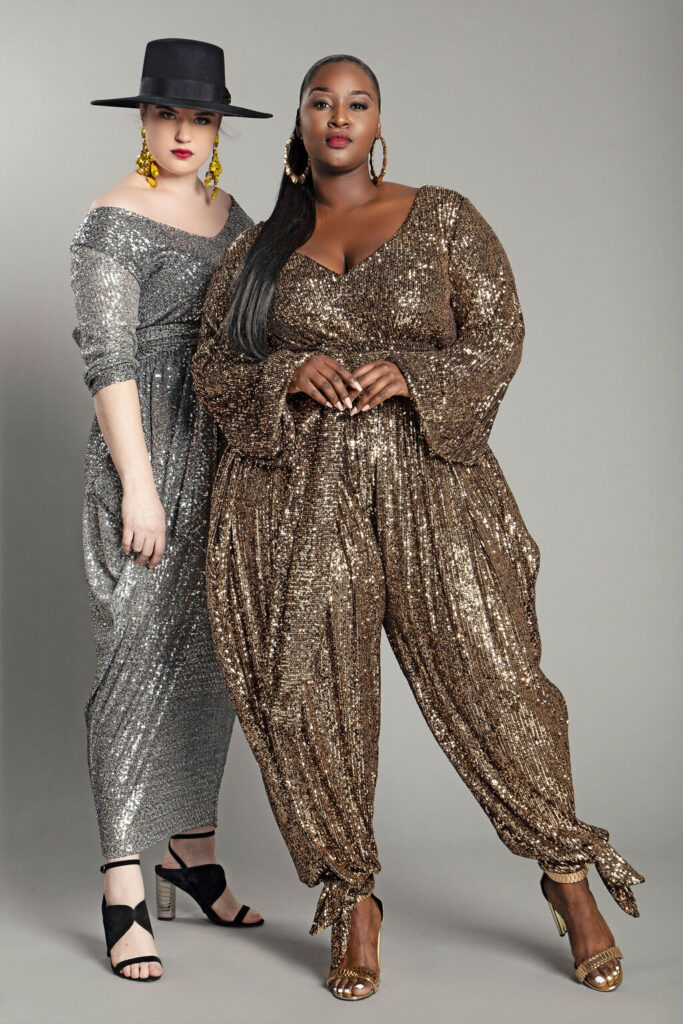 Stay in Touch for More Fashion Reviews!
If you want to stay up-to-date on my reviews, I recommend joining me on your favorite social media platform (Facebook, Instagram or Twitter).
More of an email kind of person? Subscribe here!
[FTC Notice: This post contains affiliate links, meaning I earn a small commission if you purchase a product through my link. Affiliates help me write more great content, and I only endorse products I truly love.]
Sours: https://thehuntswoman.com/7-places-to-buy-unique-trendy-plus-size-prom-dresses/
Plus Size Dresses
Find your perfect fit at Prom Headquarters and hit the dance floor with confidence. We carry a huge selection of plus size prom gowns to choose from, so you won't have to compromise on your favorite styles or trends. Find a dress that fits like a glove and browse fabulous styles that fit and flatter all body types. We carry everything from embellished gowns with lace, sequins and rhinestones to sleek prom dresses that look like they're fresh off the runway. Prom Headquarters carries all of the trendiest looks in styles that range from size 14 to 32.

For the best selection of plus size prom dresses, shop at Prom Headquarters. We carry all of your favorite designer brands including Mac Duggal Fabulouss, Sherri Hill, Tiffany Plus and more. Our 2021 collection of plus size prom dresses includes all of the latest styles, so you'll be the bell of the ball. Shop for dresses with low or open backs, front slits, sequins, eye-catching colors and more.

Looking for a purple prom dress? We have that. Shopping for a plus size white formal dress? We have that too. Sequins? We have those in spades. Our incredible selection ensures you'll find the perfect dress for your prom experience. Arrive in regal style with a plus size Tiffany halter mermaid dress or make a statement in this Faviana fitted high-leg slit dress with a high cut-out neckline. Finish off your look with the perfect accessories from shoes, tiaras, bracelets and more.

Whether you're shopping for Mac Duggal plus size dresses, high-low dresses or modest high-cut dresses, you've come to the right place. We offer dozens of different plus size prom dresses to choose from and most are available in multiple colors. On top of our incredible selection, we also offer free ground shipping when you spend $200 or more.

If you need more time to pay, ask about our prom gown layaway program that will allow you to pay your dress off over time without running the risk of it going out of stock. At Prom Headquarters, we want every girl to feel like a princess, so we make your dream dress as financially accessible as possible.
Sours: https://promheadquarters.com/plus-size-prom-dresses/
Plus Size Prom Dresses
Celebrate your beauty with one of our Plus Size Prom Dresses from The Dress Outlet. In our Plus Size Prom Dresses you're sure to find something that will compliment your voluptuous curves. Looking for a Plus Size Prom Dress with...Read more
Celebrate your beauty with one of our Plus Size Prom Dresses from The Dress Outlet. In our Plus Size Prom Dresses you're sure to find something that will compliment your voluptuous curves. Looking for a Plus Size Prom Dress with a mermaid flare or maybe you want a one-shoulder Prom Dress, we have all of it and more in our Plus Size Prom Dress collection. You should check out our ball gown prom dresses as well! As soon as you scroll through our collection and go to plus sizes, you'll be surprised to know that the prom dresses get even more adorable with this size. If someone says that you've to put a strict diet or something to get in the best dress then kindly laugh on their face as we have a stunning plus size prom dress collection patiently waiting for you. And it's not just any collection but something special, made with love, care, and quality for just you. At the dress outlet, you have your own world of high-slits, plunging necklines, tulle trails, crazy halter, or cold shoulder or tulle ruffles.Read less
Sours: https://www.thedressoutlet.com/collections/prom-plus-size
I try on \
Plus-Size Pink Dresses and Blush Pink Prom Dresses
Blush in Pink Plus-Size Dresses
Plus-size blush pink dresses have a naturally feminine appeal. So, whether you want to radiate graceful elegance or make the crowd blush at your edgy style, you can find a blush plus-size dress that's right for you. Blush is a popular color in fashion, and the versatility of the soft shade makes a blush pink dress suitable for nearly any casual, semi-formal, or formal event. If you want to be trendy, or simply wish to channel your inner girly side at your next special occasion, blush pink is the color for you!
Since pink is a girly color, pink dresses don't require a lot of extra frilly details to convey a feminine look and feel. If you prefer to skip the frilly details, but still want a feminine design, then you're in luck! A simple dress in pink will do. However, if you prefer to flaunt those fun extras, rich fabrics like satin and lace or embellishments such as embroidery can all further enhance the feminine look of blush pink plus dresses. Whether you're searching for a plus-size pink homecoming dress or a plus-size pink prom dress, expand your wardrobe with the refined style of a blush pink dress. For a look that will leave you "tickled pink," shop PromGirl's collection of plus-size pink dresses.
Sours: https://www.promgirl.com/shop/plus-color/pink-plus
Dresses blush plus size prom
" He stole it. the friend finished rather, and looked at Aurora in a strange way. And then she remembered how recently the teacher's wallet disappeared. Having connected these two events, plus jealousy did their job, a warm heart immediately made a decision.
Plus Size Prom Dresses 2015
Pity. Okay, I say, dont cry. Let's go for the last time in this shameful business, and thats all - Ill tie it up with you. The next day, the director runs up to.
You will also be interested:
And now, when his friends died, he felt like an orphan. The money channel that passed through Oleg dried up. Alik still lived well, but Yurka didn't get anything anymore. His parents were not as well provided for as those of Alik and Zhenya. "All have ancestors like ancestors, and my mother is a cook, my father is a crane operator.
7161
7162
7163
7164
7165