Leon County Assessor's Office
Popularity:#141 of 292 Assessor Offices in Texas#2,187 in Assessor Offices
Leon County Assessor's Office Contact Information
Address, Phone Number, and Fax Number for Leon County Assessor's Office, an Assessor Office, at North Cass Street, Centerville TX.
Name

Leon County Assessor's Office

Address

155 North Cass Street
Centerville, Texas, 75833

Phone

903-536-2543

Fax

903-536-2431
Free Leon County Assessor Office Property Records Search
Find Leon County residential property tax assessment records, tax assessment history, land & improvement values, district details, property maps, tax rates, exemptions, market valuations, ownership, past sales, deeds & more.
Map of Leon County Assessor's Office
View map of Leon County Assessor's Office, and get driving directions from your location .
Related Public Records Searches
Find Land Records and Property Records related to Leon County Assessor's Office.
Assessor Offices Nearby
Find 6 Assessor Offices within 40.6 miles of Leon County Assessor's Office.
External Links
Find 13 external resources related to Leon County Assessor's Office.
About the Leon County Assessor's Office
The Leon County Assessor's Office, located in Centerville, Texas, determines the value of all taxable property in Leon County, TX. Taxable property includes land and commercial properties, often referred to as real property or real estate, and fixed assets owned by businesses, often referred to as personal property. Property assessments performed by the Assessor are used to determine the Leon County property taxes owed by individual taxpayers.
Property owners may contact the Assessment Office for questions about:
Leon County, TX property tax assessments
Property tax appeals and reassessments
Paying property tax bills and due dates
Property tax rates and tax roll
Leon County GIS maps, property maps, and plat maps
Property records and deeds in Leon County
Leon County Home & Property Tax Statistics
Find Leon County Home Values, Property Tax Payments (Annual), Property Tax Collections (Total), and Housing Characteristics. Data Source: U.S. Census Bureau; American Community Survey, 2018 ACS 5-Year Estimates.
| | Leon County | Texas |
| --- | --- | --- |
| Median Home Value | $110,100 | $161,700 |
| Median Rental Cost (per month) | $730 | $998 |
| | Leon County | Texas |
| --- | --- | --- |
| Median Property Taxes | $893 | $2,922 |
| Median Property Taxes (Mortgage) | $1,144 | $3,622 |
| Median Property Taxes (No Mortgage) | $801 | $1,875 |
| | Leon County | Texas |
| --- | --- | --- |
| Property Taxes | $5,707,200 | $21,830,696,300 |
| Property Taxes (Mortgage) | $2,044,600 | $15,028,651,900 |
| Property Taxes (No Mortgage) | $3,662,500 | $6,802,044,400 |
| | Leon County | Texas |
| --- | --- | --- |
| Total Housing Units | 9,715 | 10,769,900 |
| Occupied Housing Units | 6,249 (64.3%) | 9,553,046 (88.7%) |
| Vacant Housing Units | 3,466 (35.7%) | 1,216,854 (11.3%) |
| Owner Occupied Housing Units | 4,907 (78.5%) | 5,917,771 (61.9%) |
| Renter Occupied Housing Units | 1,342 (21.5%) | 3,635,275 (38.1%) |
| Housing Units (Mortgage) | 30.3% | 57.8% |
| Housing Units (No Mortgage) | 69.7% | 42.2% |
Assessor Offices near Centerville
Sours: https://www.countyoffice.org/leon-county-assessors-office-centerville-tx-c3f/
Leon County Parcel Data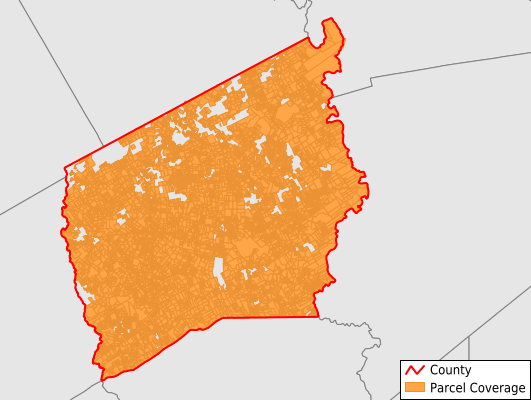 Texas
Total Parcels: 24,896 parcels
Last Updated: 2021-Q2
Recently Updated!
Total Population: 16,757
Leon County FIPS Code: 48289
Would you like to download Leon County gis parcel maps?
Request a quoteOrder Now!
Parcel data and parcel GIS (Geographic Information Systems) layers are often an essential piece of many different projects and processes. With the help of our parcel viewer, many characteristics of real estate and mineral properties can be visualized and analyzed over an area of interest.
Dynamo Spatial's Pinpoint Parcels product is a first-class parcel layer containing deep data attributes about property valuations, legal descriptions, land ownership, service areas, census statistics, environmental conditions and much more. Through spatial analysis, parcel gis may also be used to increase the value of other reference layers, with methods such as intersection, proximity, buffer and overlay functions. Many industries already require the use of parcel maps on a daily basis and many more are beginning to discover the benefits that this added insight provides.
Each day we help companies find new efficiencies and money saving advantages by providing the highest quality parcel GIS with our fast and easy download process. We provide the parcel data in the ESRI Shapefile (.SHP file) gis format but we can also convert it into a number of industry standard formats for easy import into virtually any third-party software application. Examples include: ESRI ArcMap, LandWorks GIS, Quorum Land System, OGSYS, P2 Tobin Products, Autodesk Map, LandBoss, Enertia Products, GeoGraphix, Petra, ILandMan and more.
Attributes available in the Leon County parcels download (ESRI Shapefile):
Parcel Id
Address
Owner Name
Acreage
Area Meters
Perimeter Meters
Municipality
School District
Zip Code
Fld Zone
Zone Subty
Census Tract
Census Blkgrp
Census Block
Total Market Value
Building Market Value
Mail Name
Mail Address1
Mail Address2
Mail Address3
Legal Description
Extended Legal Description
Extended Legal Description
Addr Sec Unit Type
Place Gnis Code
Land Cover
Elevation
Owner Occupied
Robust Id
Usps Residential
Alt Id 1
Here are some of the industries that have found our parcel viewer to be an indispensable resource in their daily operations:
Government
Tax Appraisal and Assessment
Public Safety
Law Enforcement
Homeland Security
Telecommunications
Right of Way
Call Before You Dig
Asset Management
Meter Reading Services
Real Estate, Demographic Studies, Commercial
Owner Contact Information (Mailing Addresses)
Property Values
Legal Descriptions
Demographics Information
Assessment Information
Service Boundaries
School Districts
Aerial Imagery
Financial Institutions - Banks, Lenders, Finance Companies, Title Companies
Return on Investment Research
Tax Liability Calculations
Loan Processing
Collateral Value Estimation
Insurance - Flood Insurance, Fire Insurance
Flood Certification
Risk Assessment
Disaster Damage History
Underwriting Management
Property Tax Values
Sours: https://www.dynamospatial.com/c/leon-county-tx/parcel-data
LEON COUNTY APPRAISAL DISTRICT
Leon County is a county located in the U.S. state of Texas. As of the 2010 census, its population was 16,801. Its county seat is Centerville. Wikipedia
Leon County is a county in the U.S. state of Texas. Total Properties in Leon County are 4,236 and 451 homes for sale in Leon County and 1 For Lease in Leon County. You can view Trending Homes in Leon County, Recently Listed properties in Leon County, Leon County School Districts information and overview of Leon County Zip codes.
Search Leon County Real Estate and find real estate listings for sale and real estate for rent on HAR.com. View Leon county recently listed homes for sale and Leon County home for rent, trending real estate in Leon County, recently sold homes in Leon County, home values in Leon County, schools in Leon County and neighborhoods. You can also narrow your search to find condos in Leon County, apartments in Leon County and more. Just click on the link to find real estate agents in Leon County, real estate firms in Leon County so you have access to the most information you need to make a better decision of buying and selling your home in Leon County.
Leon County Real Estate Overview:
The number of active real estate listings in the Leon County is 4,236.
The number of homes for sale in Leon County is 451.
The number of active real estate listings in the Leon county for Rent is 1.
HAR.com has the most accurate Leon County real estate listings information that offer detailed property information that could help you find the home of your dreams.
Sours: https://www.har.com/leon/county_48289
GIS Map Tutorial: Street View
Leon county texas property maps
Dictionary
Frequently Asked Questions
Where are the property lines in Leon County TX?
The AcreValue Leon County, TX plat map, sourced from the Leon County, TX tax assessor, indicates the property boundaries for each parcel of land, with information about the landowner, the parcel number, and the total acres. Nearby States: Oklahoma , New Mexico , Louisiana , Arkansas , Kansas .
Who is the tax assessor for Leon County Texas?
In addition, as an agent of the Texas Department of Transportation, the assessor-collector is responsible for the registration and licensing of motor vehicles owned by residents of the county.
What does the Leon County appraisal district do?
The Leon County Appraisal District appraises property for ad valorem taxation of these taxing authorities. The administration of exemptions and special valuations authorized by the local entities and the State of Texas
How are property tax rates determined in Texas?
The administration of exemptions and special valuations authorized by the local entities and the State of Texas Tax rates and ultimately the amount of taxes levied on property are determined by governing bodies of each of the taxing authorities.
Sours: https://useenglishwords.com/results/leon-county-texas-property-maps/
Tx gis county map leon
Texas - Leon County Maps, Leon County Plat Books and Parcel Maps with GIS Parcel Data
Rockford Map provides highly accurate Leon County parcel map data containing land ownership, property line info, parcel boundaries and acreage information along with related geographic features including latitude/longitude, government jurisdictions, school districts, roads, waterways, public lands and aerial map imagery. Leon County maps are available in a variety of printed and digital formats to suit your needs. Whether you are looking for a traditional printed county plat book, historical plat maps or highly attributed GIS parcel data map with boundaries and ID Number, we have the most up-to-date parcel information available.
Leon County, Texas source information varies according to county record availability. Many of the products contain land ownership data for larger parcels only while others contain data for all parcels including highly desirable parcel identification numbers (PINs) as well as address, census, zip code, zoning and land use information.
Products for Leon County, TX
Sours: http://www.rockfordmap.com/Product-List/List/Texas/Leon-County-Maps
Global Mapper in How to Create Map Layout \u0026 Adding Grid Coordinates
Leon Parcel Data, Leon County GIS Data, Leon County Shapefile. Leon County GIS is now available for immediate download. Our GIS data includes parcels, ownership, abstracts and street centerline data. Each layer is in shapefile format.
Since 2014, Texas GIS Data Download has provided a central repository for parcel data and ownership information in the State of Texas. Parcel information has quickly become a "Must have" for anyone dealing with land records. We strive to provide you with the highest quality of GIS and property ownership information. Our philosophy is to be professional, proficient, and to exceed client expectations on each and every inquiry. Our GIS products are provided in a cost effective and timely manner to ensure the data you purchase is as up-to-date as possible. Each Texas GIS Data is listed by County.
Our online store includes GIS data sets that are available for a variety of industries including oil & gas, pipeline, right-of-way, government, utilities & telecommunications, real estate, forestry, mining, and alternative energy.
We provide GIS data and ownership information in its raw form without restrictions. Please see our disclaimer for additional information regarding the GIS data on our website.
The following shapefile layers are included for each county:
Ownership
Parcels
Streets
Abstracts
Additional layers may also be included in each deliverable:
Subdivision Boundaries
City Limit Boundaries
School Districts
Blocks
Lot Lines
Ownership Information
The fields below are a sample of the ownership information provided. The ownership information is pre-joined to the parcel data.
Account Number Tract or Lot Situs Street
Tax Year Abstract/Subd Code Situs Street Sufix
Owner Name Land Value Situs City
Legal Acreage Improvement Value Situs State
Neighborhood Code Market Value Situs Zip
School Code Block Mailing Address
City Code Map ID Mailing City
County Code Geo ID Mailing State
Next Appraisal Date Situs Number Mailing Zip
Legal Description Situs Street Prefix
Metadata
Format: Shapefile (.shp)
Spatial Reference: NAD83 Texas State Plane (North, North Central, Central, South Central, South) Feet.
Disclaimer
Download Texas GIS Data does not guarantee the correctness or accuracy of any GIS data included in its deliverables. This information is presented "as is" and without warranties, either expressed or implied. These digital products are for illustration purposes only and are not suitable for site-specific decision making. GIS data is subject to constant changes, and may not be complete, accurate or current.
Download Leon County GIS, Leon County GIS, Leon Parcel Data, Leon County GIS Data, Leon Counties Shapefile
Sours: https://www.downloadtexasgisdata.com/downloads/leon-county-gis/
You will also like:
Thank you, she chuckled softly and turned her gaze to the monitor. Till tomorrow. Andrey smiled, adjusted the baseball cap on his head.
7538
7539
7540
7541
7542