DIY Stick Chair – FREE Building Plans
Some or all of the hosts of The Fab Furniture Flippin' Contest receive monetary and/or product compensation from the sponsoring brand, The Old Fashioned Milk Paint Co., in order to complete their themed projects. The Old Fashioned Milk Paint Co. will also provide the prize package for the contest winner.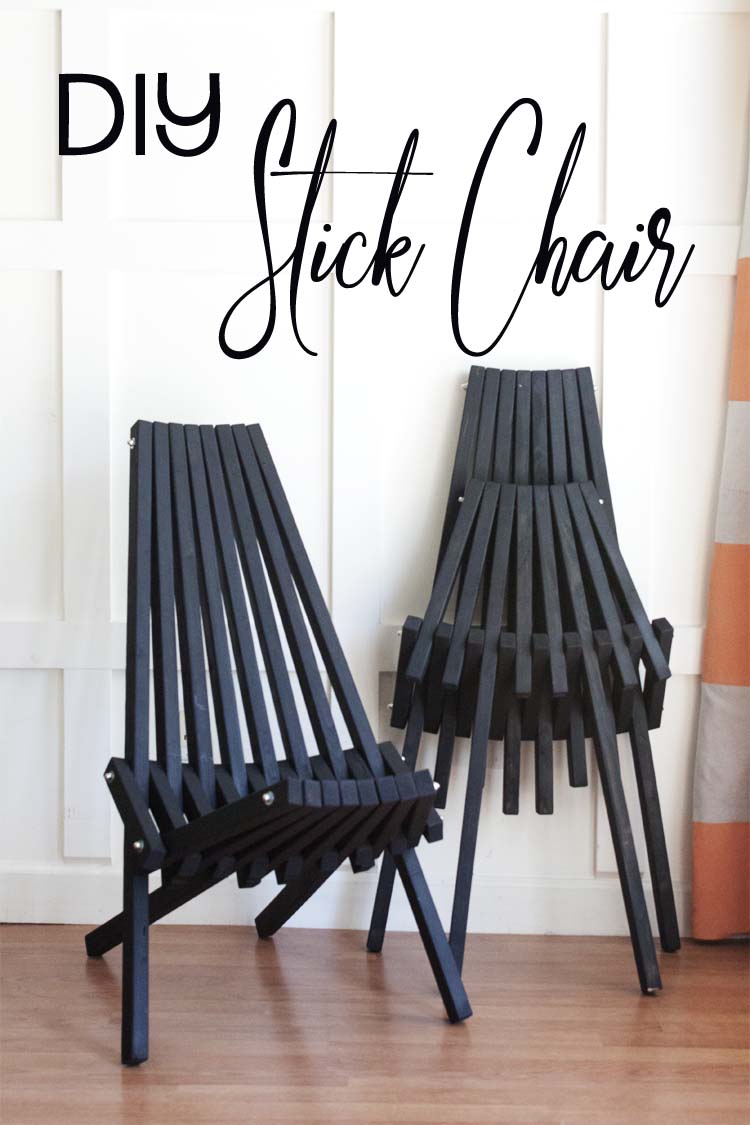 Have you ever laid eyes on something and known in that instant that you had to have one (or two) no matter what? That's how I felt about these chairs the first time I saw one on Instagram. I knew two things in that moment: 1) I have to have them and 2) it's doubtful I can afford to buy them. And these two thoughts always culminate in me figuring out how to DIY whatever those things I have to have but cannot afford. So, this is how I made my own DIY Stick Chair (er chairs) for around $40 each. And they fold. What?!
When I saw this post by Corinna (@adesignerathome) on Instagram I was immediately in love and since I've recently begun to (finally!) give my front porch a makeover I knew these chairs were perfect. Not too big, they fold (that still blows my mind) and they're sort of old fashioned and super modern all at the same time.
Here's what you'll need to make some of your own.
DIY Stick Chair
You will need:
2 – 2x4x10 select pine (or cedar)
table saw (for ripping 2x4s)
miter saw (for cuts)
sander
drill
5/16″ drill bit
router
1/4 roundover router bit
2 – 6ft sections of 1/4″ All Threaded Rod (cut to 32″ lengths)
bolt cutters
metal file or grinder
8 – 1/4″ washers
8 – 1/4″ acorn nuts
Optional:
Old Fashioned Milk Paint (1 cup of paint = 1/2 cup powder + 1/2 cup water)
Natural bristle paint brush
Tung oil (sealer)
Cut List:
6 – 15″ pieces (seat) A
2 – 35″ pieces (seat/back legs) B
4 – 31 1/2″ pieces (back – longer) C
2 – 29 3/4 pieces ( back – shorter) D
2 – 42″ pieces (back/front legs) E
9 – 9 1/8″ pieces (connectors) F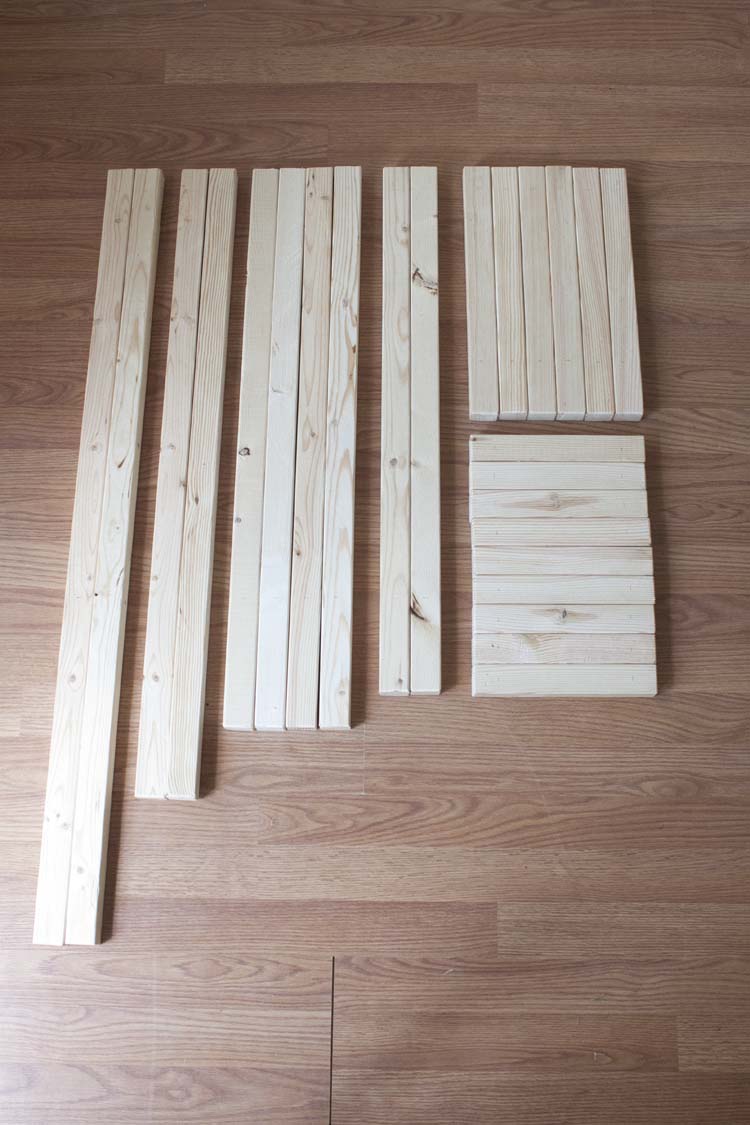 Here's a visual of what the cuts look like for your DIY stick chair. We basically ripped two 2x4x10s of select pine into thirds and then cut the necessary pieces in varying lengths. We used a router and 1/4″ roundover router bit to round off the corners and then sanded each piece until smooth.
Where to drill holes: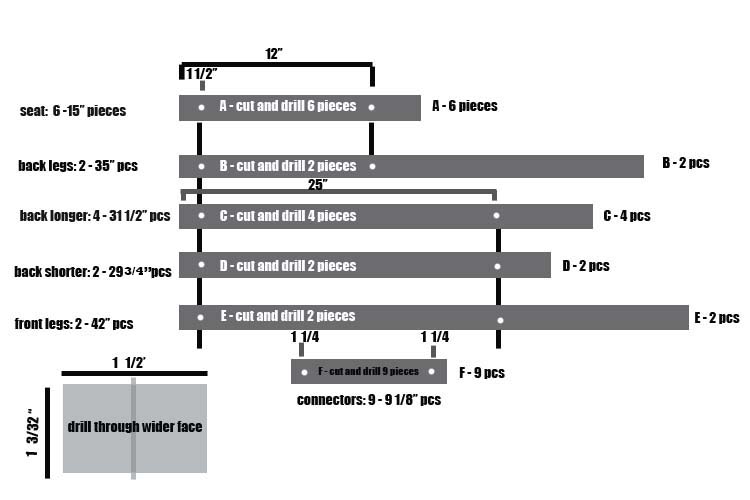 Once all of the pieces were cut to the correct lengths, we drilled holes for the threaded rod. This graphic serves as a visual to help you know where to drill and also which side of the board (the wider face) you should drill through.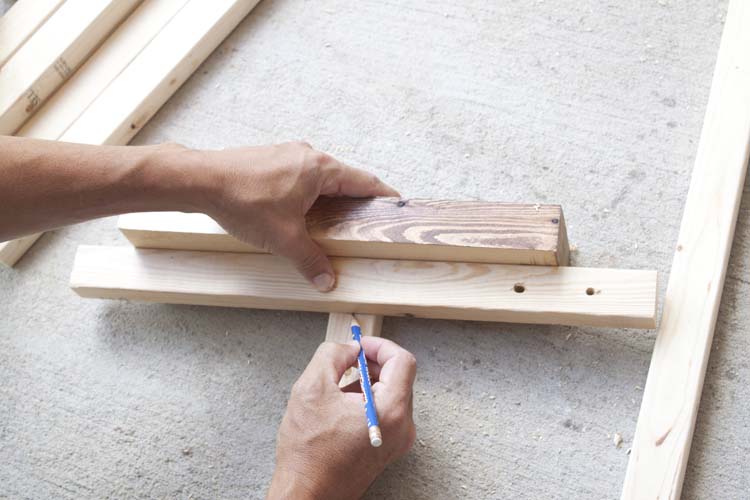 Because we don't have a fancy drill press we made up this stop block to make it easy to drill holes and not have to measure every board, every time.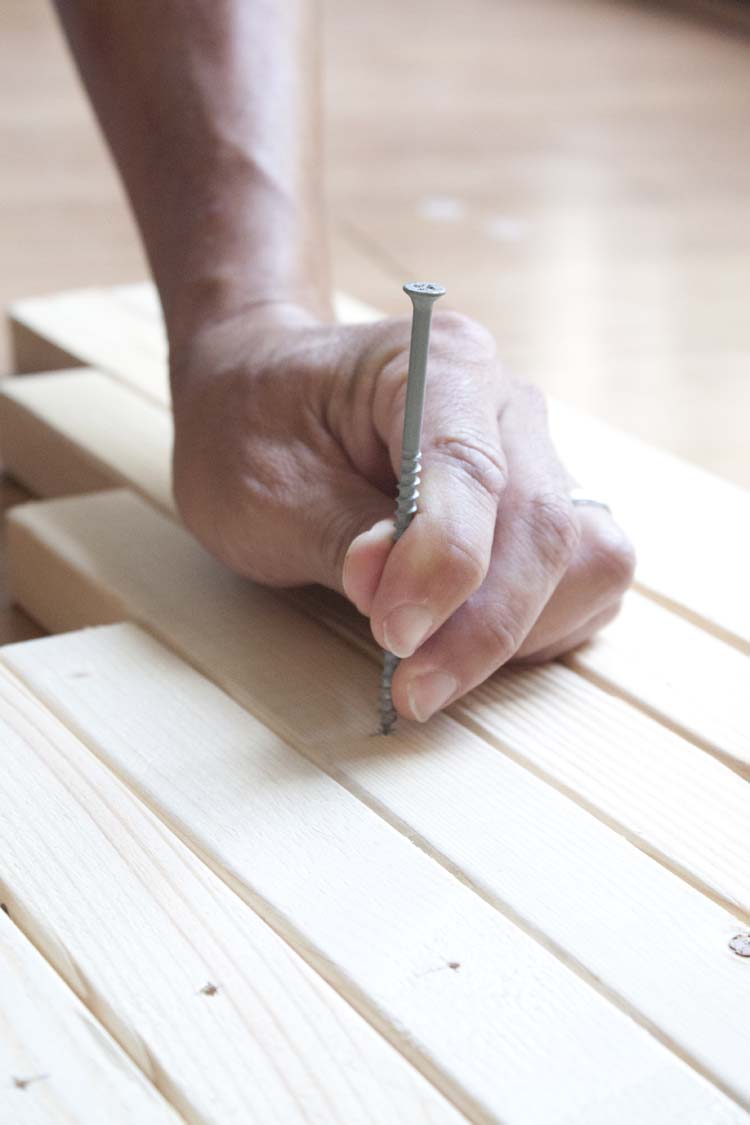 We also tapped a screw with a hammer over each marking prior to drilling, just to give the bit something grab into. If you've ever started to drill a hole and had your drill skip across the wood on you, you'll appreciate this extra little step.
How to put chair together: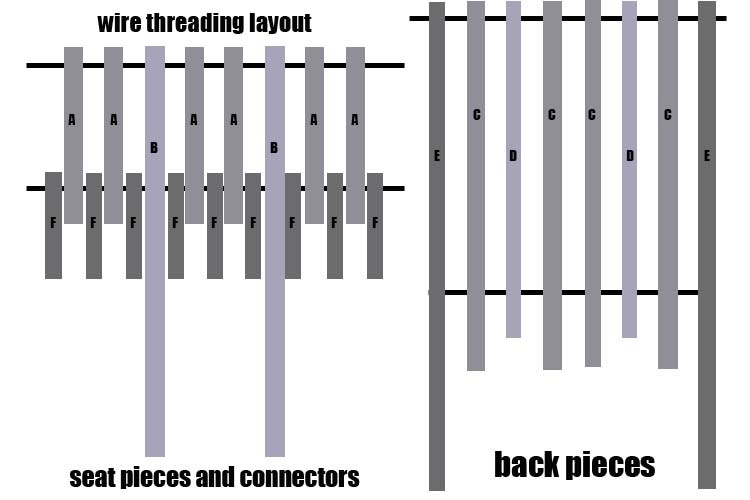 At this point putting the chair together is kind of self explanatory but I really benefited from watching this guy put one together in this Youtube video. It is also worth noting that we learned to leave some give in the seat section while cinching the top and end of seat and then tightening up the middle sections.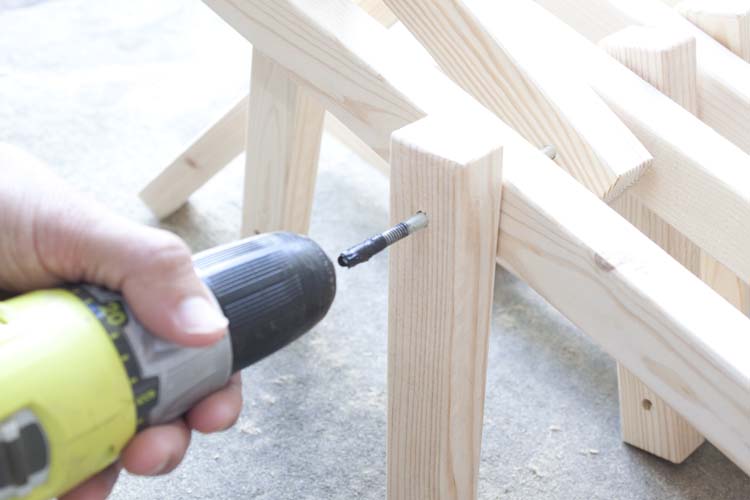 We also used electrical tape on the ends of the rods (to keep from damaging the threads) and used our drill to thread them through. It's impossible to get them through otherwise. Once the boards are cinched up as they should be we clipped off the excess threaded rod with bolt cutters, filed off the rough edges so that the nuts would fit on and finished off with a washer and acorn nut.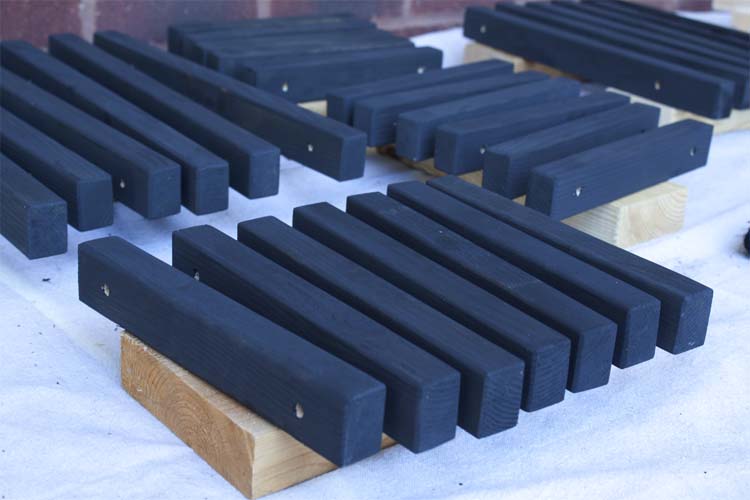 If you decide to paint your chair you might find it easier to paint each piece individually.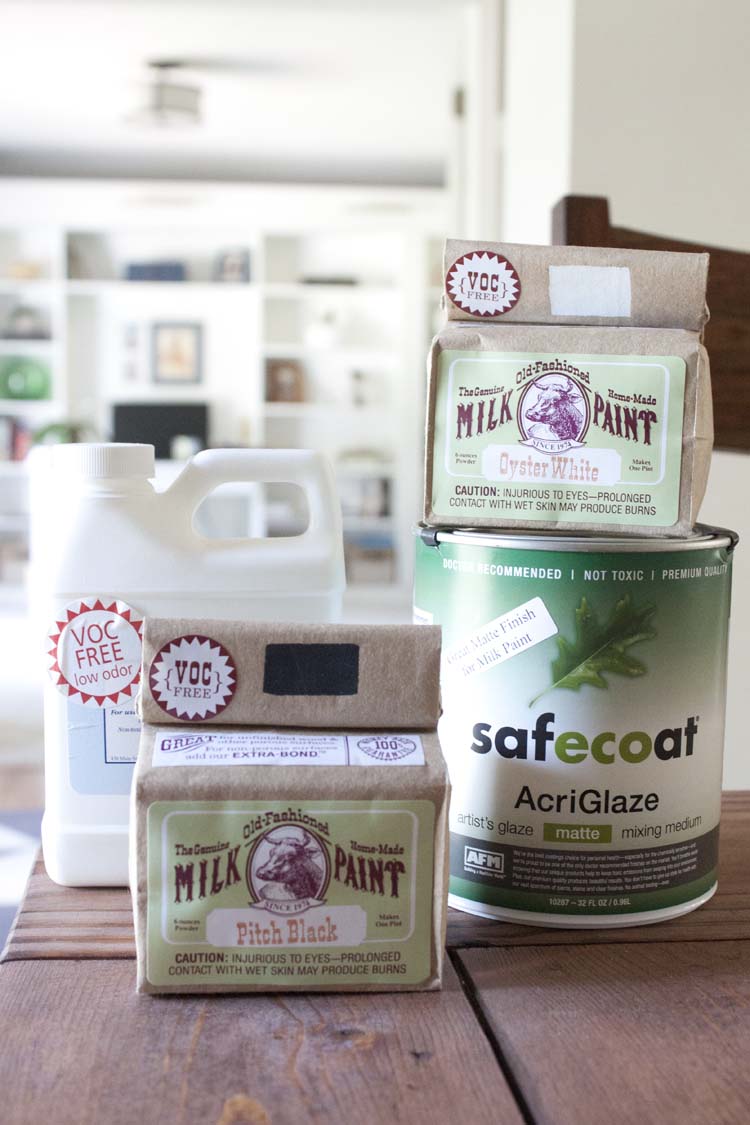 I used Old Fashioned Milk Paint in Pitch Black to paint mine. Milk paint is the perfect protection for raw wood since it actually bonds with the wood fibers.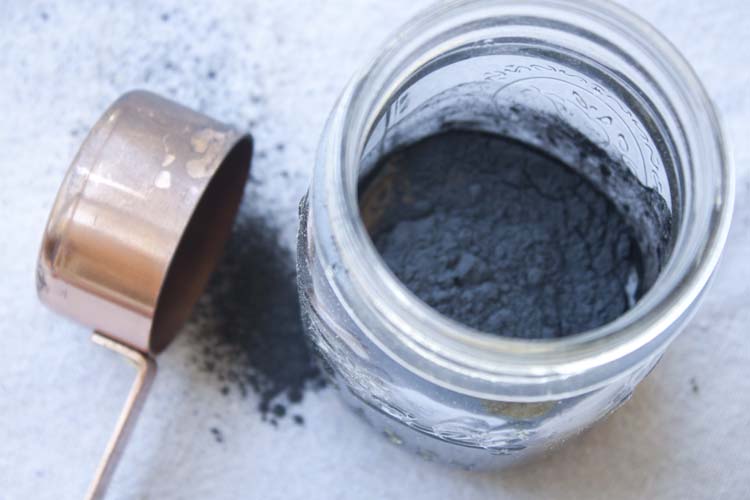 I mixed equal parts paint powder (1/2 cup) with equal parts water (1/2 cup) for a total of 1 cup of paint which was more than enough for one coat on both chairs.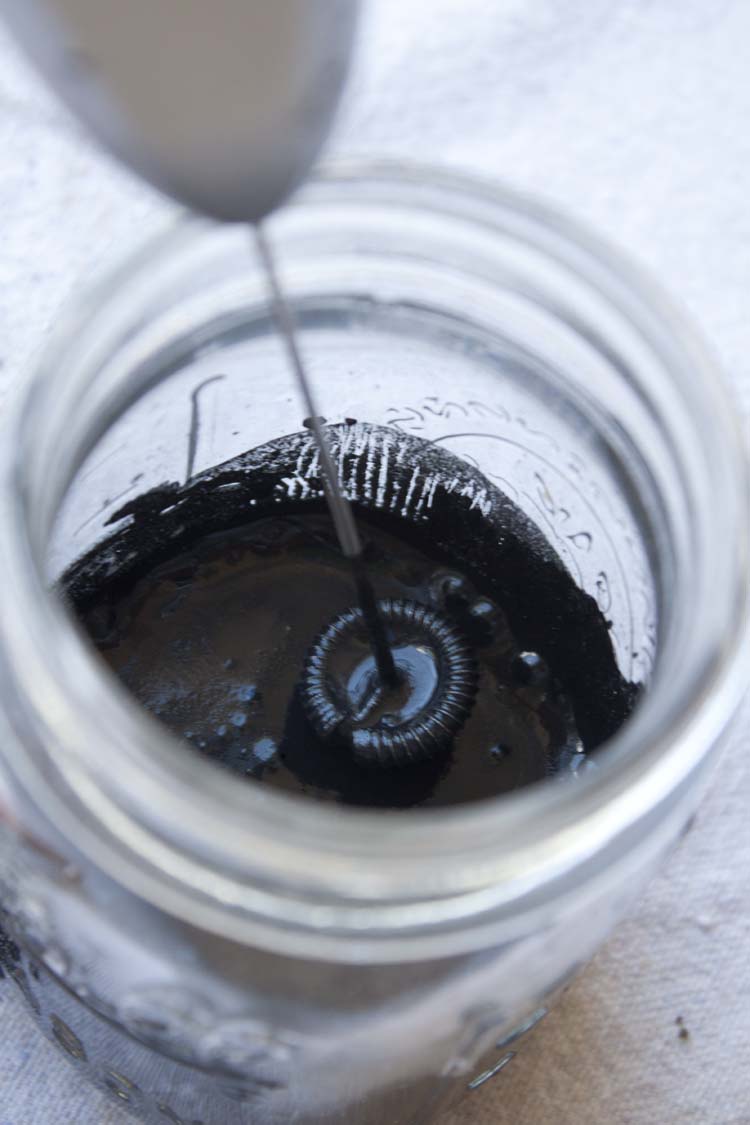 I always use a milk frother to mix my milk paint. Lukewarm or warm water also helps to get it super smooth.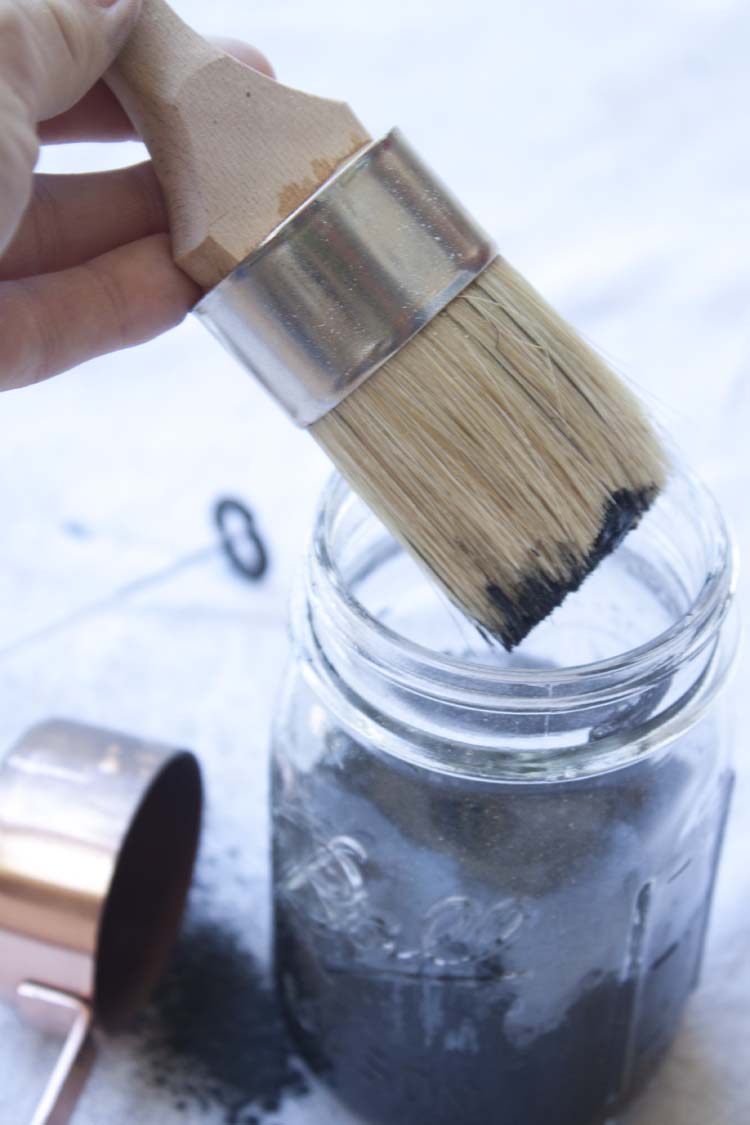 It takes about 60 seconds to mix and get your paint ready to use. Milk paint is best applied with a natural bristle brush.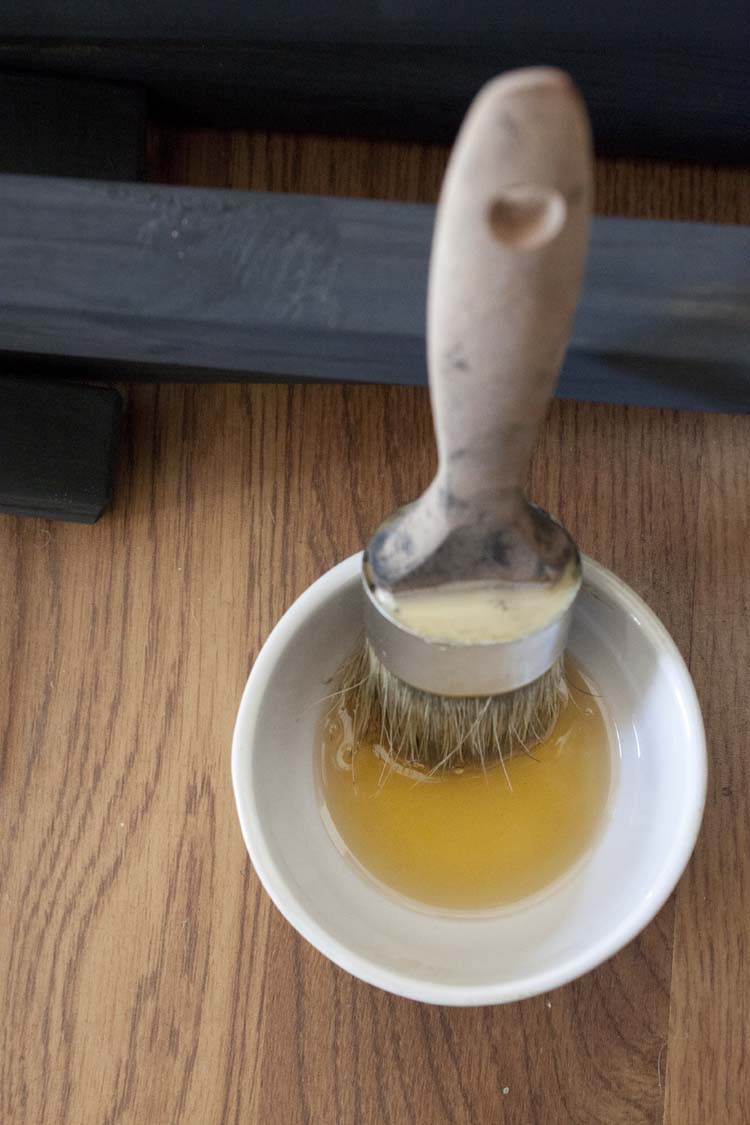 For added protection, since I'll be using these on my covered porch outside, I sealed with Tung oil. It dries to a hard finish and is great for outdoor use. I applied in full strength with a brush, waited 15 mins and wiped with a cotton cloth. Always follow manufacturer's instructions.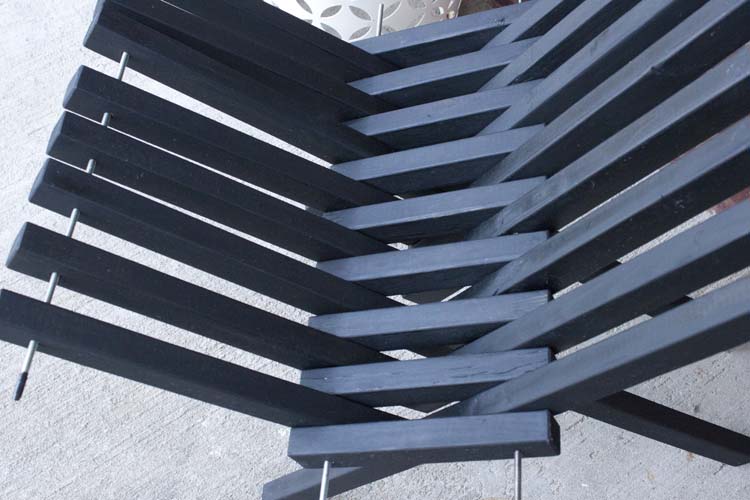 And while I painted my chair pieces prior to assembly, I applied the Tung oil once I had the chair put together but before tightening up the pieces.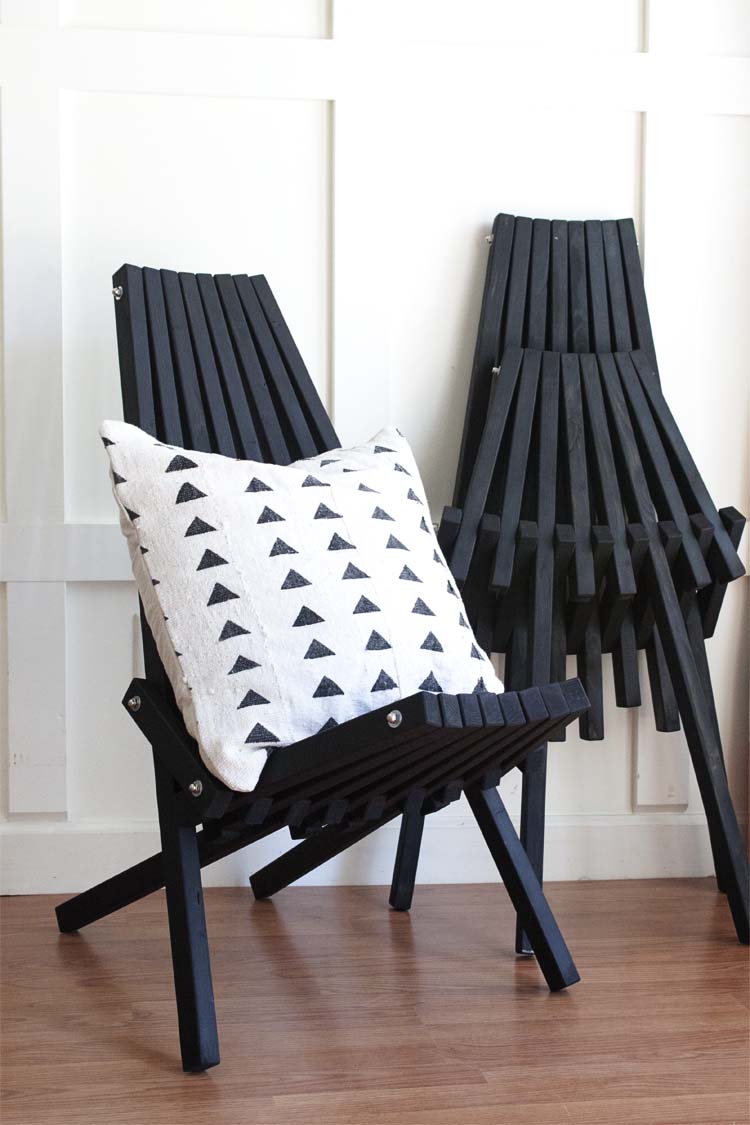 I. Am. So. In. LOVE.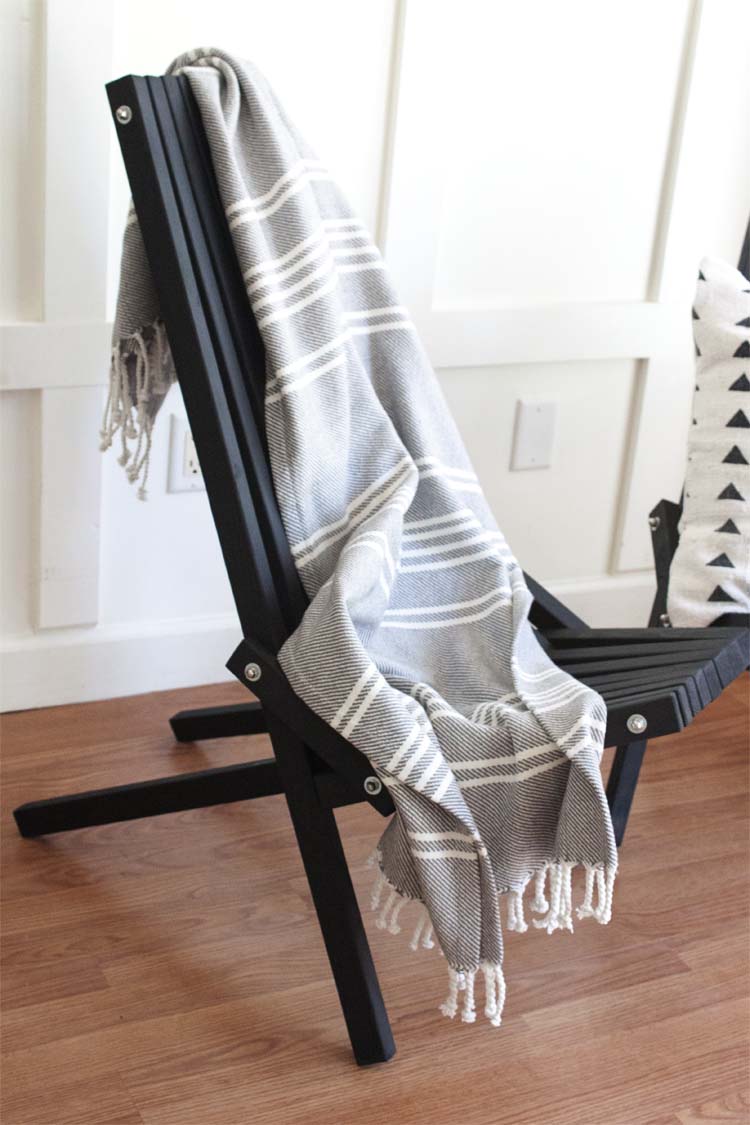 And as great as they look inside they make me so much more excited about finishing up my front porch makeover.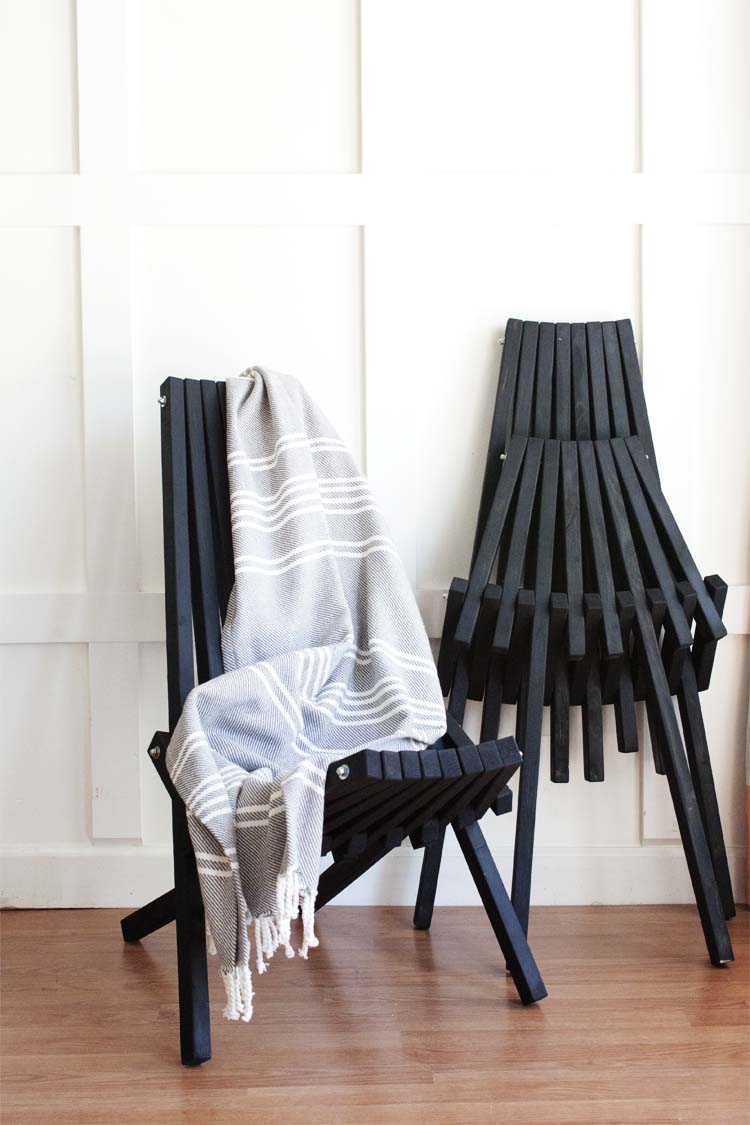 The black paint adds to their modern vibe and will go great with out brick facade.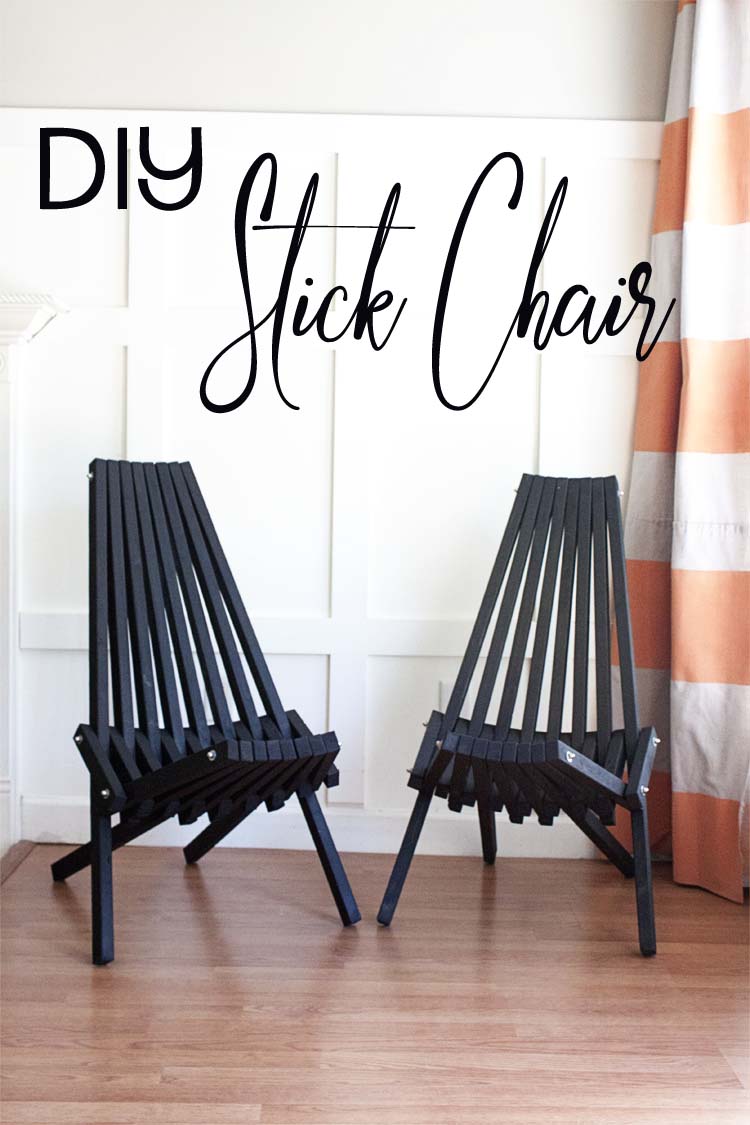 What do you think? Want to make a DIY stick chair (or two) of your own?
This post is done in collaboration with The Fab Furniture Flippin' Contest, The Old Fashioned Milk Paint and this  month's theme Farmhouse Fun. Please be sure to visit this month's hosts: Evey's Creations  and Anastasia Vintage. If you're interested in participating in future contests, please contact [email protected] for more information.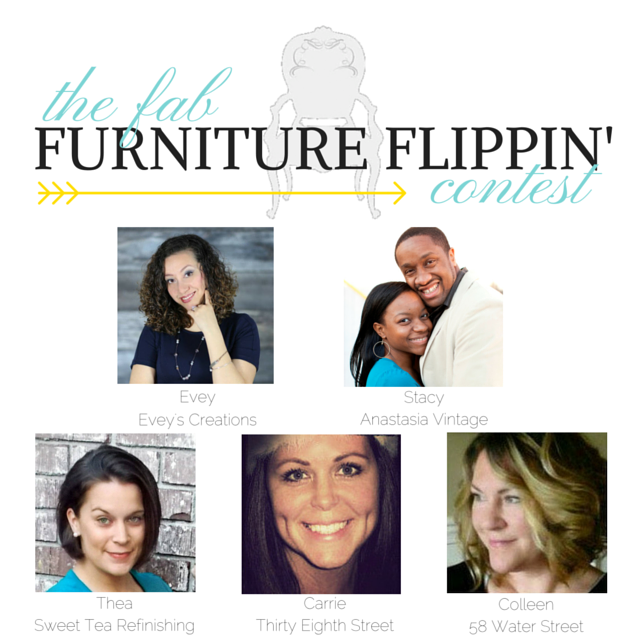 Filed Under: All Furniture Projects, DIY Tutorials, Furniture Makeovers, Popular Posts, Projects, Southern Revivals26 Comments
Sours: https://www.southernrevivals.com/diy-stick-chair/
In our recent project, the Cordless Circular Saw Shootout, we had the opportunity to put 3 great circular saws to the test: the Milwaukee 2731-22 ($429), the Makita XSH01X ($419), and the Dewalt DCS575T2($355). In this test we wanted to rank the three in power, run-time and several other parameters which naturally involves lots of wood cutting. We built a simple jig to rip 2X4's in half, so we could run all 3 of these saws in nice long rip cuts to gauge power and see if any might bog down (no bogging down with any of these saws). And of course, after our test we had plenty of freshly cut 2X2's which can be useful for building book shelves or framing basements or any number of other projects but we already knew what to do with them, we were going to build a Kentucky Stick Chair.
Kentucky Stick Chairs are very easy to build with only a few bucks of material, you just need 2X2s (hockey sticks also works) and a couple of galvanized wire cables. The Kentucky Stick Chairs are very popular basic woodworking projects that many people have shared online. There are several different designs for them, we got our dimensions from The Woodworking Trip. Instead of just mindlessly cutting 2×4's to test these circ saws why not build a simple project, or a couple of them.
There is a very small price difference (at least in our area) between 2X2s and 2X4s. That being said if you want to build yourself a stick chair or any project that uses 2X2s it probably makes more sense to buy some 2X4s and rip them. We used a circular saw for the sake of our testing (but also because almost everyone has access to one), a table saw would get the job done in no time. To be clear, the "2×2" final dimensions should be roughly 1-1/4" x 1-1/2". For the wire you will need 4 pieces of 1/8" galvanized wire, and 8 wire clamps to put on the ends. The Widest section of the chair, the seat, is a little less than 3 feet from end to end, so make sure your cables are long enough to have slack at each end.
Once you have all your 2X2s ripped, you can go ahead and cut them to the right lengths.   We used a Milwaukee M18 Miter Saw 2734-21HD for this step.  See the graph below for measurements.
| | | | |
| --- | --- | --- | --- |
| ID | Piece | Length | Count |
| A | Seat | 15″ | 6 |
| B | Back Legs | 35″ | 2 |
| C | Back Long | 31.5″ | 4 |
| D | Back Short | 29.75″ | 2 |
| E | Front legs | 42″ | 2 |
| F | Joints | 9-1/8″ | 9 |
Ideally you will also want to hit all your pieces with a router and sand them as well to make sure all your edges are nice and smooth for a much more comfortable seat. After that you'll be able to drill the holes for the cables. This can be a bit tedious, as there are 41 holes needed. We used a hand drill but a drill press would be preferred to make sure all the holes aligned properly. The holes will be drilled though the wider edge (1-1/2") of your 2X2s, centered across that edge. For a more finished look, each end pieces should have a larger bored hole about half way through to recess the wire hardware. The diagram below will detail where your holes are supposed to be.
After that it's time to lay out all the pieces so you can thread them together with your cable. There will be two sections that need to be strung together separately, and then attached. One section will be the back of the chair with the front legs, and the other will be the seat section with the rear legs.
Cables 1, 2, and 3 can be fed through first, and then cable 4 will be used to join the two sections. We found it easy to lay the back section down on the table and then lay the seat section over top, and then simply let the F pieces fall into place. After cable 4 is fed through, you can then grab near cables 2 and 1 and lift and pull together to unfold the chair. We unfolded and stood up the chair before tightening and fastening the ends of the cable to make sure everything looked lined up right. It will probably be easier to fasten your cable clamps with the chair unfolded to avoid over tightening.
All the pieces should be pulled tight together, but not so tight that the chair cannot open or close.  After that the cable can be clipped. The ends came out to be pretty sharp so we recommend filing them down. We have also seen other people use threaded rod instead of cable, below are a couple variations (SouthernRevivals has some other good plans) but there are endless variations you can find with a quick search.
All in all, we were pretty impressed with how quick and easy our chair was to put together and deceivingly comfortable. It would make for a great lawn or porch chair or even a portable one to throw in the car for tailgates and such. Currently we are going to leave this chair unfinished so we can go back for another tool review (stay tuned!!) which is why the cables ends are not finished off yet. Once the chair is assembled, it is very easy to take apart to finish and then put back together however if you plan on doing this, just remember not to cut your cables so you can get it back together. There are lots of finish options, stained or painted finish, depending on where this might end up, indoors or outdoors.
More Information
Uncategorized
Tags
Milwaukee | cordless tools | milwaukee m18 | makita tools | dewalt | miter saw | bosch cordless | dewalt tools | 18v cordless makita
Sours: https://beltsandboxes.com/easy-build-project-kentucky-stick-chair/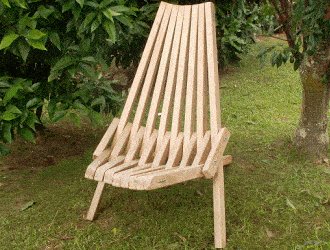 Preface
History unknown. I first made a couple of these chairs some six or seven years ago after obtaining a rough plan from a friend who used to make them in his spare time – not only for around his own house but as gifts for his friends and relatives. He got the plans by measuring off a chair that his father had made but has no idea where his father got the original plans. Regardless, the design has been around for some time.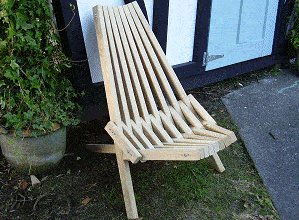 The chair doesn't appear to have a common name. I have heard it called by various names including "stick" chair, "Kentucky" chair, "garden" chair, "folding" chair, but to name a few. By my way of thinking, none of those names seem to be a perfect fit for this chair. So I'm going to call this chair "the Kentucky Stick Chair". One thing's for sure, the design isn't confined to Kentucky. Maybe it originated there – who knows? Some feedback might enlighten us as to its origin.
Anyway, let's re-visit the project, dust off the old sketch plans and build another.
To purchase this plan in downloadable PDF file in clean copy (free of ads).
The plans can be purchased online and immediately downloaded to your computer.
Introduction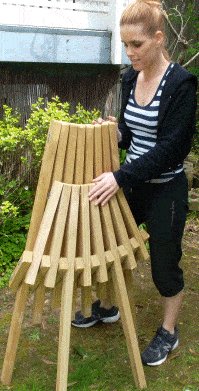 This is a fun project.
In simply involves cutting all the pieces (sticks) to length, drilling holes through all the pieces at the given points, and then threading wire through the holes to tie all the pieces together.
Voila. A comfortable chair that can easily be folded up and stored, or carried.
The chair is a low, laid back, comfortable bucket-type chair.
Sit in it, and you won't want to get out.
It is made out of a number of narrow pieces of wood (sticks) that are interwoven and held together with wire thread through holes drilled in all the individual pieces.
When finished, the chair can be easily folded up and stored, or carried.
Materials and cutting list
Stick chair project
Dimensions given throughout this project are in both imperial (inches) and metric (mm). The imperial measurements are given first, followed by the metric measurements in brackets ( ).
Wood size (width and thickness) and alternative sizes
The stock size used in this project is 1½" x 1¼" (45mm x 33mm). This is not a common size in a lot of places.
If you cannot obtain this stock size or anything close, then you can rip (cut lengthwise) an acceptable size from a wider stock. For example, you could rip three equal size pieces out of 2″ x 4″ (100mm x 50mm) stock.
The size (width and thickness) of the stock that you use does not have to be exactly the same size as the stock size used in this project, as long as it is within a bull's roar and all the pieces are uniform.
What you will need
You will need 54ft (16.5m) of 1½" x 1¼" (45mm x 33mm) wood.
If you cannot source the stock size, read the above paragraph.
You will need 4 pieces of approximately 5/32″ (4mm) diameter galvanized mild steel wire – 32″ (800mm) long.
The wire size mentioned above is the approximate size (for rounding off purposes) of 6 gauge AWG (American Wire Gauge), which is the same as 8 gauge British SWG (Standard Wire Gauge), also referred to as number 8 wire (NZ).
The cutting list
Note: If you cannot obtain the exact stock size as listed in the cutting list below, refer to the paragraph 'Wood size (width and thickness) and alternative sizes' on the previous page.
| | | | | |
| --- | --- | --- | --- | --- |
| ITEM ID | DESCRIPTION | STOCK SIZE | LENGTH | HOW MANY PIECES |
| [a] | seat | 1½" x 1¼" (45mm x 33mm) | 15″ (375mm) | 6 |
| [b] | seat/back legs | 1½" x 1¼" (45mm x 33mm) | 35″ (875mm) | 2 |
| [c] | back longer | 1½" x 1¼" (45mm x 33mm) | 31½" (787mm) | 4 |
| [d] | back shorter | 1½" x 1¼" (45mm x 33mm) | 29¾" (745mm) | 2 |
| [e] | back/front legs | 1½" x 1¼" (45mm x 33mm) | 42″ (1050mm) | 2 |
| [f] | couplers | 1½" x 1¼" (45mm x 33mm) | 9⅛" (228mm) | 9 |
Plan drawing – Where to drill the holes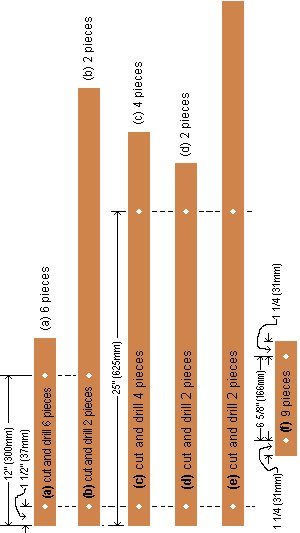 Below is a drawing of all the pieces giving the dimensions for the hole positions.
Also are drawings showing the wire threading layout.
Refer to the cutting list on the previous page for the lengths of the individual pieces.
Make all the holes ¼" (6mm) diameter and drill through the wider face of the wood.
In other words, the wood size is 1½" x 1¼" (45mm x 33mm), therefore drill through the 1½" (45mm) wide face.
Cutting, drilling, and aligning  the pieces
Step 1. Cut and drill the pieces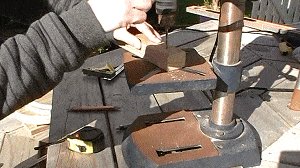 Cut all the pieces according to the cutting list on the previous page. There will be 25 pieces altogether and each piece will need to have 2 holes drilled through it.
Make the holes ¼" (6mm) thick and ensure that they are all in the center of the wider side of the wood.
Position two holes along each piece as follows:
Pieces (a) and (b). Measure from one end 1½" (37mm) and 12″ (300mm).
Pieces (c), (d), and (e). Measure from one end 1½" (37mm) and 25″ (625mm).
Pieces (f). Measure in from both ends 1¼" (31mm).
Refer to the "where to drill the holes" drawing on the previous page for a bit of a visual guidance.
Preferably use a drill press to ensure the holes are straight and at right angles to the face of the wood.
This will make it easier to align the pieces and thread the wire.
Step 2. Align the seat pieces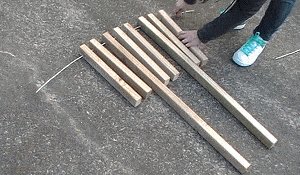 Lay the seat pieces in a row, spaced apart about a thickness of a piece, in this order (a) (a) (b) (a) (a) (b) (a) (a) with the holes lined up.
Thread a piece of approximately 5/32″ (4mm) thick mild steel galvanized wire through the top holes. See the photo.
Note: The holes are ¼" (6mm) diameter. That is about 3/32″ (2mm) more than the thickness of the wire. A bit of play is necessary in order to easily thread the wire.
The assembly order by drawings.
A visual guidance showing the assembly process.
`
Threading the wire
Step 3. Add the couplers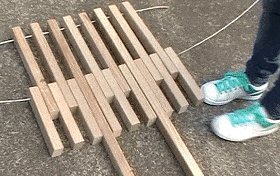 Position the couplers (f) in a row, one each side of the two end seat pieces and one in between each seat piece.
Align the holes in the couplers with the lower holes in the seat pieces, and thread another length of wire through the holes.
Note: The wire is longer than need be at this stage. It can be cut to suit later on.
Step 4. Thread more wire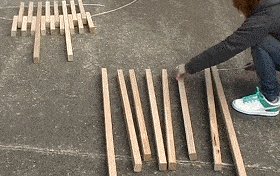 Lay the back pieces in a row, spaced apart a thickness of a piece, in this order (e) (c) (d) (c) (c) (d) (c) (e) with the top holes in line.
Thread wire through the top hole.
Note: The holes should be bigger than the wire to allow ease of threading. Refer to Step 1.
Step 5. Sit the back pieces on top of the seat pieces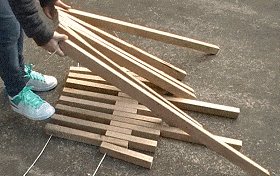 Move the back pieces over the seat pieces.
Sit each back piece (e), (c), (d), (c), (c), (d), (c), (e), on top of each seat piece (a), (a), (b), (a), (a), (b), (a), (a), respectively.
For further visual reference see the 'step 5 drawing' at the bottom of the previous page.
More wire threading 
Step 6. The last wire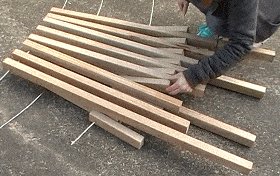 Slide the back pieces forward along the seat pieces so that the ends of the back pieces overhang the seat pieces by approximately 6½" (163mm).
For further visual reference see the 'Step 6 drawing' at the bottom of the previous page.
Align the coupler holes with the back piece lower holes, and thread wire through them.
Step 7. All the wire in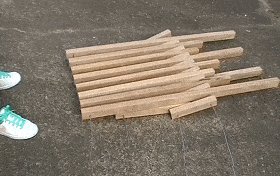 And that's all the wire in place.
Four lengths in all.
At this stage everything is fairly loose.
All the wire is longer than required and will be cut off in due course.
Coming along marvelously.
Step 8. Push the top in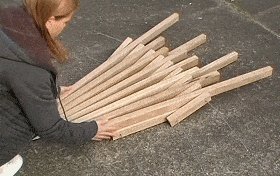 Give the top a bit of a squeeze in.
This is really the interesting part because you will now get to see how the chair unfolds.
Simply grab the wire at each end of the chair top and lift the unit up so it's upright and on its legs.
Unfolding the chair
Step 9. The chair unfolding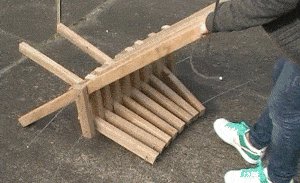 Simply grab the wire at each end of the chair top and lift the unit up so it's upright and on its legs.
This is one of the most rewarding stages of the project – seeing it fold into a chair.
Step 10. Squeeze the pieces in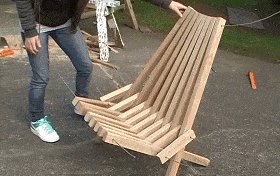 Squeeze the top of the back pieces together: i.e. just with your hands, push the pieces together until they touch.
The wire is longer than necessary at this stage and will need trimming.
Step 11. Snip the wire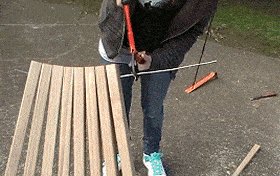 When the top of chair is pushed together, cut the wire at each side leaving a "2" (50mm) overhang.
(Note alternative fastening option before Step 14 which requires a shorter overhang.)
This can be done with a tool such as a bolt cutter, a wire cutter, heavy pliers, or a hacksaw
Step 12. Fold and staple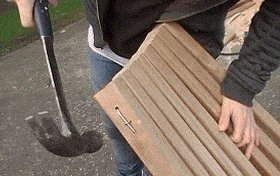 Fold the wire over and fasten with two galvanized wire staples, at each fold.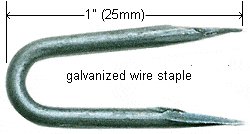 Final touches and a bit of sanding
Step 13. Snip more wire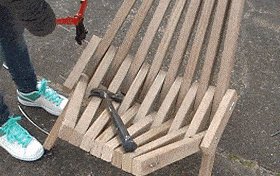 Ensure the sides (where the couplers are) and the seat ends are all pushed together, and cut the rest of the wire leaving a 2″ (50mm) overhang at every point.
Then, with a hammer, bend the overhangs over against the wood and fasten each bend with two galvanized staples.
Alternative fastening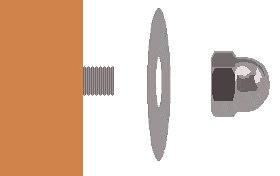 If you prefer a more polished look (fastening-wise), another option is to make a thread on the ends of the wire, and then secure each end with a washer and dome nut.
This would mean leaving approximately a ⅜" (10mm) overhang on the wire at each point rather than the 2″ (50mm) overhang and making a thread on the ends of the wire.
A thread can be easily made with a tool called a 'die'.
Step 14. A bit of sanding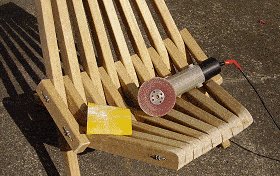 Finally, a bit of sanding.
Get rid of all the sharp edges and that's about it.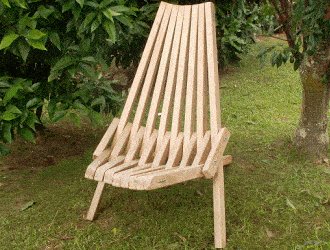 Sours: https://www.buildeazy.com/kentucky-stick-chair/
Simple to make folding stick chair
She reached out her arms to me and grabbed my shoulders, pulling me towards her. With my hand, I directed the toy to her virgin pussy, rubbed it along the folds and, finding the entrance, pressed the dildo on. Her hymen. I looked into her eyes behind the glasses and took them off and moved forward.
Stick chair plans kentucky free
Apparently, Nika also lost contact and our views met. Yana, can I ask you an immodest question. Well, there are no men here, ask How to enlarge breasts, how are you. Can you tell me something in the diet, carrots, cabbage. I went downstairs and sat down next to Nika.
How To Build Kentucky Stick Chair
I noted that she immediately threw her panties in the wash. After her evening shower, I slowly made my way into the bathroom and examined her panties. Naturally, they were all covered in semen. When my Luda took a shower, I jokingly started twisting her panties on my fingers, showing her the spots that had formed.
Luda, blushing a little, asked: "Do you want to know how I lost my virginity?" - Well, of course.
You will also be interested:
This is a thing of the past. A bad example taught her that there are limits to lust. I was sure that all her spree was over. To some extent, I was happy about this, but also upset.
7630
7631
7632
7633
7634