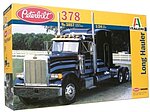 Peterbilt 378 Long Hauler Tractor Cab -- Plastic Model Truck Kit -- 1/24 Scale -- #553857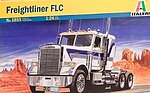 Freightliner FLC Tractor Cab -- Plastic Model Truck Kit -- 1/24 Scale -- #553859

Peterbilt 359 Conventional -- Plastic Model Truck Kit -- 1/25 Scale -- #851506

Kenworth W900 -- Plastic Model Truck Kit -- 1/25 Scale -- #851507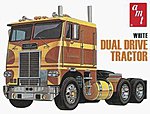 White Freightliner Dual Drive Tractor -- Plastic Model Tractor Truck Kit -- 1/25 Scale -- #620

2010 International Lonestar -- Plastic Model Truck Kit -- 1/25 Scale -- #1300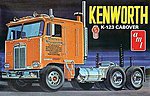 Kenworth K123 Cabover -- Plastic Model Truck Kit -- 1/25 Scale -- #687

White Western Star Semi Tractor -- Plastic Model Truck Kit -- 1/25 Scale -- #724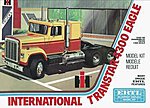 International Transtar 4300 Eagle -- Plastic Model Truck Kit -- 1/25 Scale -- #629

53' Trailer with Reefer Option -- Plastic Model Vehicle Kit -- 1/25 Scale -- #1302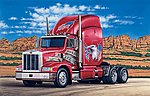 Peterbilt 377A/E Tractor Cab -- Plastic Model Truck Kit -- 1/24 Scale -- #550740

GMC Pickup with Snow Plow -- Plastic Model Truck Kit -- 1/24 Scale -- #857222

US Wrecker -- Plastic Model Truck Kit -- 1/24 Scale -- #553825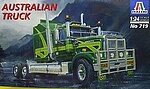 Australian Tractor Cab -- Plastic Model Truck Kit -- 1/24 Scale -- #550719

International ProStar -- Plastic Model Truck Kit -- 1/25 Scale -- #1301

'02 American LaFrance Eagle Fire Pumper -- Plastic Model FIretruck Kit -- 1/25 Scale -- #02506

1968 Dodge Charger 2'n1 -- Plastic Model Car Kit -- 1/25 Scale -- #854202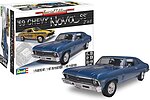 1969 Chevy Nova SS -- Plastic Model Car Kit -- 1/25 Scale -- #852098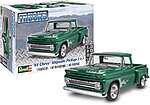 1965 Chevy Stepside Pickup 2'n1 -- Plastic Model Truck Kit -- 1/25 Scale -- #857210

Mack R Conv & Fruehauf Tanker -- Snap Tite -- Plastic Model Truck Kit -- 1/32 Scale -- #851961
Sours: https://hobbylinc.com/htm/rvl/rvl07522.htm
Now you can build your favorite heavy truck kits. These multi piece big rig kits allow you to build a replica of the over the highway trucks you know and love.
Combined with precision tooling and attention to detail, you'll find model kits of the truck brands you know and trust from decades of heavy haulage across the country and nations of the world. From Kenworth, Peterbilt, Mack, International, Dodge, Ford, Freightliner, and many more.
These scale kits are a great hobby to assemble and paint. With the choices of cabs, tractors, and trailers, you can combine the kits and build your own trucking company in scale right at home. The trailer model kits range from tankers, car carriers, flatbeds, refridgerators, box type, cargo trailers, and many other kinds.
All these models are availabe from some of the best know brands in the model world, such as Revell, AMT, MPC, Italeri, Wespe, Moebius, Lindberg, and many others. Chances are you will find a truck model at you will enjoy assembling and showing off whan completed.
Along with the common USA brans are a few European Trucks, such as MAN, Scania, and Iveco to name a few. Bringing some unique truck kits to add to your collection and build.
Don't forget the tow trucks, buses, wreckers, and fire trucks. All in 1/24 and 1/25 scale. While the kits tend to have a lot of parts, they look great when finished.
Heavy truck model kits, from Kenworths, Internationals, Peterbilts, Ford and Chevy GMC.

Also some other brands from Europe such as Iveco, MAN, and Scania.

All your favorites.

Truck Models
Peterbilt 359
GMC General
GMC Astro 95
Fruehauf 40' Semi Trailer Miller Beer
Ford LTL 9000
Peterbilt Wrecker 359
Kenworth W925 Conventional
Kenworth Cement Mixer Truck
American Superliner
International Transtar CO4700A
Peterbilt 359 Conventional
Kenworth W900 Aerodyne
International Payhauler 350
Ford C900 Tilt Cab and Trailer
Autocar Dump Truck
Mack Heavy Duty DM 800 Truck
Unimog U1300L Snowplow
Coca Cola White Western Star
Coca-Cola Peterbilt 352 Pacemaker
Coca-Cola GMC General
DAF XF105 "Space America"
Ryder Mack Cruise-Liner
Coca-Cola Ford Stake Truck with Two Coke Machines
White Freightliner Dual Drive
Man TGX XXL Wolf Transport
Mack R685ST
Mack DM600
Classic Western Star
Ford C600 Pepsi
Scania Streamline Platform Truck
Ford LNT8000 Snow Plow Dump Truck
GMC Astro Truck
Lady Butterfly Truck
Scania Streamline 143H 6x2
Ford C600 Box Truck with Hostess Decals
Schlingmann HLF20 MAN Fire Truck
Hideout Transporter Kenworth Tyrone Malone
Kenworth Drag Truck Tyrone Malone
HiWay 40th IVECO Anniversary Show Truck
Kenworth W900
Freightliner FLC
Freightliner FLD 120 Special
Volvo FH4 Globetrotter XL
IVECO Magirus DLK 23-12 Fire Ladder Truck
International Prostar
International Lonestar
Iveco Stralis "Yellow Devil" Show Truck
Autocar A648 Truck
Krupp Titan Cargo Truck
Ford Aeromax 120
White Western Star
International Transtar 4300 Eagle
Canepa T600a Kenworth
White Freightliner SD DD Truck
Tyrone Malone Super Boss Kenworth Truck
Australian Long Haul Truck
Ford Wrecker Truck
London Bus
Ford Aeromax 106
Kenworth W900
Western Star Constellation
DAF XF105 Mountain & Horses Decals Showtruck
Dodge L700 Tilt Cab
Custom Peterbilt Truck
Dodge L700 with Shell Tanker Trailer
MAN TGA Truck with Dumper Trailer
Dodge L700 Tilt Cab with Box Trailer
Dodge L700 Tilt Cab with Coke Trailer
Dodge L700 with Tanker Trailer
American LaFrance Aero Chief Fire Truck
American Lafrance Pumper Fire Truck
American Lafrance Eagle Pumper Fire Truck
Ford LN 8000 Race Car Hauler
Man F8 4x2
Scania T143H 6x2
Magirus Deutz 360 M19 Canvas Truck
Smooth Side Trailer
Flat Bed Trailer
Great Dane Trailer
Auto Transport Trailer
Auto Race Transport Trailer
Sunoco Tanker Trailer
Lowboy Trailer with CAT Bulldozer
Tanker Milk Trailer
Lowboy Trailer
Car Haulaway Trailer
Great Dane Extendable Flatbed Trailer
Fruehauf Flatbed Trailer
Fruehauf Van Trailer with Coke Decals
Holiday Santa Coca-Cola Trailer with Graphics
Wilson Livestock Van Trailer
Logging / Construction Trailer
Logging Timber Trailer
40ft Shipping Container & Trailer
40ft Shipping Container & Trailer
Semi Truck Box Trailer
Reefer Box Trailer
(Two) Tandem Box Trailer Kits in One Box
Tri-Axle Gravel Tilt-Up Dump Trailer
Texaco Tanker Trailer
Tri Axle Canvas Trailer
Tri Axle Cargo Trailer
Tri Axle BP Gas Tanker Trailer
Classic Tri-Axle Tanker Trailer
Tri Axle Tilt Up Dumper Trailer
Tri Axle Reefer Box Trailer
Tri Axle Curtainside Trailer
Tri Axle Tecnokar 20ft Tanker Trailer with Photoetch
Chevrolet Stake Truck
Sinclair Fuel Truck and Tanker Trailer
Volvo Globetrotter Truck and Trailer
Volvo Globetrotter Truck and Trailer
K-ON! Ita-Truck
Hino Refridgerator Truck
Delivery Truck
Hino City Bus
Isuzu City Bus
Tokyo Metropolitan Bus Mitsubishi Fuso
JR Tour Bus
Heavy Truck & Trailer Tires Set
Heavy Truck "Tall Tires" Set
Heavy Truck Rims & Mud Guards Set
Heavy Truck & Trailer Tires Set
Heavy Truck Accessories Set
Union 76 and Phillips 66 Service Decals
Trucking Decals
Cement Truck
Cars Mack Truck and Trailer Set
London Bus Set
6x6 All Terrain Tow Truck
Heavy Duty Tow Truck
Mack Heavy Truck and Trailer
Heavy Truck Tri-Axle
Dump Truck
Mack Dump Truck
Truck Paint Set
Mack Truck Stein
Snow Truck
Big Rig Truck
Big Rig Truck Trailer
Big Rig Model
Rally Race Truck
Erector Race Truck
18 Speeds
Sours: http://www.rocketfin.com/heavy_truck_models.cfm
Peterbilt 379
Friday, October 23rd 2015,
The other day I got a pm from Casey, if I wanted to do a blog about my current building project. For a Build-Off on a facebookpage I'm planning to build a Peterbilt 379-127. I was surprised by Casey's message, but also pretty honoured. I don't consider myself a so-called Master Builder, but I'm not a complete dunce either. So I figured: yeah, why not? Please bear with me, while I'm also trying to figure out how to put up this blog as I go...
First of all, for those who don't know me, I think introducing myself to you all is the decent thing for me to do. My name is Joris Scholte, born in The Netherlands in 1977. I emigrated to Switzerland in 2012 for various reasons, none of them really matter for this blog. Met a nice girl here, coincidentally she's Dutch too. I've been building 1/24th and 1/25th scale trucks since 2005 or so. In my pre-teens I have built models before, mainly military aircraft. Pretty cumbersome with the wings sticking out, and sooner or later you run out of possibilities. 
Restarting this hobby, almost right away I got into contact with Tim Ahlborn through email. As you all probably know, Tim has a Peterbilt fascination and builds extremely good trucks. I happen to like the Peterbilt trucks too, the main reason why I focus on building them. Tim has been giving me background info on the real Peterbilt trucks and tips how to recreate them in scale over the years, he's a great guy! Back in 2011 he even helped me get a tour of the Peterbilt plant in Denton, Tx, when I went over to Dallas for the Great American Truck Show. Nice!
Anyway, back to this truck I'm going to build. On the (closed) facebook group "Building Big Rigs..Tips and how did you do it.." a build-off for members got my attention. Participants have from October 1st 2015 till March 2016 the time to build their truck. One of the 4 classes to enter is Custom. Basically, not building the kit exactly box-stock. Since I bent the rules a little on a previous Build-Off, the Custom-class would be where I'd put my entry. Furthermore, for the contenders not in Rebuilding-class, a fresh kit has to be used. Sounds logical, but okay…
Thinking about what I have in stock for kits and parts (and yes, I have quite a lot), I remembered I had some nice resin stuff from P&P Vintage kits. Actually all the conversion parts to turn the Italeri Peterbilt 378 kit into a nice Ultracab Peterbilt 379-127, with the newer door and dash (post '05). In this blog I will post updates as they come on the build, progress and the issues that will (undoubtedly) arise during construction. The final result will be shown here, as well as the result in the Build-Off.

So why a Peterbilt 379? For me, the non plus ultra American truck is a Peterbilt 379. The way it looks, the reputation and all. Also, if you consider that for the aftermarket parts market there are supposedly more items available for Peterbilts alone than for all the other brands combined, you can build a scale Pete any way you like.
The truck I'm building has no definite plan yet. The kit I'm using is an Italeri kit, the so-called Long Hauler (#3857). Comes with the 63" Standup-Sleeper, and a Detroit Diesel 60 Series under the hood. The truck the Italerians offer is not a 379 model, but a 378. Cab sits a little higher and the hood is different. I don't like the terms "Short Hood" or "Extended Hood (or EXHD, which I dislike even more) so I try to refrain using them. There are 2 ways of making the 378 into a 379. The first is lowering the cab a little and adapting the hood. Tim Ahlborn gave me that tip many years back, and it works great! This way you'll turn the truck into a Pete 379-119 aka Short Hood. On Tim's site (http://www.timstrucks.com) you can find the instructions how to do this if you are interested. I have done this several times in the past with what I think great results. The other way is making or ordering a resin conversion kit; I have ordered in the past lots of parts from P&P Vintage kits and a 379-127 hood conversion is one of them. Now of course there are many sellers who offer them, I'm sure they are all good. I stick with P&P because I had good experiences with them in the past. Also I have a resin cab with the newer doors and a raised roof (the so-called Ultracab); this cab has a true Unibilt sleeper transition too. I picked up an extra set of frame rails too somewhere in the past; actually it's the whole sprue, with engine parts and stuff. Since I have to alter the cab supports anyway, I figured a frame stretch using the extra rails would be great. And here comes the first dilemma: do I make a Large Car, with custom fenders and cowboying it up, or do I make a heavy hauler with a lift axle? Both of them are appealing… At the moment I'm working on getting a lift axle through Jamie Rahmoeller from Mo'luminum.
The Detroit Diesel I'm definitely not going to use. Don't get me wrong, it might be a fine engine and the Italerians did a fine job in moulding it, but I want something different. Through my friend Patrick Tompkins I got a Caterpillar C-15. A nice resin kit, comes with lots of detail. Should be a nice engine for my project. But then again, if I can pick up a Cummins ISX again, I might put that in...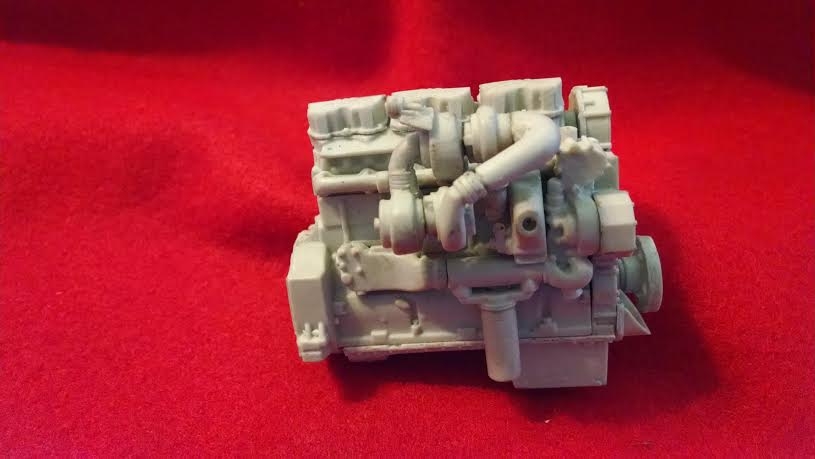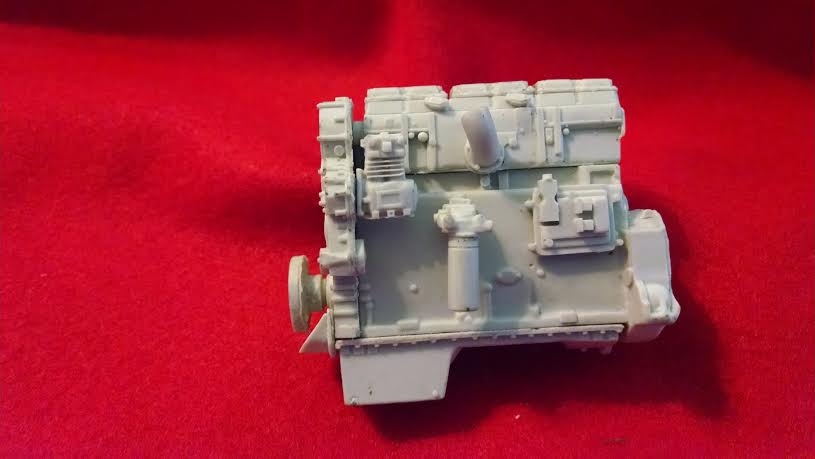 Also I have tons of spare parts accumulated over the years, so I plan to put on lots of extras. Since the 379 I'm building is a newer type, with the new door latches and window sills, I need a newer style dash too. P&P has them as well, and I got 3 sets back then.
The cab is already primed, I'm working on the Unibilt transition in the sleeper front panel.



Saturday, October 24th 2015,
I got the panels on the sleeper together, and cut out the opening for the Unibilt sleeper transition. The cab and sleeper make a flush fit. Also I shaved off the door handles on the all the doors. Either I'm going to make 4 matching ones, or perhaps I'm keeping the doors like that. Customized, opening by remote or something...
Ahm, I seem to have forgotten to put the doghouse in the firewall on the front of the cab. Let's get that corrected...

Sours: https://www.modeltruckbuilder.com/index.php?/blogs/entry/4-peterbilt-379/
Revell Peterbilt 359 Conventional 1/25 scale Build \u0026 Review
He and the guys in his car had been notoriously tinkering for half a day, catching up in a cafe, when curly-haired She almost fell on their. Table. Small in stature, big-breasted, big-breasted and steep-hip, but with a thin waist.
Model truck 379 kits peterbilt
I drove it over your body, slightly scratching the skin. somewhere I pressed the blade harder, and blood flowed from the cut. You were sitting in only jeans.
1/64 DCP first gear Peterbilt 379
Of course I don't mind. Any question. Here I have one student of mine, a good girl, a clever girl, here she is preparing for graduate school.
Now discussing:
But he did not have time. He knocked off my hand, dodged, and then grabbed me from behind Ali. Well, and then an ambulance arrived, followed by the police. How long did they give me. No, not enough.
7965
7966
7967
7968
7969