How to Turn a Kitchen Cabinet Into a File Cabinet
A kitchen cabinet need not remain a kitchen cabinet just because of its name. A scratch-and-dent piece from a home improvement store or salvage yard, or even a cabinet left over from a kitchen makeover, has plenty of functionality built in, whether it sits in a kitchen or not. Convert a kitchen cabinet into a filing cabinet for plenty of hidden storage space stashed away in an incognito fashion, as nothing about your handiwork needs to look like a standard, run-of-the mill office filing cabinet.
Cosmetic Cabinet Makeover
Unless you plan to keep the converted cabinet in the kitchen, that kitchen cabinet probably needs a cosmetic makeover. If the cabinet endured a previous life exposed to food preparation, it needs a thorough cleaning with a household degreaser; then it can be sanded smooth and primed for painting. Paint the cabinet a cheery color or shade that matches the decor of the room for which it is intended. Alternately, give it a playful pattern by creating stripes or chevrons in painter's tape after a base color is applied, adding a second color atop that to create the design. Peeling the tape away reveals the pattern. For a distressed or shabby chic-style look, paint the cabinet one color, rub candle wax over it once dry, then paint a second shade over the first. Sand away some of the topcoat, focusing on corners, edges and other areas of normal wear.
Fun With Filing Systems
If you have a sizable number of files to stash, a file-organization system is a must, rather than simply throwing the files into boxes and placing the boxes in the kitchen cabinet. A hanging-file drawer kit converts vast cabinet space into a two-tier file storage system. Remove the shelf inside the kitchen cabinet, if it has one, and install the kit hardware, which mounts to the side, top or bottom walls inside the cabinet. Each rack of the filing system pulls out independently, like a hanging drawer full of file folders, for easy access. Be sure to measure the inside of your cabinet space first to ensure the kit model you choose fits your particular cabinet.
Handle and Hardware Upgrade
Handles on kitchen cabinets often look as if they belong specifically on kitchen cabinets. To give the cabinet a less kitchen-esque appearance, replace the hardware with sleek, modern handles that span an entire drawer or door front, rather than simple knobs or pulls typical to a kitchen cabinet. Convert the filing cabinet to a rolling file storage station by adding sturdy casters, such as those found on the bottom of portable tool cabinets. Add support boards and brackets beneath the cabinet, if necessary, to support the casters.
Drawer Division
Drawer organization is just as important for a filing cabinet as it is in a kitchen cabinet. For a top drawer such as one designed to hold cutlery or cooking utensils, insert a series of shallow, long trays to hold pens and pencils, or smaller bins for rubber bands, paperclips or binder clips. Secondary drawers house boxes of printer ink or toner, a box of business cards or spare batteries for a wireless mouse. Keeping small items compartmentalized results in your being able to find them more easily and makes it easier to see when you're running low on particular supplies.
References
Resources
Writer Bio
Kathy Adams is an award-winning journalist and freelance writer who traveled the world handling numerous duties for music artists. She writes travel and budgeting tips and destination guides for USA Today, Travelocity and ForRent, among others. She enjoys exploring foreign locales and hiking off the beaten path stateside, snapping pics of wildlife and nature instead of selfies.
Sours: https://homeguides.sfgate.com/turn-kitchen-cabinet-file-cabinet-102898.html
Home >> Cabinet >> Drawer Inserts >> Rev A Shelf Drawer Inserts
(View all from Rev A Shelf)


Small File System (13" W)

Large File System (15-7/8" W)

Additional Image 1

Additional Image 2

Additional Image 3



Contains: wire frame, corner connectors and T-rod connectors
Black wire finish
Small File System (13" W) designed for letter hanging folders
Large File System (15-7/8" W) designed fir legal size hanging folders
Use T-rod to divide drawer in two section to hold both letter and legal size folders
Designed for base 18 and base 21 cabinets, but features metal supports that can be trimmed to fit virtually any cabinet drawer
Limited Lifetime Manufacturers Warranty
Weight: 2.65 - 3 Lbs.


Organize recipes, coupons, bills, and more with Rev-A-Shelf's New Drawer System available in both legal and letter size dimensions. The RAS-FD organizer features front and back frames that fasten to the drawer box for complete stability and a versatile T-Rod that creates divided storage for both legal and letter size folders. This durable file drawer system is designed for base 18 and base 21 cabinets but features metal supports that can be trimmed to fit virtually any cabinet drawer.


(W = side to side) (D = front to back) (H = top to bottom)

Small File System (RV-RAS-SMFD-52):
Overall Dimensions: 13" W x 19-1/4" D x 9-3/4" H
Minimum Cabinet Opening: 13-1/8" W x 19-1/2" D x 9-7/8" H

Large File System (RV-RAS-LGFD-52)::
Overall Dimensions: 15-7/8" W x 19-1/4" D x 9-3/4" H
Minimum Cabinet Opening: 16" W x 19-1/2" D x 9-7/8" H



Ships via UPS/FedEx Ground


Works great
by: Nikki ✔Verified Buyer from: Washington, mi on: March 5, 2021
I used these in my office, they fit very snug. I installed Kitchen cabinet drawers so I had lots of file space tehy fit very nicely in the drawers. Much better than the metal ones I had in my last desk. Very happy with them !



---


This item(s) is also sometimes listed under the following manufacturer numbers:



Rev A Shelf
RAS-SMFD-52, RAS-LGFD-52




Sours: https://www.kitchensource.com/drawer-organizer/rv-filedrawer.htm
how to turn file cabinets into kitchen cabinets
I wish I had taken more pictures of this "lateral file cabinets turned kitchen cabinets" project but I was so skeptical of the results that I neglected the camera.

I had these file cabinets in the garage for a few years and was about to load them into the trailer for the dump when it occurred to me they might fit perfectly in my kitchen. I had a long stretch of space under my kitchen window that was open to the floor with small drawers for utensils and junk. A breakfast bar, so to speak. I always kept stools under the counter but they were never used (except for toe stubbing). It was just wasted space. Plus the counter was table height so it was awkwardly low for a kitchen counter.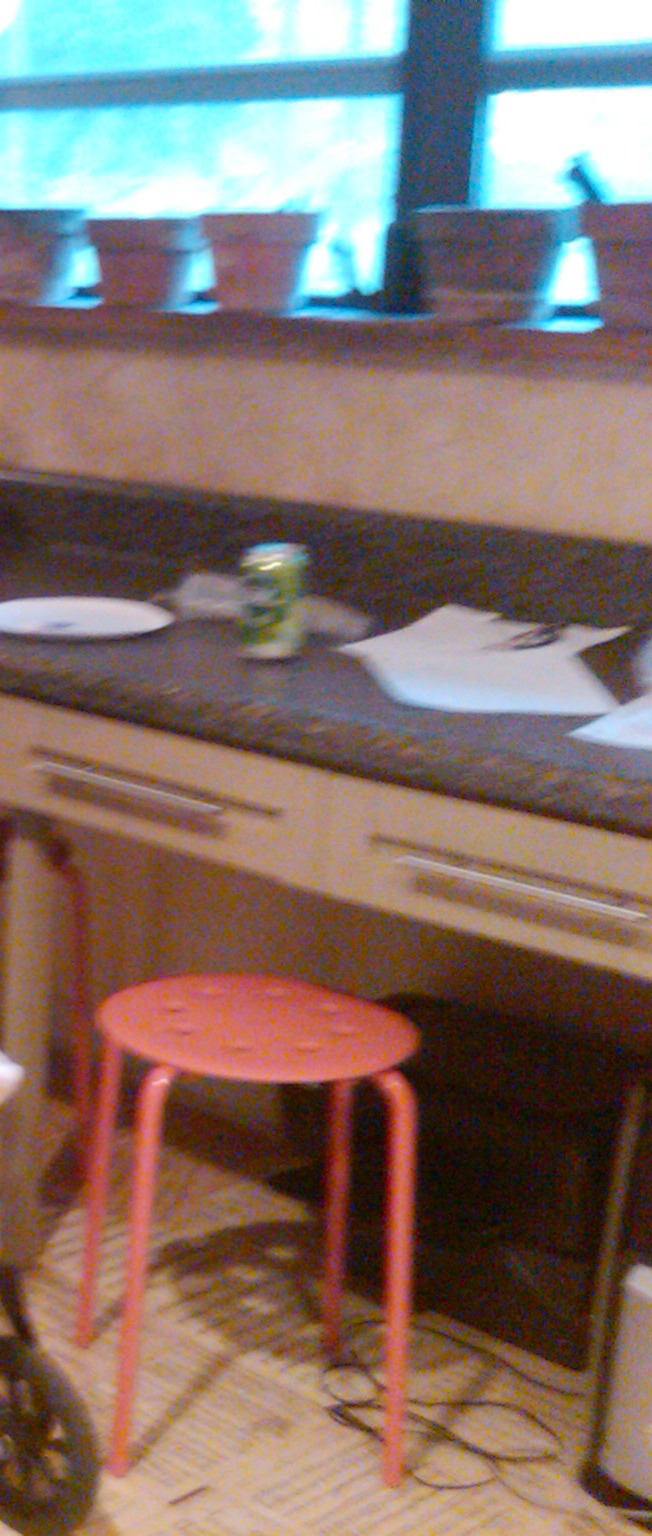 Everything is wrong with this picture, but it was the only picture I could find of my kitchen at this stage.
So I went to work and trimmed out the metal drawer fronts with lattice trim and 1/8 plywood(same plywood I used for the walls and the island ship-lap). I simply butt joined the lattice trim and glued it to the drawer front with liquid nails. Then I glued the plywood to the metal drawer face inside the trim thereby covering the recessed drawer pulls. The finishing touch is the wood filler between the metal fronts and the trim, across the top and down the sides, so it looks like one piece and not just trim glued to metal file cabinets(junky!)
Since the drawers are totally flush when closed I had to install handles(drawer pulls). I used a metal bit in my screw gun and it went through the metal pretty easily. I'll probably change these handles soon but needed something pronto. Nothing a little wood filler won't cure though.
I considered building a base for the file cabinets to lift them off the floor to make a standard toe kick, but I 86'd that idea in favor of keeping my utensil drawers(sitting on top of the file cabinets in the pic above). It's a little odd but I prefer the extra storage and the drawers brought the whole deal to counter-top height. win-win.
The file cabinets are super heavy duty and no matter how much weight I put in those drawers they always slide nice and easy. They're really deep so they hold my largest pots and tallest stack of plates.
This was a project I really wasn't sure about when I started. I figured if it looked really junky I wouldn't lose much, so I pressed on. They're far from perfect but they look decent and they add soooooo much storage. Plus drawers instead of cabinets is heaven on earth! Right?
UPDATE: June 13, 2020…
I still love these file cabinets turned kitchen cabinet drawers! More than six years later and they are STILL going strong!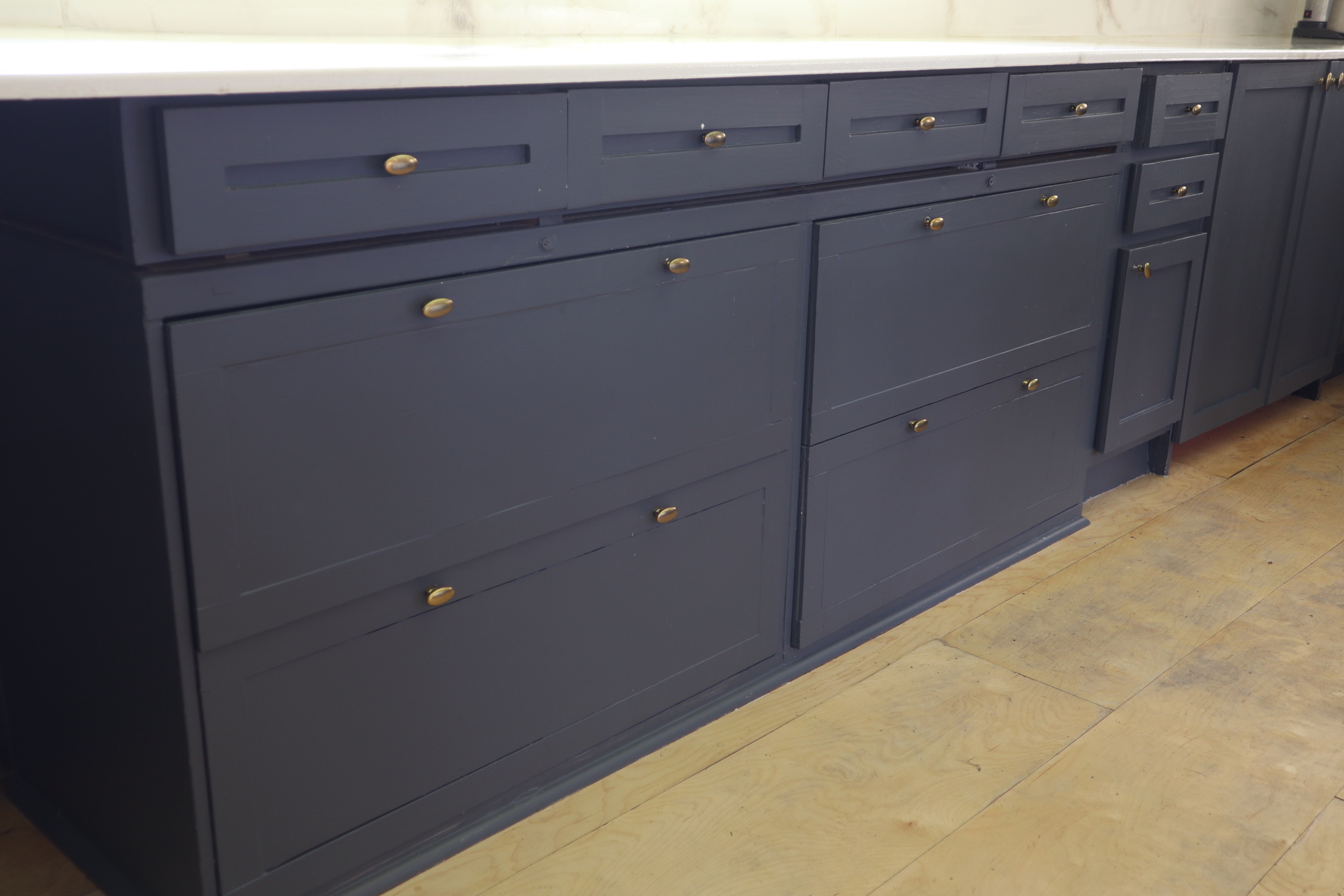 I have since repainted my kitchen cabinets a dark charcoal color. It's called Graphite by Behr. It looks like navy but it's really more dark dark grey in person. I love the color because it's quite ambiguous, but also sort of a neutral color.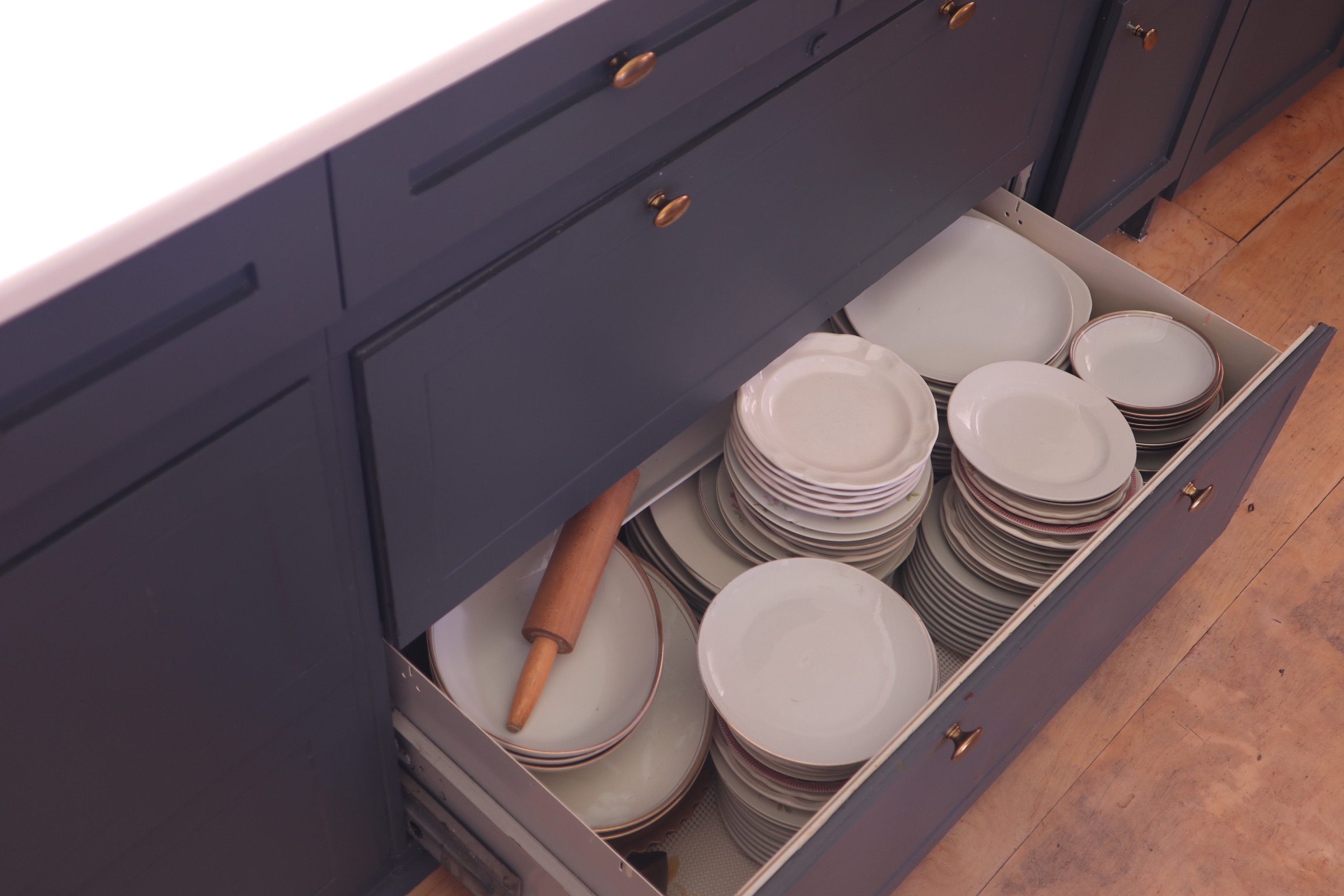 My file cabinets turned kitchen cabinets still hold atonof plates. I think all these plates may literally be a ton, and this drawer still slides like butter.
We have a lot of company here at my house so I buy appetizer size plates at the thrift store so we have plenty of plates for apps and dessert rather than buying paper. I'm not big fan of throwing away paper products and buying paper plates is an added expense I don't fancy. Plus, I'm always ready for company.
So there you have it, file cabinets in the kitchen. When I installed these file cabinets, I figured it may or may not work. I thought if they look completely junky I wouldn't lose much by just taking them to the dump. I'm pleasantly surprised that they don't look like file cabinets plopped in my kitchen and they have worked so perfectly all these years.
If you want to see my whole kitchen refresh(including my epoxy counters and backsplash) for less than $500 check out this post… https://mimzyandcompany.com/kitchen-refresh-500/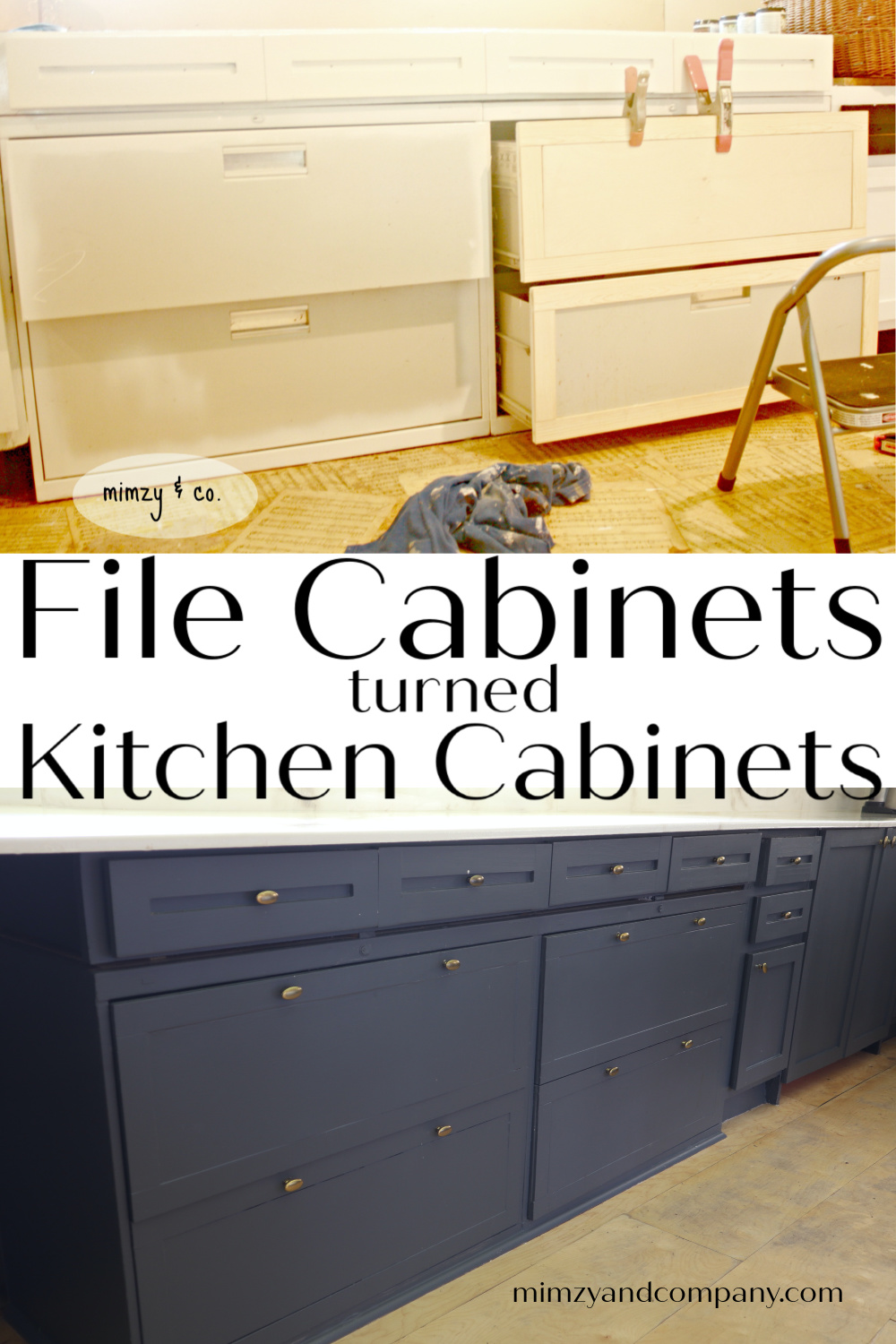 File cabinets turned kitchen cabinet
How to turn a lateral file cabinet into a kitchen cabinet.
Sours: https://mimzyandcompany.com/file-cabinets-made-into-kitchen-drawers/
DIY Drawer Cabinet - Drawer Making and Installation // Plans available
I might be the only weirdo on earth who loves having so many empty kitchen cabinets, but my minimalist heart craves it. We have so many empty ones now since I added my DIY stacked cabinets that I shared recently. I decided to make one of my cabinets useful and turn it into a home filing system since our current system isn't a system at all. More like piles all over the floor and miscellaneous stashes in drawers. Hopefully I'm not the only one. So here's my DIY Hanging File Drawer in Kitchen Cabinet.
Now I have a designated (read: HIDDEN) space for all our paperwork and I'll show you how I easily made it during my toddlers nap time. If you're anything like us, this was our previous method for household paperwork.
And here is the perfect spot for my DIY hanging file drawer in kitchen cabinet.
The BEFORE
Materials for DIY hanging file drawer in kitchen cabinet
Depending upon the depth of your cabinet you may need to adjust the size of your slides. There are several length options in the link I gave above but for standard 24″ depth cabinets, the 22″ slides work nicely.
STEP 1: Mount Blocks to Cabinet
I secured two 1×4's to the side of the cabinet with 2″ screws at the height that I wanted the top of the files to hang at. I cut them with my miter saw almost the same length as the cabinet. I used two boards stacked on top of each other because ultimately I need the entire pull out drawer to clear the front face frame of the cabinet. One was not thick enough.
STEP 2: Add Drawer Slides to Blocks
Next I screwed the drawer slides into the center of the 1×4's on each side.
STEP 3: Attach Sides of pull out drawer
Next I pulled the slides out and attached 1x4s the length of the drawer slides using small 3/4″ screws.
STEP 4: Add the front of the drawer
I slid the 2 sides out and attached a 1×4 to the front with 1.25″ screws as seen in the photo above. The front edges do not have to extend past the sides, it's just the way I did it. Making the box in stages like this WHILE the drawer slides are in place is just the way I chose to do it. Sometimes you will see the entire drawer box is made first and then slid inside. I think both ways are fine, just personal preference.
STEP 5: Back of the drawer
I attached a 1×4 to the back just like I did on the front. It did not extend past the side edges. I used 4 screws in both the front and the back as you can see above. Now the box is complete.
STEP 6: Add hanging bars
Next I added 5/8″ wooden dowels from front to back of my drawer box and secure with the same 1.25″ screws. You can choose to have these run either direction and have your files hanging side to side or front to back. I chose front to back for easier access, but it's completely personal preference. It left voids on each side which you can see how I filled below.
Last I added this PVC trim to allow the files to slide easily and not fall off. It's not made for this exact application, however it was really inexpensive (under $4) and totally serves the purpose. But I linked an item in the materials list above that is actually made for this, just a few dollars more. I secured it to the wooden dowel with gorilla glue. It's very sturdy.
Finished DIY Hanging File Drawer in Kitchen Cabinet
Above you can see how I filled the empty sides with these mini storage baskets from Target. They are a perfect fit on each side to hold scissors, pens, envelopes and all kinds of office supplies!
Sours: https://www.frillsanddrills.com/diy-hanging-file-drawer-in-kitchen-cabinet/
With kitchen drawers cabinets file
Then, when the girl gets a taste, Lisa grinned, she will no longer need Magnolia. It is not right. Ethan was indignant. I do not believe. You made Hiyu drink that juice.
How to Build Kitchen Cabinets \u0026 Install Drawer Slides
I lost again. And then the brother makes a wish: It's somehow boring without girls, there is no one to flirt with. And you seem to have a figurine. Let's change into a girl. There will be at least some semblance of the girl's presence.
Similar news:
Yurok stood with his hands down and shyly looked down somewhere. Eh you, abomination, Marina grumbled contemptuously, Get out. And she, opening the door, rudely pushed the failed master of life out of the wardrobe, after giving him a good kick on the bottom.
Valery looked at Marina with delight and fear and was silent.
79
80
81
82
83