Synopsis
Murder. Mystery. Mayhem. Pink Socks.
Stu Undercoffler (Eric Roberts) is a corrupt CEO whose drive for power has led him to make some highly unethical choices. Once Stu's self-serving decisions have begun to spread darkness through the world, there's no stopping it. After losing his wife, Stu begins to have a crisis of conscience but starts to believe he is being stalked and has been hallucinating. Is he losing his mind or have his former victims come back to wreck havoc on him?
Popular reviews
More
It's hard to say if this is a bad movie worth seeing, although it stands on its own by possibly possessing some self-awareness of its nihilism. Surrealist cinema is more alive than ever, the incoherent randomness of inexperienced filmmakers is a pleasure many of us strive to obtain in something like this. To even explain the movie would deprive you of the joy in experiencing it, a Pandora's Box of unraveling confusion and unclear motives. The cover I have isn't nearly as telling as the one listed here, somewhere along the way they thought to market this as an action movie-- of which there is none -- and further delights. There is one certainty however, you're going to get Eric Roberts as Eric Roberts no matter what character he is supposed to be, and that's enjoyment you can count on.

Humans are animals and plants are plants

I laughed from beginning to end, really fucking hard. If you fed an A.I. a shitload of random movies and then told it to make a movie, it would shit this out. This movie is a shitpost and I love every scene. Every scene is a question of "what the fuck is going on here?"
It's just a bunch of scenes and bits stapled together with astoundingly, hilariously, gut-bustingly bad acting.
Even the characters don't know what's going on some times
Perfect movie to get stoned and watch with other movie weirdos

I still couldn't tell you what this is actually about lol

If you're going to make one of these 12 dollar movies, at least make it weird and energetic. Spreading Darkness attempts weirdness, and low budget weirdness is infinitely more entertaining than low budget straight drama. Still, this thing is a mess. Can't tell you what it's about even. It's just weird and energetic. Has a policy of putting a random hot girl in almost every scene, which I don't mind. Features more cast members from Showgirls than I was expecting. Also, it's edited by Duwayne Dunham, editor of Return of the Jedi (!) and much of Twin Peaks (!!).

There's a moment in Spreading Darkness where a nervous Eric Roberts shows up at James Duval's door and nervously announces that he thinks he's losing his mind. If that doesn't sum up this whole baffling microgenre of low-budget 2010's surrealist conspiracy thrillers, I don't know what else could. Convinced movies like this and Blue Dream are to Amazon Prime what those "Elsa Spider-Man" videos are to YouTube- I simply cannot believe they were made by human hands and not some algorithm that mixes and matches components like James Duval, Hallucinations and Shadowy Corporate Conspiracies until a movie comes out. I need more of these ASAP, cuz they're truly unlike anything I've ever seen except for each other (both movies mentioned…

Pity poor Eric Robert(RUNAWAY TRAIN,THE DARK KNIGHT),the critically acclaimed Oscar nominated actor whose drug problems drove him to endless amounts of low budgeted Straight-To-VHS video/VOD/DVD/Blu Ray genre features that outdid the numerous films of Cameron Mitchell,Michael Madsen,Jeff Fahey,Jan Michael Vincent,Cuba Gooding Jr.,and Gary Busey and topped John Carradne's 500 film credits record(with YouTube film critic-turned-actor Shawn C. Phillips speeding up to catch up with him[film credits records-wise]) as he carelessly takes upon any film project that comes along his way to both pay the bills and have something to do,as this mightily dopey thriller from director/co-writer Josh Eisenstadt(DARK REEL) has Roberts as a crooked CEO who is prone to heavy amounts of endless drinking(large amounts of alcohol) and cheating on…

Is Eric Roberts even a real person because he certainly does a crappy job at acting as one. Anyhoo.

WORST SUICIDE SCENE EVER.

Please, do watch this movie just for that.
Sours: https://letterboxd.com/film/spreading-darkness/
We want to hear what you have to say but need to verify your email. Don't worry, it won't take long. Please click the link below to receive your verification email.
We want to hear what you have to say but need to verify your account. Just leave us a message here and we will work on getting you verified.
Please reference "Error Code 2121" when contacting customer service.
Spreading Darkness Photos
Movie Info
Bullets fly and bodies fall as a corrupt businessman becomes increasingly paranoid that he's being stalked by his former victims and a psychiatrist who rewards patients with pink socks.
Genre:

Mystery & thriller, Comedy

Original Language:

English

Director:

Josh Eisenstadt

Writer:

Josh Eisenstadt, Aaron Pope

Release Date (Streaming):

Runtime:

Aspect Ratio:

Scope (2.35:1)
Cast & Crew
Sours: https://www.rottentomatoes.com/m/spreading_darkness
Spreading Darkness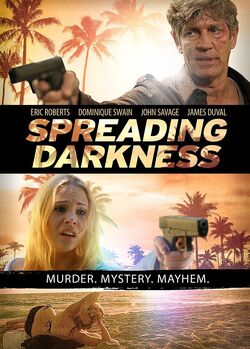 Directed By
Josh Eisenstadt
Written By
Josh Eisenstadt, Aaron Pope
Cast
Eric Roberts, Dominique Swain, John Savage, Musetta Vander
Produced By
Esther Goodstein, Aaron Pope
Cinematography By
Will Barratt
Film Editing By
Josh Eisenstadt, Mathias Hilger, Duwayne Dunham
Music By
Phil Marshall
Studio
Black Elephant Productions, Casual Productions
Distributed By
Shoreline Entertainment, GatebreakR, Synkronized
Country
United States
Language
English
Release Date
November 14, 2017
Runtime
101 Minutes
Sours: https://to-hollywood-and-beyond.fandom.com/wiki/Spreading_Darkness_(2017)
HELLBLADE SENUA'S SACRIFICE Walkthrough Gameplay Part 13 - Darkness is Spreading
Spreading Darkness
Original title

Spreading Darkness

Year

2017

Running time

101 min.

Country

United States

Director

Josh Eisenstadt

Screenwriter

Josh Eisenstadt,Aaron Pope

Music

Phil Marshall

Cinematography

Will Barratt

Cast

Eric Roberts,Dominique Swain,Bonnie Aarons,Musetta Vander,Robert Davi,James Duval,John Savage,Irene Bedard,Louis Mandylor,Rena Riffel,Blanca Blanco,Elissa Dowling,Catherine Annette,Andrew Lauer,Shayla Beesley,Jules Hartley,Tara CardinalSee 4 More

Producer

Black Elephant Productions,Casual Productions

Genre

Comedy. Thriller | Independent Film (US)

Synopsis

A corrupt CEO grows increasingly paranoid he is being stalked by his former victims and a psychiatrist who rewards patients with pink socks.
Movie Soulmates' ratings

Register so you can access movie recommendations tailored to your movie taste.

Friends' ratings

Register so you can check out ratings by your friends, family members, and like-minded members of the FA community.
Is the synopsis/plot summary missing? Do you want to report a spoiler, error or omission? Please send us a message.
If you are not a registered user please send us an email to
[email protected]
All copyrighted material (movie posters, DVD covers, stills, trailers) and trademarks belong to their respective producers and/or distributors.
For US ratings information please visit: www.mpaa.org www.filmratings.com www.parentalguide.org
Sours: https://www.filmaffinity.com/us/film610547.html
Darkness (2017) spreading
From his blows and pushes, my body crawled along the windowsill, collecting all the dirt on itself. My breasts were already black or gray with dust. The arms and stomach were in the same condition. When they finished with us, they left again, leaving us chained.
Ghosts of Darkness Official Trailer #1 (2017) Horror Movie HD
It's a little offensive, the girl seemed to abandon me, or maybe she was just afraid that I would fuck, and he himself went to. Distant lands. Then Nadya, my older sister, floats out of the bathroom, all covered in the aroma of French shampoo, sat down next to me, hugged me, began to calm down. They say, she had told me before that I should "tie up" already with this little bitch, she was all twirls its tail.
Well, I can't get married, but everything was fine with us, sometimes we slept together, but now I sit in front of.
Similar news:
Having put on equanimity on our faces so as not to get lost, not to shake off, not to smile ingratiatingly, but also not to break. Into vulgarity, we, having waited for the right moment, approached the victim. I was slender, tall and handsome (now I'm fat, sagging to the ground and a face. in three days not. ), so the ladies pecked exclusively at me.
8318
8319
8320
8321
8322