Classical Guitar Collection. Standard Notation/Tablature PDF; some extracted from my classical guitar book collection, others found on the web. PDF requires Acrobat Reader. GPX require Guitar Pro 6. MIDI requires Quicktime. Questions, report dead link(s), tab request, or suggestions to enhance this website and it's contents, please email me.
(PDF) Tab/Sheet Music (MIDI) Audio File
(GPX) Guitar Pro 6 File (INFO) Song Info/History
Abreu, Zequinha (1880-1935)
Tico Tico no Fuba MIDI | GPX | PDF | INFO
Ackerman, William (1949-)
Visit William Ackerman Acoustic Guitar Collection.
Adam, Adolphe Charles (1803-1856)
O Holy Night MIDI | GPX | PDF | INFO
Addison, John (1920-1998)
Illyrian Lullaby MIDI | GPX | PDF | INFO
Adrianssen, Emanuel (1554-1604)
Branle Anglais MIDI | GPX | PDF | INFO [easy]
Aguado, Dionisio (1784-1849)
Visit the Dionisio Aguado Classical Guitar Collection
Albeniz, Isaac (1860-1909)
Bajo La Palmera MIDI | GPX | PDF | INFO
Capricho Catalan MIDI | GPX | PDF | INFO
Cuba (Nocturne) MIDI | GPX | PDF | INFO
En la Playa (On the Beach) MIDI | GPX | PDF | INFO
Opus 12 Pavana Capricho MIDI | GPX | PDF | INFO
Opus 71 Alborada MIDI | GPX | PDF | INFO
Opus 92 07 Zambra Granadina MIDI | GPX | PDF | INFO
Opus 165 Preludio MIDI | GPX | PDF | INFO
Opus 165 III malaguena MIDI | GPX | PDF | INFO
Opus 202 Mallorca MIDI | GPX | PDF | INFO
Puerta De Tierra MIDI | GPX | PDF | INFO
Rumores De La Caleta MIDI | GPX | PDF | INFO
Chants d'Espagne
Opus 232 No 2 Oriental MIDI | GPX | PDF | INFO
Opus 232 No 4 Cordoba MIDI | GPX | PDF | INFO
Suite Española, Op. 47
No. 1 Granada (Serenande) MIDI | GPX | PDF | INFO
No. 2 Cataluna (Courante) MIDI | GPX | PDF | INFO
No. 3 Sevilla (Sevillanas) MIDI | GPX | PDF | INFO
No. 4 Cadiz (Saeta)MIDI | GPX | PDF | INFO
No. 5 Asturias (Leyenda) MIDI | GPX | PDF | INFO
No 7 Castilla (Seguidilla) MIDI | GPX | PDF | INFO
Tango (No.2 De La Suite Espana) MIDI | GPX | PDF | INFO
Torre Bermeja MIDI | GPX | PDF | INFO
Albert, Morris (1951-)
Feelings MIDI | GPX | PDF | INFO
Albinoni, Tomaso (1671-1751)
Adagio MIDI | GPX | PDF | INFO
Adagio In G Minor MIDI | GPX | PDF | INFO
Allison, Richard(1560-1610)
Almain by Richard Allison MIDI | GPX | PDF | INFO[easy]
Almaran, Carlos
History de Un Amor MIDI | GPX | PDF | INFO
Historia de Un Amor (version 2) MIDI | GPX | PDF | INFO
Almeida, Laurindo (1917-1995)
Blue Moon MIDI | GPX | PDF | INFO
Brazilliance MIDI | GPX | PDF | INFO
Choro Melancolico MIDI | GPX | PDF | INFO
Choro Para Olga MIDI | GPX | PDF | INFO
Ebb Tide MIDI | GPX | PDF | INFO
English Air MIDI | GPX | PDF | INFO
Intermezzo A Love Story MIDI | GPX | PDF | INFO
Invitation MIDI | GPX | PDF | INFO
Lament in Tremolo Form MIDI | GPX | PDF | INFO
Mimi MIDI | GPX | PDF | INFO
Over The Rainbow MIDI | GPX | PDF | INFO
Pavana for Pancho MIDI | GPX | PDF | INFO
The Bad And The Beautiful MIDI | GPX | PDF | INFO
The One Minute Divertimento MIDI | GPX | PDF | INFO
Three Stories I Historia Do Luar Choro MIDI | GPX | PDF | INFO
Three Stories II Historia Da Saudade Vals MIDI | GPX | PDF | INFO
Three Stories III Historia Da Inspiracao Choro MIDI | GPX | PDF | INFO
Zorba The Greek MIDI | GPX | PDF | INFO
Amigo, Vicente (1967-)
Visit Vicente Amigo Flamenco Guitar Collection
Anderson, Muriel
Home Town MIDI | GPX | PDF | INFO
Mister Chester MIDI | GPX | PDF | INFO
The Liberty Bell MIDI | GPX | PDF | INFO
Anonymous
A Scots Tune MIDI | GPX | PDF | INFO [easy]
Allemande MIDI | GPX | PDF | INFO [easy]
Angels We Have Heard On High (Christmas) MIDI | GPX | PDF | INFO
Air MIDI | GPX | PDF | INFO [easy]
Black Nag MIDI | GPX | PDF | INFO [easy]
Branle MIDI | GPX | PDF | INFO [easy]
Bonny Sweet Robin MIDI | GPX | PDF | INFO [easy]
Ciaccona MIDI | GPX | PDF | INFO [easy]
Como Distinguire A Tu Amor MIDI | GPX | PDF | INFO [easy]
Coventry Carol MIDI | GPX | PDF | INFO [easy]
Czech Medley MIDI | GPX | PDF | INFO [easy]


Danse MIDI | GPX | PDF | INFO [easy]
Danza Cubana MIDI | GPX | PDF | INFO
Deck The Halls (Christmas) MIDI | GPX | PDF | INFO
Drawe Neare Me and Love Me MIDI | GPX | PDF | INFO [easy]
Dove Son Quei Fieri Occhi MIDI | GPX | PDF | INFO [easy]
Fantasia MIDI | GPX | PDF | INFO [easy]
Galliard MIDI | GPX | PDF | INFO [easy]
Go From My Window MIDI | GPX | PDF | INFO [easy]
God Rest Ye Merry Gentleman (Christmas) MIDI | GPX | PDF | INFO
Gypsy Air MIDI | GPX | PDF | INFO
How should I Your True Love Know MIDI | GPX | PDF | INFO [easy]
Kemp's Jig MIDI | GPX | PDF | INFO [easy]
Korobeiniki MIDI | GPX | PDF | INFO [easy]
Korobeiniki 2MIDI | GPX | PDF | INFO
La Chase MIDI | GPX | PDF | INFO [easy]
La Volta MIDI | GPX | PDF | INFO [easy]
Lamento Di Tristan MIDI | GPX | PDF | INFO
Loathe to Depart MIDI | GPX | PDF | INFO [easy]
Medieval Dance MIDI | GPX | PDF | INFO [easy]
Menuet in D MIDI | GPX | PDF | INFO
Minuet in D minor MIDI | GPX | PDF | INFO [easy]
Minuet in E MIDI | GPX | PDF | INFO
Minuet in G MIDI | GPX | PDF | INFO
My Sin MIDI | GPX | PDF | INFO
Nonesuch MIDI | GPX | PDF | INFO [easy]
Oh Mistress Mine MIDI | GPX | PDF | INFO [easy]
Packington's Pound MIDI | GPX | PDF | INFO [easy]
Peg-A-Ramsey MIDI | GPX | PDF | INFO [easy]
Pezzo Tedesco MIDI | GPX | PDF | INFO [easy]
Sarabande MIDI | GPX | PDF | INFO
Se Io m'accorgo MIDI | GPX | PDF | INFO [easy]
Song Of The Marionettes MIDI | GPX | PDF | INFO
Spagnoletta MIDI | GPX | PDF | INFO [easy]
The Coolin MIDI | GPX | PDF | INFO [easy]
The First Noel (Christmas)MIDI | GPX | PDF | INFO
The Scottish Huntsupe MIDI | GPX | PDF | INFO [easy]
Toy MIDI | GPX | PDF | INFO [easy]
Toy 2 MIDI | GPX | PDF | INFO [easy]
Toy 3 MIDI | GPX | PDF | INFO [easy]
Trio MIDI | GPX | PDF | INFO
Vaghe belleze et bionde treccie
doro vedi che per ti moro MIDI | GPX | PDF | INFO [easy]
Valse Venezuelienne MIDI | GPX | PDF | INFO
Veneziana MIDI | GPX | PDF | INFO
Volte MIDI | GPX | PDF | INFO [easy]
We Wish You A Merry Christmas (Christmas)MIDI | GPX | PDF | INFO
What If A Day Or A Month Or A Year MIDI | GPX | PDF | INFO [easy]
When That I Was And A Little Tiny Boy MIDI | GPX | PDF | INFO [easy]
Willow, Willow MIDI | GPX | PDF | INFO [easy]
Wilsons Wilde MIDI | GPX | PDF | INFO [easy]
Woodycock MIDI | GPX | PDF | INFO [easy]
Anschütz, Ernst Gebhard (1780-1861)
O Christmas Tree (Christmas) MIDI | GPX | PDF | INFO
Anzaghi, Luigi Oreste (1903-1963)
A Rimpiattino MIDI | GPX | PDF | INFO
Solitudine MIDI | GPX | PDF | INFO
Arcas, Julián (1832–1882)
Bolero MIDI | GPX | PDF | INFO
El Fagot MIDI | GPX | PDF | INFO
Bolero in E Minor MIDI | GPX | PDF | INFO
La Saltarina MIDI | GPX | PDF | INFO
Little Tango in E Minor MIDI | GPX | PDF | INFO
Minueto en Sol MIDI | GPX | PDF | INFO
Polonesa MIDI | GPX | PDF | INFO
Preludio en Re Mayor MIDI | GPX | PDF | INFO
Ardevol, Jose (1911-1981)
Sonata 1 Preludio MIDI | GPX | PDF | INFO
Sonata 2 Variaciones MIDI | GPX | PDF | INFO
Sonata 3 Danza MIDI | GPX | PDF | INFO
Arlen, Harold (1905-1986)
If I Only Had A Brain MIDI | GPX | PDF | INFO
Over The Rainbow MIDI | GPX | PDF | INFO
Over The Rainbow (version 2) MIDI | GPX | PDF | INFO
Over The Rainbow (version 3)MIDI | GPX | PDF | INFO
Stormy Weather MIDI | GPX | PDF | INFO
Armik
Chashme Man MIDI | GPX | PDF | INFO
Guitar Romance MIDI | GPX | PDF | INFO
Una Guitarra MIDI | GPX | PDF | INFO
Armstrong, Louis (1901-1971)
What A Wonderful World MIDI | GPX | PDF | INFO
Aslani, Faramaz
Dastam Begir MIDI | GPX | PDF | INFO
Asuke, R? (16th Century)
A Jig MIDI | GPX | PDF | INFO [easy]
Atkins, Chet (1924-2001)
Visit Chet Atkins Acoustic Guitar Collection.
Attaingnant, Pierre (1494-1552)
Amys MIDI | GPX | PDF | INFO
Basse Danse la Roque MIDI | GPX | PDF | INFO[easy]
Beure MIDI | GPX | PDF | INFO
Brosse MIDI | GPX | PDF | INFO
Corps MIDI | GPX | PDF | INFO
Cueur MIDI | GPX | PDF | INFO
Gaillarde MIDI | GPX | PDF | INFO
La Rogue MIDI | GPX | PDF | INFO
Magdalena MIDI | GPX | PDF | INFO
Patience MIDI | GPX | PDF | INFO
Pavane MIDI | GPX | PDF | INFO
Pavane 2 MIDI | GPX | PDF | INFO
Pavane Blondeau MIDI | GPX | PDF | INFO
Prelude MIDI | GPX | PDF | INFO
Roque MIDI | GPX | PDF | INFO
Puisque MIDI | GPX | PDF | INFO
Sansserre MIDI | GPX | PDF | INFO
Tant Que Vivray MIDI | GPX | PDF | INFO
Tordion MIDI | GPX | PDF | INFO
Auten, D.R
If I Only Had Wings MIDI | GPX | PDF | INFO
Autry, Orvon Grover (1907-1998)
Frosty The Snowman MIDI | GPX | PDF | INFO
Here Comes Santa Claus MIDI | GPX | PDF | INFO
Rudolph The Red Nosed Reindeer MIDI | GPX | PDF | INFO
Ayala, Hector (1914-1990)
Aire de Milonga MIDI | GPX | PDF | INFO
Aire de Vidala MIDI | GPX | PDF | INFO
Cascabel MIDI | GPX | PDF | INFO
Celeste y Blanco MIDI | GPX | PDF | INFO
De Antano MIDI | GPX | PDF | INFO
El Coyuyo MIDI | GPX | PDF | INFO
Preludio MIDI | GPX | PDF | INFO
Azpiazu,Jose de (1912-1986)
Ave Maria (Jose De Azpiazu) MIDI | GPX | PDF | INFO
El Vito MIDI | GPX | PDF | INFO
Fandanguillo MIDI | GPX | PDF | INFO
Salmatina Danza MIDI | GPX | PDF | INFO
Sours: http://www.classclef.com/
Blank Guitar TAB Sheet Download (Free PDF)
We are supported by our visitors. If you click through our links & make a purchase, we may earn an affiliate commission. Learn more
Free printable large guitar tablature PDF paper ready to download and print to make your guitar playing journey easier
Free printable blank six string guitar TAB music paper download for writing out your tablature notation. In your free printable tablature download you get not one, but two printable TAB manuscripts in high quality PDF format.
Your Free Download includes: Large guitar TAB paper with 6 music staves + large guitar TAB with two giant tablature staffs. Click the green "Free Tab Paper Download" button to get your instant free download.
No mailing list sign up required - 100% free & instant!
Best Guitar Tablature Music Notation Software
Guitar Pro 7.5
Tablature making software isn't just for pro guitar tutors. If you're serious about learning to play guitar, save yourself the headache of drawing out tabs by hand and get some TAB making software.
From TablEdit, Sibelius to Finale Notepad, our top guitar tablature program recommendation out of them all is the industry standard Guitar Pro 7.5. Guitar Pro plays back tabs via virtual instruments making it the only choice that beats old fashioned online text tabs.
Why use tablature creation software like Guitar Pro?
To write down a guitar solo, riff or lick for your own reference to help you learn your favourite songs faster than ever
If you're fed up of seeing guitar tabs online littered with mistakes and want to easily create your own to post and share with others
If you're guitar student or teacher and want to ditch the basic text-based tablature and create professional looking tab music scores
Best Guitar Pro 7.5 Features
MIDI tablature playback
Sound bank library with 200 virtual instruments including drums, bass, keyboards, ukulele and guitar to create your Tab masterpiece
A multitude of amp and fx pedal effects - simply plug your guitar into an external audio interface & connect to Guitar Pro
Polyphonic tuner to make sure your guitar is in tune
Large chord diagram library
Large scales library
Music notation capabilities
Multitrack music composition capabilities
Easier than online tab sites
Guitar Pro tabs make it much quicker and easier to learn new songs than on text tabs on certain online tablature sites thanks to the fact that you can hear how the tab via audio playback. You can find many FREE user Guitar Pro (.GP) tabs files also of almost any song you can think of. Here are some useful links to find Guitar Pro tabs:
1. http://gtptabs.com/
2. https://gprotab.net/
3. https://www.guitar-pro-tabs
Guitar Pro 7.5 | Download FREE Trial
Make learning songs and solos easier. TAB creator with mySongBook integration & backing tracks, Guitar Pro is super user-friendly. Download...
Sours: https://yourguitarbrain.com/blank-guitar-tab-pdf/
Beginner Guitar 
For a child who is a beginning string player, making music can be BAFFLING.  There are so many things going on!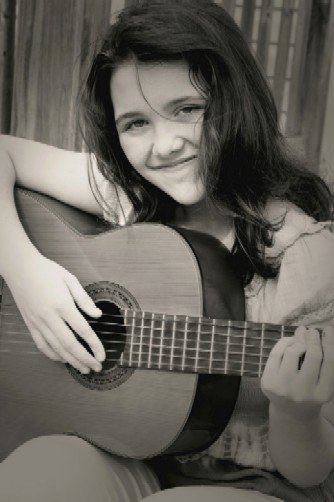 Learning how to play guitar seems almost intuitive for beginner guitar players who have taken piano lessons.
But to a child encountering music training for the first time with a guitar in hand, using left and right hands independently, strumming rhythmically, learning what a chord is, reading notes and understanding their relationship to the guitar strings is a process shrouded in mystery.

LET ME HELP.
Check out this page for EASY guitar songs and exercise sheets to demystify this process somewhat for your students...

Very Easy Guitar Tabs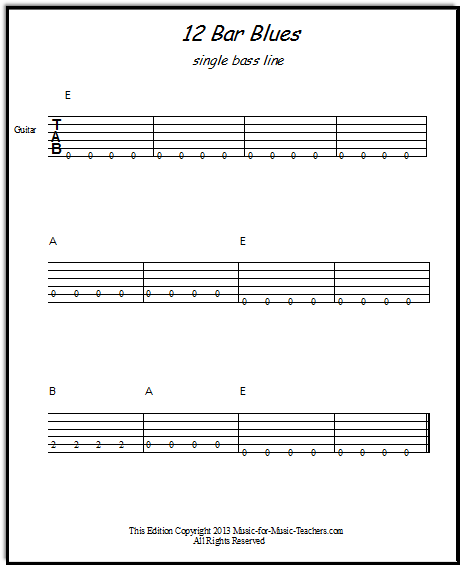 12-Bar Blues
An intro to this concept for your beginning guitar students.
Several different pages, starting with just a bass line.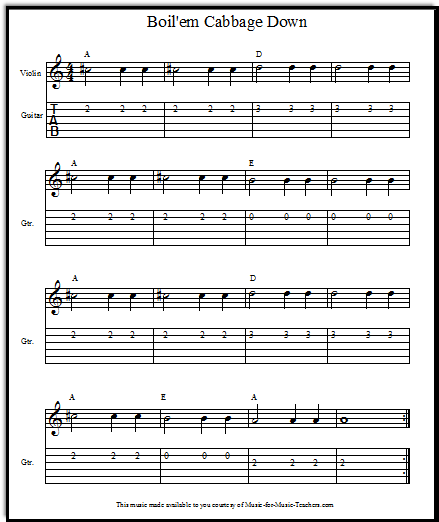 Boil'em Cabbage Down beginner guitar song
Both the simple flat-picking melody & the A-D-E chords are important for beginners.
After Pizza Please, this is the song I use to inculcate the "Down, Down-Up" picking pattern into my young students.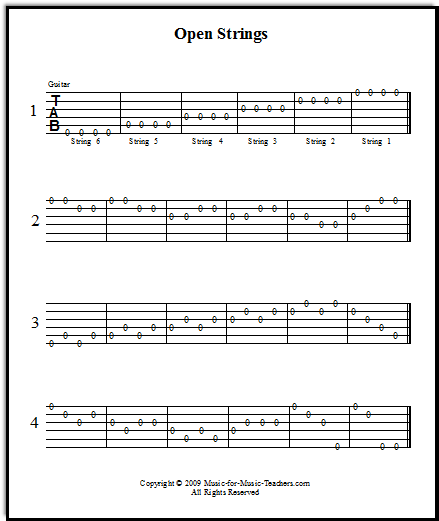 Easiest Guitar Tab to Play
These 4 exercises help kids figure out where the strings and frets are, and may be your student's favorite "song" for a couple weeks!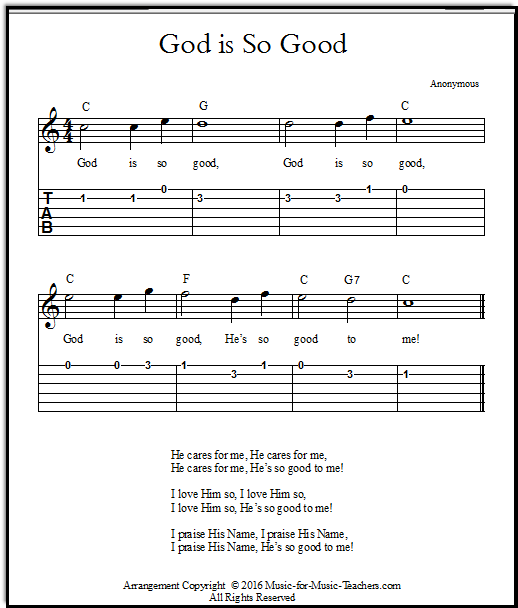 God is Good, or God is So Good!
Whether playing tabs or chords, this sweet melody is very easy!
Yes, the F chord is hard, but let your beginners use a "baby F" chord: just 1, 2, or 3 strings.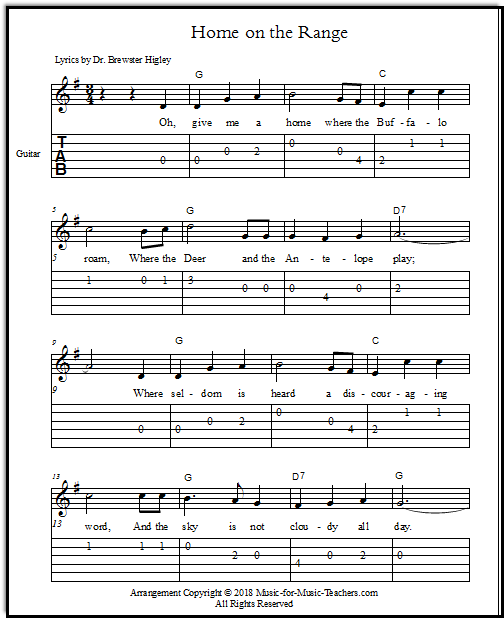 Home On the Range free guitar tabs & chords
This is the easy arrangement, which can use "baby chords".
On this page is also a much fancier arrangement, which uses chords G, G7, C, Cm, D, D7, A7, B, and Em.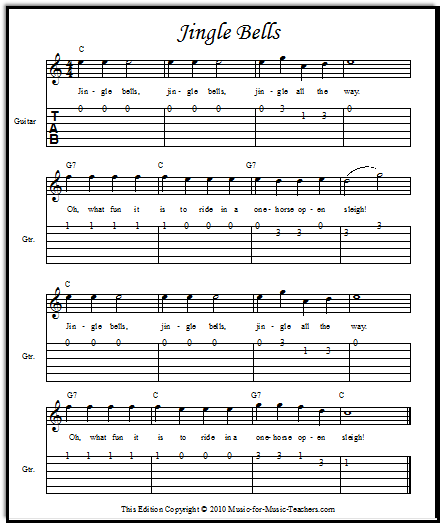 Jingle Bells guitar tabs
Everyone should learn to play this little Christmas song, and thankfully for beginners, it is simple!
This arrangement uses just two chords, but a second arrangement found on this page uses four chords!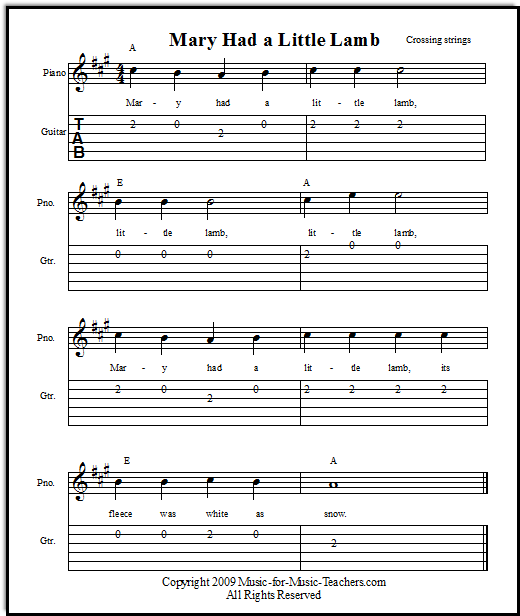 Mary Had a Little Lamb

This famous song uses just 2 chords, and has easy tabs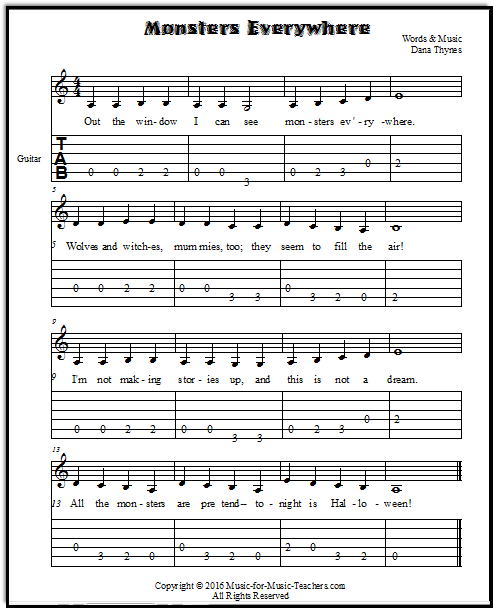 Monsters Everywhere Halloween guitar sheet music
A spooky -but-not-too-scary Halloween song with fun lyrics.
The melody creeps slowly from fret to fret.
Very easy.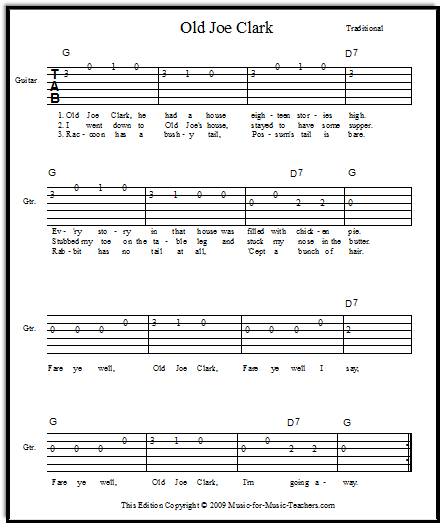 Old Joe Clark
Goofy words and a singable tune make this song fun to sing and play!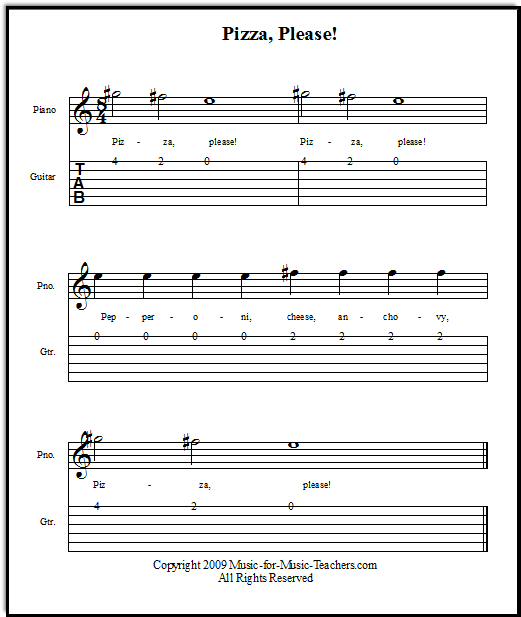 Pizza Please (the Hot Cross Buns melody!)

Older beginners will say, "We played this in band!", and indeed, this is one of the world's EASIEST songs for beginners.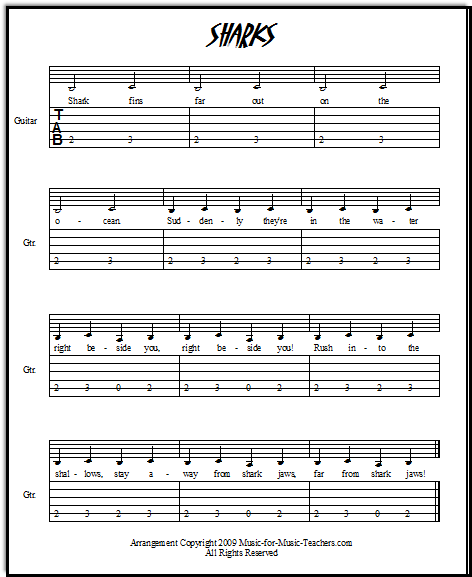 Sharks easy guitar tabs

If you tell your students that this is ALMOST the same as the theme song of the movie "Jaws", they will work at it!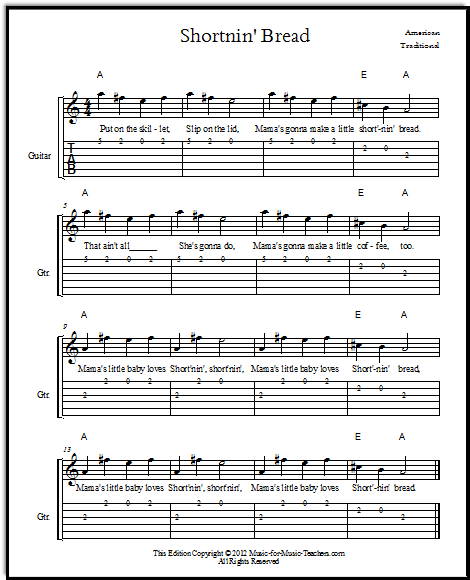 Shortnin' Bread
Lots of repetition make this cute song easy, both tabs & the 2 chords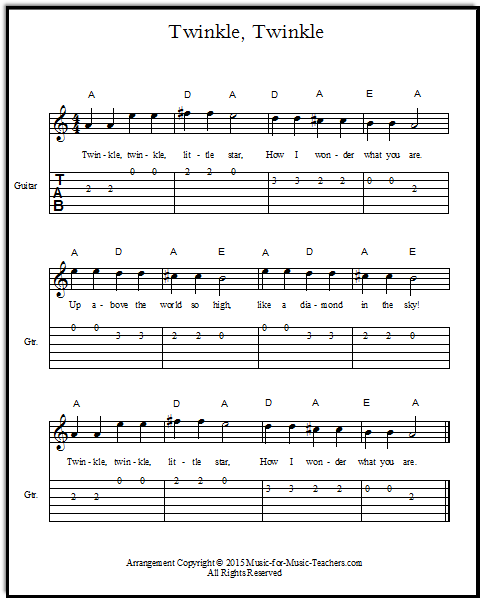 Twinkle Twinkle Little Star music

Kids like working on familiar tunes, and with guitar beginners it is even more important.

Hymns, Carols, & Anthems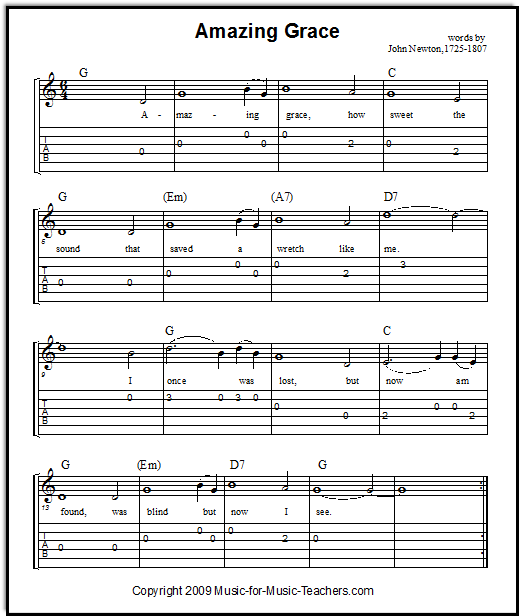 Amazing Grace
The melody of this beautiful hymn is very easy to pick in the key of G... also offered in C.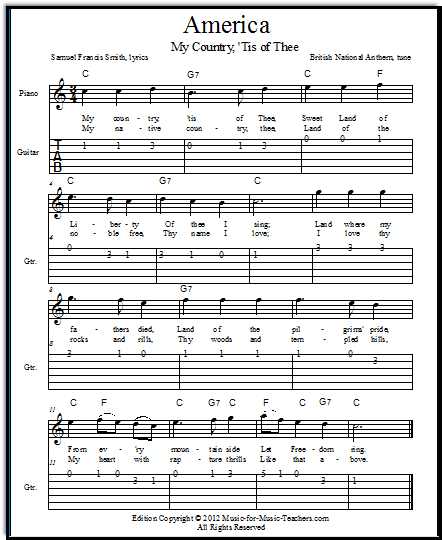 America -My Country, 'Tis of Thee
One of our nation's patriotic songs.
This melody (with different lyrics) comes from England. 
There, it says, "God save our noble queen (or king)."  Here, the lyrics speak of FREEDOM.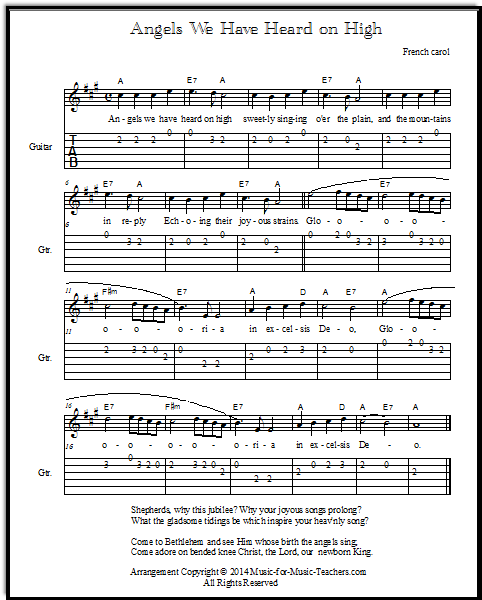 Angels We Have Heard On High

The pretty Christmas song with the long "Glo-o-o-o-o-ria" section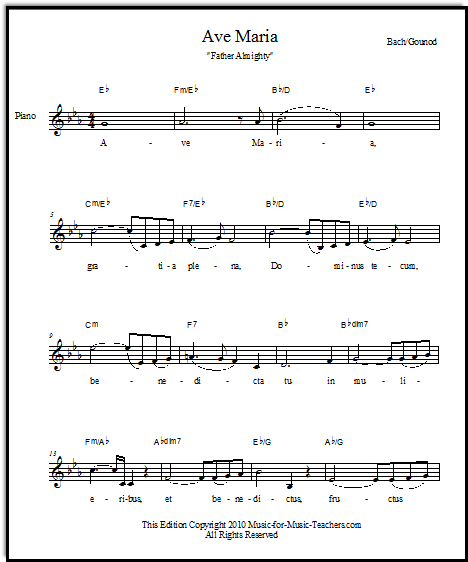 Ave Maria sheet music
Lead sheets with chords in multiple keys, as well as the full piano accompaniment in several keys.
This lovely song is offered here in Latin (Ave Maria) and with a set of English lyrics, which are NOT a translation but more of a prayer to God the Father.
This is the lovely combined composition by Bach and Gounod - Charles Gounod added a soaring melody over Bach's Prelude in C for keyboard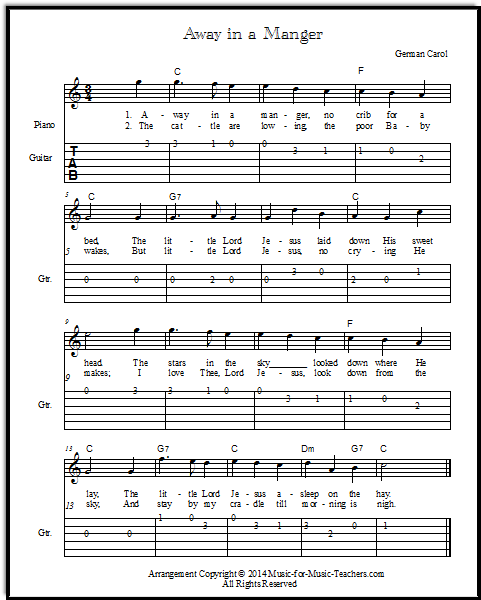 Away in a Manger

This simple Christmas carol has an easy guitar tab line.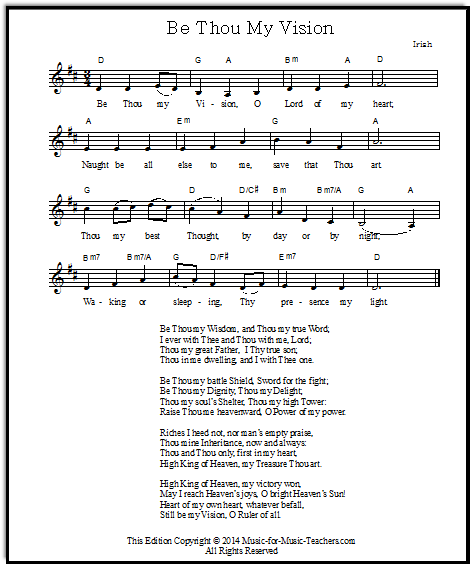 Be Thou My Vision
A beautiful hymn, very old, in praise of God.
Lead sheets and piano arrangements.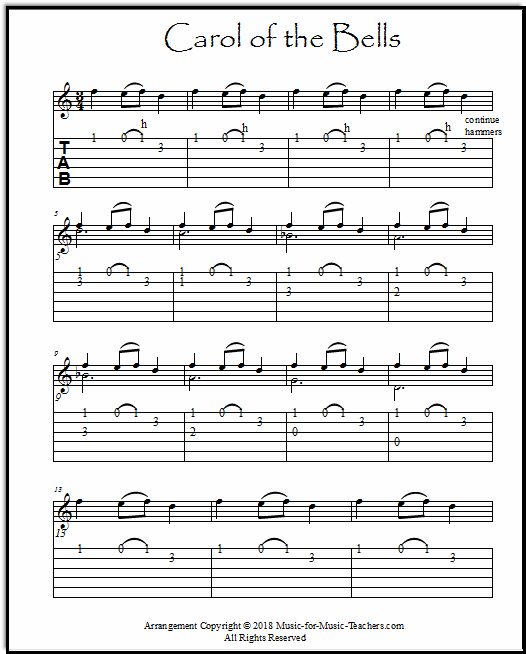 Carol of the Bells guitar tab
This beautiful Christmas song is not easy for young students, but the challenge to play it is fun!
Three pages.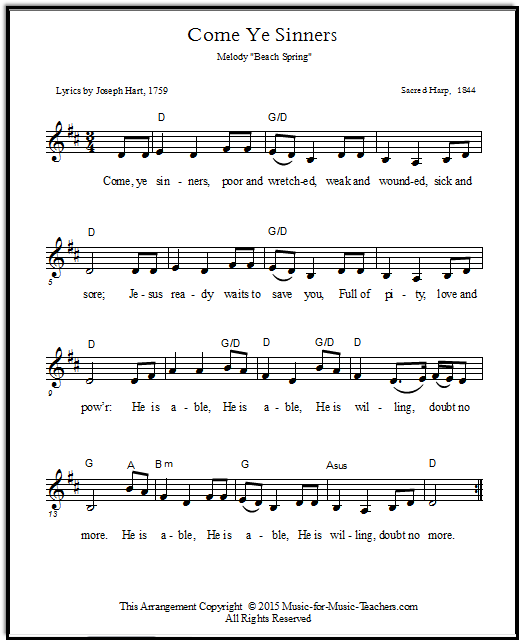 Come Ye Sinners, old gospel hymns  (Beach Spring melody, from The Sacred Harp)

With guitar chords but no tabs, this is an old-fashioned hymn with an irresistible melody. Very easy for fiddle players.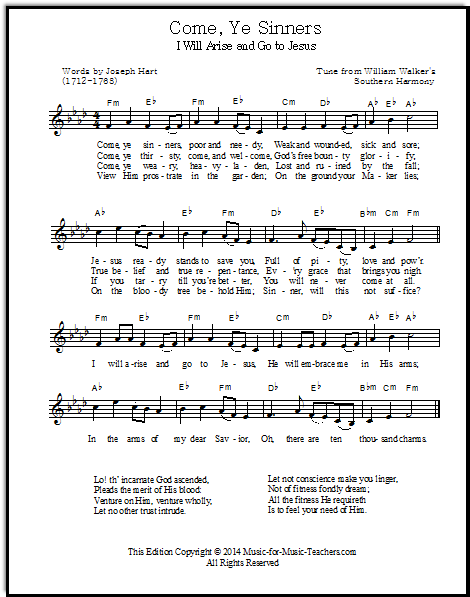 Come Ye Sinners (I Will Arise and Go to Jesus)
This hymn with the same words, plus a few more, is in a minor key, with a haunting melody.
It looks to be in a scary key for guitarists!  
Don't fear; this one is just for piano.  There are other keys for this lead sheet to be found on this page!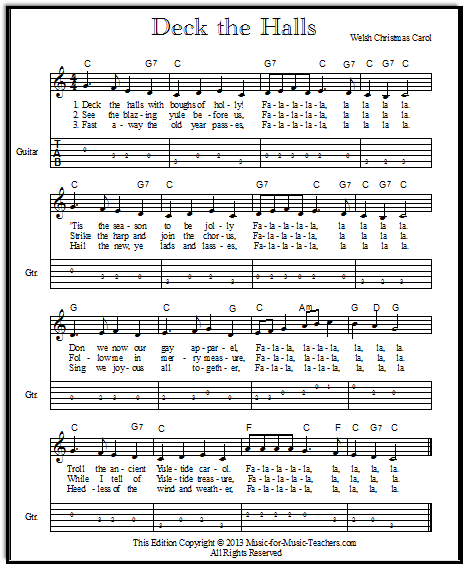 Deck the Halls free Christmas songs

With a high and a low version of this carol.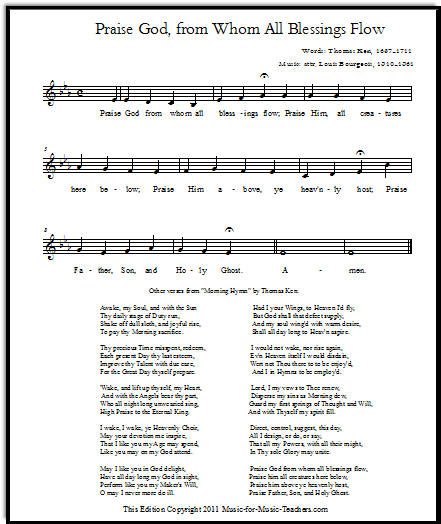 Doxology
This is the well-known short hymn with the lyrics, "Praise God from whom all blessings flow..."
Did you know there are many more verses?
Lead sheets and a piano arrangement can be found on this page.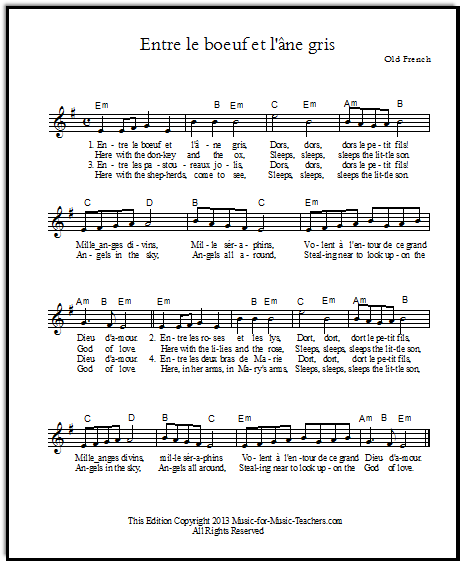 Entre le boeuf Christmas music lyrics and piano chords (Between the Ox and Donkey)

With guitar chords, this lovely Christmas carol from France is an unfamiliar song to many.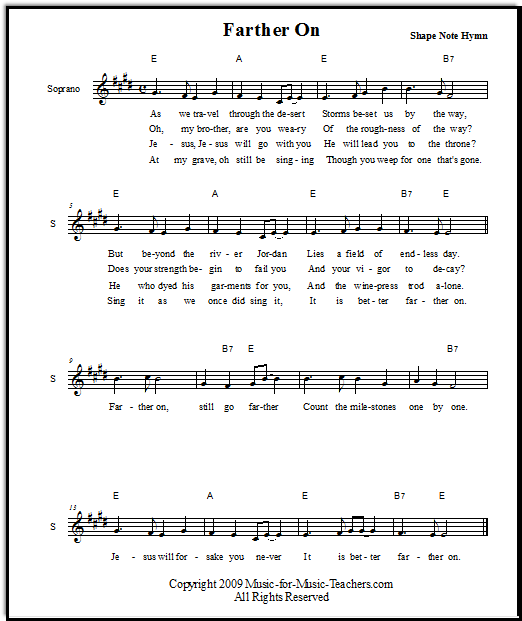 Farther On
A song about going to that better place.
This is one of the sweetest hymns I know.
Chords & lyrics, and arrangements for your choral group.
A song to include in your list of funeral songs.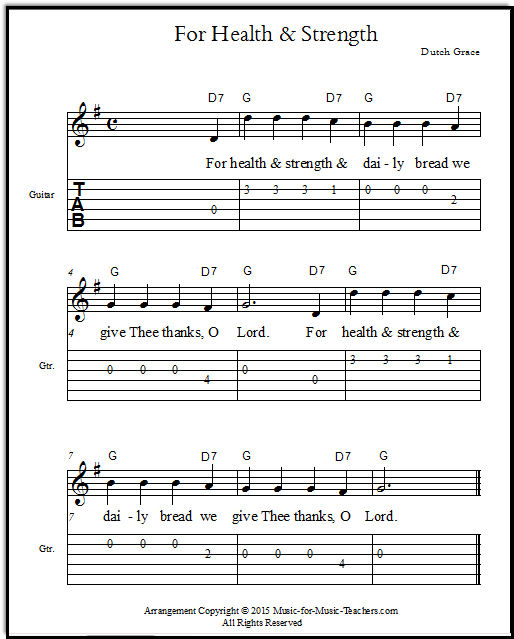 For Health & Strength & Daily Bread prayer for Thanksgiving

With guitar tabs and also guitar chords, this is a simple round with a simple and good message!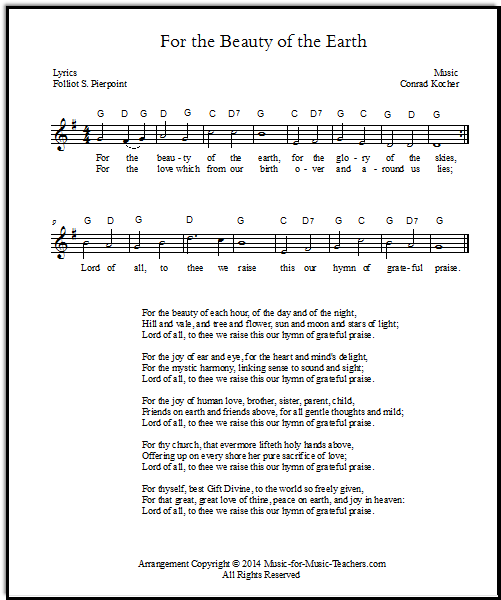 For the Beauty of the Earth Thanksgiving song
Another song of thanksgiving to God.
This song was featured in the film "Little Women" years ago, as a kind of non-denominational, inoffensive kind of hymn.  
Fittingly, I suppose, as Bronson Alcott, Louisa May Alcott's father, was a Transcendentalist.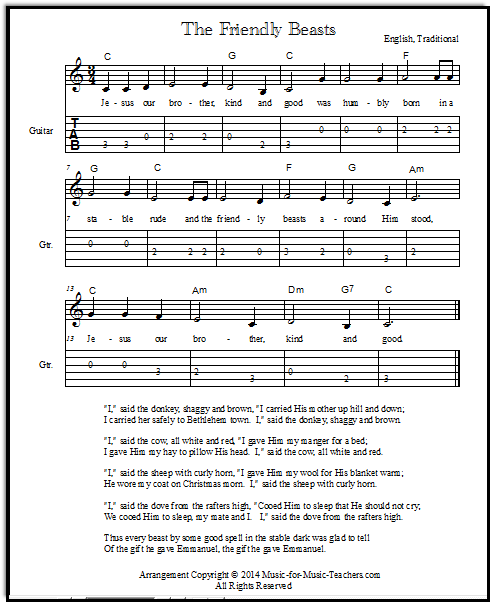 The Friendly Beasts
This song has a few secondary chords (Am & Dm), but the song will work with just the three main chords.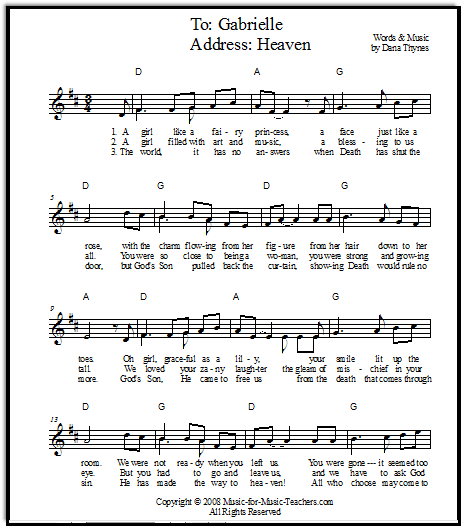 Gabrielle: Address Heaven
This song was written to comfort mourners - including myself - for a thirteen-year-old girl, who sickened and died inside the space of one week.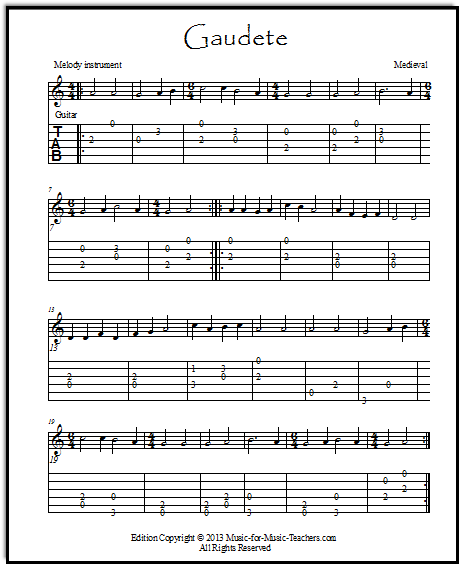 Gaudete (Rejoice!) free Christmas vocal sheet music

Several arrangements of this very interesting and OLD Latin hymn of praise.  It is a bit of classical style.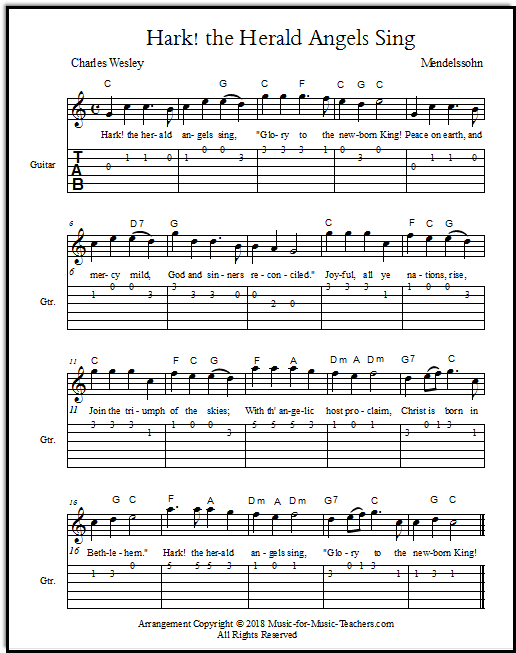 Hark! the Herald Angels Sing
Guitar tabs, and also a beginning piano arrangement are on this web page.
Lyrics too, as a downloadable PDF!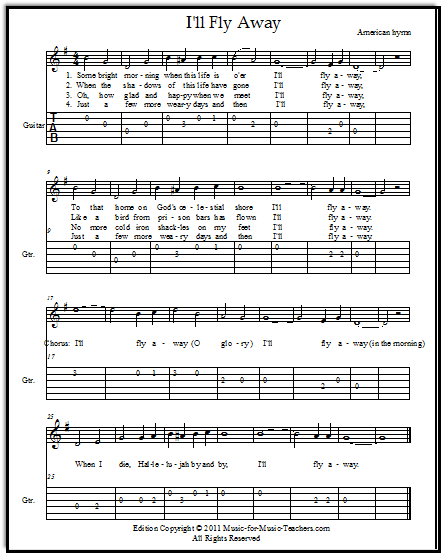 I'll Fly Away

Easy guitar tabs make up the melody of this vigorous old-timey hymn about going to heaven.
It remains popular!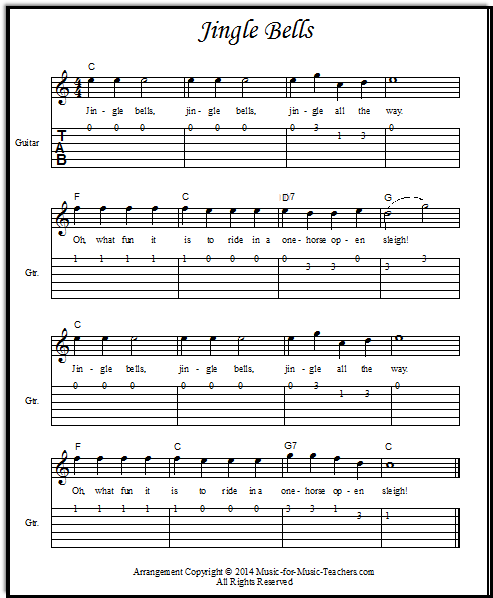 Jingle Bells guitar chords and tabs
The arrangement shown here uses C, F, D7, G, and G7 chords.
Also on this page is a very simple version using only C and G7 - perfect for beginners who are using the "Little C" and "Little G7" chords!
New students are always delighted to play this song.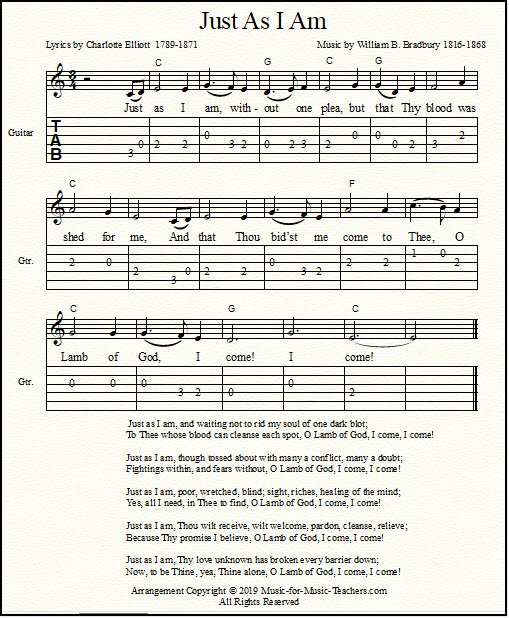 Just As I Am Without One Plea
An older hymn that is still beautiful and soul-stirring.
Just three chords.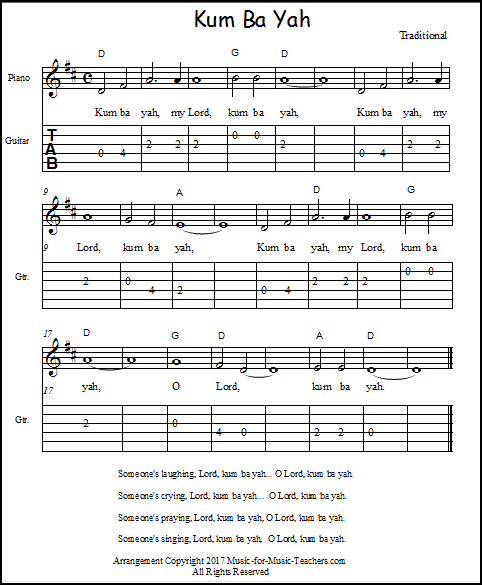 Kum Ba Yah
A sweet song that asks God to come near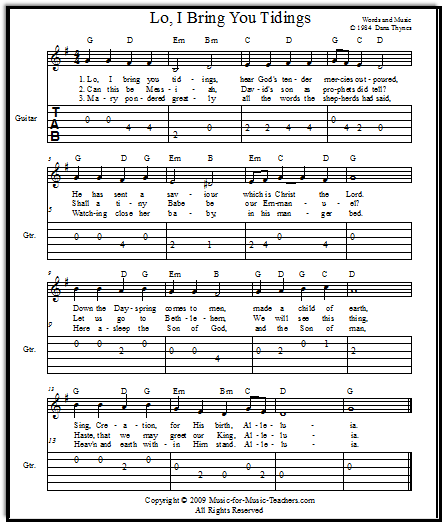 Lo I Bring You Tidings Christmas carol lyrics
A modern Christmas carol, with lyrics straight from the Bible.  
Mary ponders the words that the shepherds repeat, that the angel told them.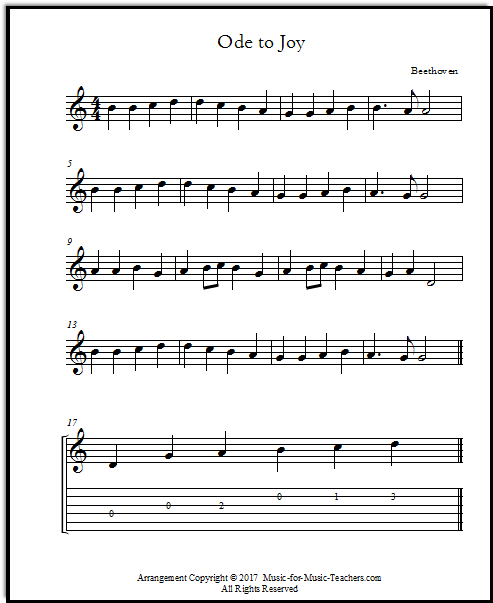 Ode to Joy guitar music for beginners
With standard notation, and "helper" tablature below.
For beginning readers!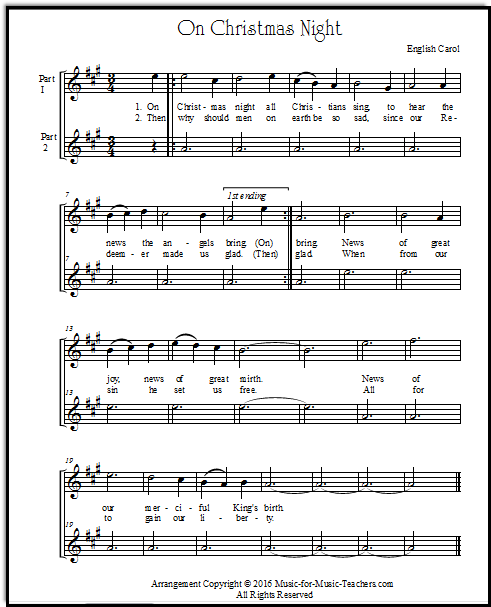 On Christmas Night

A violin duet.
This piece can also be sung, of course, but the "A" and "E" open strings of the violin part 2 make this a very easy part for beginners.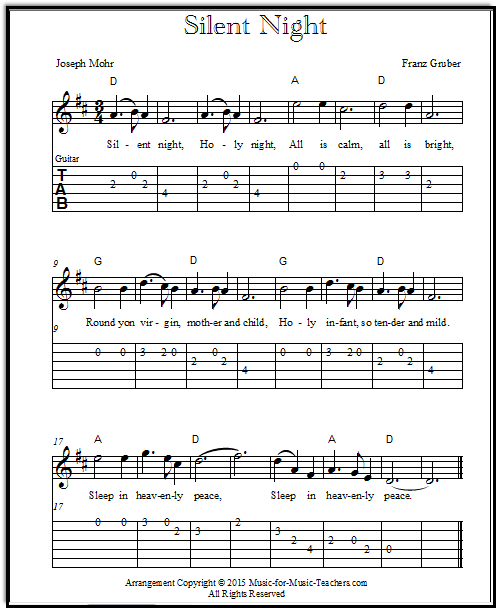 Silent Night chords, lyrics and tabs
Several ensembles for string instruments, as well as guitar solo.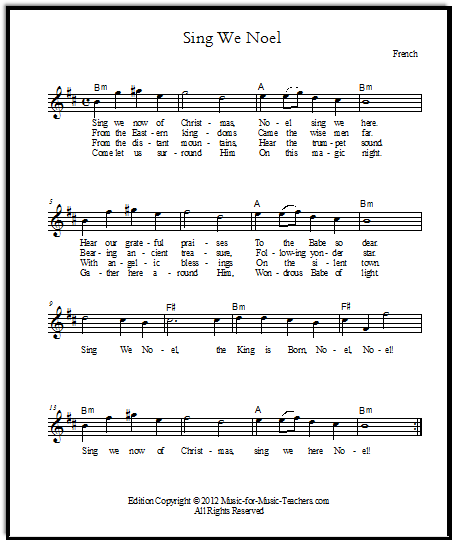 Sing We Noel 

A Christmas carol from France.
This one has no tablature, but numerous keys to try out the chords to.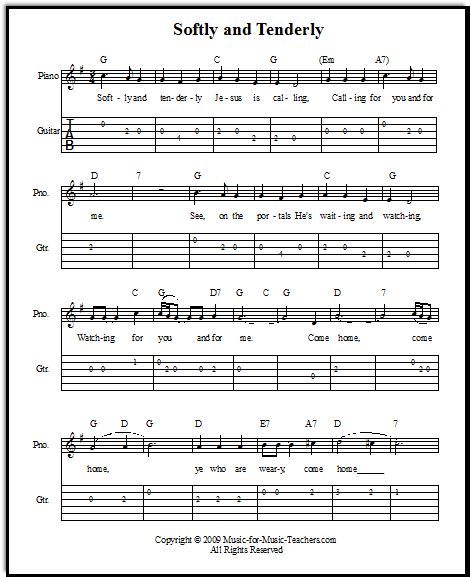 Softly and Tenderly free hymn sheet music
An old-fashioned hymn.
If you want contemplative music that will soften and touch hearts, this free hymn sheet music is what you are looking for. 
"Softly and Tenderly, Jesus is Calling" is about going home -- the final home.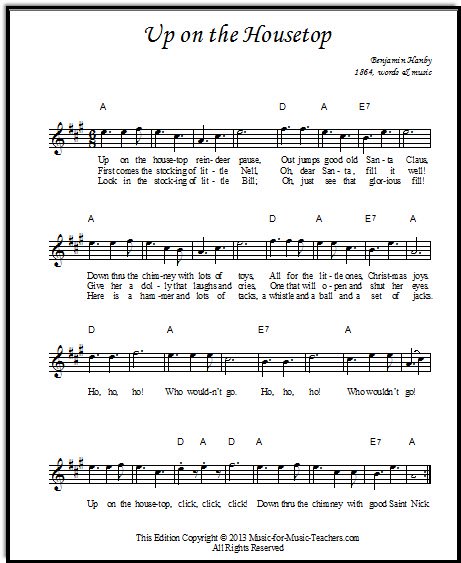 Up On the Housetop easy kids' Christmas piano sheet music 
- but with chords for guitar as well!
This is, surprisingly, an old Christmas carol!  It feels modern somehow.
It doesn't use many chords - just the usual three "I, IV, & V" chords.
This song has a joyous feeling!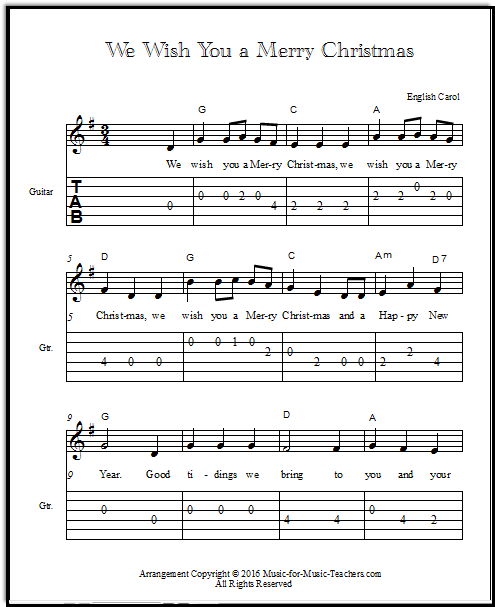 We Wish You a Merry Christmas chords, tabs, and lyrics
This joyous-sounding Christmas carol is full of energy!
Easy chords for guitar.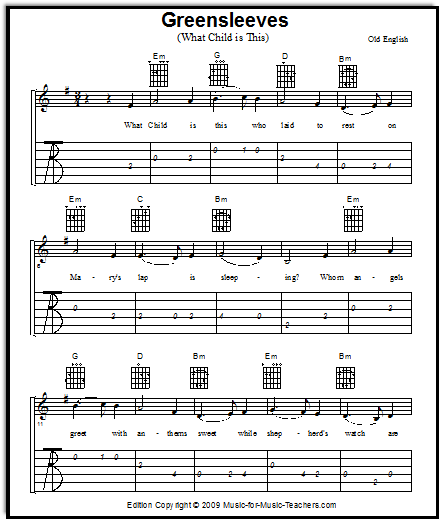 What Child is This Christmas sheet music
This is "Greensleeves", a beautiful melody hundreds of years old.
The version shown here, with the Christmas carol lyrics, has the lowered seventh tone of a more lute-like arrangement.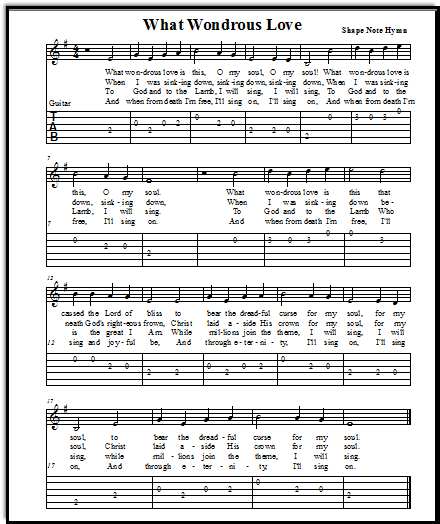 What Wondrous Love, two different melodies
This page features the familiar version of What Wondrous Love, and also a little-known version, shown here.
I like to call this second arrangement "bluegrass" - but the melody is apparently from the Shape Note tradition.
It is very unlike the most familiar version you have heard before.
Shown here are the guitar tabs and melody.  On another page, I have available a four-part choral arrangement of this alternate melody!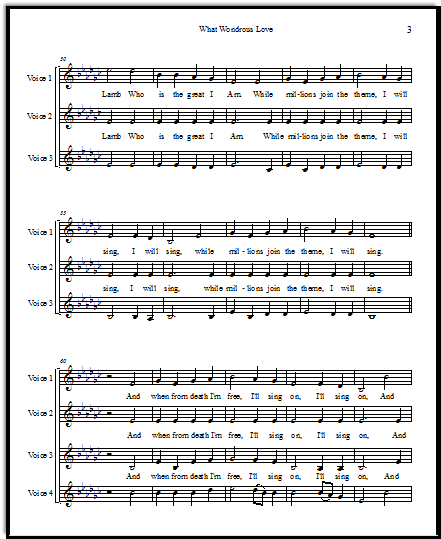 What Wondrous Love with 4-part harmony
This is the "bluegrass" or Shape Note melody that is also featured on the link above.
Few people have heard this strong, compelling tune, though they may be very familiar with the lyrics!
Shown here is page 3 of a 4-page arrangement...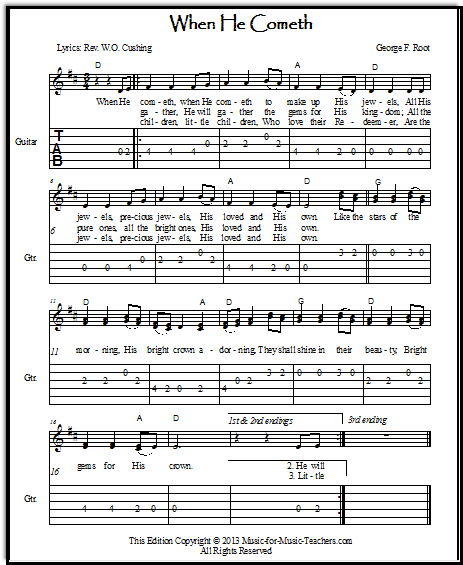 When He Cometh
Also known as "Jewels".
This song talks about the preciousness of little children, like stars in God's crown.
Just three main chords make up the background.  
Lots of opportunity for  vocal harmony!
Classical Guitar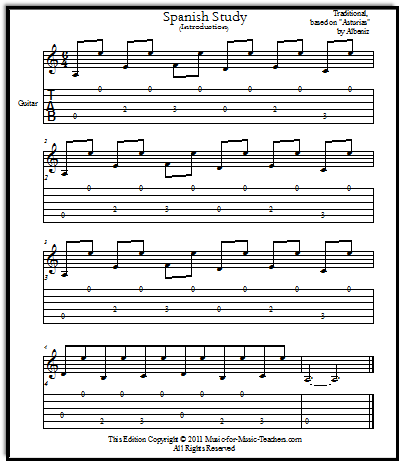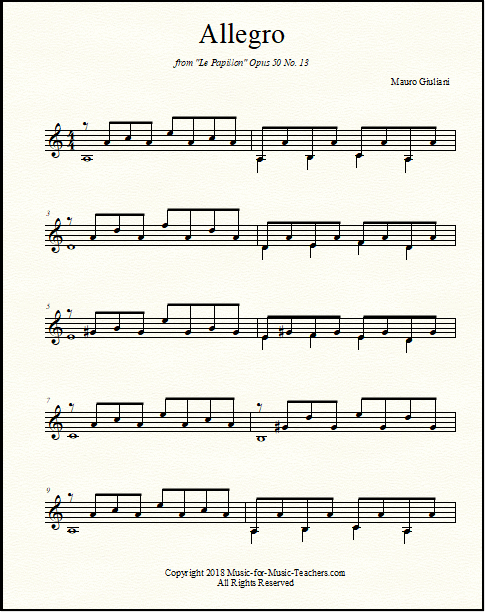 Allegro classical guitar sheet music
From Le Papillon (The Butterfly).
This piece looks more complicated than it really is, since the notes come from chord shapes Am, Dm, E, and E7.
Lovely.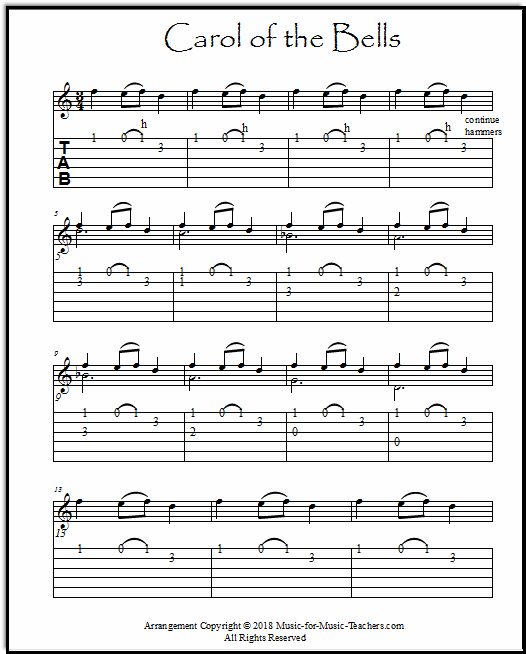 Carol of the Bells guitar tab
This beautiful Christmas song is not easy for young students, but the challenge to play it is fun!
Three pages.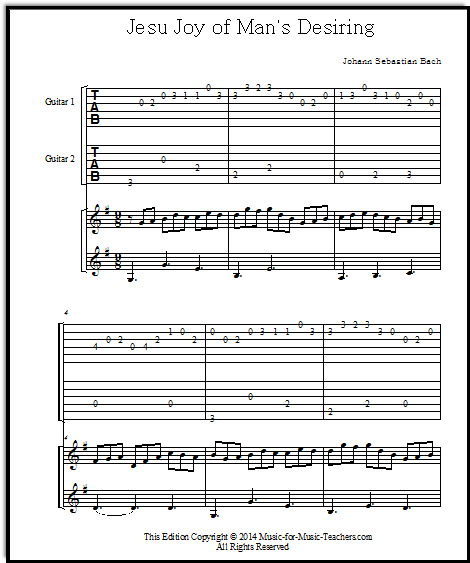 Jesu Joy of Man's Desiring duet
A well-loved piece by Bach, I have arranged it as a duet for cello and violin, for two violins, or for two guitars.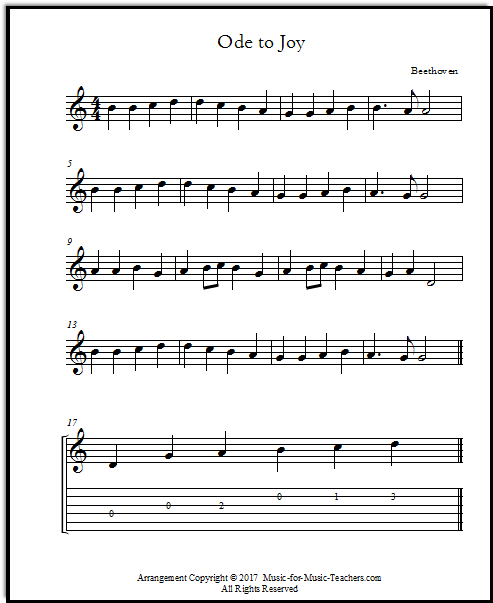 Ode to Joy guitar music for beginners
Oh no!  Where's the tablature?
I left it out of this familiar song, so that students have the opportunity to practice their notereading, using the guide at the bottom of the music sheet.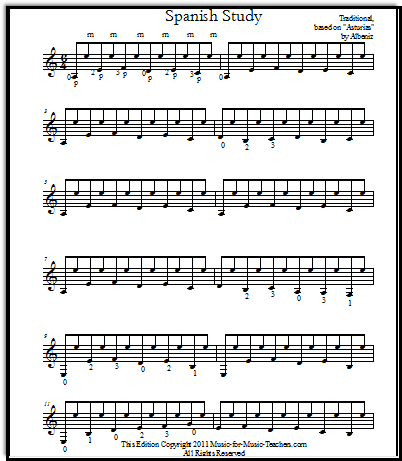 Spanish Study 
A beautiful first classical piece for young guitarists.
A 3-page version, a 1-page version, and a worksheet with empty tab below the notes.
Update: 
All 3 pages with treble staff AND guitar tabs!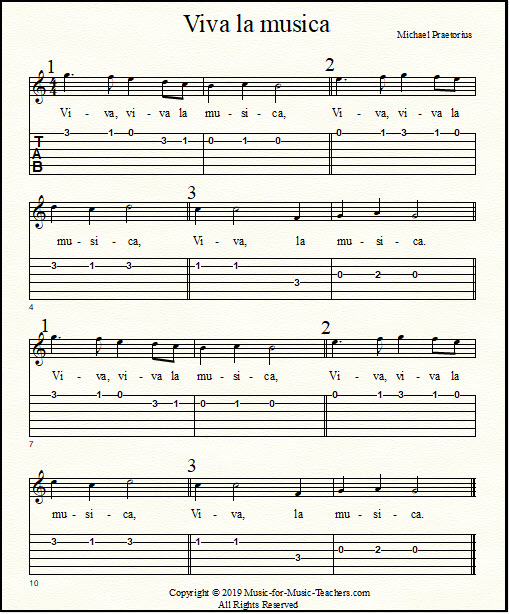 Viva la Musica
This rather simple little melody is a ROUND, and therein lies its challenge for your guitar student!
Playing with another student, or even with you, the teacher, takes focus and good listening.
This is a pretty little song, the meaning of which is "Long live music!".
Flatpicking Guitar and Fiddle Pieces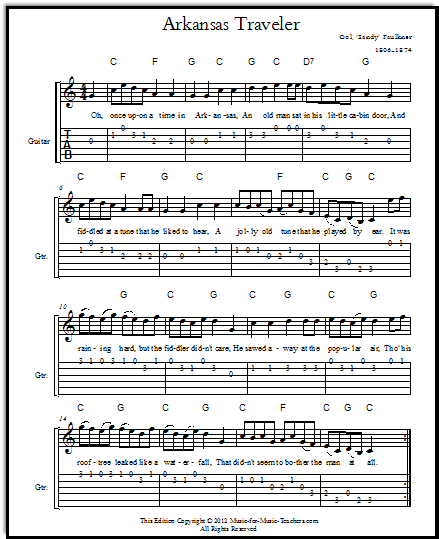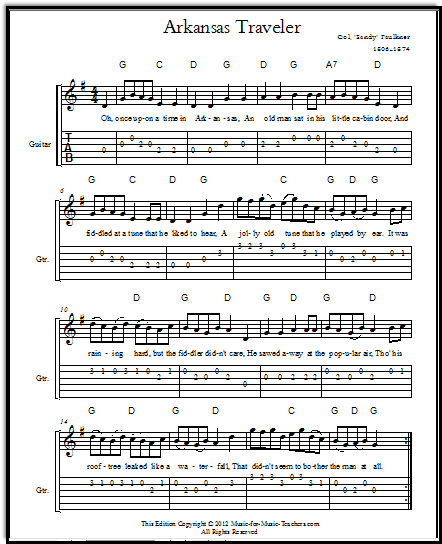 Arkansas Traveler
Like the version featured above, except in the key of G. 
A very famous American song.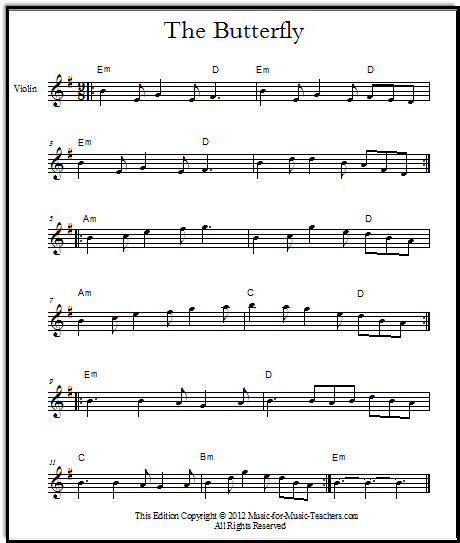 The Butterfly - free Irish fiddle sheet music
- THE popular song Celtic Woman plays!
See a video of this exciting song on this page.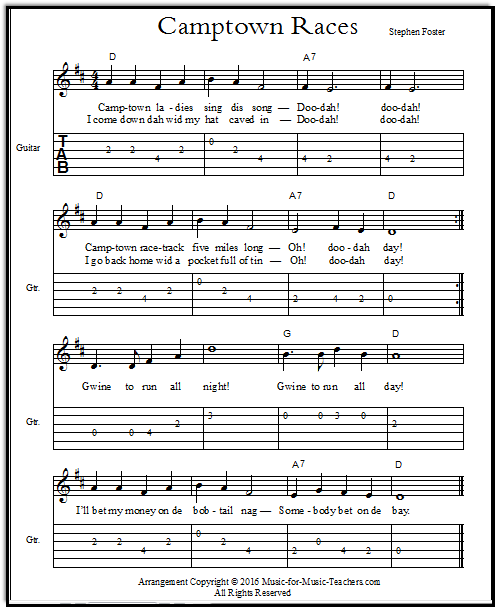 Camptown Races
A cute song by Stephen Foster, an American composer of long ago.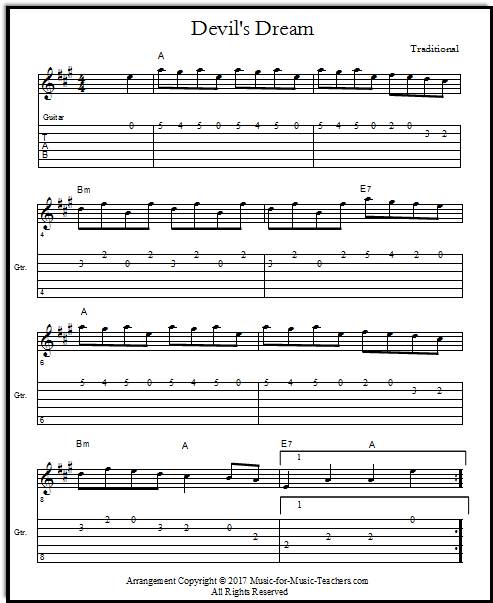 Devil's Dream free guitar tabs
This is a piece that both guitarists and fiddlers find they can grow faster and faster at playing, and increase their skill level along the way!
For guitarists learning to flatpick, this melody is almost entirely "Down-Up, Down-Up, Down-Up, Down-Up!"
Violinists may find themselves making little "bow circles" for the first time ever - very fun!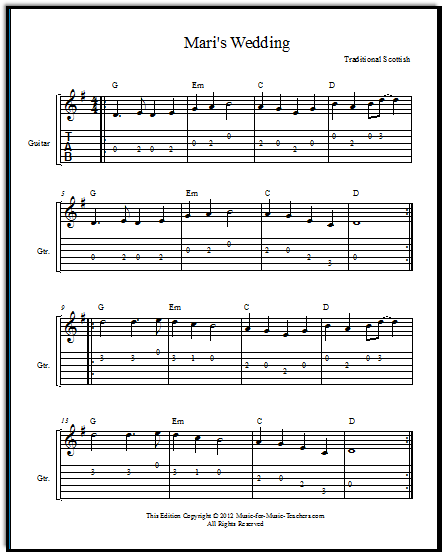 Mari's Wedding
A cute and energetic song with lyrics to sing.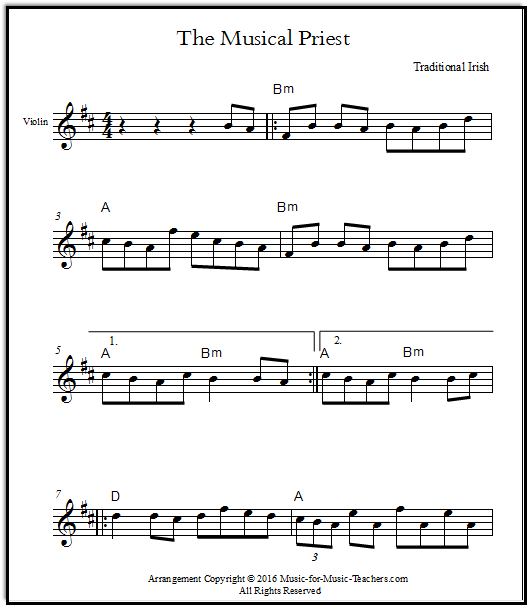 Musical Priest free printable violin music
A fun minor piece with room to learn to easily add ornaments.  
Two arrangements - a simple one with the basic melody, and another with ornaments written in.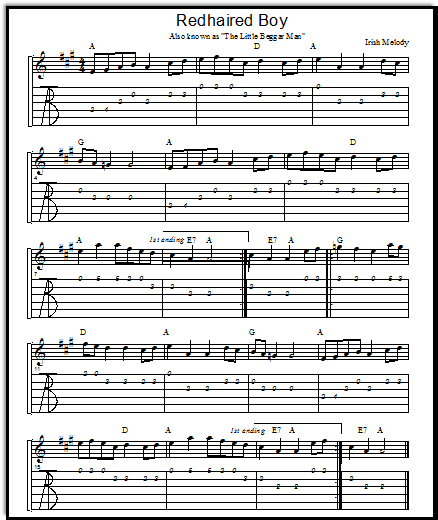 Redhaired Boy
This piece is a great favorite at my studio. 
In the keys of A and also G.  
For fiddle or guitar.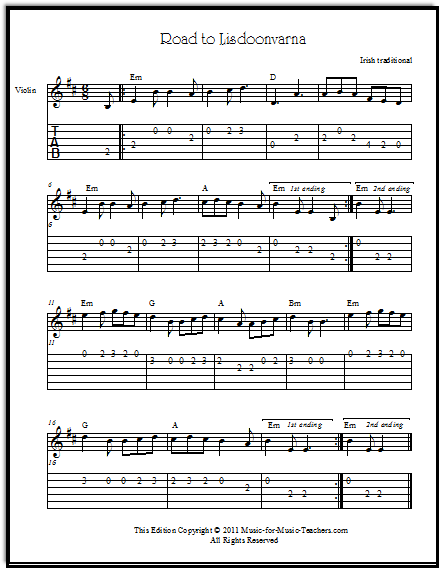 Road to Lisdoonvarna free fiddle sheet music
Two versions of this catchy fiddle  and guitar tune - plain (shown here) and FANCY!

Sleep Song

Sleepsong is an unusually beautiful piece with a lovely chord backup.
It is copyrighted and therefore I do not have the lullaby sheet music here, but I offer tips on how to find the music online, and link to a legal choral version.  Listen to a video that will amaze you with its beauty.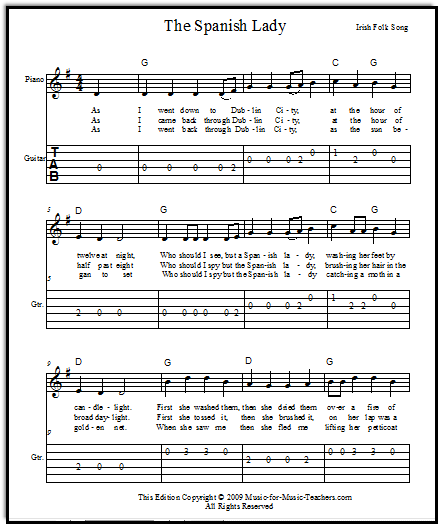 Spanish Lady
A really fun and bouncy song!
High energy, and a pretty tune.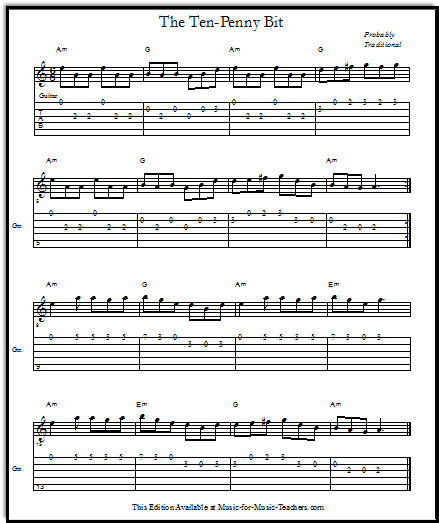 Ten-Penny Bit
This is a great fiddle melody, and also a fun flat-picking piece for guitar.
A minor-melody tune.
Folk and Traditional Songs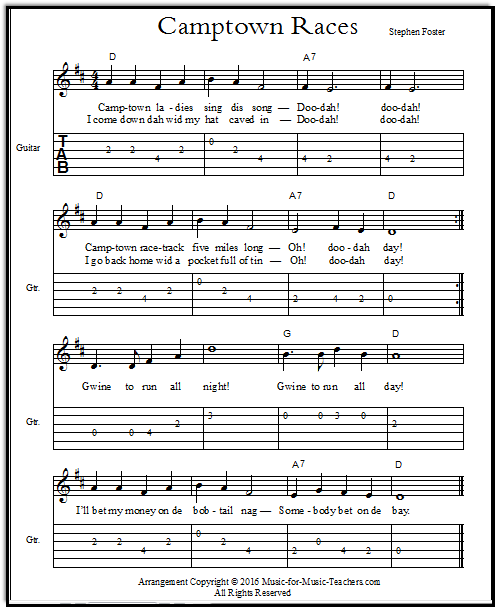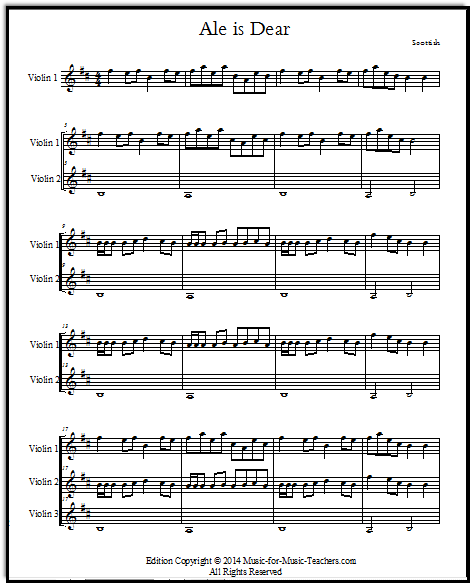 Ale is Dear fiddle sheet music for beginners
A violin trio, one part of which is almost a single-note "drone".
Very pretty.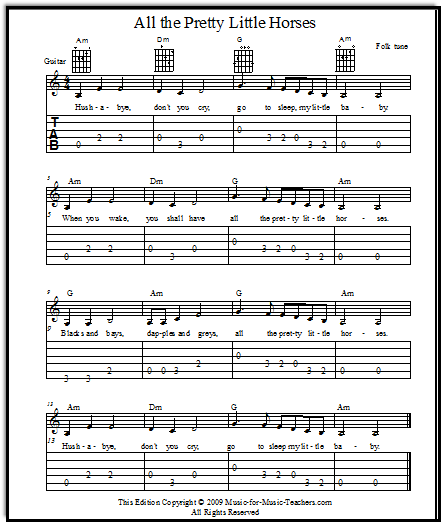 All the Pretty Little Horses

This lullaby has lovely repeating melody lines.
In two keys for guitar - there are many possibilities for finger picking with this pretty song!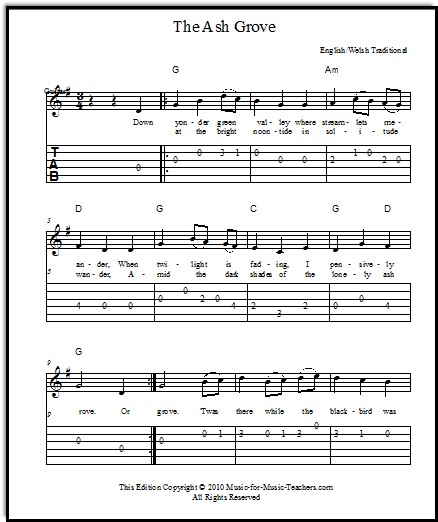 Ash Grove
An old song from Wales, very pretty.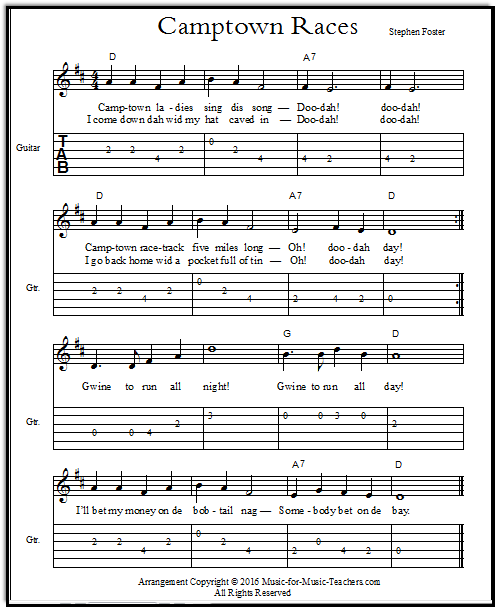 Camptown Races
You'll find a solo version and a duet version here on this page.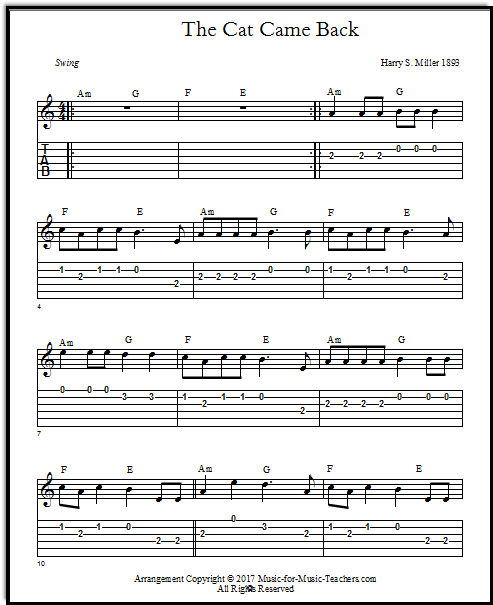 Cat Came Back lyrics and chords
Yes, the lyrics are here, on page two!  
This is a very fun song with silly words about the cat that no one can seem to get rid of!
The chord pattern repeats over and over again; it makes for excellent walking bass practice.
The vocal range of this song can be limited to just five notes if necessary... handy for beginning singers.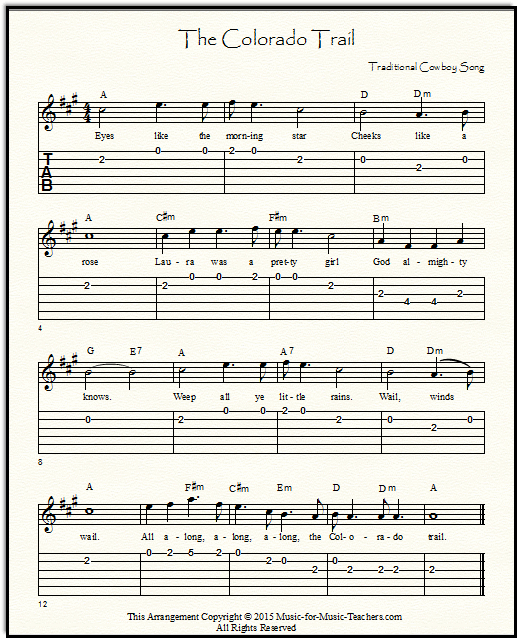 Colorado Trail song
This is a genuine cowboy song, written by a real cowboy.
Surprisingly sweet, and pretty!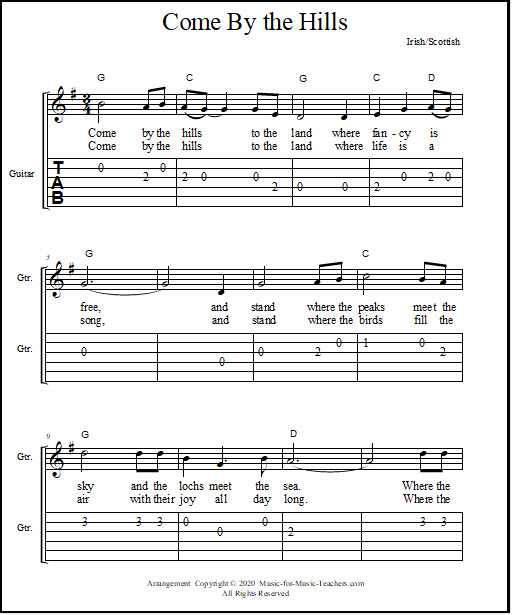 Come By the Hills
A pretty Gaelic song with English lyrics, you may recognize this tune..
Simple chords that are lovely strummed or picked, and lyrics that almost sing themselves!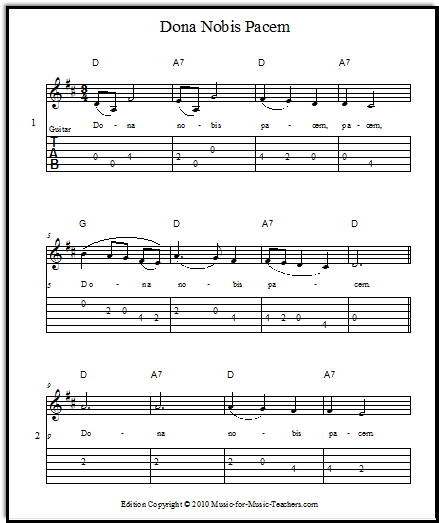 Dona Nobis Pacem
"Give us peace", a Latin poem from long ago.
Very beautiful round - not easy.
But it can be sung as a solo, too.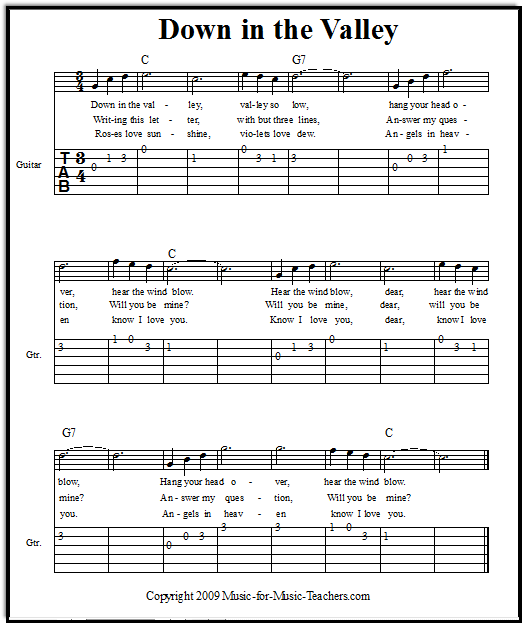 Down in the Valley
This two-chord song is a super-easy first finger picking song.
Using "baby" C and "baby" G7,  students can focus on their right hand technique.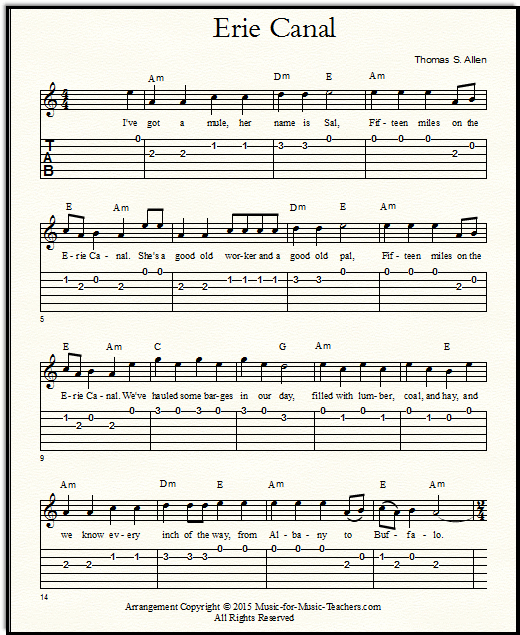 The Erie Canal Song
An old favorite - this song has good energy that kids like!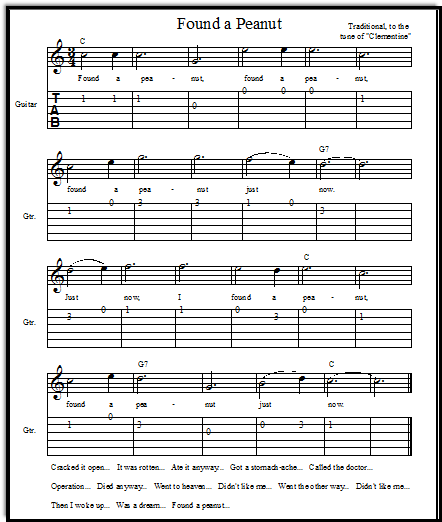 Found a Peanut
Just two chords & silly words make this a perfect song for a first lesson.  
Use "baby" chords C & G7.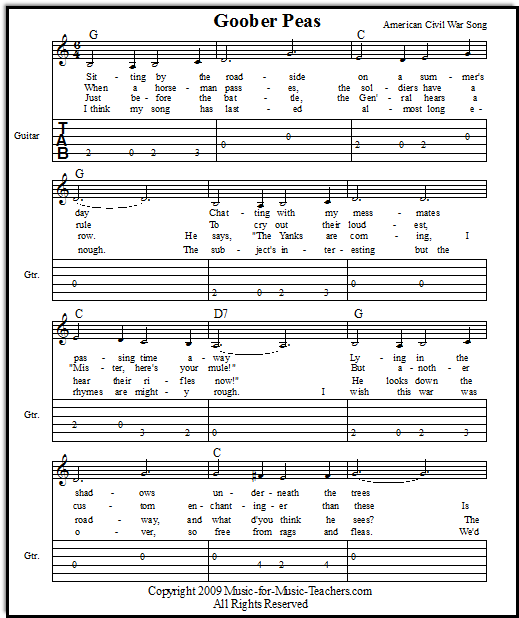 Goober Peas
Kids may fight this unfamiliar song for a week or two until they've heard it enough - and then they love it!
Initially, it is definitely a challenge, in spite of the easy chords, because they change so quickly.
But that's just the kind of practice beginners need.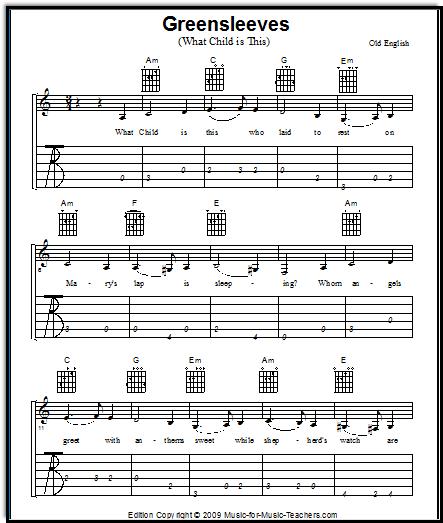 Greensleeves, the beautiful old melody that also is the Christmas sheet music "What Child is This"
Three versions for guitar:
A minor
E minor
also E minor, but with a lowered seventh tone of the scale - a "lute" rendition
All with tablature for your beginner guitar students!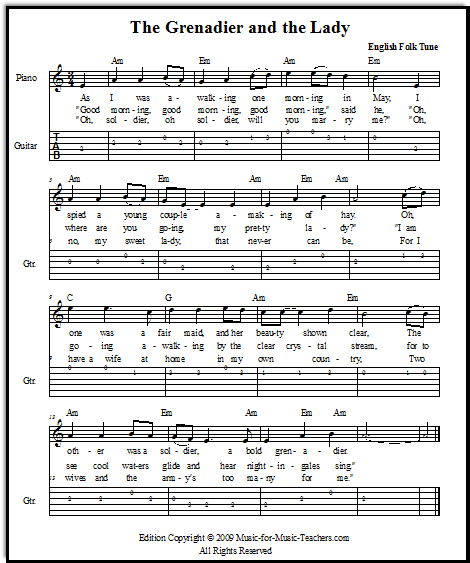 The Grenadier and the Lady, loveliest of sad songs
A beautiful minor song that tells a story.
Good opportunities for finger-picking, with mostly easy guitar chords.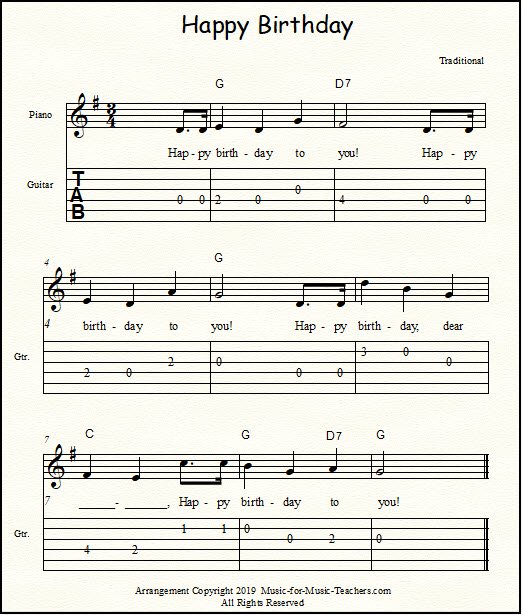 Happy Birthday
Now with guitar tabs in both the key of G and the key of D!
Also on this page are lead sheets in multiple keys, and several versions for solo piano.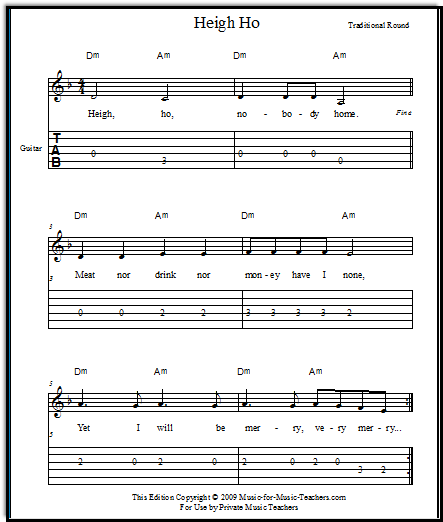 Heigh Ho, Nobody Home
An easy and satisfying round.
This minor song is fun and beautiful.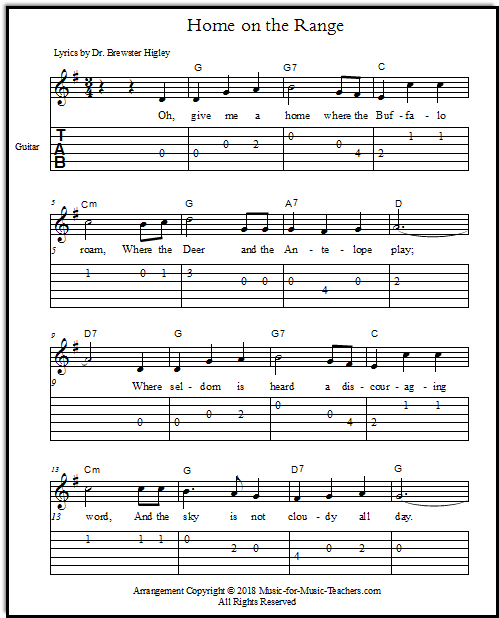 Home on the Range free tabs & lyrics
This page has a very fancy arrangement with lots of different chords, as well as a very simple 3-chord arrangement, perfect for beginners!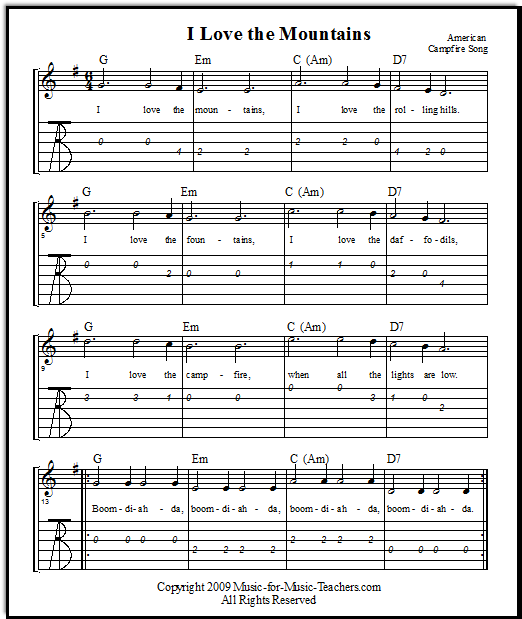 I Love the Mountains guitar chords & tabs
This is the song I use to teach beginners to switch from the G chord to Em, C, and D7!
It is invaluable for giving them a tactile feel for changing chords with no extraneous motion.
The goal? To keep one finger down on the guitar neck at all times.  With this set of chords, it is possible.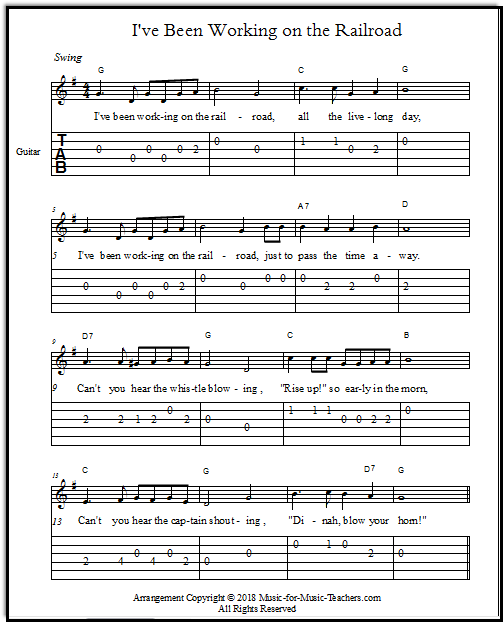 I've Been Working On the Railroad guitar tabs and chords
This is such a fun song, with words that hint at an earlier time.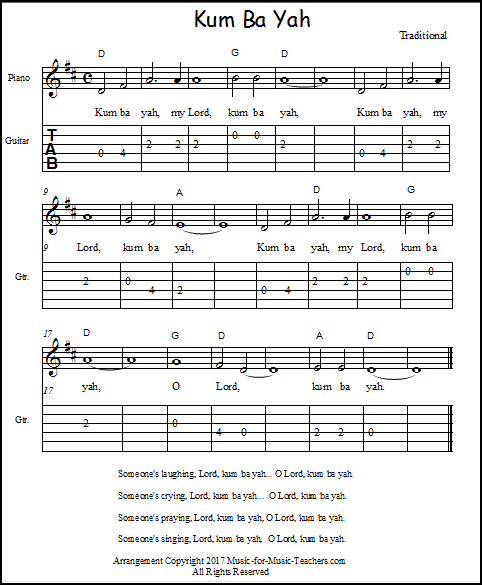 Kum Ba Yah
A sweet old folk song, perhaps from Africa.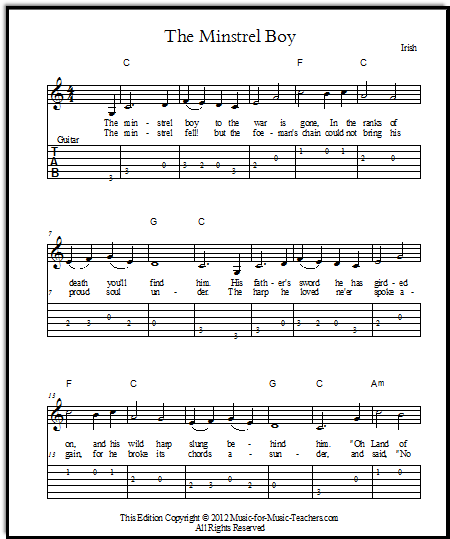 Minstrel Boy free Irish sheet music
Patriotic and beautiful, this song is lyrical and evocative.
A good song for a teenage boy, or young man, but girls could sing it as well.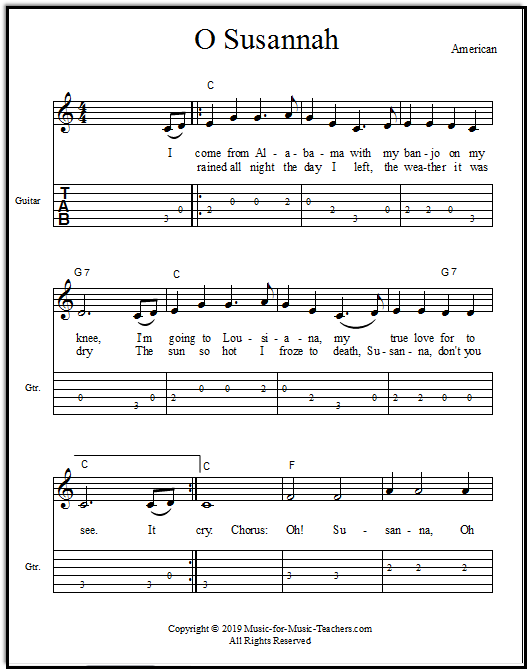 O Susannah
A favorite old song of the American west.
With a guitar solo and also a guitar DUET!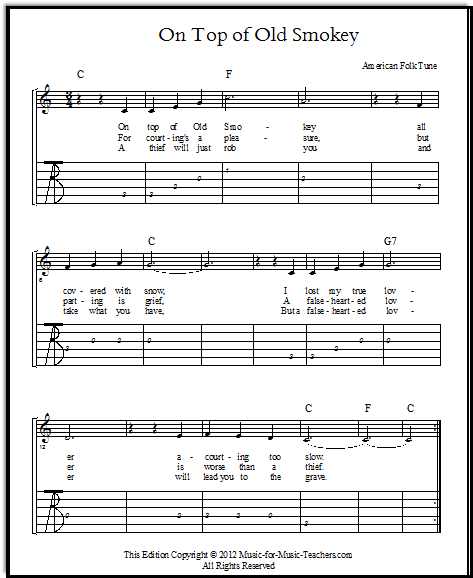 On Top of Old Smokey
A fun kid song that uses this same melody is "On Top of Spaghetti", all covered with cheese...
Good practice for the three main chords, and for transposing into other keys.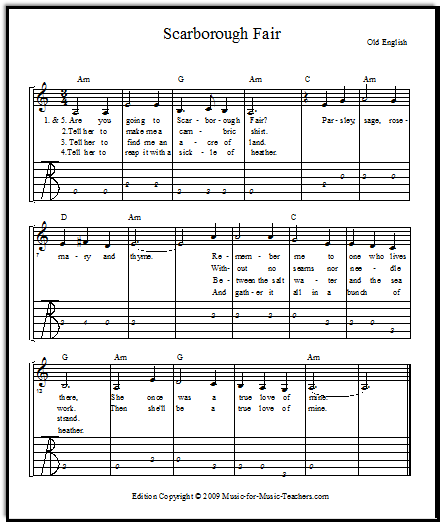 Scarborough Fair
This lovely piece is timeless.
It is a great song for learning or polishing finger-picking technique.
Several different versions here, including one that shows how to walking bass, with tab.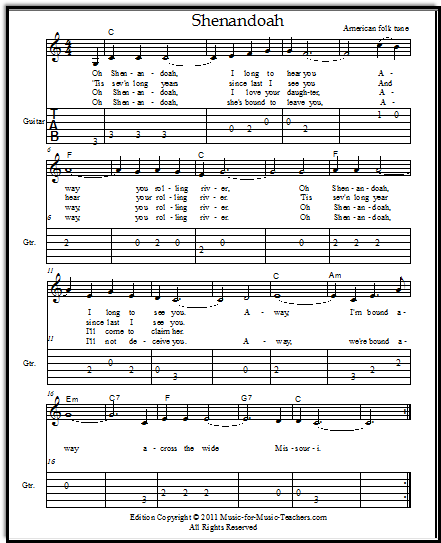 Shenandoah
This is a beautiful song that seems distinctly American.
A lovely piece for finger-picking.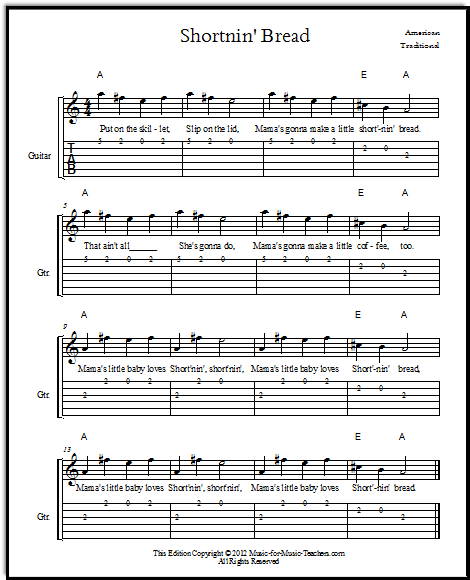 Shortnin' Bread
This  is such a cute little American song - and EASY. 
Just two chords for your beginners, and a melody line that repeats over and over.
For guitar and fiddle!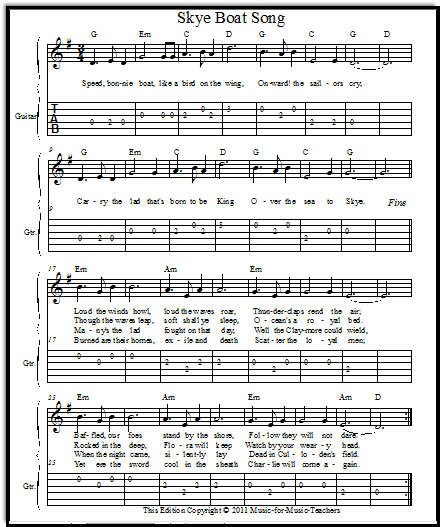 Skye Boat Song
A pretty song from Scotland, about the escape of Bonnie Prince Charlie over the sea after the Battle of Culloden.
Check out the newest arrangement showing a fancy finger-picking chord backup.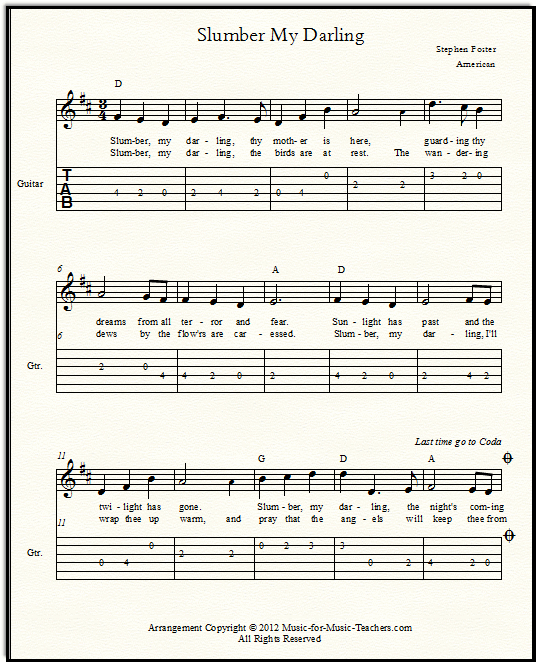 Slumber, My Darling
A sweet and pretty lullaby by Stephen Foster, an American composer from before the time of the War Between the States.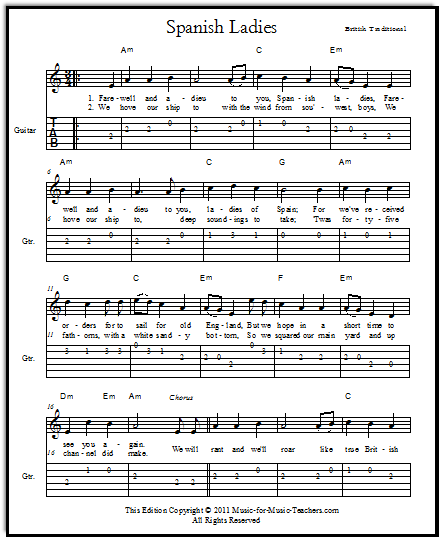 Spanish Ladies
A sea chantey, or shanty.
This song has been a favorite with young boys!
The melody is rousing and singable, with great minor chords in the harmony.
Very good chord-changing practice.
Several versions.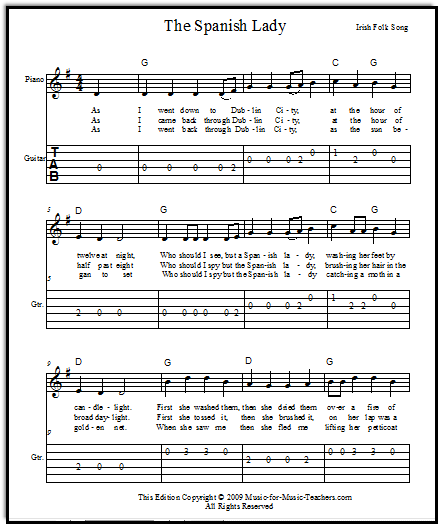 The Spanish Lady
Not to be confused with "Spanish LADIES," above, this cute song tells of how an admirer observes the Spanish lady engaged in one task after another.
No one, it seems, can perform these important feats (such as brushing her hair in the moonlight, washing her feet, etc.) like the Spanish lady can.
A pretty song with lots of energy!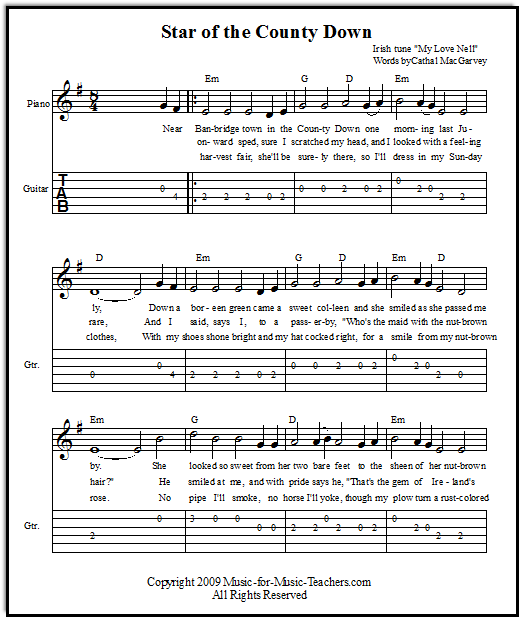 Star of the County Down guitar tabs and chords
HANDS DOWN the favorite guitar song at my studio for young guitar players, with great qualities of endurance!  As in, they do not seem to get tired of it.
The "doubled timing" I have used in this particular arrangement may look peculiar, but it helps young guitarists get the timing accurate.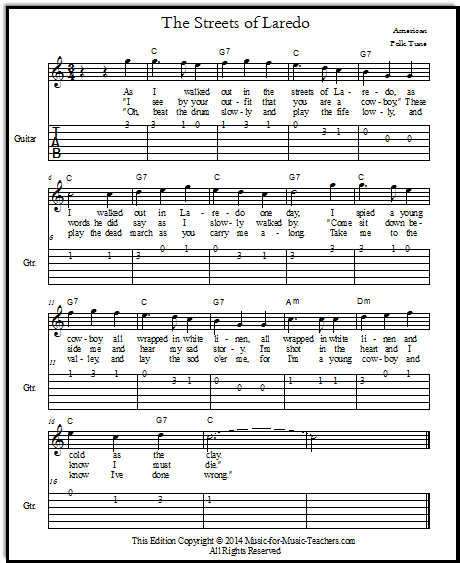 Streets of Laredo
A sad but pretty song about a young dying cowboy.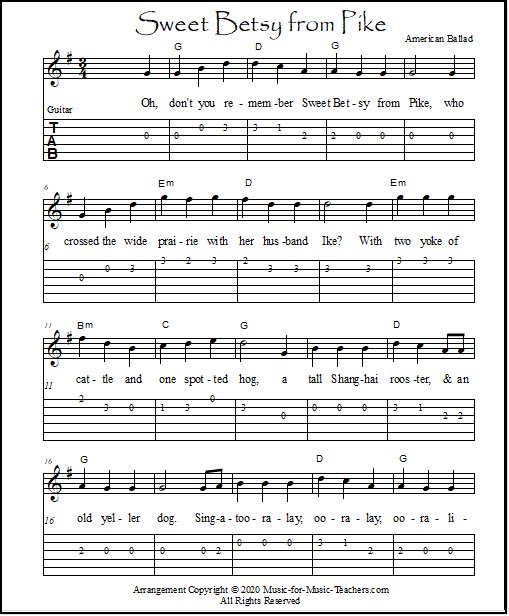 Sweet Betsy From Pike guitar chords & tabs
And lyrics!  Four verses of this fun American ballad.
Play it in the key of G, or in the more singable key of C.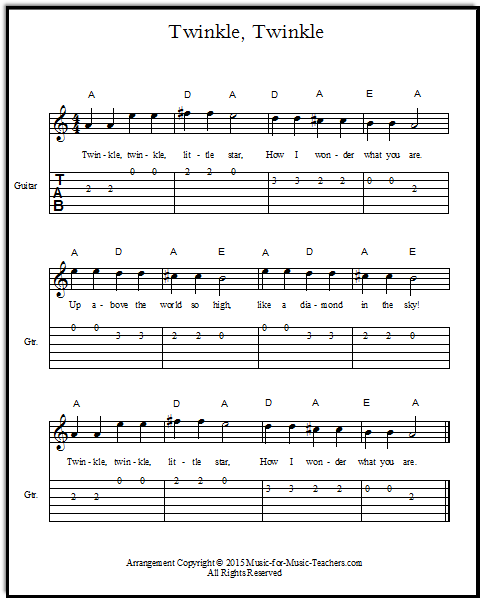 Twinkle, Twinkle Little Star music
Sheet music for both guitar and violin, with tabs and chords.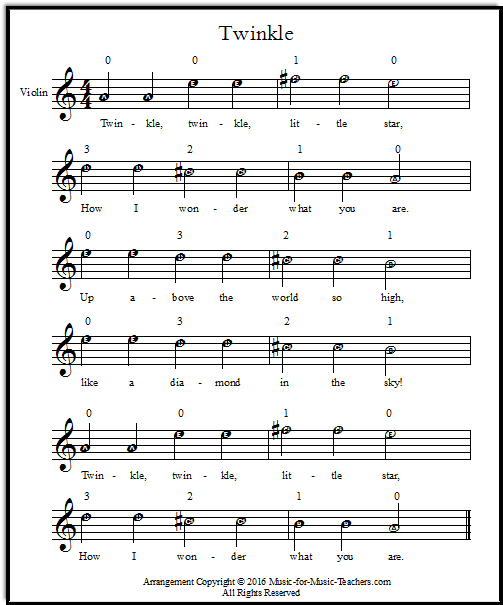 Twinkle violin strings notes
This page talks about teaching this simple piece to a young girl who had no "ear" for the music. 
Ordinarily Twinkle is a piece learned by rote... that was not happening for my young student, so I took an extra step for her.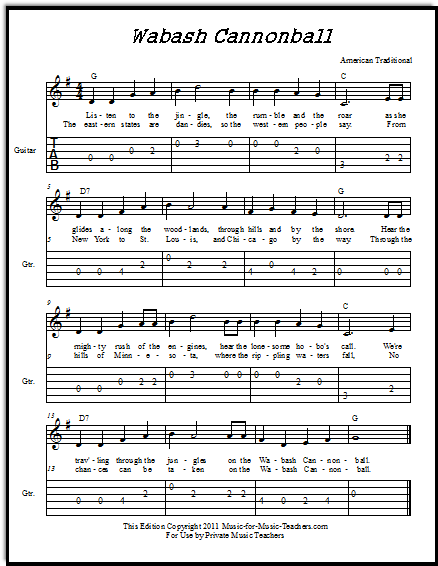 Wabash Cannonball
An energetic song about a famous train that crosses the mountains, the jungles, the plains.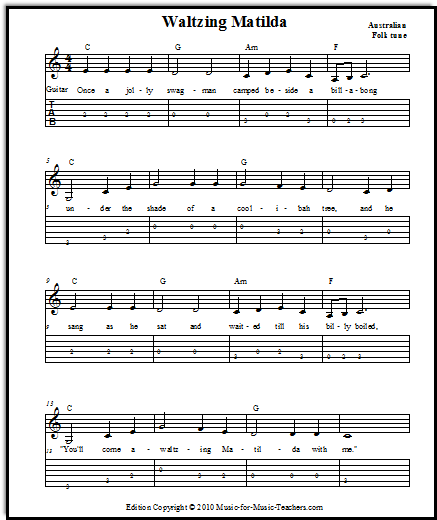 Waltzing Matilda
A beautiful song from Australia.
A great favorite.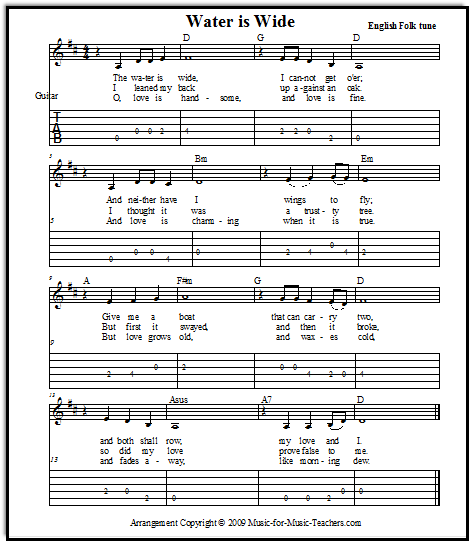 Water is Wide, easy guitar songs
A very pretty song which you may have sung in high school!
True love betrayed is the message of the song - but it is the melody and chords that are the important and memorable parts of this piece.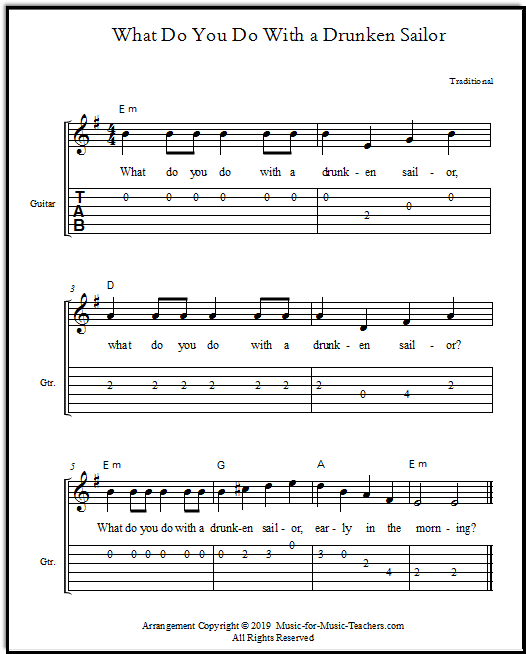 What Do You Do With a Drunken Sailor chords & melody for guitar & fiddle
This piece is EASY and energetic, and a lot of fun. 
Also, check out the 3-page flat-picking duet!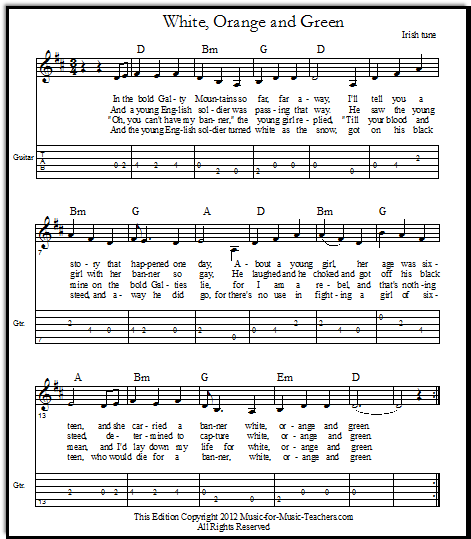 White, Orange and Green free Irish sheet music
A memorable song from Ireland about a patriotic young girl with an Irish flag facing off against a British grenadier.
This is also a pretty song, very singable, with satisfying chords that lend themselves to finger-picking for your young guitar student.
Lead Sheets - just the melodies, with chord symbols above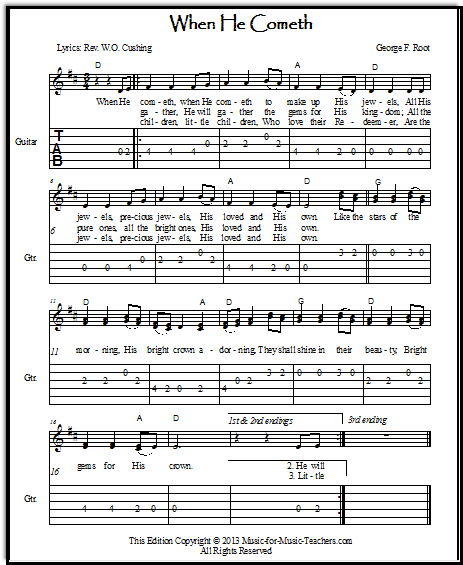 Go here to see all the lead sheets at Music-for-Music-Teachers!

Broadway Music

Broadway Musicals List - go to this page to see the best musicals I know!

Guitar Worksheets - click here to be taken to the page

From guitar chord fretboards small, large, and SUPER large, to flashcards and blank tablature, there are many tools here for your students!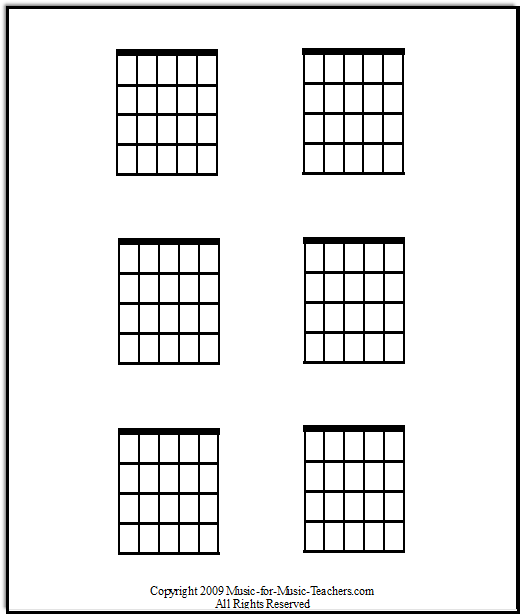 The beginner guitarist may be able to play the chords, but they won't know what they're doing!

The piano keyboard is the "Rosetta Stone" for musicians
On a piano keyboard, we can look and see that between C & D is a black note, called either C sharp or D flat. And between B & C, and between E & F, there are no black notes.
We can see it just by looking -- it is self-evident.

The beginner guitar player has no such obvious visual aids. On the guitar neck, it is just frets, and more frets.
The frets offer no clues of the existence or non-existence of sharps and flats. Instead, the beginner guitarist must memorize the fact that there is no real separate note called E#, no real Fb.

And a note on one string can easily be duplicated on another string. You can play 4th-fret B on the G string, then move next door to the B string and play the same note open.
What's THAT all about? On the piano the notes stay put --- Middle C is always just Middle C. This is true of most instruments, in fact.

The "OUCH" threshold 
Then there's the PAIN problem -- pressing the strings hard enough to eliminate buzz, to make chords sound good. "Squeeze the strings! Squeeze them harder! Just ignore the pain.Now strum -- ugh!

"You have to press the strings harder!
"Tippy-toe, like a ballet dancer. Hmm, you'll have to cut your fingernails. Oh - you didn't know that learning how to play guitar would involve pain and suffering?"

Encourage SOUND... the quality will come!
(Of course, I don't really tell my students their playing sounds bad, even if it does. They may not sound good even when they get their skill down, if their folks didn't find them the best beginner guitar.
You must encourage them along, and if they make good progress, talk their parents into trading in the clunker guitar.)

For older and adult guitar beginners, these issues even themselves out in not too long.
But young kids who are learning how to play guitar need easy steps, even baby steps, adding up to building blocks. They need to move one small step at a time, because in reality they are bringing together so many different skills. And they need lots of repetition.

They should be learning to read tablature
I use very easy beginner guitar books for my guitar students, plus music sheets I make up, beginner guitar tabs. The music sheets are usually guitar tablature in combination with standard music notation.

(You and I both know that if guitar tabs are there, then that's what they're going to be reading, not the treble staff! But they do need the treble clef notes for the rhythm, unless they pick it up by ear.)

There are dozens, if not hundreds, of beginner guitar books out there in music land, and I must have over two dozen myself! But here are the ones I've settled on for now:

And they should read standard notation too
To teach reading notes (instead of just guitar tabs) to my youngest guitar students, I like the Progressive books for Young Beginners. They move slowly, and have CDs.

Primarily, I appreciate these books because they start with one new note per page -- or even per two pages -- NO EIGHTH NOTES (the bane of counting for young kids), and NO TABLATURE to seduce kids away from the task of notereading.

Mel Bay's Easiest Country Guitar for Children is one of the cleverest guitar books I have seen! It is nicely laid out-- it starts with six simple, uncluttered pages each presenting a single topic:
How to Hold the Guitar, 
Parts of the Guitar, 
How to Tune the Guitar, 
Music Basics, 
How to Read Guitar Tablature, 
and one very good page about Picking Technique. (Unfortunately, there is no real discussion of note values.  I guess that's where you, the teacher, come in!)
Then you turn the page, and it's all music. 
Very simple tunes (such as Railroad Bill, Will the Circle Be Unbroken, Wabash Cannonball, Wildwood Flower and Shady Grove) complete with treble clef, guitar tabs, chord symbols, and where necessary, picking indications.
There are no eighth notes in the first part of the book.

Just before the final song is another instructional page called How to Play Slurs. It covers slides, hammer-ons, and pull-offs.
Then those techniques are introduced in the last song, Watermelon on the Vine. The book comes with a CD.  It's a great repertoire book, but unlike the Progressive books, it does not teach notereading.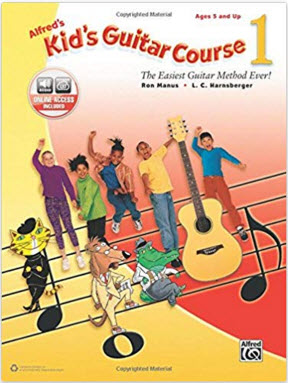 But my real favorite both for learning to read the treble clef and beginning chords is Alfred "Kids Guitar Course" Books 1. 
Book One is the simplest book I have found for young kids, because it starts with the "baby" C chord -- just the one-finger on fret 1 string 2 chord, and stays with it for a few pages before venturing on to the baby G7 chord.
Lots of easy chords and strumming and counting practice before learning to pick individual notes.
This has become my favorite beginner's book, because when a little boy shouts with excitement, "That song looks fun!" and starts in playing right away a song that calls for a new technique, my heart is melted.

Another book I like very much as a supplement is Usborne's Very Easy Guitar Tunes. It has NO TABLATURE, so the student is forced to read the treble staff.
There are also no "lessons" with new things to learn -- just nice guitar tunes getting progressively more difficult. Some of the tunes are surprisingly pretty, and there are lots of duets and rounds to make playing together fun.

Because my guitar students frequently find themselves playing along with fiddlers, I recommend that they purchase Mel Bay American Fiddle Method, Vol. 1 .
The first three songs make a great medley (Boilem' Cabbage Down, Shortnin' Bread, and Cripple Creek), and help students really nail down the A, D, and E or E7 chords.
Accompanying other musicians gives real meaning and urgency to their at-home practice time! The songs in this great fiddle series all have chord symbols over the melody lines.

A couple of really great "Teach yourself guitar" books that have impressed me with their well-thought out instruction and content are The Everything Rock & Blues Guitar Book: From Chords to Scales and Licks to Tricks, All You Need to Play Like the Greats (Everything Series) and Usborne's Learn to Play Guitar (Usborne Music Guides) 

If you haven't been playing a long time yourself, or have limited yourself to just one style of playing, you MAY enjoy these books.  Or, they may be totally intimidating!

They aren't really for your students! Instead, garner what you can, and pass it on!

Now, for those of you who are really serious about guitar, as in classical guitar,  there is a fabulous in-depth course I just started using.

I am so pleased with it, and am having fun moving through the 254-page book ahead of my students (although really applying oneself to classical style means longer right-hand fingernails - hard for a piano player!).
This terrific book, Solo Guitar Playing, Book 1, 4th Edition, was originally published in 1968 and has been reprinted several times. It is no-nonsense; no cutesy pictures for little ones, but many photographs of correct hand position and definitely NO TABLATURE!

You may ask, What does the author (Frederick Noad) cover in 254 pages?  As Marley said to Ebenezer Scrooge, "MUCH!"

On Amazon you can look at the entire Table of Contents, and you will see that this is a very well-designed course.

With much repetition of note reading, and steady progression into reading notes on each new string, careful preparation of the student pays off so that by the end of Lesson 7, they can be introduced to the famous Spanish study by Albeniz and not have to use tablature!  
In the following lesson is the beautiful Malaguena.

Solo Guitar Playing Volume 1 (Music Sales America) and Solo Guitar Playing/Book 1 with CD (Classical Guitar) are available at Amazon, and also at Sheetmusicplus, where it also comes with a CD and without.
I got it for about six dollars less at Amazon than at Sheetmusicplus, but the shipping at Sheetmusicplus can't be beat, if you have multiple books to order.  And you can't get used books with Amazon Prime's free shipping... at least not yet!

An update on the Solo Guitar Playing book: It starts out slowly, but lots of little questions pop into your mind that send you asking advice from another teacher.

For example, when pull-offs are first introduced (called "descending ligado" in the classical book), WHO KNEW that your left hand finger comes to rest on the finger board instead of remaining elevated above the neck? Descending ligado is introduced on page 72, but the author doesn't let you in on this little secret until page 89!
Another factor that diminishes my pleasure in the book is the fact the notes are tiny.  TEENY-TINY. To me, anyway. All my students can see the notes just fine -- but to my over-60 eyes, it is irritating sometimes to have to peer more closely.
Still, the book is well worth it. The music selections are wonderful.

Interested in songs from the Bible for your students or church?  Check out my other website, SingTheBibleStory.com!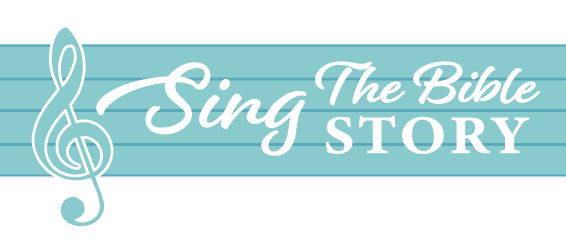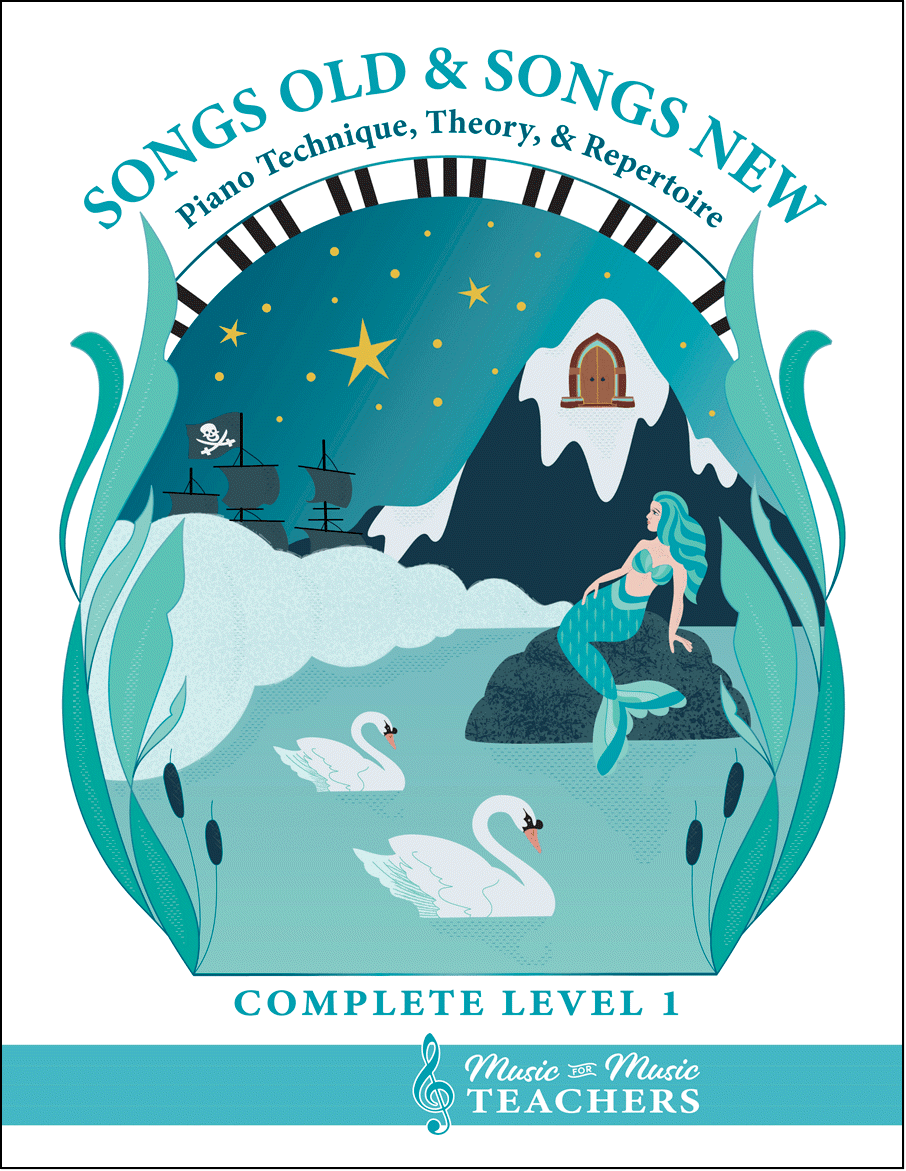 Songs Old & Songs New
All the first-year material I give my beginner students. 
Piano keyboard sheets, scales, chords, note-reading exercises, and over 256 pages of music!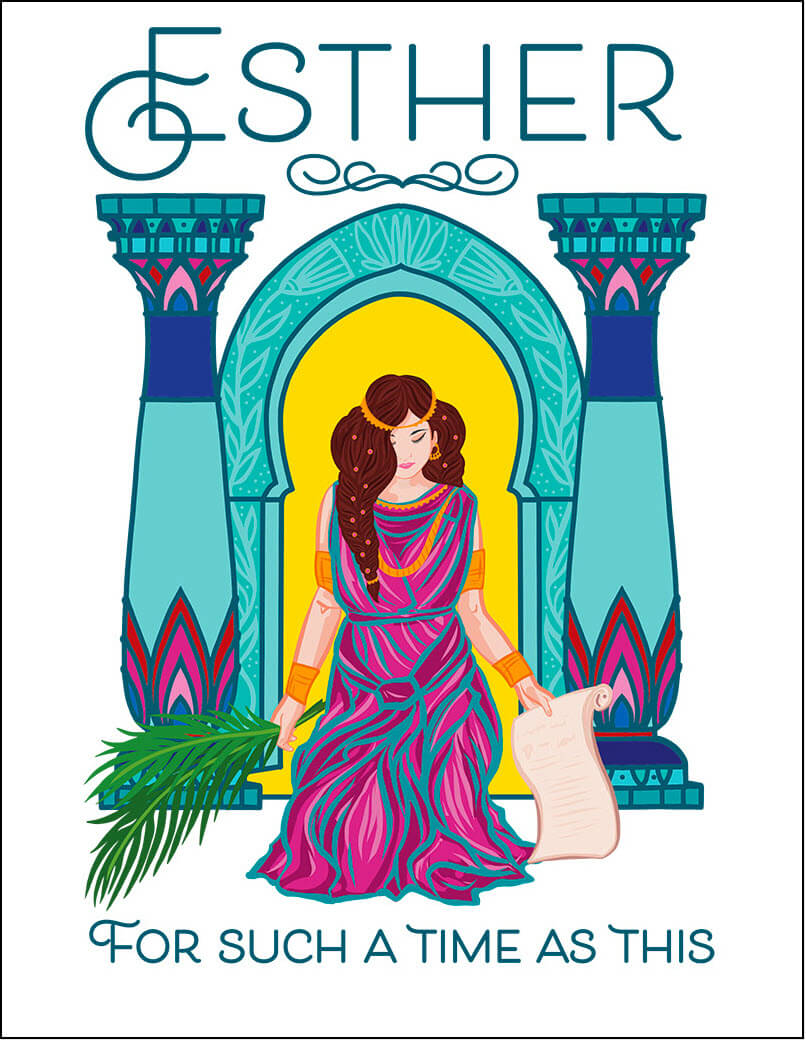 Queen Esther in the Bible
This beautiful song book for piano & voice "Esther, For Such a Time as This",  available as a digital download, tells the riveting story of the time when  Jews in ancient Persia faced a foe named Haman, and how a  brave young queen risked her life to save her people.
A good choice for a singing story-teller, an operatic group, a short theater production, or a class of children!
This book is also available from Amazon as a paperback.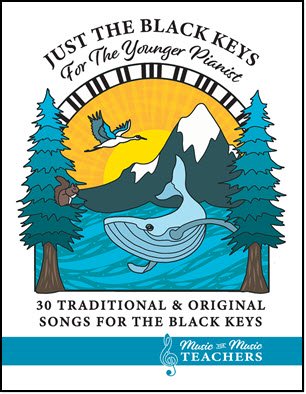 Just the Black Keys
This book is available as a digital download  from this site.  Visit this page to see some free examples from the book.
It is also available from Amazon as a paperback!
This is the perfect easy start for little pianists.
And when they start reading white-key notes on the staff, this is a fun easy resource to say each week, "Choose a new black-key song at home this week and figure it out to show me next lesson!"  They will be spending more time at the piano.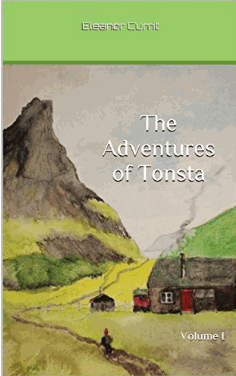 The Adventures of Tonsta
A perfect read aloud storybook
for little boys or girls. 
The Adventures of Tonsta highlight the travels of a very young boy with a good heart, who goes about helping folk in trouble.  
With a red cap on his head and a sack of tools slung over his shoulder, Tonsta seems to meet people in distress wherever he goes.
Lots of trolls in this book - including one who gives him a Christmas gift!
Available at Amazon
Becky:
A thousand thanks for your beginning piano and guitar songs.
I've already printed several for my children, including thePretty Little Horses TABandCarol of the Bells for piano. What a wonderful resource!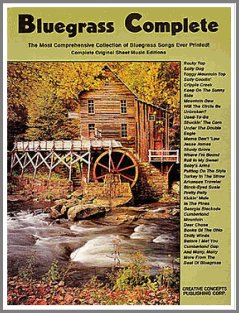 Bob:
I am a "retiree" and brand new guitar student.
I have used your guitar tabs for Shenandoah and Amazing Grace, and find it exciting to hear real music coming out of my guitar for the first time.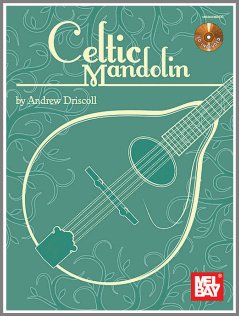 Lin:
Thank you for a most excellent site. I am a classical guitar teacher, who endeavors to cover chords and finger style as well.
I especially liked the printable Celtic music, as some of my teenage students enjoy it! Thank you, again.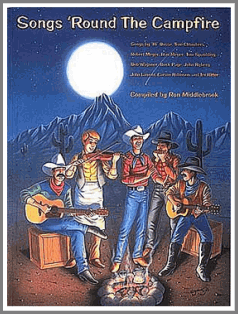 Dylan:
Just wanted to express my overwhelming joy in finding your web site! :D Lots of good info!!
My wife and I own our own teaching studio in Texas and I am always looking for new songs to teach my beginner guitar students. You've done a wonderful job of providing great tunes with ACCURATE sheet music/TAB!
Your web site is wonderful!  Thank you so much!! Many blessings...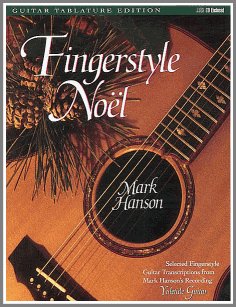 Sign up for "Take Note!" to see what's new every month.
Comments
Do you have a funny story about this music, or does it remind you of something you'd like to share with other readers? Do you have a question? I'd love to hear it!

Please note that all comments are moderated, and will not appear until I have approved them. Also, IF YOU ARE ASKING FOR MUSIC THAT IS NOT IN THE PUBLIC DOMAIN, YOUR REQUEST WILL BE IGNORED. That's pretty much any music written in the last 75 years...
What Other Visitors Have Said
Click below to see contributions from other visitors to this page...


About the Author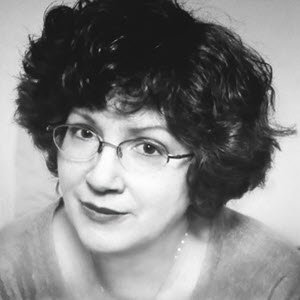 Dana Thynes
Hi, I'm Dana!  (Say that like "Anna".)  I'm the owner of Music-for-Music-Teachers.com, and a newer site, SingTheBibleStory.com.
Like some of you, I've been playing the piano since early childhood, and have added a few other instruments along the way, plus an interest in arranging and composing music.
You can find out more about me and the reason for this website at my About Me page.
Sours: https://www.music-for-music-teachers.com/beginner-guitar.html
Love Like You - Steven Universe Guitar Tutorial
If you want to learn a song on guitar, you have two basic options.
The first option is to buy a guitar transcription book. In most cases, you can expect accurate guitar tablature in these books.
The other option is to find the song's transcription on a website or app. If you look in the right places you can find transcriptions that are just as good (or sometimes better) than what you would find in a book.
In this guide, I will go through the best free Guitar TAB websites available in 2021 and how to find accurate Guitar TABs from these sites.
If you don't know what Guitar TAB is or how to read it, read this Ultimate Guide on How to Read Guitar TAB to learn everything you need to know.
Some of these websites also list transcriptions using Standard Notation, so if you know how to read music you can still use these sites.
Here is a quick list of the best free Guitar TAB websites:
Ultimate Guitar. This site has the largest collection of Guitar TABs and a useful community rating system
Songsterr. This has the easiest website to use with a clean and simple design
YouTube. Many YouTubers are uploading play-along videos that display TAB and Standard Notation
GuitarTabs.CC. This is an old site that is still highly active today with text-based TABs.
Let's review and go through each website and look at how to find accurate Guitar TABs.
Note: I am not affiliated in any way with any of these sites.
1. Ultimate-Guitar.com
Ultimate-Guitar.com is my personal favorite website to find accurate Guitar TAB. It has a staggering number of TABs and your best bet when trying to find obscure songs.
What makes this a great guitar TAB website is that there are different formats of transcriptions available. I'll go through each format to explain what each one is and when to use them.
This website is community-based, which leads to good and bad points. It's good because it means there is a massive range of transcriptions available. The bad aspect is that many of the transcriptions aren't accurate. So you need to learn to identify accurate transcriptions.
As you can see from the below screenshot of the homepage (late 2019), there is a lot of different areas and content available.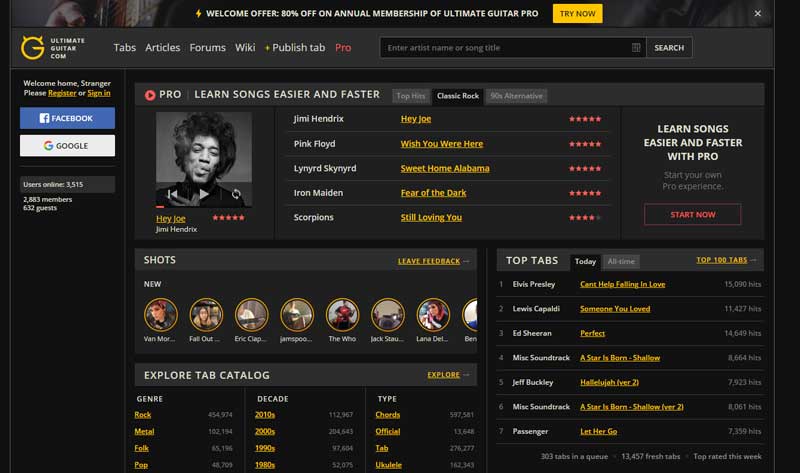 The site contains a lot of articles, lessons, and a big forum in addition to TABs. These other sections may be handy if you're learning guitar or want to keep up with music news.
The lessons and articles vary in quality as they are also created from the community. Some articles are well written and contain useful insights, ideas, and explanations of different techniques and concepts. Other articles I've read contained flat-out bad advice. So it's important to keep an eye on the ratings and comments for different articles.
The 'Top 100' TABs section is a good way to find ideas of popular songs to learn or you can search by genres or decades.
Finding Accurate Guitar TABs on Ultimate-Guitar.com
Let's say you want to learn to play Hotel California by the Eagles.
First, you need to search for the song name in the top search box: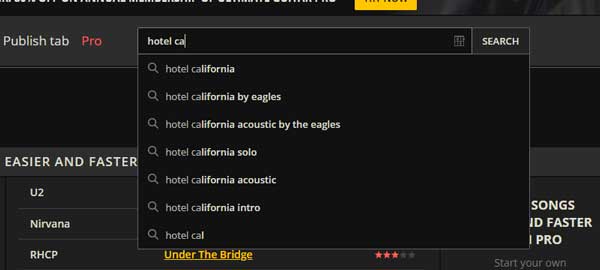 You'll see that as soon as you start typing, the search box suggests relevant songs.
You will be given a list of search results for the song. Depending on how popular the song is, you may a lot of different versions for the same song as shown below: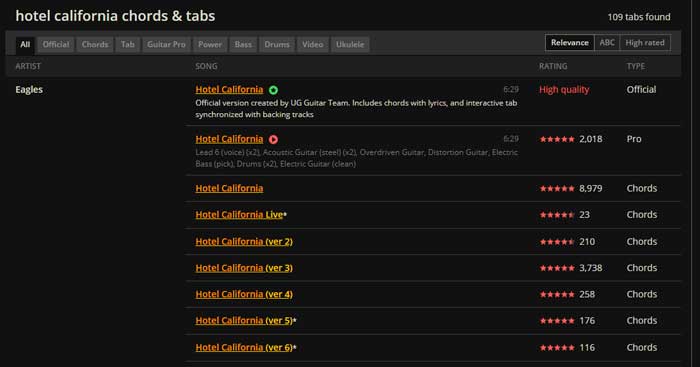 Having all of these different versions can be confusing for beginners trying to find an accurate version.
The first thing to consider is the type of transcription you want to find. Across the top, you will see options for 'Chords', 'Tab', 'Guitar', 'Power' and a few others.
Types of Transcriptions on Ultimate Guitar
Here is a quick overview of all the types of transcriptions you will find on Ultimate Guitar:
Official/Pro: from what I can tell, UG basically takes the top reviewed Guitar Pro file and hides it behind a paywall. I don't have a paid membership so I can't check to see if the transcriptions have been improved in any way or whether they're just a copy/paste.
The fact that there is a 'Pro' version for every song that has a Guitar Pro version suggests to me that they're merely copy/pastes.
Chords: this is a simplified chords and lyrics sheet for songs that are mainly chord-based. Great for acoustic guitarists wanting to learn strumming songs. If you only need to know what the chords are and you can figure out the strumming yourself, this might be all that you need.
Here is what the Chords version looks like of this song: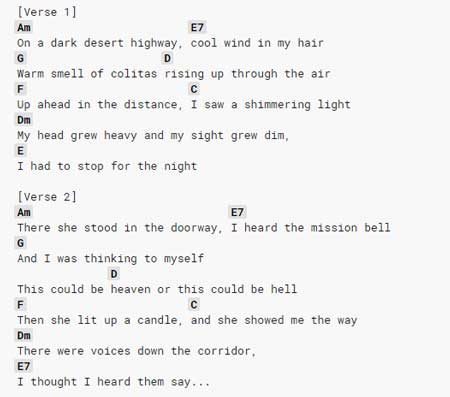 As you can see, it isn't a Guitar TAB. The Chords version shows you the chords and when to play them with the lyrics.
Note: If you don't know how to read chord diagrams, check out this Ultimate Guide to Reading Chord Diagrams. The guide explains everything you need to know to read guitar chord diagrams, including how to use a capo with the diagrams and other helpful tips. It also includes a PDF you can download with common chord shapes.
You can select any of the chord names to bring up a chord diagram. This is handy if you're still learning your chord shapes, but keep in mind that there are many variations for any chord so the one they suggest may not be the chord shape used in the song. If you play a chord and it doesn't sound quite right, it may be that the chord type is right, but the chord shape used in the song is different (eg: barre chord instead of open chord).
Chord and lyric sheets are handy for simple songs that focus on strumming chords, but a full transcription will be more useful for most songs.
Tab: this is the old text-based Guitar TAB version that used to be the only type of TAB you would find online.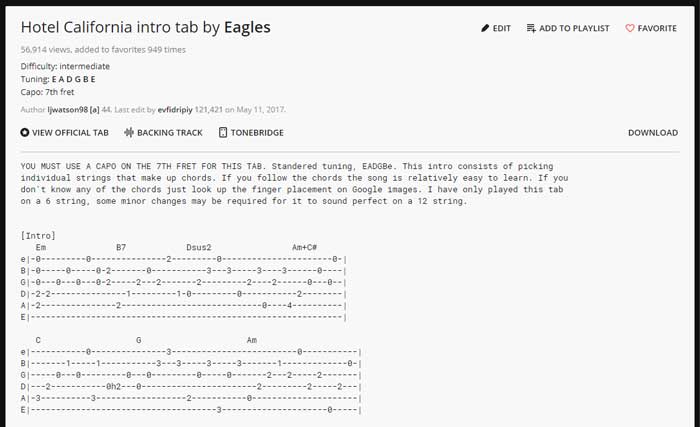 As you will see later, these type of TABs are obsolete and have been replaced by interactive TABs. Many guitarists still use them out of habit.
The problem with text-based guitar TAB is that it doesn't do a good job of explaining what the rhythm is for any note or chord. In the above screenshot, there's no way to know how long to play each note before moving on to the next note. If you know the song you can probably figure out the rhythm, otherwise it becomes a guessing game.
Some text-based guitar TAB will include some information on rhythm under the staff. These files will usually include a legend to explain what the notation represents.
Guitar Pro: this is a downloadable format that you can use with Guitar Pro software (read my review of Guitar Pro 7 here).
I highly recommend learning songs in Guitar Pro as the software is an excellent way to practice and master songs. As I explain in my review, you're able to use the software to loop sections, slow down the track, transpose it, or anything else.
Even if you don't have Guitar Pro, the website lets you view and play the file as shown below: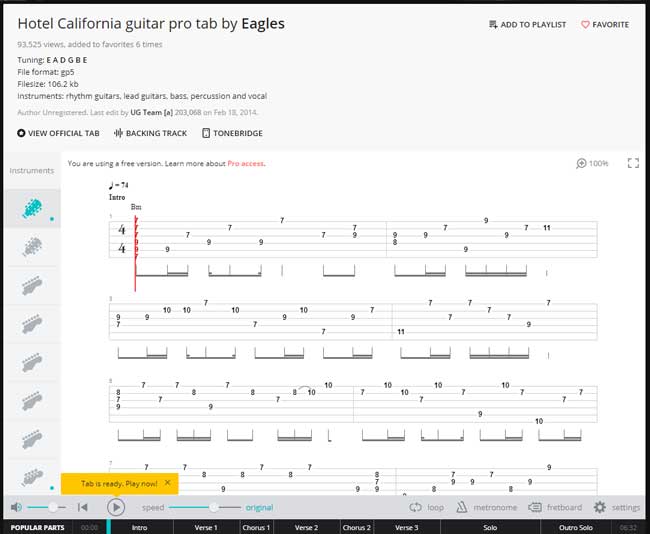 As you can see, the above Guitar TAB is far more useful than the old text-based TAB version. While this way of accessing the file isn't as flexible as opening it in Guitar Pro, it does give you a good range of controls such as the ability to loop sections, use a metronome, slow the file down, and more.
If you play around with Guitar Pro files on the UG website and find it useful, you may want to look at getting Guitar Pro.
Pro: for almost every song, you will see a 'Pro' version. Popular songs will also have an 'Official' version created by the UG staff. The Pro version is only available to UG's paid members.
Power: Power TAB is an ancient program that used to be the best way to create and playback guitar TABs. You can still download the Power TAB Editor today but Guitar Pro 7 can easily open Power TAB files (.ptb format).
The UG website can load these files in the same way they load Guitar Pro files in an interactive player: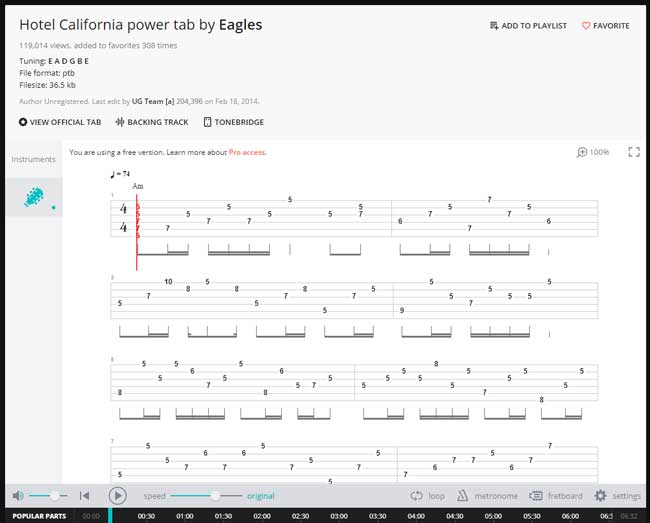 Keep in mind that this is a really old format so you're not likely to see this format for more recent music. In the above screenshot, you can see that there is only one guitar track in the file. Unlike Guitar Pro files, you're not going to see drum tracks.
Power TAB was a limited editor so it's rare to see a Power TAB transcription with as much detail and accuracy as a Guitar Pro transcription.
Bass: as you might expect, these are text-based TABs for bass. They look and read the same as text-based guitar TABs and use the same notation.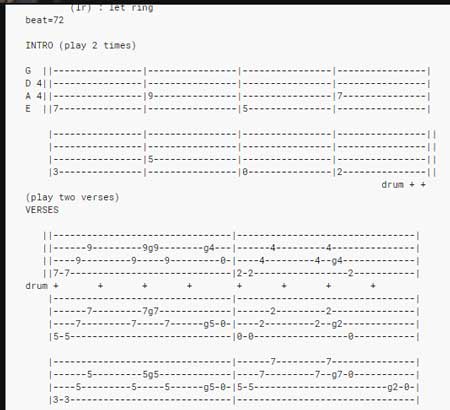 If you want to learn a bass part for any song, I recommend loading the Guitar Pro file instead and look for the bass tracks. You'll get the benefit of the interactive player with better rhythm notation.
Drums: these are text-based transcriptions for drums. Again, if you want to learn the drums to any song, load the Guitar Pro file instead. Being able to hear the transcription with proper rhythm notation is far more useful than these text-based transcriptions.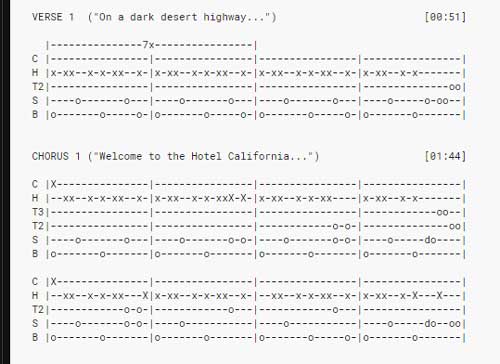 I'm not a good drummer, but I can easily read the drum parts in a Guitar Pro transcription. The above screenshot isn't as straightforward in terms of timing.
Video: these are basically YouTube videos embedded on the UG website.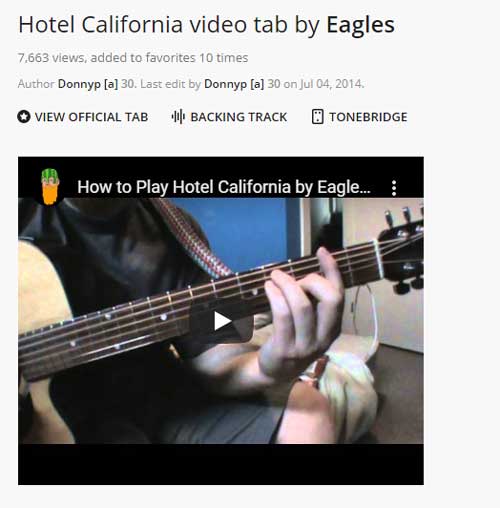 If you want to see a video tutorial for any song, search YouTube instead of trying to find a video on UG. You'll see far more options for any song and it's a better experience than viewing it on their website.
There were only three videos for Hotel California on the UG website while searching for "Hotel California guitar lesson" brought back countless videos on YouTube. The results were far better quality than the above video too.
Ukulele: there are a lot of ukulele players out there and many of them create these transcriptions for songs whether the song uses a ukulele or not.
Some of the transcriptions will be simple chord and lyrics sheets (like below) while others will include text-based TAB for ukulele.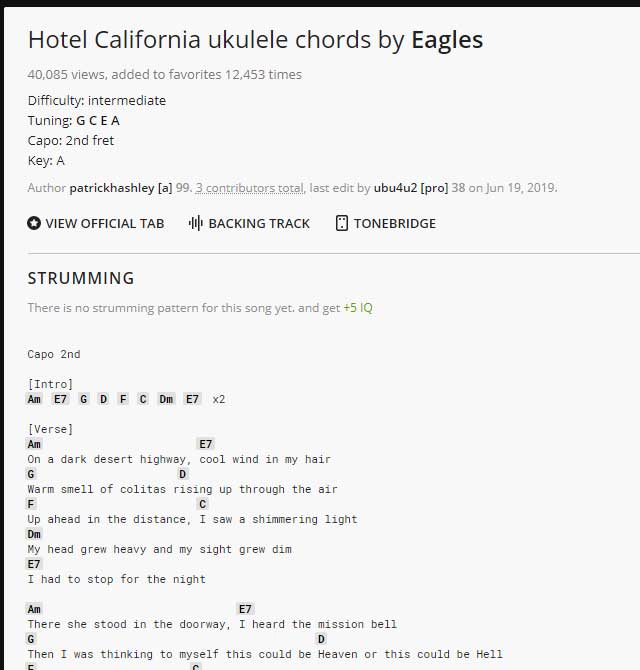 If you find that you can't find a 'Chords' version with the correct chords, check the ukulele versions. I've seen quite a few times where the ukulele versions were accurate while the guitar chords versions used incorrect chords.
As you can see from the above, there are many different types of TAB you will see on UG.
Once you decide what type of TAB you want (I recommend Guitar Pro in most cases), you can filter the results by clicking the option at the top of the page. Now take a look at the ratings for the different versions: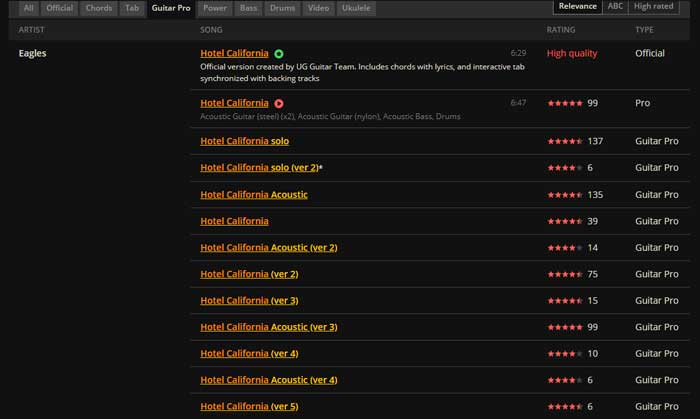 Because this is a popular song, there are multiple versions and separate transcriptions for an acoustic version and the solo.
The ideal result is a five-star rating with a lot of votes from the community.
Once you find a version you are happy with, you can either download the TAB or view it on the website.
Ultimate-Guitar.com Pros
Massive range of transcriptions from a huge community
Excellent 5-star rating system to help you find accurate TABs
Multiple formats (eg: Guitar Pro files, text TABs, chord and lyrics sheets)
Includes standard notation and rhythm notation on TAB formats
Contains articles, lessons, and a forum in addition to TABs
An app is available
Ultimate-Guitar.com Cons
Lots of ads
Cluttered website
Many transcriptions are badly inaccurate
Multiple versions of TABs for a song can be confusing for beginners
Overall, most guitarists will find Ultimate Guitar to be either their go-to guitar TAB website or the website they go to when Songsterr shows zero results for a song.
2. Songsterr.com
Songsterr.com's website and app are easy to use thanks to a clean and simple layout.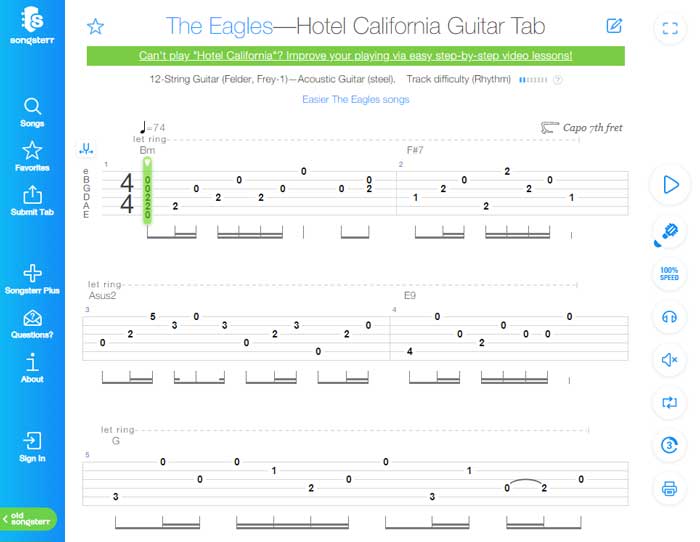 The big advantage of this website is the interactive TAB player. It is easy to use and the free version (a paid membership is available with extra features) should be enough for most guitarists.
The range of TABs isn't as wide as Ultimate Guitar, but it does boast over 500,000 songs.
Many guitarists use Songsterr as their first option and search Ultimate Guitar if they don't find the song here.
Songsterr Pros
Very easy to use website
No ads on the website apart from one for Songster Plus
TABs in an interactive format
Includes rhythm notation on TAB format
An app is available
Songsterr Cons
Limited range of songs
No ratings for TAB accuracy
Unable to download Guitar Pro files
Overall, Songsterr is a quick and easy way to find Guitar TABs, but don't expect every TAB to be completely accurate. I often find Songsterr TABs are based on old versions of TABs found on Ultimate Guitar.
3. YouTube
The chances are, you will find all of the Guitar TABs you will ever need on Ultimate Guitar or Songsterr. But YouTube is undoubtedly a massive resource when it comes to learning guitar and songs.
The big advantage of searching for guitar songs on YouTube is that you can see a guitarist perform the song up-close.
This is great for beginners who aren't comfortable reading Guitar TAB. You're able to watch guitarists perform covers of songs and see exactly where their fingers go.
Many YouTubers are also displaying the TAB on the screen along with their performance as shown below: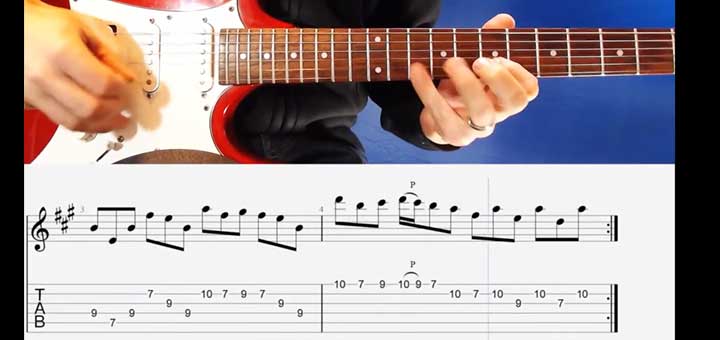 This can be an excellent way to learn a song as you can match up what you see in the Guitar TAB with what you see the guitarist play.
To find relevant videos, add "guitar TAB" to the end of your search.
For example, here are the results when I search for "Hotel California guitar tab" on YouTube: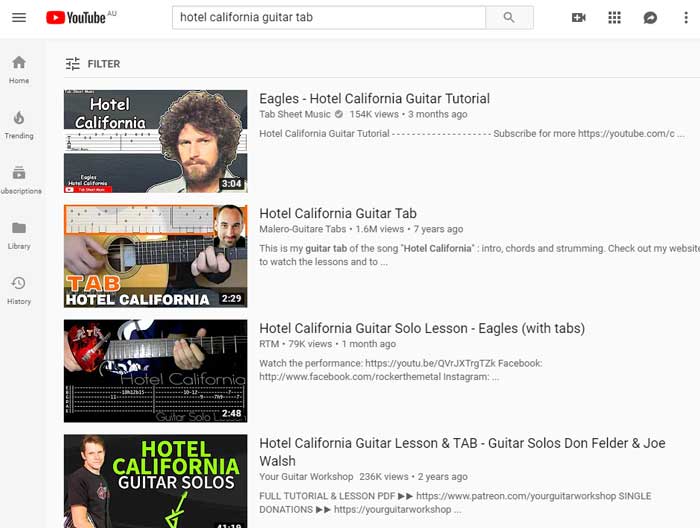 Depending on how popular the song is, you may find multiple lessons and play-throughs for the song. As YouTube continues to grow, you will likely see more and more of videos with Guitar TABs.
YouTube Pros
Being able to watch a guitarist perform the song is a big benefit
Many videos show the Guitar TAB in sync with the performance
YouTube Cons
Limited range of songs available with Guitar TAB
Overall, YouTube is a great supplementary resource to use when learning songs. Use Ultimate Guitar or Songsterr as your main source of Guitar TABs, then use YouTube to see how guitarists perform the songs.
You may find different fingering options or ways of performing parts by watching covers and video lessons.
4. GuitarTabs.CC
GuitarTabs.CC is one of the oldest Guitar TAB websites that is still running today.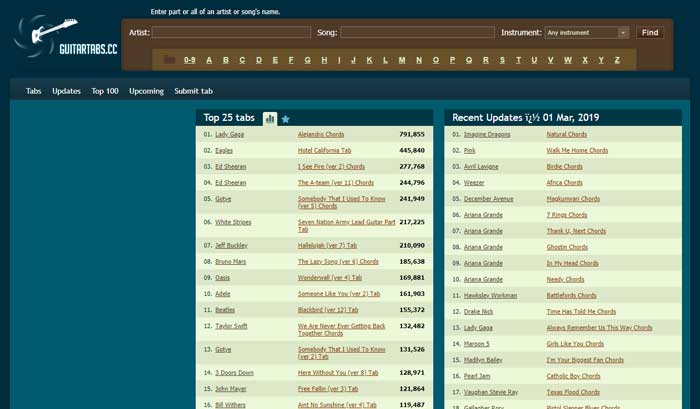 It's an incredibly simple website to use with a very clean layout.
It has a large range of songs, but they're all text-based as shown below: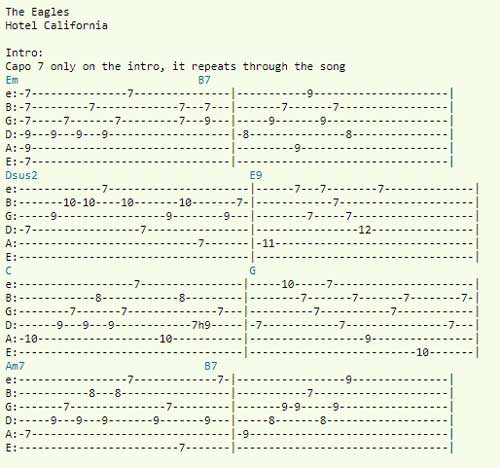 This form of Guitar TAB is obsolete as newer interactive formats are easily available.
While many guitarists are still happy to use text-based Guitar TAB, if you are just starting out learning guitar, I highly recommend using a modern format such as the Guitar Pro format.
Modern formats contain far more information such as rhythm notation and standard notation and allow you to loop sections, slow them down, or hear them played back.
GuitarTabs.CC Pros
Simple and clean website
Large range of songs
GuitarTabs.CC Cons
Uses obsolete text-based TAB format
Does not include rhythm notation or standard notation
No app available
There are many other websites like GuitarTabs.CC out there, but the chances are you will find everything you need on one of the bigger sites.
Alternatives to Free Guitar TAB Websites
Free Guitar TAB websites like the above options are a fantastic way to learn songs on the guitar. But there are alternatives you may want to consider.
Sheet Music Books
You can buy official or licensed sheet music books for many bands and artists. The main advantage of this option is that you usually get incredibly accurate transcriptions of the songs.
This means you don't need to look through multiple versions on a website like Ultimate Guitar and compare them to find the one that is accurate.
While most sheet music books will be incredibly accurate, don't assume that books are always better than the free transcriptions you can find online. Don't assume that if it is in a book it is perfect. I am still annoyed by a licensed Steve Vai transcription book I purchased years ago that had horribly inaccurate transcriptions (clearly Steve Vai himself didn't provide the transcriptions).
Check out sites like Amazon or SheetMusicPlus to find guitar sheet music books.
Paid Online TABs
The idea behind sites like Musicnotes.com is that all of the sheet music is licensed, so when you purchase some sheet music, the artist receives royalties (which they don't from free websites).
In the below screenshot, you can see what a version of Hotel California looks like before buying it: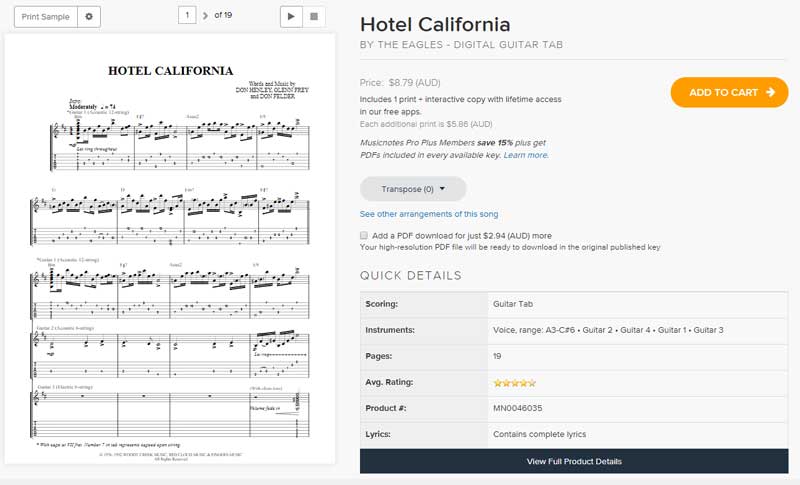 The big advantage of sites like this is that the transcriptions are highly accurate and contain proper tablature and standard notation. This is a huge improvement over text-based Guitar TAB you find on some free Guitar TAB websites.
The range of songs is quite limited compared to free sites, but if you like the idea of supporting the artists and want a high-quality transcription for a song, it's a good place to check out.
It's worth mentioning that perfect quality transcriptions aren't guaranteed just because it is a paid site.
Find out how to read all forms of Guitar TAB in this complete guide with diagrams for all common symbols.
Categories FAQTags chords, guitar pro, guitar tabSours: https://guitargearfinder.com/faq/best-guitar-tab-websites/
Tab music guitar free sheet
Free guitar sheet music PDF
Free guitar sheet music pages
Welcome to my pages with guitar notes for beginners and advanced players. Most of my guitar scores are notated with both guitar tablature and traditional notation and can be printed and downloaded for free in PDF format!
Guitar ebooks
I have made two guitar eBooks for beginners in PDF format that you can download and use to practice note reading. The melodies are popular tunes and new compositions in progressive order for guitar teachers and students.
Guitar tab melodies
Guitar tablature melodies with free sheet music notation, tabs. and chord symbols. Popular melodies like Happy Birthday To You, House Of The Rising Sun, El Condor Pasa and Amazing Grace.
Easy guitar tabs
Guitar tablature notation without sheet music and chord symbols. Popular melodies written with big note tabs. Including Amazing Grace, Happy Birthday To You and Twinkle, Twinkle, Little Star.
Guitar tab solos
Easy guitar solos with free guitar sheet music notation and tablature. Melodies like Love Me Tender, Ode To Joy, Scarborough Fair, Streets Of Laredo, Skip To My Lou and Trumpet Voluntary.
Classical guitar sheet music
Classical guitar scores with popular melodies. Melodies written with mostly sheet music without tabs. Including Allegro-Guiliani, Andantino-Sor, Bourrée-Bach and Minuet-Krieger.
Christmas guitar sheet music
Free Christmas guitar sheet music. Including music scores and tabs. Including popular Christmas carols like Jingle Bells, Silent Night, O Holy Night, O Christmas Tree and Joy To The World.
Peter Edvinsson guitar sheet music
New classical compositions by Peter Edvinsson in classical and pop style. Guitar solos for beginners and intermediate students. Melodies written with sheet music and sometimes tab notation.
Back to top of page
Sours: https://www.capotastomusic.com/guitar.htm
Shigatsu wa Kimi no Uso ED 2 - Orange (7!!) Guitar Tutorial
8 Brilliant Sites to Get Sheet Music, Guitar Tabs & Chords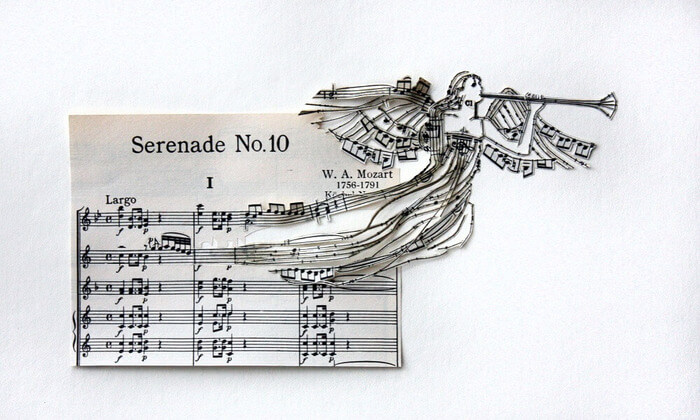 8 Brilliant Sites to Get Sheet Music, Guitar Tabs & Chords
You may download music from YouTube, upload songs to your iPod or mobile phone, listen to them with Music Box, but nothing will replace playing live music. I've never been good at music and I've always envied those people who can play a musical instrument – piano, guitar, violin, etc. They can easily perform any song they want, just using online music sheets and their inner talent.
SEE ALSO: How Does Shazan Works? Identify Any Song You Want
SEE ALSO: How to Download Karaoke Songs Free or Sing Online
There are numerous sites offering all kinds of sheet music, guitar tabs, chords, piano notes for beginners and amateur musicians. Still it took me much time to sort out really easy-to-use and free resources which I'm glad to share with you.
Sheet Music & Piano Notes
Piano notes are easy to find in Google. Just type the title of the song you need and add "piano sheet" or "piano chords" and in Images you'll see dozens of results. Alternatively, you may visit the following sites to get piano music papers submitted and verified by experts.
8notes
8notes offers free sheet music downloads for piano, guitar, violin, flute, viola, cello, percussion, and 20 more instruments. Just choose your instrument and browse for free sheet music available in GIF and PDF (requires a $20/year subscription) formats. The entire track could be also saved in MP3 or MIDI format. There are numerous interactive tests and lessons to learn music theory, instrument chord charts, etc.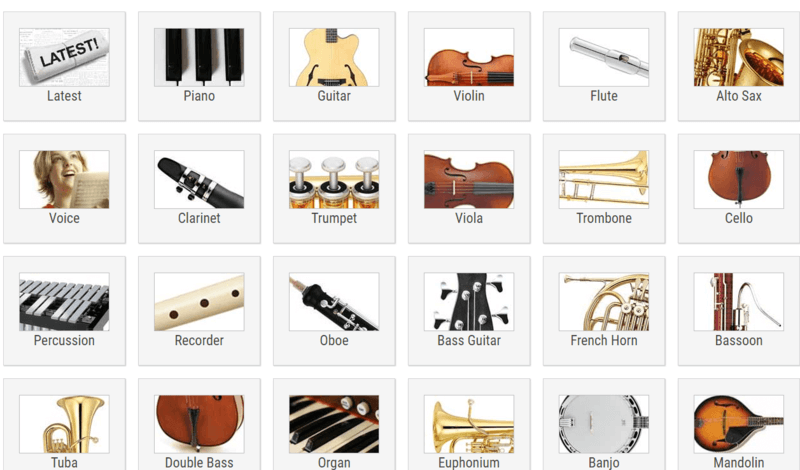 If you're looking for something particular, just use the music notes search. Note that not all of music scores (especially full versions and contemporary tracks) are free, 8notes may refer you to other sites like SheetMusicPlus.com. Still all classical works are free. Plus, users may upload and share their own sheet music.
VirtualSheetMusic
Virtual Sheet Music is a universal source for ready music sheets for various instruments (piano, guitar, violin, flute, etc.). There are free and paid music sheets. The prices are around $3-6 per piece. You can easily filter free sheets usng the quick links on the right.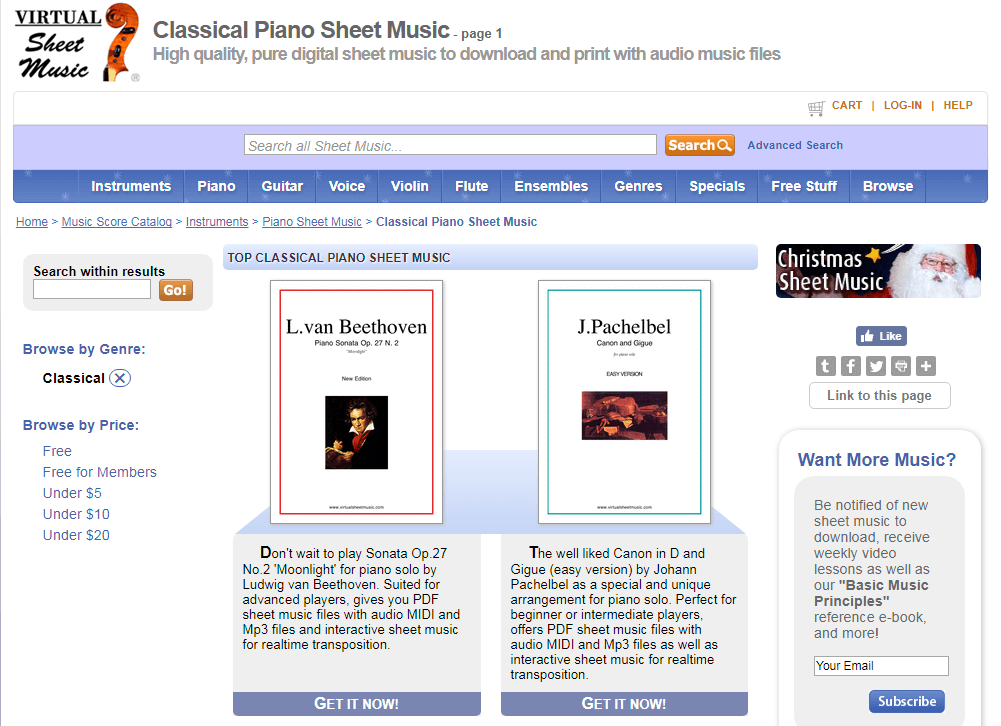 The collection contains scores both for classical and modern music compositions. You can browse notes by genres, download a preview in PDF, listen to the track and even watch a video with the accoustic playback of it. Use the search bar on top to find any song you need.
SEE ALSO: How to Convert FLAC to MP3 Easily
MuseScore
MuseScore is first of all a handy software that allows users to create, play and print sheet music. However, if you need only sheet music, you don't need to download and install the program. Just go to Sheet Music section and find whatever you want.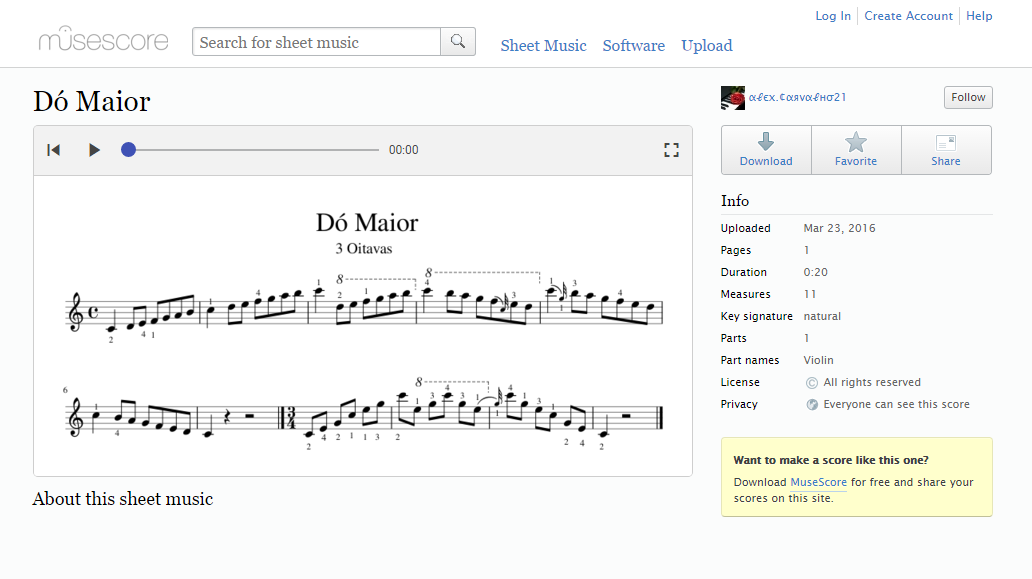 Sheet music is available for free download in PDF and Music XML formats. You may also register an account to be able to upload and share your own sheet music, comment and rate pieces.
FreeScores
FreeScores provides free music chords for 40+ instruments, over 75K pieces. Go to the search box and find the sheet music you need. There is a nice filter of music genres. Unfortunately, you won't find any modern songs here. Still the choice of classical tracks is really wide.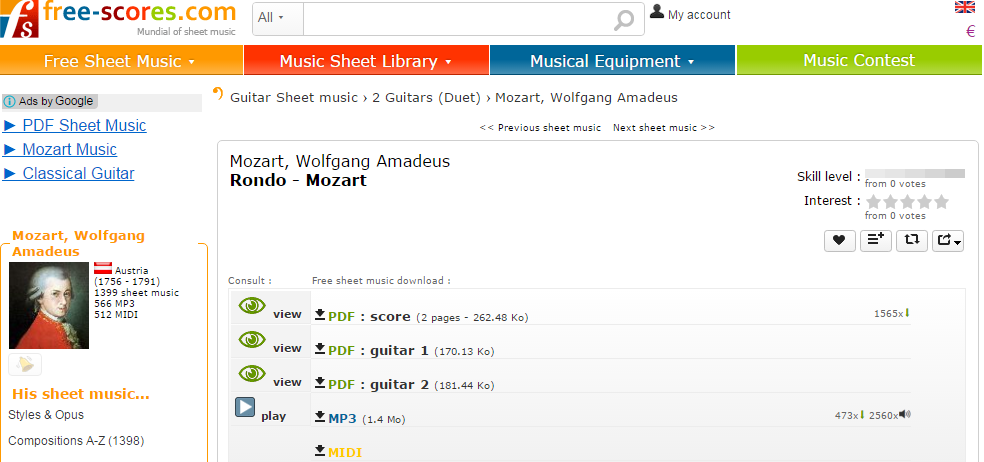 You can download sheets in PDF format, available for all popular instruments. The resource also gives links to partner sites where you may buy sheet music on demand.
IMSLP / Petrucci Music Library
IMSLP is a good resource of public domain sheet music, as well as a community of music fans. The website is done in Wikipedia style, thus you may easily contribute to article editing. There are over 235K scores for 66,000+ works and thousands are being added every month. You will find here multiple versions of sheets for popular music pieces, all available for download as PDFs.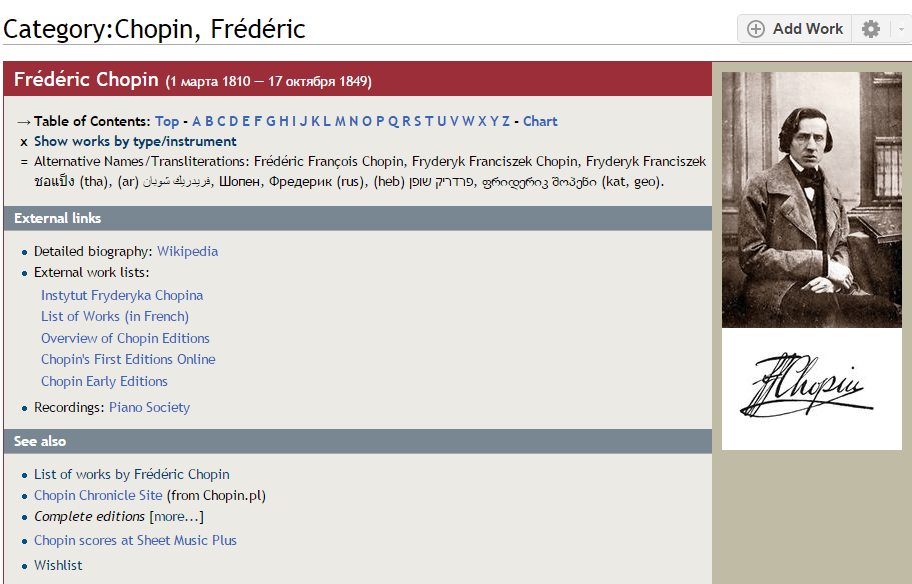 To find and save a sheet music, just use the search box or look for scores by composer name or genre, then go to the work page and download the PDF file.
Guitar Tabs & Chords
The following 3 sites are dedicated to guitar chords only. Visit them to get the guitar sheets of your favorite songs or revise guitar chords.
GuitarTabs.cc
GuitarTabs.cc offers a great deal of free tabs and chords for guitar, bass, or drum. The search is quick and easy. Plus, users may submit their own tabs. The only inconvenience I found is the absence of Print or Download button, so that site visitors have to copy and paste the song into a document in order to save or print it.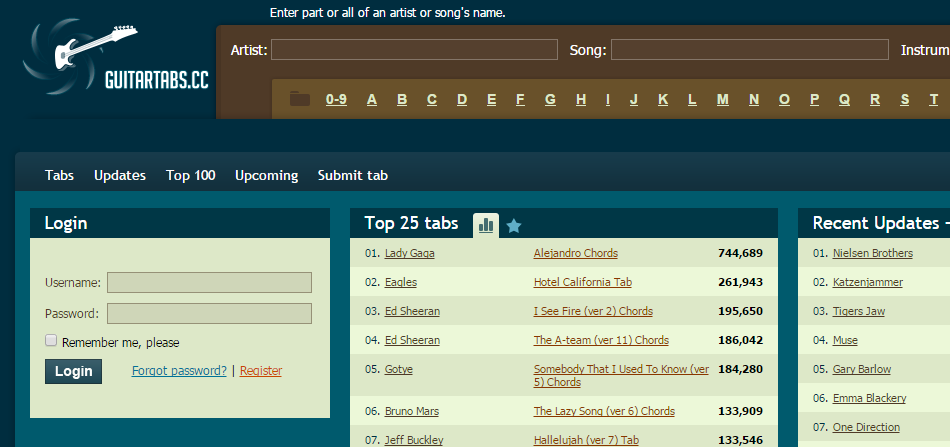 Ultimate-Guitar.com
Ultimate-Guitar.com is a stock of free guitar tabs and a blog about music with lots of reviews, interviews, news, lessons, etc. To get guitar tabs for a desired song, just use the search option (don't forget to switch to the Tabs filter) and choose a version that you need. There is Print button below the song, so you can easily start practicing. The resource also have apps for iOS and Android.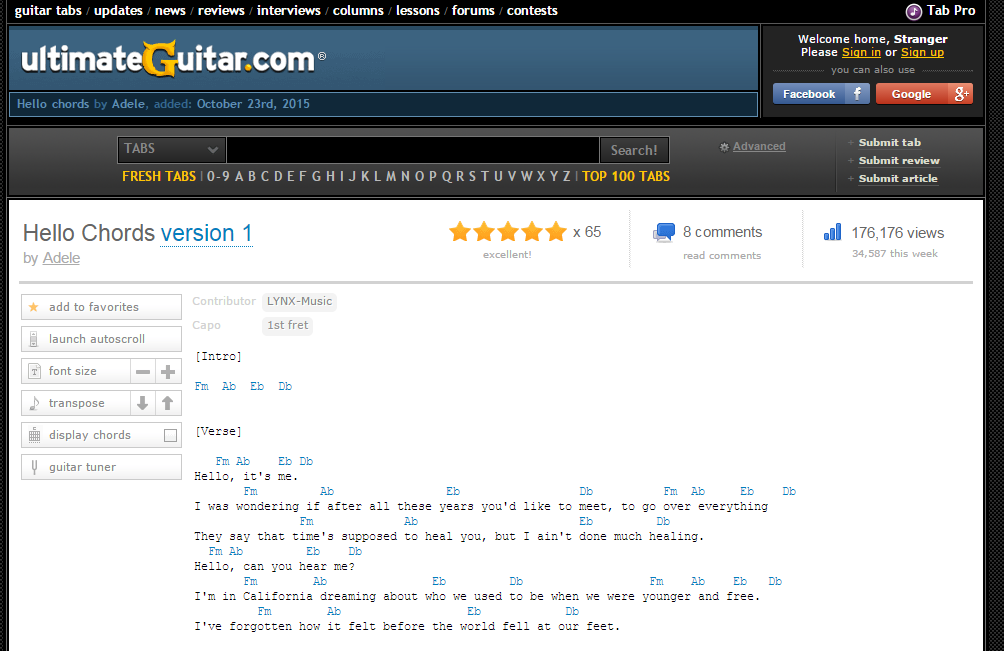 GuitareTab.com
GuitarTab is a popular site hosting thousands of free guitar chords. Everything is simple and fast: you enter a song or a band name into the search box and go to what you were looking for.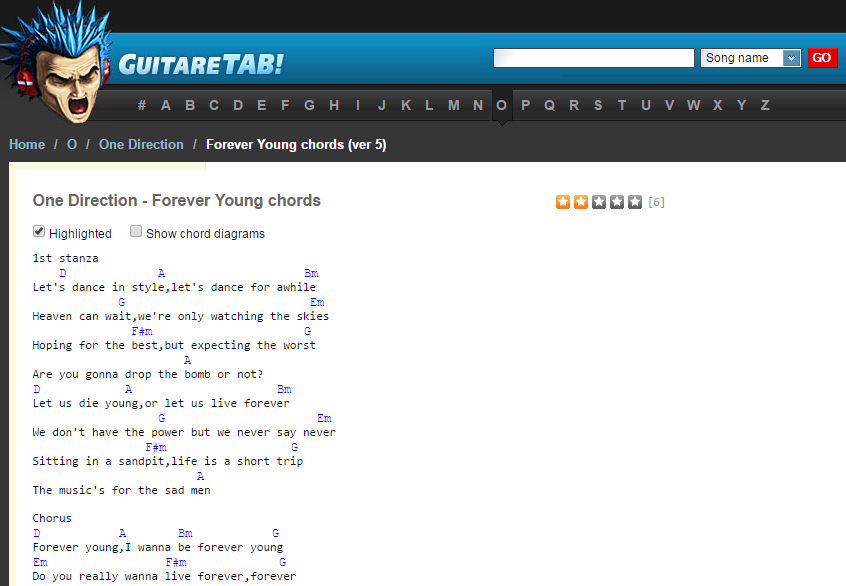 On the main page you can see the list of top-rated and new guitar sheets. Tabs may be easily printed. It's also possible to view chord diagrams in case you can't recollect some of them and listen to the original songs on Jango.
What sites do you visit to get free sheet music?
Comments
comments
Sours: https://www.freemake.com/blog/8-best-sites-with-free-sheet-music-guitar-tabs-chords/
Similar news:
Guitar Tab
Digital Sheet Music
Solo, lead, and rhythm guitarists everywhere can now access the best selection of instantly downloadable electric and acoustic guitar tabs on the internet. Put down your pick and put your fingers to work browsing Musicnotes' vast archive of guitar tabs for all ages.
Our digital guitar tab database features a weekly updated catalogue of some of guitar's best compilations, so there's always something new to discover. We also offer guitar tab music for all skill levels, so whether you're just starting out or have been playing for years, there are plenty of options to help you improve and stay challenged.
After you make a purchase, download the free Musicnotes app for Android, iOS, or desktop to gain access to your entire digital library on the go. The option to print will also be available if needed. For any questions about our guitar tabs and sheet music, reach out to our team of experts and we'll be happy to help.
Sours: https://www.musicnotes.com/guitartab/
8507
8508
8509
8510
8511