It's never too early to look ahead if you're a fantasy hockey nut. So, in preparation for draft season, we rank the upcoming crop of rookies:
Note: We considered only standard-league categories (goals, assists, plus/minus, power-play points, penalty minutes, shots on goal). Ages are listed as of the start of the 2018-19 regular season.
10. Martin Necas, C/RW, Hurricanes
| Team (League) | Age | GP | G | A | PTS |
| --- | --- | --- | --- | --- | --- |
| HC Kometa Brno (Czech) | 19 | 24 | 9 | 8 | 17 |
Necas, whom Carolina's brass seems to adore, should slot in as the No. 2 or No. 3 center out of camp. The speedy youngster has the chops to make an impact as a rookie, will skate alongside quality NHLers - perhaps Sebastian Aho or Jeff Skinner - and should find a role on the second power-play unit. He's a safe bet for 30-plus points, but could be a plus/minus liability.
9. Andreas Johnsson, LW/RW, Toronto Maple Leafs
| Team (League) | Age | GP | G | A | PTS |
| --- | --- | --- | --- | --- | --- |
| Toronto Marlies (AHL) | 23 | 54 | 26 | 28 | 54 |
If Johnsson were on, say, the Canadiens, he wouldn't crack this list. As a member of the Leafs, however, his value is sky high, as he's one injury or lineup shuffle away from playing alongside Auston Matthews or John Tavares. And the small Swede's projected starting spot - Nazem Kadri's left wing - is nothing to sneeze at, either.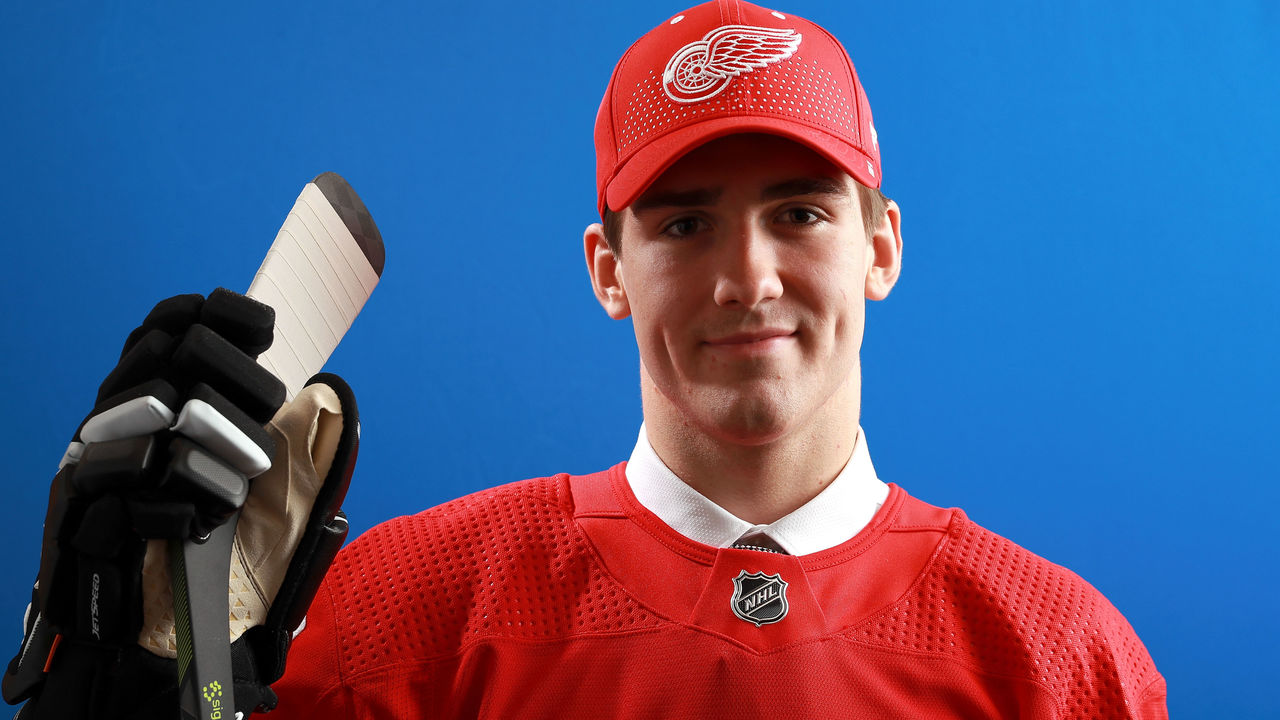 8. Filip Zadina, LW/RW, Red Wings
| Team (League) | Age | GP | G | A | PTS |
| --- | --- | --- | --- | --- | --- |
| Halifax Mooseheads (QMJHL) | 18 | 57 | 44 | 38 | 82 |
Zadina is a wild card who's worth the gamble. He's not guaranteed a full-time NHL gig this season, but is armed with an incredible shot. A fair projection would be somewhere in the neighborhood of 50 points, but there's a real possibility he spends more time in the AHL/junior ranks than with the Wings in 2018-19. Still, a near certainty is that the 6-foot, 196-pounder will be an all-world sniper sometime soon.
7. Henrik Borgstrom, C, Panthers
| Team (League) | Age | GP | G | A | PTS |
| --- | --- | --- | --- | --- | --- |
| University of Denver (NCAA) | 21 | 40 | 23 | 29 | 52 |
Flying under the radar due to his team's low profile and because he's never been hailed as a top prospect, Borgstrom will properly introduce himself to the hockey world this fall. The 2018 Hobey Baker Award finalist is a big-bodied playmaker with creativity in spades. He's in line to assume the Panthers' No. 3 center role behind Aleksander Barkov and Vincent Trocheck.
6. Rasmus Dahlin, D, Sabres
| Team (League) | Age | GP | G | A | PTS |
| --- | --- | --- | --- | --- | --- |
| Frolunda HC (SHL) | 18 | 41 | 7 | 13 | 20 |
The first overall pick of 2018 is immediately the best defenseman in Buffalo. Dahlinwill get first-pair minutes, quarterback the power play, and share the ice with Jack Eichel and Casey Mittelstadt. The problem is, the Sabres are still a really bad hockey team, which means Dahlin will be shouldering a large defensive role and his plus/minus rating will most likely be in the red. Buyer beware.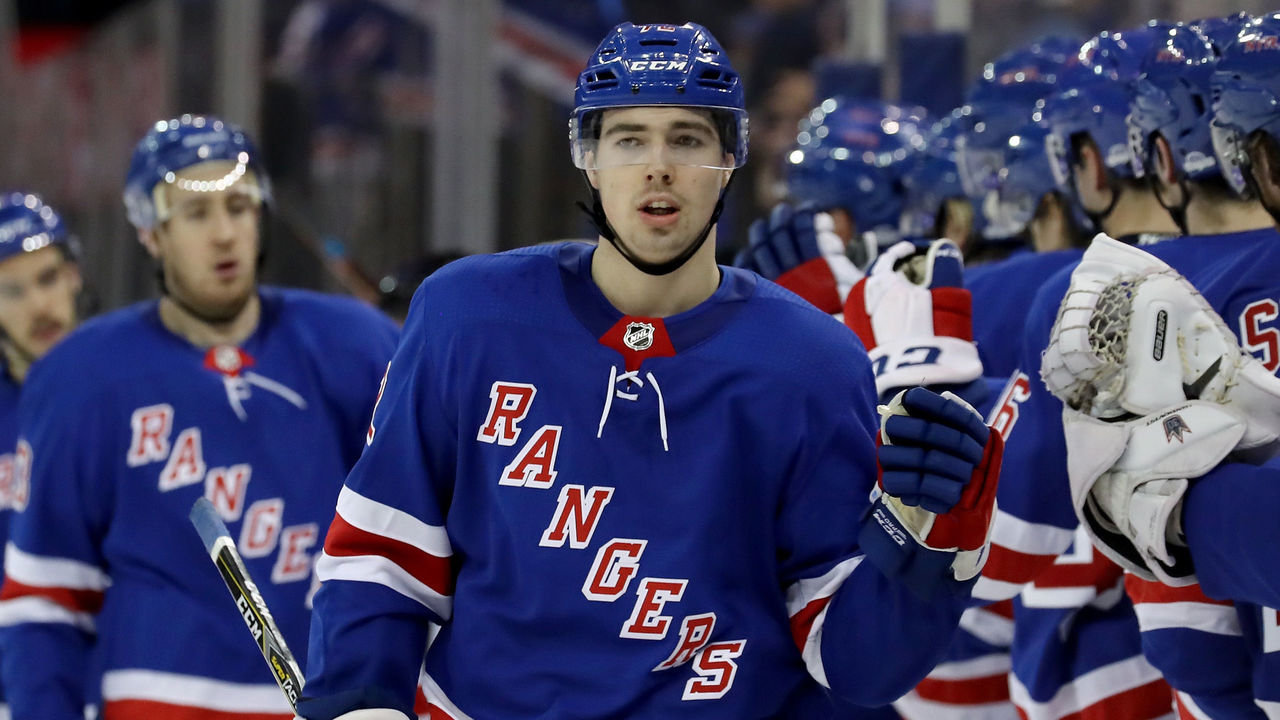 5. Filip Chytil, C, Rangers
| Team (League) | Age | GP | G | A | PTS |
| --- | --- | --- | --- | --- | --- |
| Hartford Wolfpack (AHL) | 19 | 46 | 11 | 20 | 31 |
Chytil is ready for the big leagues after some marination. The Czech center is an excellent skater - especially for his size - and last year recorded 31 points in 46 AHL games and three points in nine NHL contests as an 18-year-old. Based on the state of the Rangers - new coach, young core, low expectations - Chytil should get every opportunity to rack up fantasy points in 2018-19.
4. Casey Mittelstadt, C, Sabres
| Team (League) | Age | GP | G | A | PTS |
| --- | --- | --- | --- | --- | --- |
| University of Minnesota (NCAA) | 19 | 34 | 11 | 19 | 30 |
The Minnesotan with magical hands will probably slot in right behind Jack Eichel on the Sabres' depth chart, as he appears ready to grab the No. 2 center role and run with it. Mittelstadt, who was named best forward at the 2018 world juniors, impressed in a six-game call-up last season, registering five points. Warning: Linemate quality - or lack thereof - may stymie his production.
3. Eeli Tolvanen, LW/RW, Predators
| Team (League) | Age | GP | G | A | PTS |
| --- | --- | --- | --- | --- | --- |
| Jokerit (KHL) | 19 | 49 | 19 | 17 | 36 |
Tolvanen's an interesting case. He came to North America and the Predators this spring as a hot commodity - breaking KHL records will do that - but went pointless in a three-game stint before sitting out the entire postseason. Still, with a proper camp, time to acclimate, and a few goals early on, the skilled winger could set the table for a 50-point campaign. This is a potential high-reward option.
2. Elias Pettersson, C/RW, Canucks
| Team (League) | Age | GP | G | A | PTS |
| --- | --- | --- | --- | --- | --- |
| Vaxjo Lakers HC (SHL) | 19 | 44 | 24 | 32 | 56 |
One of the most talked-about players outside of the NHL, Pettersson lit up the SHL last season, leading all scorers with 56 points in 44 games. He won the MVP award and became YouTube famous for his dynamite highlights. The hype train is gaining speed, and the crafty Swede - assuming the Canucks offer appropriate ice time and an offensive role - looks Calder Trophy-worthy.
1. Andrei Svechnikov, RW, Hurricanes
| Team (League) | Age | GP | G | A | PTS |
| --- | --- | --- | --- | --- | --- |
| Barrie Colts (OHL) | 18 | 44 | 40 | 32 | 72 |
True rookies are inherently difficult to peg. Svechnikov, though, is the 2018 draft crop's sure thing with regards to fantasy production. The all-around power forward - who's both a volume shooter and an elite scorer - is joining a 'Canes team starved for goals. He should step right into a first-line role at five-on-five and a trigger spot on the power play. Bonus: he takes penalties.
* Honorable mentions: Jordan Kyrou (STL), Sam Steel (ANA), Lias Andersson (NYR), Owen Tippett (FLA) and Brady Tkachuk (OTT)
Sours: https://www.thescore.com/nhl/news/1569359
Like most NHL seasons, the 2018-19 Upper Deck Young Guns rookie cards are getting plenty of hobby love. Although pretty simple by today's standards, the famed Young Guns set continues to command the attention of the hockey card market.
As the iconic rookie card option from the flagship NHL release, the bulk of the 2018-19 Upper Deck Young Guns checklist drops in 2018-19 Upper Deck Series 1 and Series 2 Hockey. Naturally, Series 1 was the first up with 50 cards added to the storied line starting in early November. Series 2 came next in February with 50 more cards.
See Also: Ultimate Upper Deck Young Guns Checklist Guide
Although not especially rare at overall odds of 1:4 packs, the YG cards tend to be some of the most popular rookies every year and many become quite valuable. There are also limited parallels, including Clear Cut (1:72), Exclusives (#/100) and High Gloss (#/10). In addition, the UD Canvas Young Guns cards average 1:48 packs.
Series 1 has 2018's first-overall pick, Rasmus Dahlin, and 2017's fifth-overall pick, Elias Pettersson.
Upper Deck confirmed that the Young Guns rookie card for Casey Mittelstadt is releasing in Series 2. He is, however, in the Series 1 set for the UD Canvas Young Guns. Series 2 also has the YG rookie card for Andrei Svechnikov.
There is also a small group of Young Guns Update players in 2018-19 SP Authentic Hockey, plus Gritty. SPA has acetate Clear Cut Young Guns variations for Series 1 and Series 2 subjects, as well.
Check out the 2018-19 Young Guns guide below. The full checklist for both the base Young Guns and UD Canvas Young Guns, including a breakdown by team listing, is waiting on the "Checklist" tab. Images, when available, are shown on the "Gallery" tab.
Ultimate 2018-19 Upper Deck Young Guns Hockey Guide
Sours: https://www.cardboardconnection.com/2018-19-upper-deck-young-guns-rookie-guide
NHL announces 2018-19 All-Rookie Team; Buffalo Sabres Rasmus Dahlin tops D votegetters
Thu, Jun 20th 2019 10:30 am
The National Hockey League announced the 2018-19 NHL All-Rookie Team, including the three players voted as finalists for the Calder Memorial Trophy as the league's top rookie: goaltender Jordan Binnington of the St. Louis Blues, defenseman Rasmus Dahlin of the Buffalo Sabres and forward Elias Pettersson of the Vancouver Canucks.
Also named to the 2018-19 NHL All-Rookie Team are defenseman Miro Heiskanen of the Dallas Stars as well as forwards Anthony Cirelli of the Tampa Bay Lightning and Brady Tkachuk of the Ottawa Senators.
Voting was conducted by the Professional Hockey Writers Association at the end of the regular season.
Dahlin (171 points), the first overall pick in the 2018 NHL Draft, led first-year defensemen and ranked third among all rookies in points (9 goals, 35 assists – 44 points in 82 games). His 35 assists placed second among rookies, as did his time on ice per game (21:09).
With an assist March 20 vs. Toronto, Dahlin passed Bobby Orr (38 points in 1966-67) for the second-most points by an NHL defenseman before his 19th birthday. The Lidkoping, Sweden, native notched eight multi-point games this season, tied with Orr for the second-most by an 18-year-old blueliner in League history.
Dahlin – also a unanimous selection – is the Sabres' first All-Rookie Team honoree since forward Jack Eichel in 2015-16 and the first Buffalo defenseman to make the team since Tyler Myers in 2009-10.
Categories
EntertainmentNFP
Sours: https://www.wnypapers.com/news/article/2019/06/20/137596/nhl-announces-2018-19-all-rookie-team-buffalo-sabres-rasmus-dahlin-tops-d-votegetters
2018/19 Rookies First NHL Goals - Winnipeg Jets
NHL announces 2018-19 All-Rookie team
Also named to the 2018-19 NHL All-Rookie Team are defenseman Miro Heiskanen of the Dallas Stars as well as forwards Anthony Cirelli of the Tampa Bay Lightning and Brady Tkachuk of the Ottawa Senators.
[RELATED: NHL Awards results | Complete NHL Awards coverage]
Voting was conducted by the Professional Hockey Writers Association at the end of the regular season. Following is a summary of each NHL All-Rookie Team member's outstanding campaign:
GOALTENDER
Jordan Binnington, St. Louis Blues
The Blues' rise to playoff contention aligned with the first NHL start for Binnington, who burst onto the scene Jan. 7 with St. Louis sitting last in the Western Conference, nine points out of a postseason berth. A third-round selection (87th overall) in the 2011 NHL Draft, Binnington posted a shutout in his first career start and went on to set a franchise record for shutouts by a rookie (5). The 25-year-old Richmond Hill, Ont., native finished the regular season with a 24-5-1 record, led the NHL in goal-against average (1.89) and ranked fourth in save percentage (.927). Binnington - a unanimous selection - is the Blues' first All-Rookie Team representative since defenseman Colton Parayko in 2015-16; only one other goaltender in franchise history has earned the honor - Jake Allen in both 2012-13 and 2014-15.
DEFENSEMEN (in alphabetical order)

Rasmus Dahlin, Buffalo Sabres
Dahlin, the first overall pick in the 2018 NHL Draft, led first-year defensemen and ranked third among all rookies in points (9-35-44 in 82 GP). His 35 assists placed second among rookies, as did his time on ice per game (21:09). With an assist March 20 vs. TOR, Dahlin passed Bobby Orr (38 points in 1966-67) for the second-most points by an NHL defenseman before his 19th birthday. The Lidkoping, Sweden, native notched eight multi-point games this season, tied with Orr for the second-most by an 18-year-old blueliner in League history. Dahlin - also a unanimous selection - is the Sabres' first All-Rookie Team honoree since forward Jack Eichel in 2015-16 and the first Buffalo defenseman to make the team since Tyler Myers in 2009-10.
Miro Heiskanen, Dallas Stars
Heiskanen, the No. 3 choice in the 2017 NHL Draft, topped all rookies in average time on ice (23:07) while playing in all 82 games. He led first-year defensemen with both 12 goals and 182 shots on goal, while his 33 points ranked only behind Dahlin. Heiskanen also shared third place among all rookies with four game-winning goals, a franchise record for a first-year defenseman. At 19 years, 192 days, Heiskanen became the second-youngest player in Stars/North Stars history to appear in the All-Star Game, behind only Don Beaupre (19 years, 144 days). The Espoo, Finland, native is the franchise's fourth All-Rookie Team selection and just second defenseman to make the list, joining current teammate John Klingberg (2014-15).
FORWARDS (in alphabetical order)
Anthony Cirelli, Tampa Bay Lightning
Cirelli, a third-round selection (72nd overall) in the 2015 NHL Draft, ranked second among rookies with five game-winning goals and fifth with 19 total goals to help the Lightning match the League record for victories in one season (62). Cirelli, who played in all 82 games, topped all NHL forwards (rookies and veterans) in shorthanded time on ice (222:39) while sharing first place among rookie skaters - along with teammate Erik Cernak - with a +25 rating. The 21-year-old Etobicoke, Ont., native - who accumulated 39 total points - is the Lightning's fourth All-Rookie Team honoree and first since both Tyler Johnson and Ondrej Palat were named to the group in 2013-14.

Elias Pettersson, Vancouver Canucks
Pettersson, the No. 5 overall pick in the 2017 NHL Draft, began his career with a five-game point streak (5 3-8) and went on to lead all rookies, and the Canucks team, in goals (28), assists (38) and points (66) in 71 appearances. He also doubled up as the NHL rookie and Vancouver leader in both power-play goals (10) and game-winning goals (7). Pettersson's 66 points established a Canucks rookie record, besting the previous mark set by Pavel Bure in 1991-92 (34-26-60). He tallied multiple five-point games (Nov. 2 vs. COL: 2-3-5, Dec. 9 at STL: 1-4-5), becoming just the sixth rookie in the expansion era (since 1967-68) to accomplish that feat in a single season. Pettersson - a unanimous choice - is Vancouver's second All-Rookie Team selection in as many years, following current teammate Brock Boeser in 2017-18.
Brady Tkachuk, Ottawa Senators
Tkachuk, who was selected fourth overall in the 2018 NHL Draft, ranked second among rookies in both goals (22) and points (45) while playing in 71 games. He also topped first-year skaters with 214 shots on goal, 25 more than the next-closest player, and ranked third in average time on ice among rookie forwards (16:01). Tkachuk scored three game-deciding goals, including the overtime winner March 23 at EDM. He also posted a trio of three-point performances, including Oct. 10 vs. PHI (2-1-3) - his second NHL game. The 19-year-old son of former NHLer Keith Tkachuk and brother of Calgary Flames forward Matthew Tkachuk is the first member of his family to make the All-Rookie team and the Senators' first representative since Mark Stone in 2014-15.

* * * * *
2018-19 NHL ALL-ROOKIE TEAM VOTING
(1 point per vote)
FORWARDS
Points
1. ELIAS PETTERSSON, VAN 171
2. BRADY TKACHUK, OTT 160
3. ANTHONY CIRELLI, TBL 79
4. Andreas Johnsson, TOR 51
5. Andrei Svechnikov, CAR 42
6. Jesperi Kotkaniemi, MTL 7
7. Robert Thomas, STL 2
8. Colin White, OTT 1
DEFENSEMEN
Points
1. RASMUS DAHLIN, BUF 171
2. MIRO HEISKANEN, DAL 165
3. Marcus Pettersson, PIT 6
GOALTENDERS
Points
1. JORDAN BINNINGTON, STL 171
View MoreSours: https://www.nhl.com/news/nhl-2018-19-all-rookie-team/c-307914766
Rookies 2018 19 nhl
NHL rookie rankings: Who follows Pettersson in the top 10?
The Church of Pettersson is in session, and each week, more people are joining the congregation.
It's hard to keep 20-year-old Elias Pettersson's rookie season with the Vancouver Canucks in perspective, especially when the dazzling Swede is playing in an all-encompassing hockey market. In October, he was named the NHL's rookie of the month, despite missing two weeks of action. By November, Wayne Gretzky joined a Vancouver radio station and declared he saw some of himself in Pettersson. That's the level of hype we're dealing with.
Columbus' Seth Jones talks about his increased ice time so far this season (12:53). Internet sensation Colton Saucerman of the Utica Comets brings us behind his now famous hockey beard (33:10). Plus Linda Cohn joins the show to talk about "In The Crease," and answer listener questions (54:27)! Plus, "Phil Kessel Loves Hot Dogs," Sach got your number, Puck Headlines and more! Listen »
Alex Ovechkin and Sidney Crosby set the modern rookie standard during their smash co-debut in 2005. Ovechkin averaged 1.31 points per game that season, and Crosby was right behind him with 1.26. Both played 81 games. Some terrific rookies have appeared since then: Evgeni Malkin, Patrick Kane, Jonathan Toews, Paul Stastny, Nicklas Backstrom, Artemi Panarin, Connor McDavid, Patrik Laine, Auston Matthews and Mathew Barzal. Through 31 games this season, Pettersson is averaging 1.13 points per game, which would rank third in that group, right behind Crosby and Ovechkin. Pettersson has a 12-point lead over Colin White for rookie scoring this season.
It's not just Pettersson's lethal shot that impresses. Videos of his no-look passes and slippery dekes have also made the rounds. That Pettersson fell to No. 5 overall in the 2017 NHL draft will surely be a regret (among the critiques for the late-bloomer: He was too skinny). We should note that Pettersson is benefiting from an insane shooting percentage (27 percent), though he already is more important to his team than the No. 2 pick of 2017, Nolan Patrick, and perhaps even No. 1 pick Nico Hischier. The Canucks center is top 10 in the league with 2.86 primary points per 60 minutes. Neither Hischier nor Patrick are above 1.20.
Pettersson plays on a team with a few elite pieces (really him, Brock Boeser and perhaps Bo Horvat) but not much depth. It's why Pettersson comfortably sits as our No. 1 rookie at the season's holiday break.
Here's a look at who is behind him in the top-10 rookie rankings so far this season.
---
2. Miro Heiskanen, D, Dallas Stars
The Stars badly coveted this blueliner at the 2017 draft and reportedly made him untouchable in any trade talks, even with Erik Karlsson last summer. It has become clear why. The 19-year-old leads all rookies in ice time (23:07, nearly three more minutes than anyone else) while manning the top pairing with Esa Lindell. Heiskanen is a smooth skater putting up strong offensive numbers (seven goals, 10 assists, tied for fifth-most points among rookies). The Stars aren't shying away from the buzz. This week, coach Jim Montgomery told reporters Heiskanen reminds him of Scott Niedermayer. Yes, the Hall of Famer.
3. Rasmus Dahlin, D, Buffalo Sabres
2 Related
The Sabres are offering a softer transition for Dahlin than the Stars have with Heiskanen. The 18-year-old's ice time is managed (it was a hair above 18 minutes per game for the first 20 games, though he's averaging 23-plus from Thanksgiving on), as he's starting to look more comfortable. The offensive numbers (three goals, 16 assists) aren't gaudy, but they'll probably get better eventually. Dahlin is also a big part of the power play, with seven of his 19 points coming from man advantage.
4. Colin White, C, Ottawa Senators
After playing in 21 games last season, White is still technically a rookie, though it's clear the experience of last season has helped as he mans the No. 1 center role while Matt Duchene is injured. White, a Boston College product and the No. 21 pick of the 2015 NHL draft, is one of the bright spots in Ottawa this season. He ranks second among rookies with 23 points (nine goals, 14 assists), which puts him fifth on the Senators' roster.
5. Brady Tkachuk, LW, Ottawa Senators
Keith Tkachuk's son has been everything the Senators could have asked for when they took him No. 4 overall. Not only has the 19-year-old made the NHL roster after forgoing his sophomore season at Boston University, he's thriving, leading the team in expected goals-for percentage while ranking third on the team with 1.96 primary points per 60 minutes. This all is after missing nearly a month with a leg injury and a recent eight-game drought without any points.
Catch NHL games streaming live every night (and on replay) this season on ESPN+. Click here for the upcoming schedule and to learn how to subscribe.
6. Andrei Svechnikov, RW, Carolina Hurricanes
The Hurricanes could use some extra scoring punch, but their top rookie, Svechnikov, is not the problem. The winger is third on the team in goals (nine) and fourth in points (17), all despite a limited role (he's a top-six winger but is only the eighth-most-used forward at even strength). Svechnikov seems to be just heating up, with five points in his last five games.

7. Henri Jokiharju, D, Chicago Blackhawks
The Blackhawks loaned Jokiharju to Finland for the world juniors championship, but don't let that minimize his role on this Chicago team. The 19-year-old defenseman, on a top pairing with Duncan Keith, plays in all situations and has 11 assists in 32 games. His WJC stint is all about building his confidence for the future, with the Blackhawks admitting perhaps this isn't their year.
8. Linus Ullmark, G, Buffalo Sabres
Ullmark is technically a rookie, though it feels like he has been around the Sabres forever (the 25-year-old played in 20 games in 2015-16 but has skimmed the rookie eligibility rules for the past two seasons). Nonetheless, Buffalo's primary backup is an important part of the team's improved goaltending (and record) this season. In 12 starts, the Swede has gone 7-1-3 with a .915 save percentage and 2.94 goals-against average.
9. Jesperi Kotkaniemi, C, Montreal Canadiens
The 18-year-old was somewhat of a surprise pick at No. 3 of the most recent draft. But he played himself onto an opening night roster spot and forced the team to keep him around past the nine-game mark. He's still getting acclimated to North American hockey (and the English language), yet has posted four goals and 13 assists in his first 34 games despite less than14 minutes of ice time per night.
Postgame analysis and highlight show airing each night throughout the season from Barry Melrose and Linda Cohn. Watch on ESPN+

10. Adin Hill, G, Arizona Coyotes
Hill, 22, is a late addition to the list after being thrust into playing time thanks to an injury to Antti Raanta. In nine games (and seven starts) he has been a steady presence for the Yotes with a .926 save percentage, 1.97 GAA and one shutout. That includes the week of Dec. 3, when he was named the NHL's second star after posting a a 3-0-0 record, 0.43 goals-against average and .983 save percentage in victories over Minnesota, Nashville and St. Louis.
Honorable mentions: Dennis Cholowski, D, Detroit Red Wings; Cal Petersen, G, Los Angeles Kings; Maxime Lajoie, D, Ottawa Senators; Anthony Cirelli, C, Tampa Bay Lightning; Mathieu Joseph, RW, Tampa Bay Lightning
© ESPN Enterprises, Inc. All rights reserved.
Sours: https://www.espn.com/nhl/story/_/id/25583249/nhl-rookie-rankings-top-10-first-year-players-calder-trophy-discussion-including-elias-pettersson-2018-19
First Career Goals: 2018-19 Season
Top NHL rookies: Early Calder Trophy candidates for 2018-19
The NHL is a young man's league these days, where speed and skill rule and the salary cap puts pressure on teams to find affordable talent to complement their highly paid stars.
With training camps open now, we're starting to get a glimpse of what the next class of rookies who haven't hit an NHL ice surface yet look like against the world's best competition. Rookie camps are behind us and the real competition is starting. By the end of this season, some of these names still will not have caught on to the NHL full-time, while others will break on to the scene and become known league-wide.
To be considered a rookie in the NHL, a player must not have played in more than 25 games in any preceding season, nor in six or more NHL games in each of any two preceding seasons. Any player who is 26 years old as of Sept. 15 is no longer considered a rookie, regardless of games played.
With that said, here are 18 rookies to keep an eye on next season.
Elias Pettersson, Vancouver
After the Canucks picked him fifth overall in the 2017 NHL Draft, Pettersson went on to have an historical season in the Swedish League, winning the regular season scoring title outright, and earning the league's playoff MVP.
"He's super skilled," Canucks GM Jim Benning told Dan Murphy in April. "He's great with the puck. Great release on his shot. He's a smart player, reads the play, anticipates well. He's slight right now, but he's got good balance on his skates so I think he can come in and be a skilled player for us."
Benning believes Petterson is NHL-ready and head coach Travis Green agrees. The question around Pettersson is how he'll be used in Year 1. Although he's a natural centre, the Canucks may end up using him as a winger to ease him into NHL action. Although when training camp opened Pettersson was being played down the middle
Rasmus Dahlin, Buffalo
Of course the No. 1-overall draft pick shows up on this list. An exciting talent charged with transforming the Sabres' blue line over the next few years, Dahlin has to battle the odds to win it. Only two of the past 14 Calder Trophies were won by defencemen (Aaron Ekblad and Tyler Myers).
Dahlin didn't disappoint at rookie camp last week — actually, he more than lived up to expectations. Dahlin should excel at both ends of the ice, driving play on offence and helping to start and even end rushes with Jack Eichel and his new linemate Jeff Skinner.
Anthony Cirelli, Tampa Bay
Although he played 18 NHL games last season, the 20-year-old will still be a rookie in 2018-19 because he finished seven games short of the threshold. Cirelli scored 11 points in those 18 games and added three in 17 playoff games. He may be on Tampa Bay's third line, but that comes with the upside of being on one of the NHL's highest-scoring teams. And there's always a chance he works his way into the top six, taking his candidacy to a new level.
"Anthony Cirelli came in late," former Lightning GM Steve Yzerman said in June. "We threw him in there with 20-something games to go in the regular season and he's going head-to-head against Nick Backstrom, and (Evgeny) Kuznetsov and Jay Beagle — really, really good NHL centremen and holding his own. So we're encouraged by that."
Cirelli is among the many players who developed in the NHL under new Lightning GM Julien BriseBois.
Valentin Zykov, Carolina
The 23-year-old has played 12 NHL games over two years, but maintains his rookie status for not playing six or more games in both years. In the 10 games he played last season, Zykov posted seven points — all of which came at even strength. Most of Zykov's season was spent in the AHL, where he led the league with 33 goals in 63 games. He was better than a point-per-game player in each of the three seasons he spent in the WHL.
Andrei Svechnikov, Carolina
The No. 2-overall pick should stick in the NHL right away — after all, how much more is there to accomplish in junior for a player who scored 40 goals in 44 games? The 18-year-old missed a couple months to injury last season, but still separated himself from the other forwards in the running to be picked right after Dahlin. Svechnikov is an exciting, explosive and physically mature talent.
"Andrei is the type of elite talent that you can build a team around," Hurricanes GM Don Waddell said. "He has a bright future in a Carolina Hurricanes uniform."
Martin Necas, Carolina
The 12th-overall pick in 2017, Necas' 17 points in 24 Czech League games this season led all under-19 players and his points-per-game mark was .29 higher than Martin Kaut, the 16th-overall pick of the 2018 draft by Colorado. Necas had five points in seven world championship games and tied Mittelstadt for the WJC scoring lead with 11 points.
"He doesn't need to boost his stock with us. He has an exclamation point beside his name, as far as how good a player he is and we project him to be," Hurricanes director of amateur scouting Tony MacDonald told the Raleigh News and Observer. "In the game played today in the NHL, speed is the most important element. He has it and he's got the skill to go with it. It's a matter of him getting more man strength, and when he gets to 190 pounds he will be a force to be reckoned with."
Casey Mittelstadt, Buffalo
The 19-year-old's place in the lineup became a little clearer with the trade of centre Ryan O'Reilly. Mittelstadt scored 30 points in 34 games for the University of Minnesota, led the WJC in scoring with 11 points and had a successful first taste of NHL action at the end of the 2017-18 season, posting five points in six games. Mittelstadt is set up to have a successful rookie season with the Sabres as their second-line centre.
"You're always excited about Casey's hockey sense and his skill level," Sabres GM Jason Botterill told the Buffalo News. "Those are things that we've talked a lot about with our group here in Buffalo, improving our team speed and improving our team skill level."
Filip Chytil, NY Rangers
The Rangers didn't depart from their plan to focus on youth this summer and have available positions for a player like Chytil to earn and see minutes in the top six.
"It's fair to say that if a guy proves he's ready, we'll make whatever roster moves are necessary to accommodate him," Rangers GM Jeff Gorton told the New York Post. "We're not going to hold anybody back because we have X number of veterans here under contract."
But Chytil has to earn it. The 21st-overall pick in the 2017 draft came to North America last season and even cracked the Rangers lineup out of camp, though was quickly sent to the AHL where he had 31 points in 46 AHL games. In nine total NHL games he had three points, and then posted two in seven games for the Czechs at the world championship. He's 6-foot-2, over 200 pounds and a skilled player who will be a top-six centre for the Rangers for a long time.
"It was a dream come true playing in the NHL at 18 years [old], it's something special," Chytil told the New York Post. "I enjoyed every minute, every shift. I think I'm more ready than before."
Lias Andersson, NY Rangers
Competing with Chytil as a fellow rookie in Rangers camp is Andersson, the seventh-overall pick in 2017 who split last season between the Swedish League and the AHL. This terrific talent even got a taste of NHL action, scoring two points in seven games, and then had two points in 10 games for Sweden at the worlds.
Logan Brown, Ottawa
The Senators may be a disaster this season, but someone has to score. At 6-foot-6 and 220 pounds, Brown is looking to build off the brief NHL exposure he had at the start of last season when he initially made the Senators out of camp. Injury shortened his season and WJC tournament, but with 48 points in 32 OHL contests he's ready for the next step up. The 20-year-old is good friends with two other Sens prospects, Colin White and Brady Tkachuk, all of whom are centrepieces of what fans hope is a brighter future.
Colin White, Ottawa
It's not all bad in Ottawa — there are still some players to look forward to in the system. The 21st-overall pick in 2015 had six points in 21 NHL games last season and 27 in 47 AHL games, though he missed the start of the season with a broken wrist. White got more good exposure representing USA at the world championship, where he shared a dressing room with the likes of Johnny Gaudreau and Patrick Kane. White has already been given some top-line time, so if he gets good minutes he could be in a spot to put up enough points to make a Calder case.
"I think I've done some good things, but I think there's definitely still some things to learn," White said in February. "I think I've got to have more patience out there with the puck.
Brady Tkachuk, Ottawa
Now that we know he's not returning to the NCAA, Tkachuk is one of the top candidates from Ottawa to make a Calder case by season's end. He still could be sent to the OHL's London Knights, but early signs are positive.
"(Tkachuk) knows what it takes, he knows what he had to do this summer and he put in the work so now it's just to show everyone else that he can do it," Senators player development coach Shean Donovan said last week.
Tkachuk scored 31 points in 40 games as a Boston University freshman last season.
Eeli Tolvanen, Nashville
The 30th-overall pick in 2017 arrived in North America at the tail end of the regular season to great fanfare following a hugely productive KHL season. With 36 points, Tolvanen had the second-best point total ever in that league for an under-20 player, finishing four points shy of Evgeny Kuznetsov's record — and Tolvanen played 30 fewer games. He didn't register a point in three NHL games, but since he'll come into 2018-19 fresh and accustomed to his surroundings, he could take off. The only thing holding him back could be limited minutes on a deep team.
"The first couple of games were really tough for me," Tolvanen said of his NHL start. "But that was huge to have those couple games out of the way and just to see the tempo and what the game is like back here. Now, I know I have to get stronger, bigger and faster, and I have to be ready when the training camp starts."
Miro Heiskanen, Dallas
Had the Stars been willing to trade Miro Heiskanen, they'd probably have Erik Karlsson right about now. But there are many reasons why GM Jim Nill wants to hang on tight to his top prospect.
The third-overall pick in 2017, Heiskanen has all the tools: he can skate, pass, shoot, has good composure and is responsible on the defensive side of the puck, too. He had 23 points in 30 games in the Finnish League — a 0.77 points per game mark that was the best among all blueliners in the league.
"He was the best defenceman in the league and one of the best in Europe," HIFK manager Tobias Salmelainen told The Hockey News. "He makes the game look easy. His IQ is off the charts and his skating is elite. He was our most important player."
Kristian Vesalainen, Winnipeg
So Kyle Connor scored 31 goals as a rookie this past season, Patrik Laine hit 36 the season before and was a Calder finalist — could the Jets go three years in a row with a freshman hitting the 30-goal mark? Vesalainen is already a big body at 6-foot-4, 207 pounds and with 43 points in 49 Finnish League games he led all under-20 players in scoring (as an 18-year-old) and was the sixth-highest goal scorer overall with 22 tallies. Only three players in Finnish League history scored more points than Vesalainen before turning 19: Teemu Pulkkinen, Aleksander Barkov and Sebastian Aho.
"It's not usual. He's a special kid, I think," HPK coach Antti Pennanen told the Winnipeg Free Press. "This is something that doesn't happen."
Henrik Borgstrom, Florida
Borgstrom was a human highlight reel coming out of the University of Denver, and nobody is shocked anymore that Florida used a first-round pick (23rd overall) in 2016 to get him. Normally a league where older players dominate, Borgstrom had 95 points in 77 NCAA games across two seasons and was tied as the fourth-highest point-getter in the nation last season, finishing as a Hobey Baker finalist. He's still filling out his 6-foot-3 frame, but did manage one goal in his end-of-season four-game stint with the Panthers.
He has high offensive upside, but if he makes the Panthers out of camp, may be the centrepiece on a third line that has some pop.
"He's learned being a centre, being low and slow and not blowing the zone," Panthers director of player personnel Bryan McCabe told the Sun-Sentinel. "He's a guy that wants the puck and can do a lot of special things with it. He's not too far off. I think he's got to get a little stronger, upper-body wise."
Andreas Johnsson, Toronto
Already stacked with talent, someone has to fill the vacancy created by James van Riemsdyk's departure and Johnsson could be it for Toronto. With 54 points in 54 games, the 23-year-old had the best points-per-game mark on the Marlies last season and was their big game-breaking talent, adding 24 points in 16 playoff games en route to being named post-season MVP. He had three points in nine games with the Maple Leafs and if he earns a plum spot next to either John Tavares or Auston Matthews, look out. Johnsson was a seventh-round pick in 2013.
"He's a special, special kid," Marlies head coach Sheldon Keefe told Sportsnet's Chris Johnston. "He's taken the long road to road to get here. He's another example that it doesn't matter when you're drafted or even if you're drafted, you just keep working and the cream rises to the top eventually."
Filip Zadina, Detroit
When we look back on the 2018 draft in 10 years time, we might wonder how Zadina fell all the way to Detroit at No. 6. Once neck-and-neck with Svechnikov for the No. 2 spot, seeing Zadina fall to sixth overall was a surprising development, considering he was easily the QMJHL's best rookie with 44 goals and 82 points in 57 games. The kid has a wicked shot and is hungry to make the teams that passed him over regret it.
"We tried to pick him apart – how creative is he? How good is his hockey sense?" Detroit's director of amateur scouting Tyler Wright told MLive.com. "He wasn't a one-trick pony that would just score, he's got good hockey sense, he creates plays, he's a good character kid, he competes, he kills penalties, he scores in various ways, he's got a good release, just a very good overall offensive hockey player."
Detroit traditionally lets their prospects develop for a couple years before promoting them to the NHL, but as they re-tool for the future it's possible an exception is made for Zadina.
Sours: https://www.sportsnet.ca/hockey/nhl/top-nhl-rookies-early-calder-trophy-candidates-2018-19/
You will also be interested:
List of 2018–19 NHL Three Star Awards
Week
First Star
Second Star
Third Star
October 7, 2018[1]
Auston Matthews
(Toronto Maple Leafs)
Jonathan Toews
(Chicago Blackhawks)
Ben Bishop
(Dallas Stars)
October 15, 2018[2]
Patrice Bergeron
(Boston Bruins)
Morgan Rielly
(Toronto Maple Leafs)
Sebastian Aho
(Carolina Hurricanes)
October 22, 2018[3]
Gabriel Landeskog
(Colorado Avalanche)
Connor McDavid
(Edmonton Oilers)
Marc-Andre Fleury
(Vegas Golden Knights)
October 28, 2018[4]
Sidney Crosby
(Pittsburgh Penguins)
Mark Scheifele
(Winnipeg Jets)
Mikko Rantanen
(Colorado Avalanche)
November 5, 2018[5]
Sean Monahan
(Calgary Flames)
Elias Pettersson
(Vancouver Canucks)
Brayden Point
(Tampa Bay Lightning)
November 12, 2018[6]
David Pastrnak
(Boston Bruins)
Blake Wheeler
(Winnipeg Jets)
Claude Giroux
(Philadelphia Flyers)
November 19, 2018[7]
Cam Atkinson
(Columbus Blue Jackets)
Corey Crawford
(Chicago Blackhawks)
Joe Pavelski
(San Jose Sharks)
November 26, 2018[8]
Patrik Laine
(Winnipeg Jets)
Marc-Andre Fleury
(Vegas Golden Knights)
Nikita Kucherov
(Tampa Bay Lightning)
December 3, 2018[9]
Mark Scheifele
(Winnipeg Jets)
Adin Hill
(Arizona Coyotes)
Jonathan Huberdeau
(Florida Panthers)
December 10, 2018[10]
Elias Pettersson
(Vancouver Canucks)
Louis Domingue
(Tampa Bay Lightning)
Johnny Gaudreau
(Calgary Flames)
December 17, 2018[11]
Alexander Ovechkin
(Washington Capitals)
Mark Scheifele
(Winnipeg Jets)
Jack Eichel
(Buffalo Sabres)
December 24, 2018[12]
Sergei Bobrovsky
(Columbus Blue Jackets)
Morgan Rielly
(Toronto Maple Leafs)
Nikita Kucherov
(Tampa Bay Lightning)
December 31, 2018[13]
Patrick Kane
(Chicago Blackhawks)
Mathew Barzal
(New York Islanders)
Mackenzie Blackwood
(New Jersey Devils)
January 7, 2019[14]
Johnny Gaudreau
(Calgary Flames)
Brent Burns
(San Jose Sharks)
Robin Lehner
(New York Islanders)
January 14, 2019[15]
Mark Giordano
(Calgary Flames)
Jordan Binnington
(St. Louis Blues)
Jake Guentzel
(Pittsburgh Penguins)
January 21, 2019[16]
Robin Lehner
(New York Islanders)
Mika Zibanejad
(New York Rangers)
Patrick Kane
(Chicago Blackhawks)
January 28, 2019[17]
Sidney Crosby
(Pittsburgh Penguins)
Joe Pavelski
(San Jose Sharks)
Devan Dubnyk
(Minnesota Wild)
February 4, 2019[18]
Jack Roslovic
(Winnipeg Jets)
Carter Hart
(Philadelphia Flyers)
Mika Zibanejad
(New York Rangers)
February 11, 2019[19]
Jordan Binnington
(St. Louis Blues)
Patrice Bergeron
(Boston Bruins)
Dylan Strome
(Chicago Blackhawks)
February 18, 2019[20]
Nikita Kucherov
(Tampa Bay Lightning)
Vladimir Tarasenko
(St. Louis Blues)
Sidney Crosby
(Pittsburgh Penguins)
February 25, 2019[21]
Semyon Varlamov
(Colorado Avalanche)
Aleksander Barkov
(Florida Panthers)
Sergei Bobrovsky
(Columbus Blue Jackets)
March 4, 2019[22]
Marc-Andre Fleury
(Vegas Golden Knights)
Blake Wheeler
(Winnipeg Jets)
Sidney Crosby
(Pittsburgh Penguins)
March 11, 2019[23]
Jonathan Huberdeau
(Florida Panthers)
Ben Bishop
(Dallas Stars)
Troy Terry
(Anaheim Ducks)
March 18, 2019[24]
Thomas Greiss
(New York Islanders)
Brendan Perlini
(Chicago Blackhawks)
Connor McDavid
(Edmonton Oilers)
March 25, 2019[25]
Kyle Connor
(Winnipeg Jets)
Steven Stamkos
(Tampa Bay Lightning)
Philipp Grubauer
(Colorado Avalanche)
April 1, 2019[26]
Sergei Bobrovsky
(Columbus Blue Jackets)
Tyler Bertuzzi
(Detroit Red Wings)
Darcy Kuemper
(Arizona Coyotes)
April 8, 2019[27]
Vladimir Tarasenko
(St. Louis Blues)
Pekka Rinne
(Nashville Predators)
Alexander Radulov
(Dallas Stars)
Sours: https://en.wikipedia.org/wiki/List_of_2018%E2%80%9319_NHL_Three_Star_Awards
8512
8513
8514
8515
8516