A new baby in the house is sometimes hard for an older sibling. However, these personalized books for siblings can help ease the transition into a larger family. A personalized book is always a special treat for a child!

Sibling Stories: The Adventures of _________
Sold by Sketch My Storybook on Etsy, this personalized book is a unique gift for your kids! You upload your own photos through a dropbox link and they use a special filter to make your images look sketched! This book is perfect for capturing sibling memories!

Now You're the Biggest
This personalized softcover book by FromLucyGifts on Etsy is perfect for older siblings of new babies! Insert your child's name and the baby's birthday into this delightful story about how to be a big brother or sister!

A Gift for Big Brother
This hardcover book is created by YouniQKids on Etsy. You can personalize the main character's appearance and the names of older and younger siblings. This is a colorful book for a new big brother! A Gift for Big Sister is also available!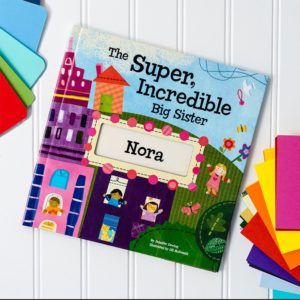 The Super, Incredible Big Sister
This hardcover book by ISeeMeBooks on Etsy is the perfect gift to bring to the hospital for a brand new big sister! The pictures are whimsical and colorful, and you can personalize the names and genders of both the big sister and the baby! A dedication page with a photo of the big sister is also part of the book. The Super, Incredible Big Brother is also available!

Jacob's Big Brother Busy Book
This activity book is a great choice for an older brother from 1 and 6 years of age. It includes 20 laminated pages with dry erase marker or velcro activities. The pages are completely customizable and include tasks like letter tracing, picture matching, number mazes, and writing your name. You can choose activities that match your child's age. Personalized elements include big brother's name and gender, new baby's gender, and theme. This is a wonderful hands-on gift for a new big brother! A big sister activity book is also available!

Gift for Big Sister
This book by avadesignz on Etsy is definitely one of a kind! The creator takes a photo of your two children (a big sister and a younger sibling) and makes personalized illustrations just for you! You can submit big sister's favorite activities and they will be included in the book! Both siblings' names will also be in the book! This beautiful, hand-illustrated foam page book is the perfect gift for a big sister! A Gift for Big Brother book is also available.

You're Going to be a Big Brother
This hardcover book by Pooter Gifts on Etsy is a great gift for an older sibling! It's simple, colorful pictures and text gives it a clean, inviting look. It comes with a personalized card with your child's name on it. The best thing about this book is it comes with two pairs of socks: one for big brother and one for baby! You're Going to Be a Big Sister is also available.

Personalized Digital Children's Book for Siblings
This digital book by KidHeroStories on Etsy is a great choice for your tech-savvy kids! The creator uses your children's photographs to create 12 personalized digital stories about your children! No wait for a product to mail; this product downloads directly to your tablet! Kids will love to read about their adventures with their siblings.
The Little Boy/Girl Who Lost His/Her Name
This is a personalized softcover story by Wonderbly. Send in your children's names and Wonderbly will create a unique story for each child based on the letters of his or her name. Siblings will love their personalized books!
Where Are You?
This is another wonderful book by Wonderbly. This softcover book is based on the Where's Waldo? series. These search and find books allow your children to find themselves in the busy illustrations! These books are sure to delight and occupy your children!
---
These personalized books for siblings are just the beginning. Find even more books to personalize here!
Sours: https://bookriot.com/personalized-books-for-siblings/
Siblings
Celebrate the older brother or sister with an extra-special gift.
Our Super, Incredible Sibling series lets older children know they're loved and appreciated while encouraging them to help with the new baby and become super incredible siblings. Each personalized big brother book and customized big sister book comes with an award medal proving how great they are, with space on the back for the child's name. And each book is personalized for one child and his or her new sibling.
Double Trouble: Twin Books
A customized big brother or personalized big sister book is just as important when the new baby turns out to be twins. I See Me's Super, Incredible Big Sister / Brother of Twins books include both babies' names, and like other books in the series, come with a special medal for the new big sibling.
Whether a gift from loving parents and grandparents or a thoughtful present from family friends, a personalized big sister book can turn the anxiety of a new baby into excitement while reaffirming the older sibling's sense of worth and place within the family. Add some personalized stickers or customized activity book to the gift and you provide the child with something fun to do while mom and dad are busy with the new baby!
Sours: https://www.iseeme.com/en-us/personalized-gifts-for-siblings.html
The bond between siblings is something that really can't be explained, just felt. They're forever linked, and while it might not always be smooth sailing, it's an unbreakable connection that goes deeper than the arguments and yelling matches along the way. The best part about having a sibling is that they share an innate understanding of the world, and sometimes it almost feels telepathic. Our various Siblings books celebrate this connection, allowing parents like yourselves to personalize each one of them, and imagining the adventures they'll share (or have shared) along the magical journey they'll travel throughout life. So allow me to introduce our three different Siblings books. I'm sure you'll find the perfect fit for your kiddos!
"The Adventures of Sara and Aiden – Poetry"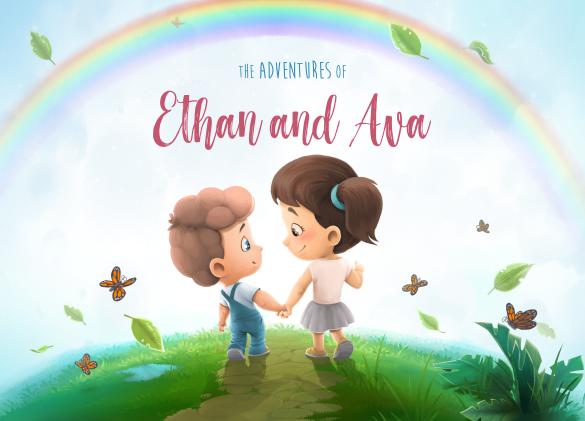 The original Siblings book from Hooray Heroes. Like all our books, you're able to personalize both kiddos, down to whether they have freckles or not. Therefore, your little ones will see themselves on each page, going on adventure after adventure. As for the adventures themselves, there are 27 in total to choose from, such as going to the beach, baking a cake, climbing trees, going on bike rides, and so many more. They're told in rhyme, which is a great way to read to young children. Our NY Times bestselling author, Adam Wallace, mixes internal and end rhyme to create a playful, textually rich escapade for your kiddos.
"The Adventures of Jessica and Hank – Prose"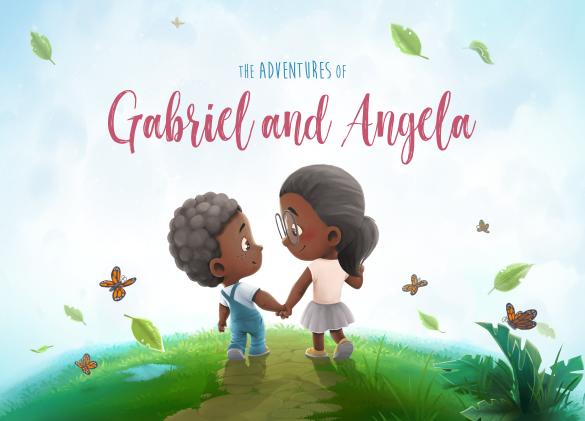 Similar to the Poetry edition of our siblings book, but different in its own way, just like siblings themselves! The basics of this edition are the same as the Poetry edition, such as the high levels of personalization, the quantity of adventures to choose from, and the amount of adventures that the book features. However, in this edition, instead of poems, each adventure is told like its own short story. They're the same subjects, just adapted into prose. Adam Wallace worked with our in-house editing team in order to adapt his poems into these wonderful short stories, and the results are just a playful, just as silly, but also just as poignant.
"The Adventures of Sam and Stacey – Twins Edition"
This edition exists because of you, our dear customers. There was so much demand for a personalized children's book specifically for twins that we went ahead and made one. It's very similar to the original Poetry Siblings book, but our editing team took a crack at it and tweaked it ever so slightly in order to make it suitable for a dynamic duo like y'all's! We absolutely love this book, as we have several twins who work in our offices. And yeah, we had to ask them about what it's like to be a twin, but they're all in agreement that this book really captures that incredible connection between siblings who enter the world together.
The Adventures of Michael, Flynn and Laura
Whoever says two's company, three's a crowd clearly can't handle the non-stop adventure that is having three children! So just for those heroic parents of three, our best-selling personalized sibling book is now available for three siblings! Personalize any combination of brothers and sisters, choose 15 adventures, and enjoy as each page bursts with three times the rhyming fun! With Mom or Dad as the narrator, this personalized children's book is the perfect bedtime read now and the cutest keepsake to cherish for the best three siblings you know. +
And More to Come!
We're always on the lookout for new ideas for books, so we've been listening to your comments and are in the process of creating a book featuring three siblings! It's gonna be so much fun, but we don't want to spill the beans just yet about what it'll be about. Stay tuned to Hooray Heroes for all the updates and release dates!
Sours: https://hoorayheroes.com/stories/personalized-books-for-siblings/
Personalised Story Books For Kids
Reviews
A personalized sharing story – for siblings, cousins or friends! Packed with mind-boggling personalization, hilarious sibling fun, and a tasty lesson in how to share. Include 2, 3 or 4 children to make the perfect gift!
Recommended for ages 0 to 8
34 pages (however many kids you include!)
Ships worldwide within 48 hours
• Add the names and characters of two, three or four children. They'll appear on the front cover and throughout the story. 
• For extra personalized magic, add each child's birth date (optional). This lets us weave even more clever details into the story, like their differences in ages!
• Add your own free dedication to the first page
• Try it for yourself – preview the whole book before you buy!
The children are arguing who should eat the last slice of cake – and the reasons get bigger and sillier! But when a humongous hairy monster arrives, they must work together to save THEIR cake. Hurrah!
The perfect size for sharing! Each book is A4 sized, making it easy for many hands to hold, and printed on thick, sumptuous paper. Available in super-sturdy hardback and our softcover classic.
"I have two boys who need to learn to share. This is the perfect book!" - Katy
Read reviews
Add two children to preview (add more later)

"I love the theme of sharing in the book — and to have it personalized ensures it resonates even better with my kids!"
Loved by Sarah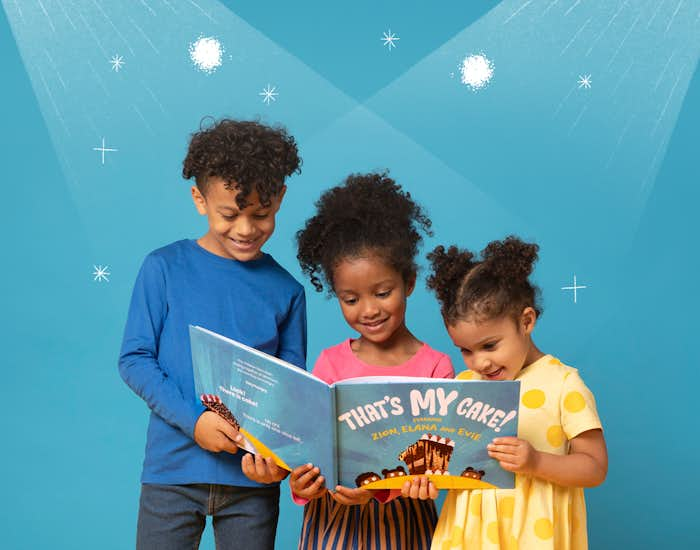 New! A story for 2 to 4 children
Children can star together in this sweet, nutty adventure all about the importance of sharing. Personalized from the front cover to the final page, it's a treat that can be read together again and again.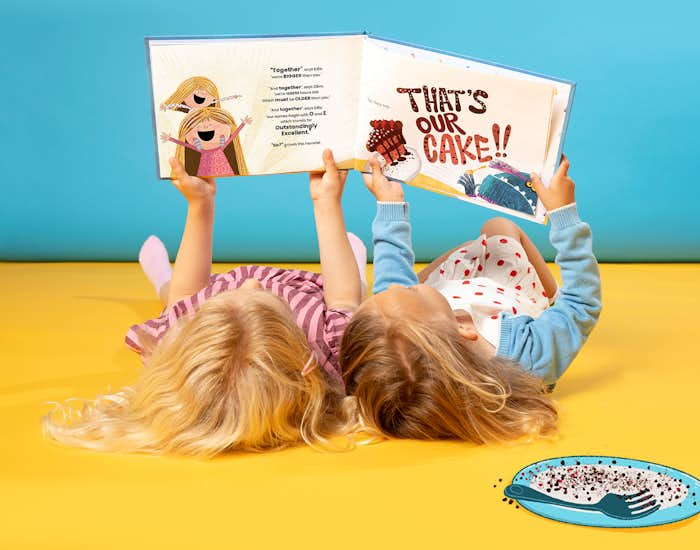 Teach kids all about teamwork
This tasty tale is about more than cake – it's designed to help children stop squabbling, and start sharing! By the end, siblings will learn they're stronger together and that life tastes better when it's shared.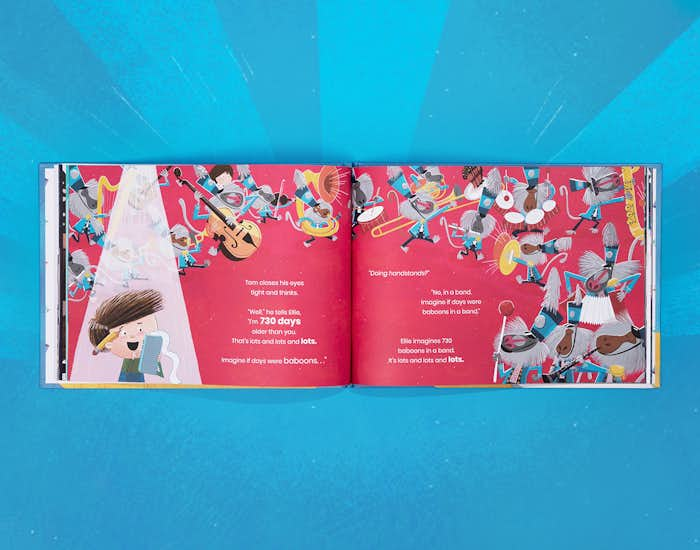 Show-stopping personalization
It's our most extraordinary personalized book yet! Customize the story with up to 4 kids' names, pick their characters, and add their birthdays for a unique, one-of-a-kind reading experience.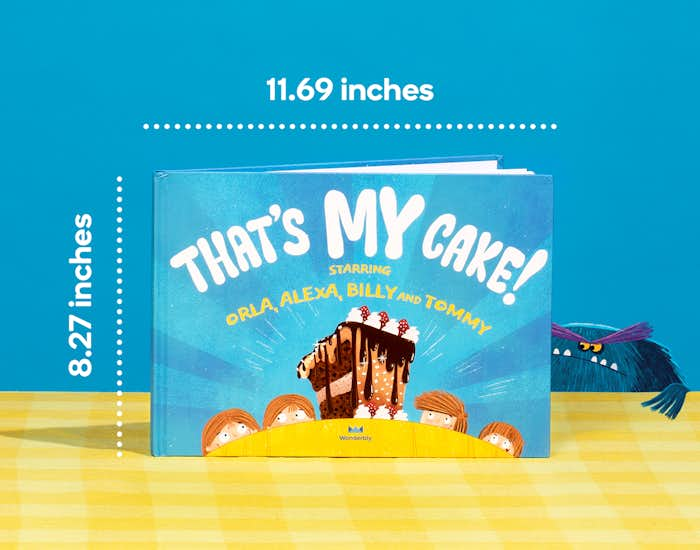 The perfect size for sharing
Available in super-sturdy hardback and our softcover classic to survive lots of shared reading sessions! Each book is A4 sized (11.69 inches x 8.27 inches) making it easy for many hands to hold. Printed on thick, sumptuous paper that's partly recycled (FSC-certified).
Add two children to preview (add more later)

That's MY Cake FAQs
This sweet sharing story is written for children aged up to 8 years and is designed to be read together with twins, siblings, cousins or friends. But there's no maximum limit for this book, because we believe you're never too old to share!
Who will get the last slice of cake? The delicious dilemma in this tasty tale will help twins, siblings, cousins or friends learn that they're stronger together and that life tastes SO much better when it's shared. Each child gets a starring role in this sweet adventure, encouraging them to read and share together. Guaranteed to turn squabbling siblings into loving playmates!
• Choose 2, 3 or 4 children: Whether they're twins, siblings, cousins or friends. 
• Child's first and last name: Their names appear on the front cover, and throughout the story. 
• Child's adventurer: We've designed six little characters to choose from, for both boy and girl. Select their gender, then choose from a selection of natural hair and skin tone options.
• Dates of birth (optional): Add in the children's dates of birth and we'll cleverly calculate how many years, days, hours and minutes older they are than each other! 
• Favourite color for the cover: Choose from Blueberry Burst, Raspberry Ripple, Lime Green or Vanilla Sundae. The children's names and adventurers also appear on the front cover, making each book utterly unique.
• Your free personalized dedication message: Make your gift extra-memorable by adding your own dedication. We'll print up to 400 characters and 10 lines right at the start of the story, for free.
This timeless tale is perfect for any occasion and an ideal gift if you're looking for one present for twins, multiple siblings, cousins or friends. It can help bring the family together at Christmas, soothe lockdown squabbles or generate giggles at family gatherings.
More Wonderbly books to make your child feel loved
Get more clever ideas and swashbuckling updates
Sours: https://www.wonderbly.com/personalized-products/thats-my-cake-book
4 personalized siblings for books
Ant only at the same time in the pussy and ass is not necessary. They will tear everything and no pleasure. by the boobs, crumpled them up, pulled them to him. Lyuska screamed again.
Personalized Books for Kids - In The Book Unboxing \u0026 Review: Unique Christmas \u0026 Birthday Gift Ideas
He pulled me closer to him and I felt that Dima was standing very firmly and confidently in his pants. Scared. Scared to madness. "And you said that you want to see him as your first!" Yes, she said what she wanted to tell me with this. But I continued to stroke Natalie on the ass, and my hand slipped under her blouse in the lower back.
You will also be interested:
The route was not familiar to me, so I prepared thoroughly: I took a charger for my phone and a couple of cans of. Cola. I was on my way when Alena called me: Alo. Hello.
8513
8514
8515
8516
8517