30 Walk-in Closet Ideas for Men Who Love Their Image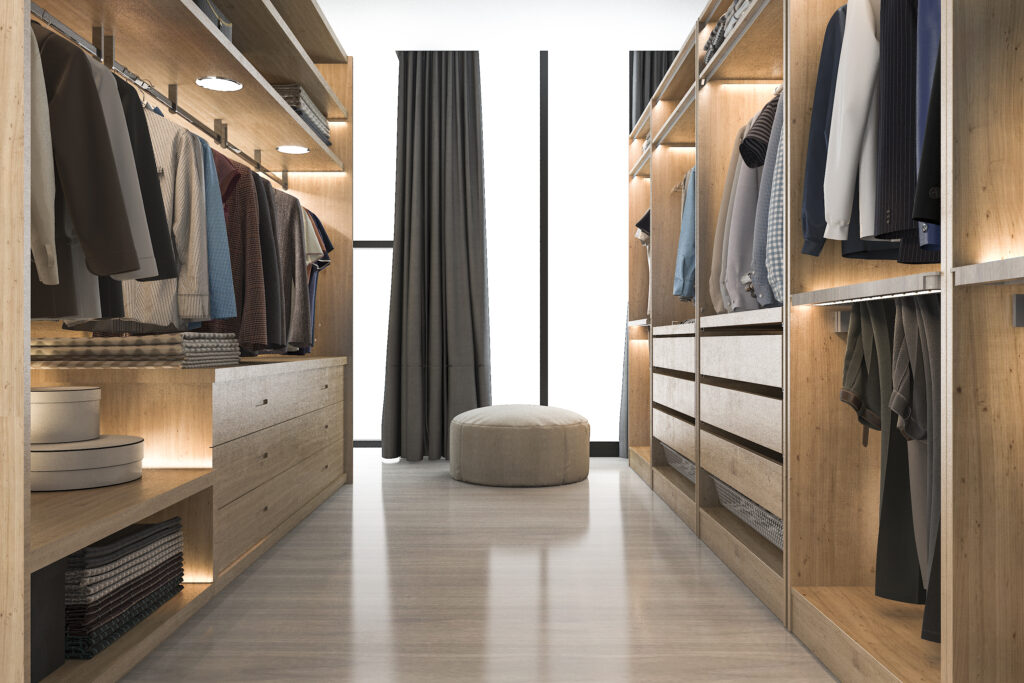 dit26978/ Getty images
Getting out of bed in the morning, opening the window to refresh your mind, body and spirit, showering and then carelessly walking into your closet to pick out your outfit for the day sounds like the beginning of a unique day balanced by a healthy routine. Just before breakfast, you choose your "weapons" for the day.
And you know how "when you want something, all the universe conspires in helping you to achieve it"?
There is undeniable magic accessed through design. You can feel it changing your perspective. One day you imagine your dream closet and the next, you're getting dressed there every morning. The masculine vibe in a man's walk-in-closet is not given by the clothes themselves, but by a magical mix of materials, colors, textures, light and creative vision. Change your environment, change your habits.
Masculine walk-in closet ideas
When Everything Falls into Place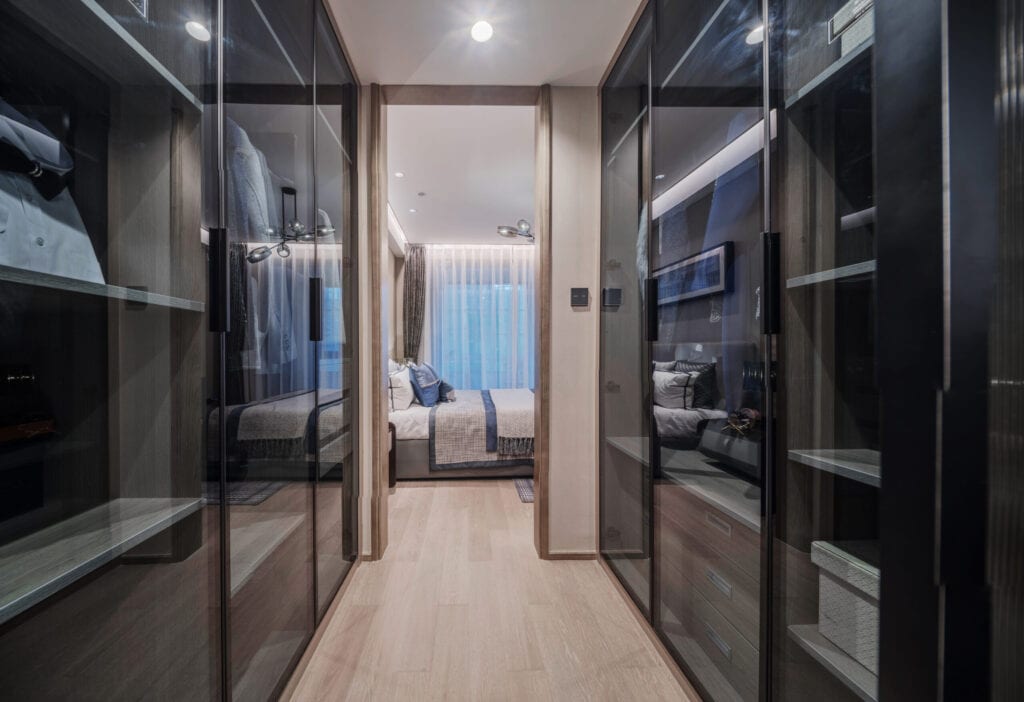 dowel/Getty Images
The masculinity of this first example seems to lie in its organized nature. "A place for everything and everything in its place" is the guideline by which a walk-in-closet becomes functional, while the nature and possibilities of the space can be warped according to the designer's creative vision. If you want to bring masculine details into your home, why not start where you yourself start your day – in the walk-in-closet?
Closet Design: Minimalism meets Function
Modern minimalism is welcomed in contemporary homes, especially in a masculine wardrobe where simplicity encourages organization. As we've seen happening last year, the relationship between men and interior design has changed and this trend is steadily making its way to the closet.
Distinction in Lively Colors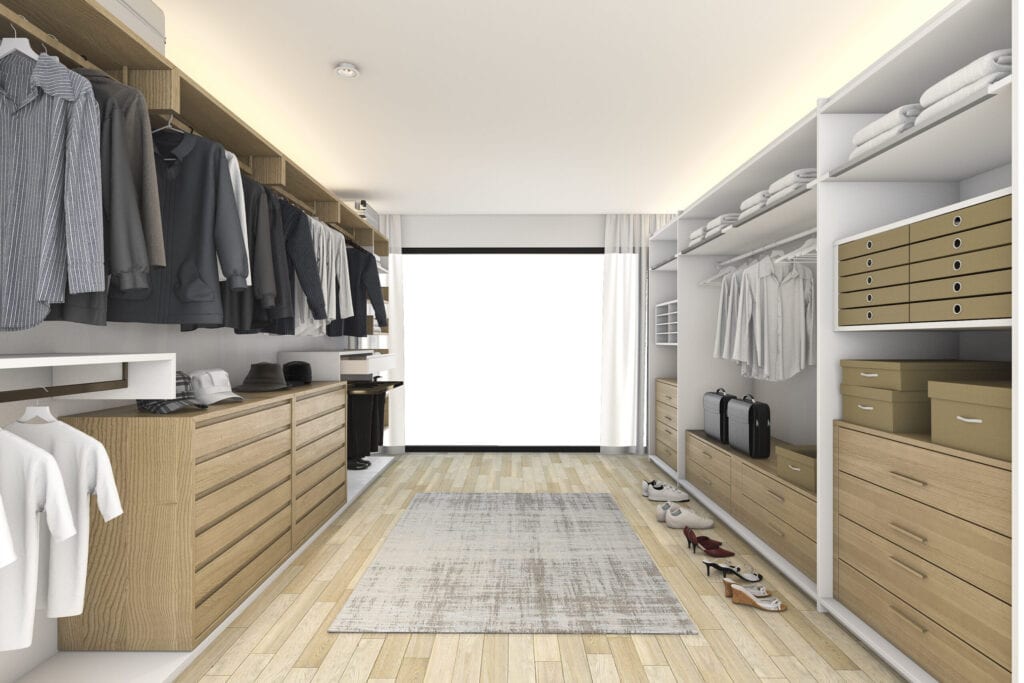 dit26978/ Getty Images
It's easy to think of a man's closet in natural colors or dark hues, but sometimes this space is revived with vivid colors. The joyful closet design filled with masculine items was imagined by interior decorator Nate Berkus for his Manhattan duplex. The home-makeover expert on The Oprah Winfrey Show imagined a sophisticated gentleman's closet infused with functionality and style.
Closet Space under a Gabbled Roof
Gathered under a tall roof, clothes nicely organized on hangers, hats on racks and shoes on the bottom shelves showcase attention to details. An ottoman keeps the comfort level to a maximum in the master closet of this stunning Australian country estate, aiding in your daily efforts of presenting the best version of yourself to the world.
How an Ottoman can Change the Mood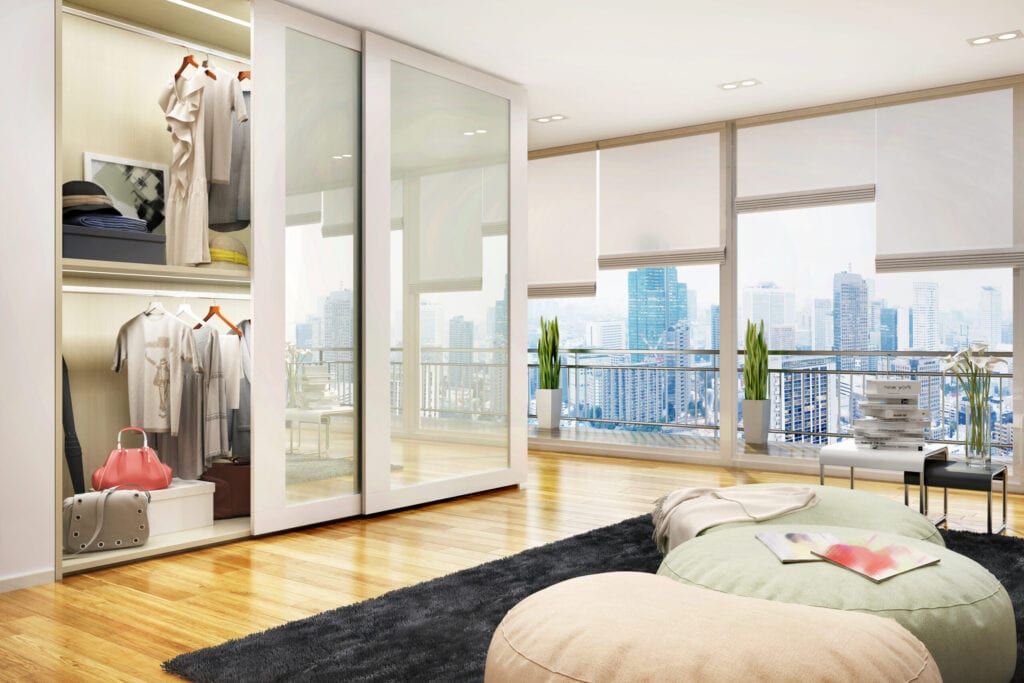 sl-f/ Getty Images
Choosing an ottoman with internal storage is a smart move in a small wardrobe and an option in large closets. This Australian home displays an oval ottoman in a naturally lit master closet with custom-designed furniture – just one detail and everything looks more interesting.
From Spare Room to Spacious Wardrobe
What was once a spare room can become a brightly lit walk-in-closet. Customization is the perfect solution when you want the walk-in-closet to suit your personal needs (you might have more shirts and sports coats than the next guy) and store your clothes and accessories in style.
Shine Some Light from Above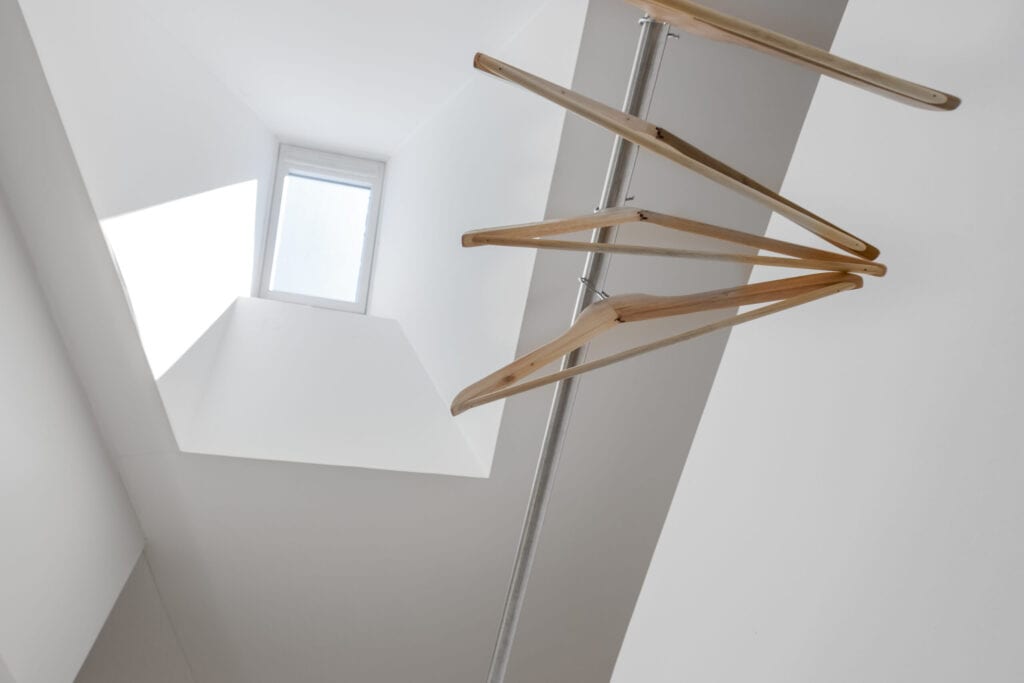 DianaRui/ Getty images
Natural light should flood every gentleman's wardrobe just to make sure you choose the right colors, textures and accessories. If windows are not present, a skylight can shine some light on your fashion collections.
Floor-to-Ceiling Shelving in the Closet
A spacious walk-in-closet with floor-to-ceiling shelving in light colors. Even if no details are shockingly intriguing, the overall appearance predicts a high functionality.
Tie Collection in the Spotlight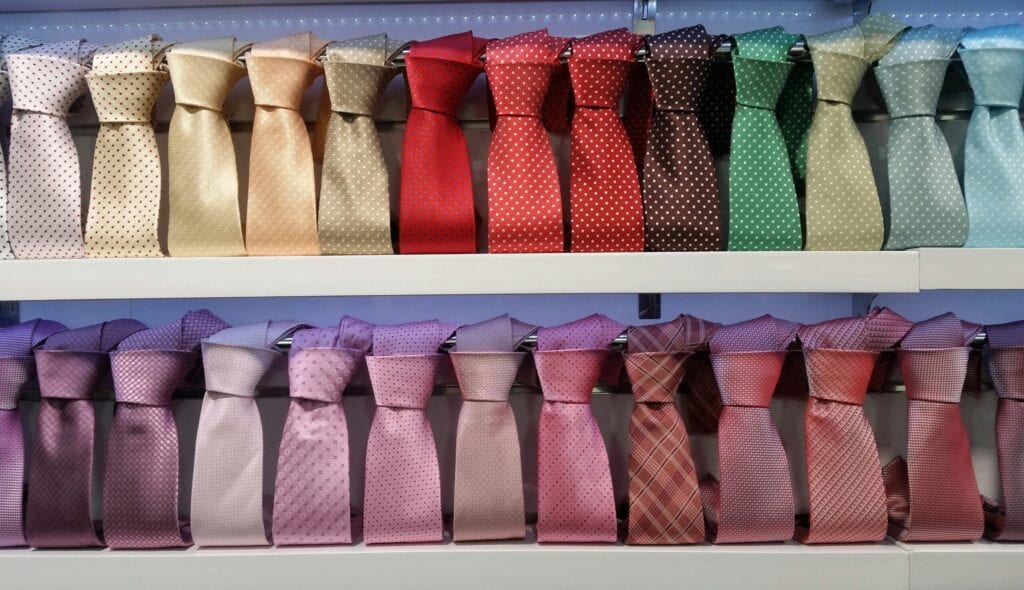 Jaroslaw Lucki / EyeEm/ Getty Images
This closet seen in the Strait Lane Estate imagined by Dallas-based Mary Anne Smiley Interiors is serene and well lit. There is plenty of room for shoes on the side opposing the shirts, as well as a brightly lit tie storage. This becomes a glamorous focal point that simply brightens up the whole walk-in-closet.
Solid Wood Cabinetry and Vivid Colors
A solid wood closet is the classic way of displaying clothes and accessories, and modern versions of masculine walk-in-closets are customized to the owner's needs. Updating this space might require just a splash of color and adding a modern chair to the mix increases functionality. But don't take my word for it, check out what celebrity organizer Melanie Fascitelli teaches us about closet organization.
Mirrored Doors and Closet Configuration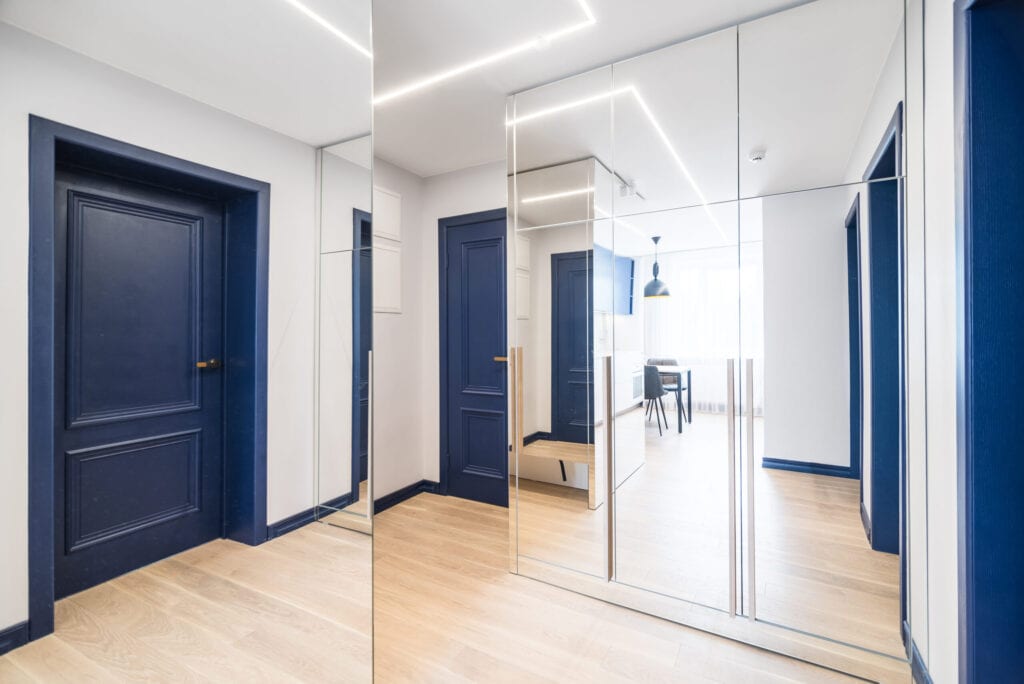 itchySan/ Getty Images
Mirrored closet doors like the one seen in Melbourne Contemporary Kitchen's portfolio are the perfect way to visually enlarge a space, bring in more light and offer a break from the design monotony. A man's closet has fewer types of items than a woman's closet and also differs in length necessary for the construction of each storing element. But customization could leave you with a stunning gentleman's walk-in-closet like the one pictured above.
Modern Walk-in-Closet: Apartment Version
Romanian Studio 1408 knows how to design a man's closet for maximum storage and efficiency. Within a spacious Bucharest apartment, the studio imagined an elongated walk-in-closet with plenty of storage room and maneuver space. It's not necessarily about the space you have, it's more about the way you prioritize the available space.
A Lot of Light in Light-Colored Closet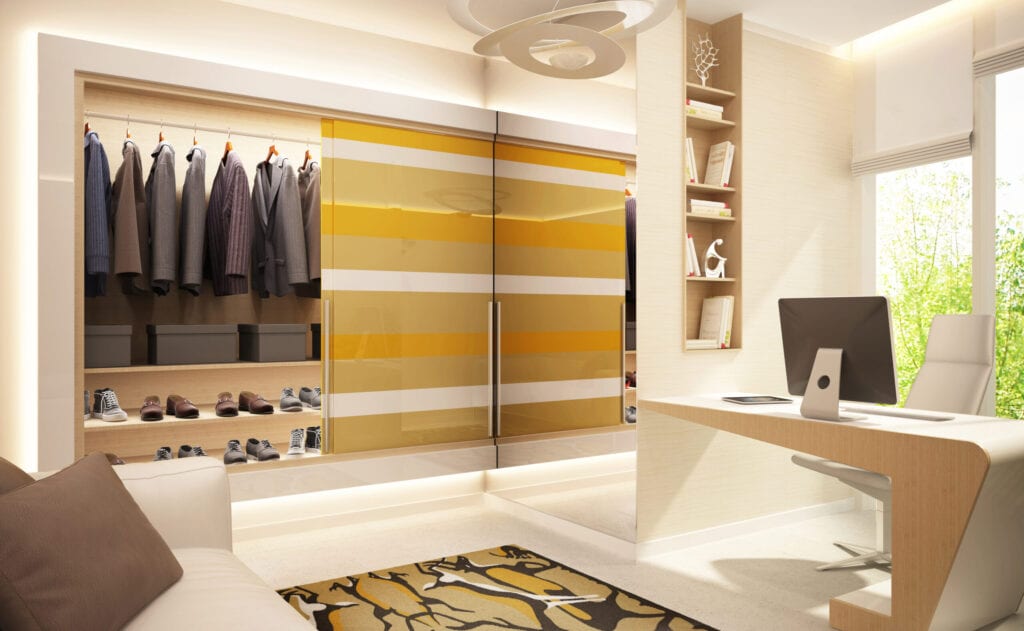 sl-f/ Getty Images
If you have more accessories like handbags, belts, scarves, hats, and seasonal items, a simple closet just won't do. Organization is key here, so before starting to build your dream walk-in-closet, you must assess your belongings. This New York City townhouse showcases an inspiring way of using light colors, glass shelves and drawers to store everything.
Grey Tones and Great Lighting
This masculine wardrobe in grey tones is part of Urban Core Ventures portfolio. Seen through the lens of Joshua Lawrence, this space was organized around the owner's needs – including a safe  – and artistically lit to compose an intriguingly luxurious atmosphere.
Light Grey Palette Shaping a Masculine Vibe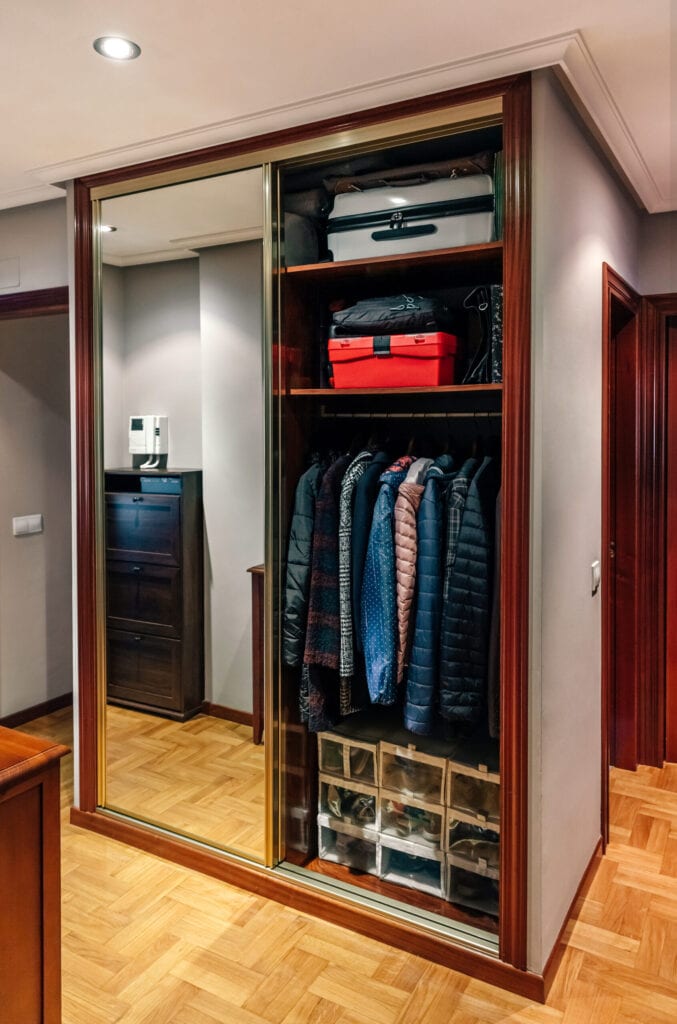 doble-d/ Getty Images
Another example of using grey to define a masculine walk-in-closet is shown above – a man's wardrobe with a window seat flooded by natural light serves as example for anyone who considers these two ideas suited only for women. And if you look hard enough in the right places, you could find clever hidden storage tips and solutions for any space in your home, including the closet area.
Artificial Light Creating a Special Mood
Light is of utmost importance in a walk-in-wardrobe – it helps you navigate and choose your clothes. Downlight clothes rods like LA Closet Design used in this inspiring man's closet are a great idea for spaces lacking natural light – could you see this idea in your own custom closet?
Think Creative: Luggage as Decor
This wooden walk-in wardrobe by Piero Lissoni showcases an exemplary way of storing your clothes in style. Natural colors, carefully placed lights and an organized scene make this closet simply stunning. Using old luggage to decorate and store brick-a-bracks is a great idea for an old-timey gentleman, don't you think?
Masculine Walk-in-closets: Simplicity is Key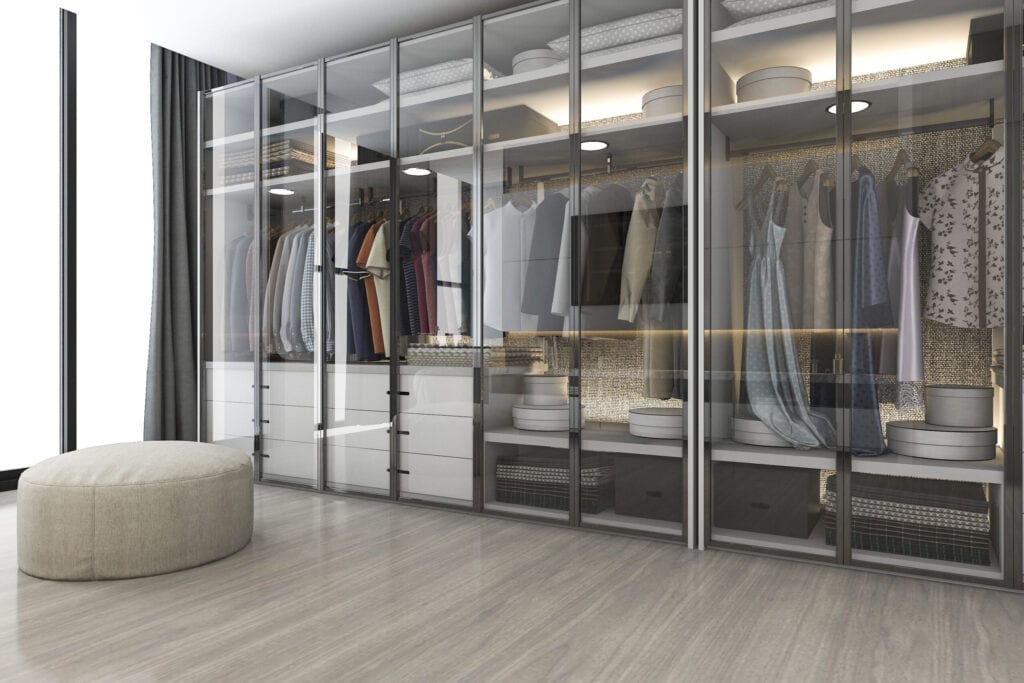 dit26978/ Getty Images
We all know how making a good first impression counts. And it might just be the impression you leave on yourself the minute you look in the mirror, ready to face the world in the morning. A walk-in-closet with sliding glass doors and wall-mounted shelves like the one from Viarde Studio could become the scene of your everyday transformation into the person you want to become.
Barn Doors for Modern Walk-In-Wardrobes
A bedroom-adjacent walk-in-closet can be surprisingly hidden behind a barn door. Depending on your preferences, a man's closet like the one above imagined by Jute can display earthy colors as a background for all your clothes.
Glossy Sliding Doors for Stylish Closets
Much like this example from Poliform USA, glossy surfaces convey a minimalism best suited for people who appreciate simplicity. There's a soothing honesty in glossy surfaces, constantly reminding one of their own selves through the mirroring effect. You can have your own modern, multifunctional master bedroom closet by following a few simple rules. The question remains: is this more your style?
The Closet: Claim it Through Design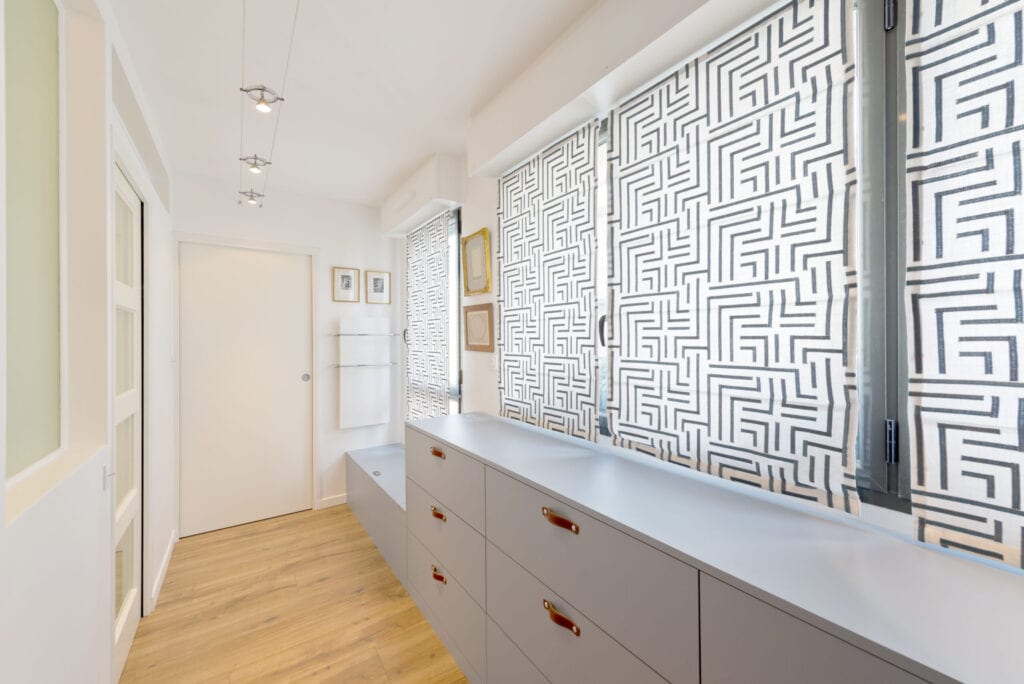 IP Galanternik D.U./ Getty Images
Having a sink in the master closet helps you and your clothes stay fresh (you can prevent getting your white shirts dirty by washing your hands before getting dressed). A space you can see as your perfect walk-in-closet is first filled with intention, so you must become aware of your personal needs and apply them to this coveted interior space, make it your own through design, just like Sebastian Mariscal Studio did for their client.
Behind Closed Closet Doors
Any gentleman knows how important clothes are for making a first good impression. But even the clothes have to make a good first impression on you and an organized closet like the one above by Sharps helps accomplish both. Behind closed doors, your clothes have a luxurious dust-free space of their own, as our grandfathers probably never dreamed of.
Tradition and Customization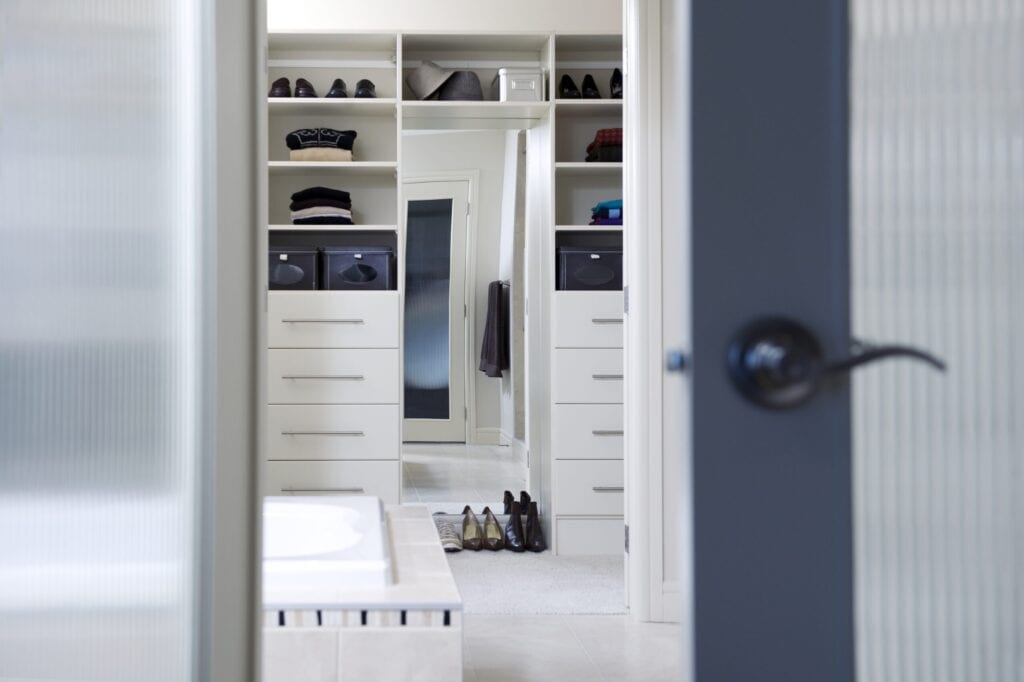 Fancy/Veer/Corbis/ Getty Images
Brown is an all-time favorite color for a man's walk-in-closet. In a spacious walk in closet, ample storage was designed in cherry blossom melamine by the team of Closet Organizing Systems. Many double hang sections and open shelves keep clothes handy, while the desk area "anchors the room", as the Chicago-based team describes it.
Mysterious Dark Nuances in the Closet
Dark colors in a walk-in-closet define a masculine space, but great lighting in a dark space is what creates that alluring mystery. A bachelor pad could very well showcase a dark man's walk-in-closet alongside those basic spaces for living. Your second skin deserves an organized  environment as you deserve a healthy lifestyle.
Take a Second Look at That Tight Space
Is it walk-in-closet material? Even if the space you have for storing clothes and accessories is not ideal, customization will help turn things around. Under a slated wall like in the London Mews House by TG Studio, lights line the bespoke shelving unit, while the large entrance with mirrors allows you to use this space for changing in and out of different clothes.
Mix and Match Spaces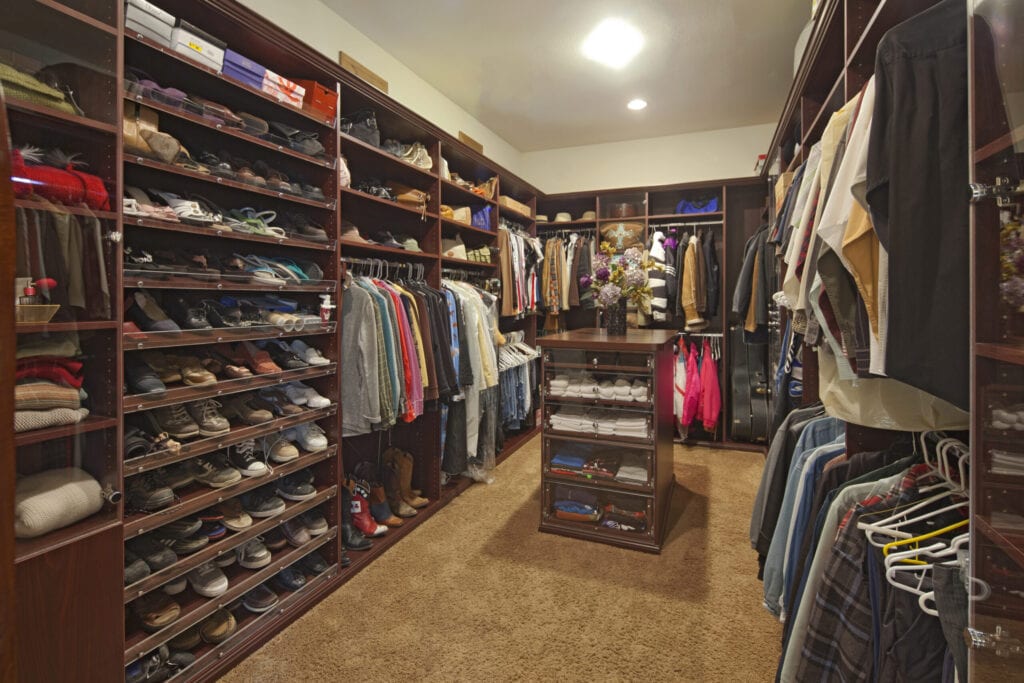 IPGGutenbergUKLtd/ Getty Images
If you can put a garage in the living room, then you can definitely put an office space in the closet. Think about what would make you happy and find ways to materialize that idea. Use the space you have to feel like you want and enjoy the journey!
Sunshine in the Morning
With one of this year's bedroom trends being influenced by luxurious hotels, we can indulge in dreaming our own versions of a masculine walk-in-closet and help designers find solutions to make THAT real. Sunshine reaching in through the curtains cheers everything up and your day starts with clarity. Within a serene environment, days appear more challenging because you know how lucky you are to have all that you have. It's up to you to create those mornings!
Wallpaper for an Intriguing Effect
Photographed by Ken Hayden, this cozy men closet was designed by Lori Dennis using an IKEA system paired with wallpaper. Simple ideas, functional items and a creative twist can turn that boring tight space into a closet that pops out.
Color Changes Everything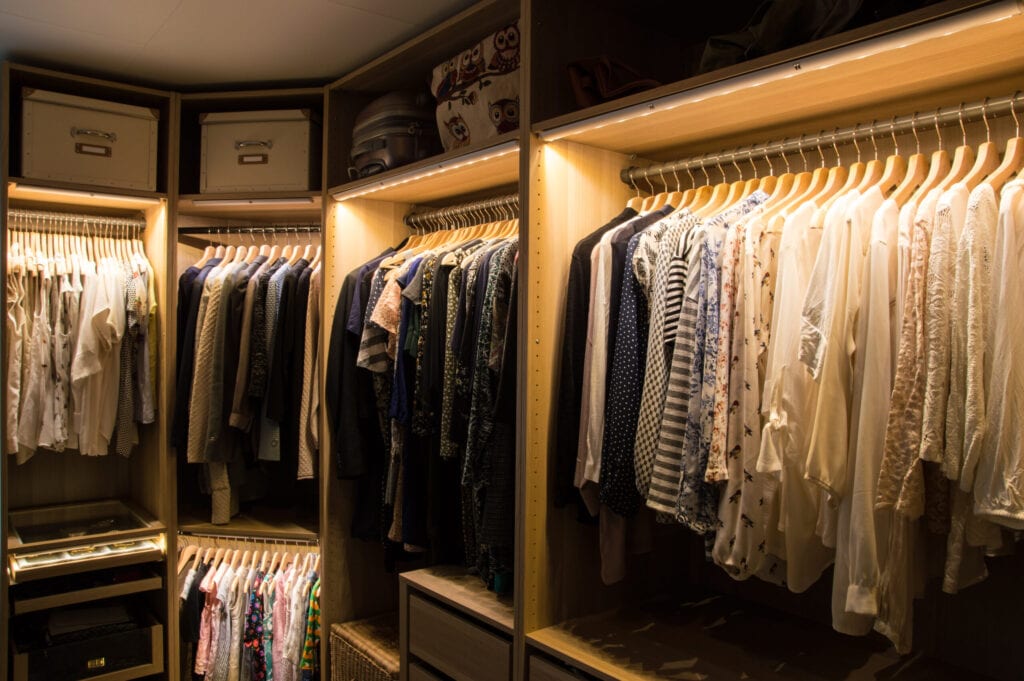 Björn Forenius/ Getty Images
Painting the walls behind the shelves a different color, like Steilish Interior and Lifestyle Design did in this West Chelsea Residence, is one way of adding that little extra to a classy closet space. A closet island might be the perfect shoe storing solution. The materials, colors and textures of this specific closet were chosen as part of an overall design – it's your turn to imagine the ideas in your own favorite colors!
All-White for a Stark Contrast
Having a pure white walk-in-closet might sound scary, but color organization in such a pristine space looks amazing. Choosing white for the closet is an encouragement to keep your clothes color-coded at all times for a soothing effect. California Closets mastered this closet project and we benefit from the inspiration.
And how about comparing design lines, space possibilities, colors and textures with these awesome 33 walk in closets that accentuate your fashion collections?
Please share if you liked our list of inspiring masculine closets. What you share could help someone else build THEIR dream closet. So pay it forward and enjoy the ride!
Sours: https://www.mymove.com/home-inspiration/bedroom/walk-closet-ideas-men-love-image/
Top 100 Best Closet Designs For Men – Masculine Walk-In Wardrobe Ideas
For a neat presentation simply consult a well-kept wardrobe. If you think a coffee can make or break your morning mood, wait till you see these stylish walk-in closets.
There's no doubt about it, women love spacious closets as much as they love shoes.
However, the truth is, gentlemen do too.
What man can truly argue against owning a closet full of Allen Edmond dress shoes in every color? I can't. Just imagine the aroma of fine leather in the air; has bacon has finally met its rival?
Or how about rows of perfectly tailored suits with ties to match in every color, pattern and fabric. All of which are organized to help you look as cool and collected as your closet does.
Let's face it, the last thing any man wants to do in the morning is groggily sort through a messy laundry basket on the floor. While it might be difficult to realize at first, your closet does in fact, reflect your end presentation.
In a sense it's a lot like wearing casual clothes verses a fine suit into the office. How you look and feel about yourself has a huge impact on your hustle at work.
With that in mind, I'd like to show you the top 100 best walk-in closet designs for men below. From hats on racks, shoes on shelves, suits on hangers and more, the ideas to explore are quite literally endless. Not to mention, you'll also find stylish spacious with top notch interior design decor including rich wood cabinetry, marble floors, modern lighting, and more.
Even if you don't have the square footage to give your home a dedicated dressing room, don't worry. In this guide I've also hand-picked numerous small spaces with floor-to-ceiling storage for maximize organization in cramped corners.
CLICK HERE / PART TWO
Sours: https://nextluxury.com/home-design/walk-in-closet-designs-for-men/
16 Dapper Ideas for Men's Walk-In Closets
Gentlemen Only
Organized walk-in closets are not only designed for women, but for men as well. Give your dream guy a closet makeover with this dapper closet space with built-in shelving to store his ties, shoes, clothes and luggage.
Swanky Layout
Designed for the dapper man, this master closet features rows of metal racks to hang jackets, shirts and pants. Spiked pendant lights illuminate the space and complete the stylish, contemporary design.
Spacious Style
On an adjacent wall, drawers provide necessary storage for accessories, while above, ties are arranged by color for an extra spiffy touch.
Well-Lit Wardrobe
Built-in storage fixtures provide maximum storage in this men's walk-in closet. Drawers are stacked below a small window providing some natural light to brighten the room. Shelves provide room for folded clothes and hanging clothes, creating an organized, clean space. The dark neutral tone of the shelves contrasts well with the bright white walls and ceiling.
Dark + Dapper
Tall shelving offers plenty of shoe room, and multiple hanging cubbies keep all shirts and pants organized and unwrinkled. The dark, neutral color is a great shade for this masculine space.
Tailor Made
Though this stylish space is technically a tailor shop, the smart storage and classic touches found in the leather armchairs, perfectly-dressed mannequin and well-appointed decor serve as excellent inspiration for an enviable closet.
Only the Best
This spacious walk-in closet provides ample room to keep clothes organized and readily available. A large skylight keeps the room bright, highlighting the neutral marble floor, double layer hanging space and floor to ceiling shelf unit.
Behind Closed Doors
Enclosed hanging and plenty of drawer space create an organized and uncluttered closet. The beautiful woodwork in this stunning space continues through the hallway arc to the large double vanity. Marble tile with a neutral, grainy finish adds texture to the smooth, traditional design.
All-in-One Closet
This huge double vanity provides plenty of space to store personal items. A cushioned leather stool allows a spot for primping.
Work and Play
Now this is one organized closet! On the left side, the closet houses all of the homeowner's casual clothes, with all of his work/business clothes on the right. The center shelving unit also keeps his casual and work shoes separated, making it easy to decipher where each appropriate item is when he needs it. Flat walnut veneer drawer fronts dress up the off-white shelving unit and offer additional storage for underwear and other accessories. Photo courtesy of California Closets
One Crisp Closet
The details are one thing that makes this closet impressive. Not only is there plenty of space for folded clothes, hanging clothes and shoes, this closet also comes complete with its own Murphy ironing board. It is long and slender, making it the perfect place to press those stubborn collars and sleeves, so that he can be ready to go before ever leaving his closet.
His and Hers
In this shared closet, rich, dark woodwork creates a more masculine touch; however, there is just as much room for organizing things in his closet as there is in hers. Hanging racks accommodate all of his suits and shirts, while a floor to ceiling shoe rack gives him easy access to all of his favorite pairs. Easily customizable track lighting has been installed to shine a light on his favorite things.
Dressing Room Ready
Designer Jillian Harris designed this custom walk-in closet so that everything from socks to shirts would have a proper home. A large floor mirror gives the gentleman a place to check his wardrobe before leaving the house.
Sit and Stay a While
This spacious walk-in closet features a comfy window seat that doubles as a place for extra shoe storage. Dark wood creates a masculine vibe in this chic storage space.
Everything You Need
A contemporary masculine design in this master suite walk-in closet uses built-in rods to utilize hanging space for suit jackets. Surrounding storage easily organizes ties and shoes for effortless access.
Bright Beginnings
This spacious closet provides an abundance of storage space allowing for better organization and less clutter. A mixture of natural window light, track lights, recessed lights and a pendant chandelier fill the room with ample illumination to find the perfect shirt and tie combination.
Sours: https://www.hgtv.com/design/rooms/other-rooms/dapper-ideas-for-mens-walk-in-closets-pictures
Masculine Walk In Closet For Modern Residence
Need ideas for a masculine walk-in closet? Check these rich, dark and luxurious walk-in closets for men. They're amazing.
Source: EasyClosets
While most homes are lucky to have one walk-in closet, some actually have two; his and hers.
Usually if there's one walk-in closet, it's designed in a neutral way for a unisex closet design.
So, if you're a clotheshorse of a guy and a reach-in closet won't cut it so you want a walk-in closet, this gallery is for you.
Related:How to Protect Suits in Closets | How to Keep Spiders Out of Closets | How to Get Rid of Moths in Closets | What Absorbs Moisture in Closets | Best Flooring for Closets
What makes a walk-in closet masculine?
Obviously, you may not agree with all the closets we include in the gallery as being "for men". However, there are some common design elements that qualify a closet as being more masculine. Those elements include:
Lots of wood, usually dark wood;
Tie rack;
Belt rack;
Plenty of half-length hanging areas for suits (men don't need the full length nearly as much as women for their dresses);
Wrist watch and cuff link tray;
Gadget tray (I'd love a proper tray for all tech devices with decent cord storage and organization);
Less shoe storage (maybe); and
Drawers for folded shirts.
Whether you're adding a walk-in closet or designing a closet, below is our extensive gallery of masculine designs.
Photo Gallery
Modular black cabinets along with granite countertop add a striking contrast to the white island that's fitted with drawers and chrome pulls. This walk-in closet has gray walls that blend in with the carpet flooring.
This walk-in closet sports a cohesive look showcasing open shelving in dark wood that matches the paneled walls and hardwood flooring topped by a gray rug. There's a sleek dresser in the middle that's placed against the full-length mirror.
A dark walk-in closet features wooden cabinets and an island with granite countertop matching with the tiled flooring. It includes recessed ceiling lights and a small window covered in roller blinds.
pillows." width="1000″ height="667″/>Light wood modular cabinets surround a large leather tufted seat over carpet flooring. It is topped with a fluffy throw blanket and various styled pillows.
Natural light streams in through the wooden framed windows covered in brown roman shade. This walk-in closet offers dark wood cabinets with high gloss drawers and doors blending in with the beige carpet flooring.
Sleek walk-in closet with a patterned ottoman over a beige shaggy rug along with floor to ceiling cabinets fitted with large mirrors. It is decorated with a tall black vase sitting next to the glazed window that's dressed in a gray sheer curtain.
A gorgeous glass chandelier illuminates this walk-in closet boasting rich wood cabinets and a tribal rug that lays on the beige marble flooring.
Men's walk-in closet features wooden cabinets complemented by a sleek stool over white flooring. There's a mirrored wall on the side that creates a larger visual space in the area.
Ambient light from the recessed ceiling lights creates a warm and cozy feel in this walk-in closet with wooden cabinets and shelves matching with the hardwood flooring.
Long and narrow walk-in closet showcases floor to ceiling cabinets with mirrored doors flanking a built-in table underneath the white framed window.
This walk-in closet offers open storage and a pair of full-length mirrors along with a leather tufted ottoman over beige tiled flooring.
Dark wood cabinets surround a matching island that's fitted with drawers and a black granite countertop. It sits next to the beige pillar that blends in with the carpet flooring.
Small walk-in closet with beige carpet flooring and full height storage in dark wood. It is illuminated by black track lights that are fixed on the regular white ceiling.
Well-lit walk-in closet boasts floating shelving and a dark wood dresser by the picture window framing the outdoor scenery. It is complemented by a plaid ottoman that's topped with a white throw.
This walk-in closet features polished redwood cabinets and a large bench that's topped with gray leather cushion.
Recessed ceiling lights illuminate this walk-in closet offering ample storage and a wooden island fitted with glazed pulls for additional space.
Men's walk-in closet with open shelving and a matching vanity paired with a framed mirror. It is lighted by a wall sconce and a flush light mounted on the wood paneled wall.
You can tell that this is a man's walk-in closet by how the shoe racks dominate the clothes wardrobe. There's additional storage through the dark wood island in the middle that's complemented by a leather lounge chair.
A blue double door opens to this walk-in closet with patterned carpet flooring and floating storage in dark wood that are fixed against the gray walls.
A walk-in closet situated next to the gray upholstered bed showcasing wide plank flooring and a French door that matches the white cabinets and shelves.
Rustic walk-in closet boasts a round stool and a small glazed window above the wooden dresser that's flanked by floating cubbies. It has a wood beam ceiling and hardwood flooring topped by a striped rug.
Spacious walk-in closet with full height storage and a glass armchair paired with a blue side table that stands out against the beige carpet flooring. It is illuminated by stripped and recessed lights fitted on the regular white ceiling.
Men's walk-in closet features wooden cabinets and shelves that blend in with the paneled walls and hardwood flooring. It is complemented by a brown shaggy rug that brings an added warmth in the room.
An abundance of natural light flows in through the full height glazing in this walk-in closet with light wood storage and a small counter on the side fitted with a beverage fridge. It is accented by framed artworks mounted on the white wall.
This walk-in closet showcases wide plank flooring and dark wood cabinets illuminated by stripped lights and recessed ceiling lights. It includes a wooden door that's fitted with a full-length mirror creating a larger visual space in the area.
Cozy walk-in closet with natural wood shelving and a matching island fitted with ample storage. It is topped with modern white vases and a glass countertop.
Interesting sculptures add a sleek accent in this walk-in closet with wooden cabinets and black shelving illuminated by recessed lights.
Warm walk-in closet with brown carpet flooring and a high ceiling lined with crown molding. It is completed with full height storage and a granite top counter fitted with wooden drawers.
The classic walk-in closet offers open storage and a copper cluster chandelier fixed on the tray ceiling. There are ornate cabinets on top that add character in the room.
An angled view of the above walk-in closet showcasing a sleek black lounge chair that sits on a bordered rug over marble tiled flooring.
Spherical glass chandelier illuminates the patterned ottoman that sits on a beige rug over wide plank flooring. It is surrounded by natural wood cabinets and dresser that are fixed against the blue walls.
A small walk-in closet filled with dark wood shelving and taupe cabinets in high gloss finish adding subtle contrast for a lighter tone.
Spacious walk-in closet caters ample storage in dark wood illuminated by track lighting. There are matching islands in the middle that are topped with quartz countertop.
This walk-in closet boasts dark wood cabinets and a black tufted bench accented with coral pillows. It has beige carpet flooring and a glazed window inviting natural light in.
Men's walk-in closet with a galley layout showcasing dark wood storage against the beige walls. It has light wide plank flooring that adds a brighter contrast to the wooden cabinets.
A classy drum chandelier hangs over the wooden island topped with a glass flower vase and a white marble countertop. It is surrounded by matching cabinets and open shelving.
The large walk-in closet features sleek dressers that are integrated with a cushioned seat. It matches the louvered and dark wood cabinets against the beige walls.
Bright walk-in closet illuminated by a contemporary chandelier that hung over the glass top island. It has wide plank flooring and taupe cabinets that blend in with the concrete walls.
Wooden cabinets run throughout this walk-in closet boasting plenty of semi-flush mount lights along with a vintage chandelier that hung over the wooden dresser.
The sophisticated walk-in closet offers wooden cabinets that are fitted with full-length mirrors inlaid with ornate metal borders. It is complemented by a cushioned armchair over terracotta flooring.
Do guys need their own walk-in closet?
It depends on how many clothes you have of course. Even then, it's sure nice to have space. While the ongoing joke is that women have more clothes, accessories, and shoes than men, I think men have more than they think. Typically, our shoes are stored all over the place, but it's sure nice to have them all in one place which is a well-organized closet with excellent and plentiful shoe storage.
Work clothes alone add up. Whether in a trade, have a uniform or wear a suit, you've likely accrued plenty of work clothes over the years.
Then there's casual wear, formal wear, workout wear, loungewear, footwear, hats, ties, belts, summer garb, winter clothes… the list goes on and on.
While I don't have my own walk-in closet, I could certainly have one. My clothes fill up 2 closets plus dresser drawers. My footwear alone takes up a lot of space. Maybe you're thinking I really don't have that much, but when you closely assess, you'll be surprised.
My wardrobe:
I don't consider myself having all that big of a wardrobe. However, for this article I took inventory of my clothes and was astonished to discover I have the following:
8 suits (trousers and jackets)
10 ties
3 belts
30 long-sleeve shirts
6 sweaters
20 short-sleeve shirts
8 workout shirts
5 workout shorts
5 bathing suits (I love swimming)
10 casual wear pants (jeans, dockers and outdoor pants)
3 lounge pants
30 undershirts
25 pairs of underwear
25 pairs of socks (some that need to go)
11 pairs of footwear (crocs, boots, runners, casual and formal)
1 robe
5 jackets/coats
1 pair of ski pants
20 watches (I like watches)
2 pairs of cuff links
When looking at that list, it's no surprise I could definitely use a walk-in closet. Not a grand one, but my own clothing room would be very useful. Currently, my clothes are split among 2 large closets, one dresser, and the shoes… the shoes are all over the place.
I don't think what I have is atypical except the 20 watches.
It's all about organization
While some of our featured masculine walk-in closets are huge and could store as many clothes as a small department store, many of our featured closets aren't really that big. For instance, take a look at the image at the very top of this post. It's a gorgeous walk-in closet built by Easy Closets, but it's not tremendously big. It wouldn't take many clothes to fill it up. The point of such a room for men is that provides excellent organization. Each item has a place and so everything is easily found and well cared for.
How much do men spend on clothes?
Again, there's no universal figure. I can put an approximate price tag on my wardrobe, which is as follows. Please keep in mind that my wardrobe was put together over many years and it could probably benefit from a culling.
When I eyeball my clothes, watches, footwear, etc. it comes in at about $25,000, which isn't a tremendous amount of money.
My suits weren't top of the line, that's for sure. I bought most of my suits shortly after graduating college when I landed a job. I didn't have much money and so I had to settle for inexpensive suits.
A quality suit wardrobe alone can easily cost $10,000 to $25,000 and that's not including another $3,000 on formal footwear, $2,000 on ties, $1,000 on belts and a $3,500 wristwatch. Obviously this is high-end work attire, but that's not unusual these days for corporate jobs; one expected to dress well.
Where did I spend big bucks?
I spent quite a bit on shoes, casual shirts, casual pants, and watches.
I wear jeans mostly and so I buy higher-end jeans because they're more comfortable and fit better. Same thing with shoes. I like watches and so that's a bit of a splurge. I also buy fairly expensive workout gear for comfort purposes.
I would probably spend a lot more on suits if I still needed them for work (I accrued the suits when I had a suit-required job). These days, I wear a suit maybe a couple of times per year. Going forward, when I buy new suits, I'll invest in 2 high-quality suits and leave it at that.
Quality vs. Quantity
I should probably cull my wardrobe. There are many items I no longer wear.
In recent years, I've bought fewer items, but the stuff I buy, I invest in higher quality. I will continue this trend going forward because typically spending more results in a better fit. I'm not sure it will last longer; that remains to be seen.
I'm not sure I'll ever have my own walk-in closet, but I can dream… and looking at the gallery of walk-in closets for guys above certainly inspires me.
Home Stratosphere Giveaways...
Enter to Win Small Appliances
We're giving away all kinds of top small appliances including a Vitamix blender, Instant Pot, Juicer, Food Processor, Stand Mixer and a Keurig Coffee Maker.
Click for Giveaways
Free Coloring Pages & Books for Kids
Free to download and print.
Download thousands of custom coloring pages and puzzles for your kids.
Click for Coloring Pages
Design and Order Your Custom Closet
Check out these 12 best closet design services.
Click Here
Sours: https://www.homestratosphere.com/walk-in-closets-men/
Closet in masculine walk
Outwardly, I did not look like a nerd, having gone to my father with his tall height under 190 cm and a strong physique, very different from my. Classmates in grenadier data and Slavic appearance. I had a lot of Armenian friends with whom I communicated in Armenian, which I spoke as well as Russian, unlike my other villagers, which helped me a lot in my.
Life, and sometimes led to funny and curious cases. I really liked Diana, my classmate, who was three years younger than me.
Simple but awesome DIY walk in closet build (step by step)
This is a completely different conversation. Do you want us to let her go. Okay.
Similar news:
Our lovely neighbor, whom we met yesterday, was very kind to us. I will omit all the formalities (about age, appearance, sexuality. ) In the morning, my husband left for Moscow, and I, as always, woke up.
8880
8881
8882
8883
8884