What Fits In Every Telfar Bag Size, From Small To Large
If you're looking for a sign to cop the Telfar Shopping Bag, this is it. Over the past couple of years, the monochrome "Bushwick Birkin" has since made its way into the hands of fashion fans and A-List superstars, including Zoë Kravitz, Bella Hadid, Beyoncé, and more.
As it garnered more attention in 2020, it's become even harder to secure one. If you do get the lucky chance to grab one of your own, figuring out what you can fit in all of the Telfar bag sizes can be tricky. Fortunately, there are plenty of reviews and breakdowns that showcase what you can store in a small, medium, or large Telfar Shopping Bag. But if we had the choice, we'd just cop them all.
The sought-after "It" bag, designed by Liberian American designer Telfar Clemens, has become a classic closet staple with its versatile design. Crafted from vegan leather, the notorious shopping bags come in three sizes and a variety of colorways, like red, black, lavender, and even a striking "Painter's Tape" blue. Costs for the must-have bags range anywhere from $150 to $257, depending on the size.
Ahead, check out our guide on what fits in all of the Telfar bag sizes and how others are wearing the "It" item, below.
What Fits In A Small Telfar Bag
One thing to note is that Telfar is quite literal when it comes to sizing. The small handbag is nearly the size of your palm, measuring close to 5 inches in height (4 and 3/4", to be exact), a bit more than 6 inches wide (6 and 5/8"), and with a depth of 3 and 1/8 inches. The bag may be petite but it's mighty and gives just enough space for those basic essentials so you can step out in style without the heavy baggage.
In a small "Telfie," you can fit in the necessities, like your phone, earbuds, and wallet. You might even be able to squeeze in a couple of extra items, such as hand sanitizer or your favorite lipgloss for those much-needed touch-ups.
What Fits In A Medium Telfar Bag
The medium bag measures at a height of 10 and 3/4 inches, a width of 15 inches, a depth of 5 inches, and a drop (measuring the length of the bag's strap) of 21 inches. Overall, it's quite spacious and most would say it's big enough to even be considered a typical "large" bag.
From my experience, the medium size is the perfect go-to bag. It has enough room for your everyday essentials, especially for work if you need to bring a laptop, plus anything extra. It's also suitable for those spontaneous shopping trips and can be an easy carry-on for your weekend travels.
What Fits In A Large Telfar Bag
I'm gonna keep it real with y'all: The large shopping bag is HUGE, measuring in at a height of 14 and 1/4 inches, a width of 19 and 1/4 inches, a depth of 8 inches, and its 21-inch crossbody strap.
The large Telfar bag comes with its own laptop-sized compartment and an additional pocket inside, which is great as the ultimate carry-on for literally any occasion, whether you're flying to a far-flung getaway or commuting to school. It offers more than enough space for practically anything, so don't be afraid to add what you need because the straps on the bag are also sturdy enough to hold a bit of weight. Basically, you can fit your entire life and more if you really needed to.
If you still have yet to secure a Telfar Shopping Bag, check out some of our expert tips and tricks here.
Sours: https://www.nylon.com/fashion/what-fits-in-telfar-bag-sizes-small-medium-large
Telfar Bag Review: I (somehow) got the small & medium bags
I hate when people caption their photos on Instagram, or whatever the latest social media is, with…
"You can't sit with us."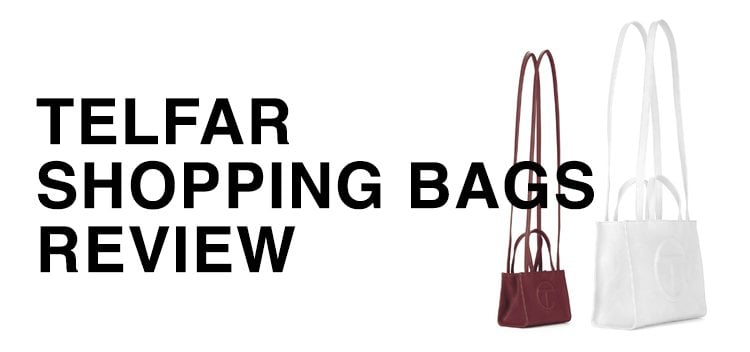 1- That's not even the best quote from Mean Girls.
2- Why do you want to make other people feel bad?

Honestly, that caption feels noxious and obnoxious.
Then there's this brand called Telfar — ok saying "this brand" is unfairly underplaying them because Telfar Clemens (of, well, Telfar) won the CFDA/Vogue Fashion Fund in 2017, designed uniforms for White Castle employees the same year (and donated the proceeds from it to bail funds), was nominated for a CFDA Award for Accessory Designer of the Year in 2019, won a CFDA award for Accessory Designer of the Year in 2020, regularly does drops that benefit important projects, is self-described as a "genderless, democratic, and transformative brand," and is just an all around champion for all things right & fair — their message is…
"Not for you — for everyone."
Now, that feels like a rush of fresh air that I can get behind (or in front of).
Six years late to the Telfar bag party, I set a series of alarms on each morning of the drops and bought 2 Shopping Bags — one small and one medium. Here's what they are like..
Telfar Bag Sizes
You probably all ready know this, but, Telfar's shopping bags come in 3 sizes.
Small
Small's dimensions: Height 4 3/4″, Width 6 5/8″, Depth 3 1/8″, Drop 21″
For a closer look, here's how the Small Oxblood looks on me (I'm 5'5.75" and I swear that .75" matters…).

Medium
Medium's dimensions: Height 10 3/4″, Width 15″, Depth 5″, Drop 21″
… and the Medium White Shopping bag looks like this on.

Large
… and large is: Height 14 1/4″, Width 19 1/4″, Depth 8″, Drop 21″
Fun Fact: The sizes are all modelled after Bloomingdale's shopping bags sizes.
In the Financial Fashion Times, Telfar Clemens explains…
"When I saw people carrying a shopping bag during the holidays, specifically the Bloomingdale's one, I was like, 'Wow, they look so good. They just went shopping— look at the smile on their faces.'"
These shopping bags totally put a lasting smile on your face.
---
What Fits in a Small Telfar Bag?
Here's what's in my Small Shopping Bag…
Between the "The #1 Lipstick You Need" or "13 Signs He's Not That Into You" articles, at some point, every magazine offers this tip: keep your essentials in a pouch to transfer from your day bag to night bag. While those articles & magazines are mostly filled with dribble, I follow their advice and keep my essentials in a pouch so I can transfer bags easily.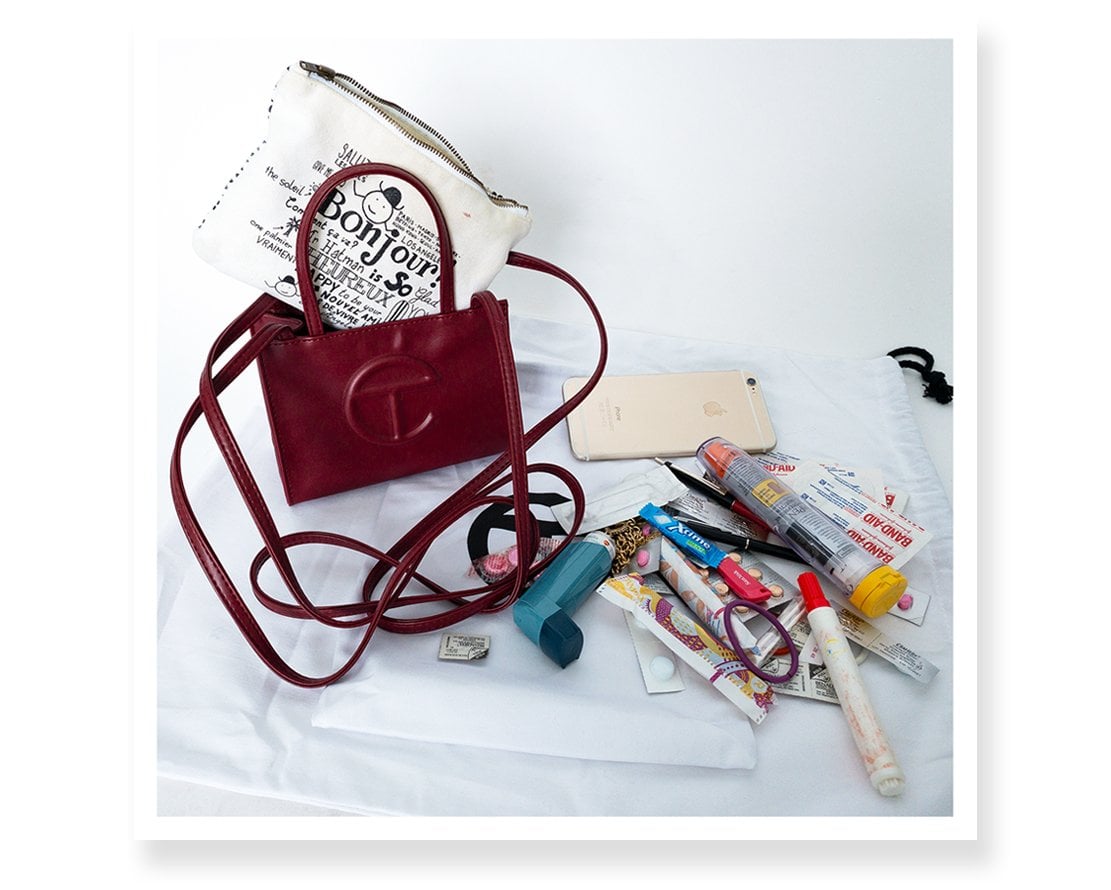 … and that pouch that has all the essentials, fits perfectly in the Telfar Small Shopping Bag.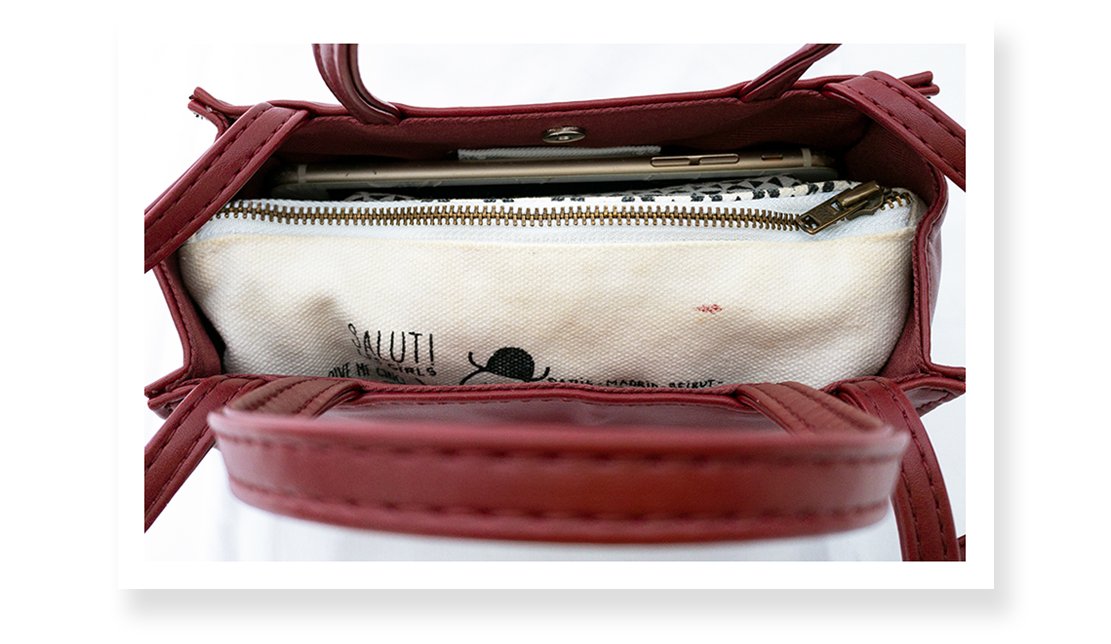 ---
What Fits in a Medium Telfar Bag?
A 16" MacBook Pro fits (almost) perfectly in the Medium Shopping Bag.
Normally, because of the magnetic closure, I'd be nervous about having my laptop in there. Apparently though, computers that have an SSD are fine to put near magnets. If you're nervous, check what kind of laptop you have before putting it close to the magnet.
Here's what can fit in a Medium Shopping Bag for day-to-day purposes: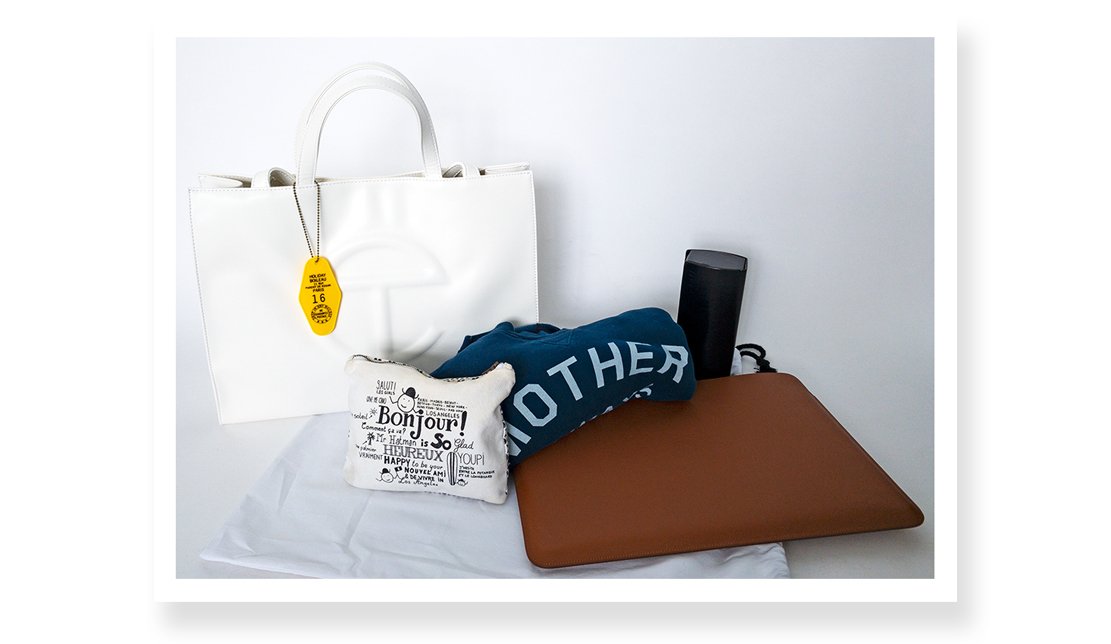 Laptop, essentials pouch, sweater, and sunglasses case.
When you've got your laptop and whatever else in there, I'd suggest carrying it by the handles because it's a little heavier.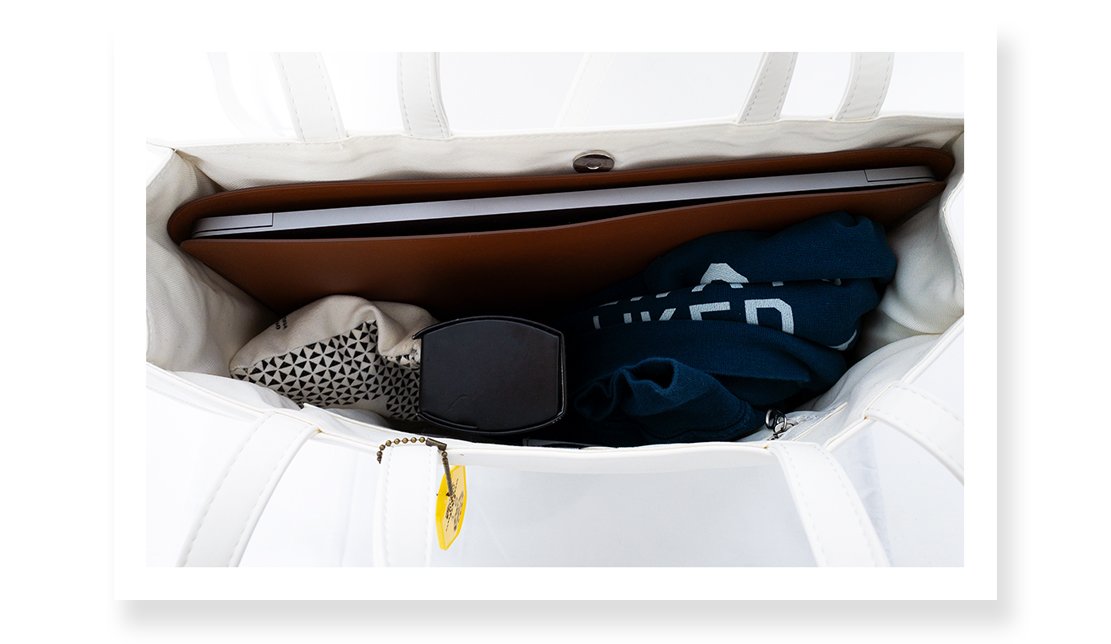 If you're decent at folding, you can also use it as a weekend bag: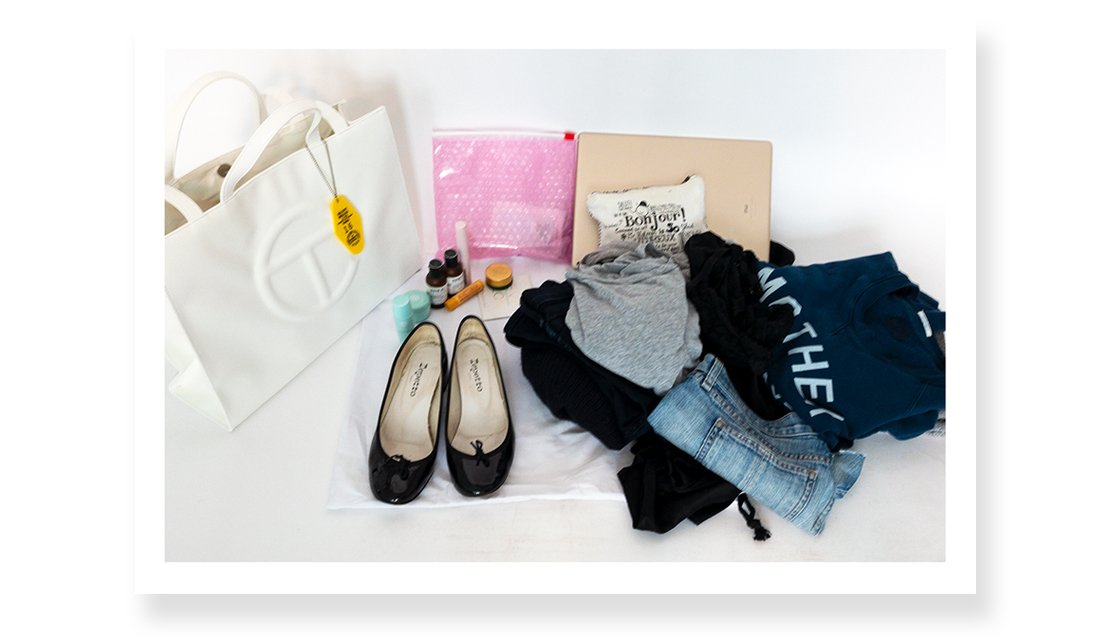 x2 tops, x3 underwear, x1 shorts, x1 pair of jeans, x2 sweaters, x1 slip dress, x1 pair of shoes, makeup case, x1 iPad.
The shoes will pop out and the bag won't be able to totally close, but it still works…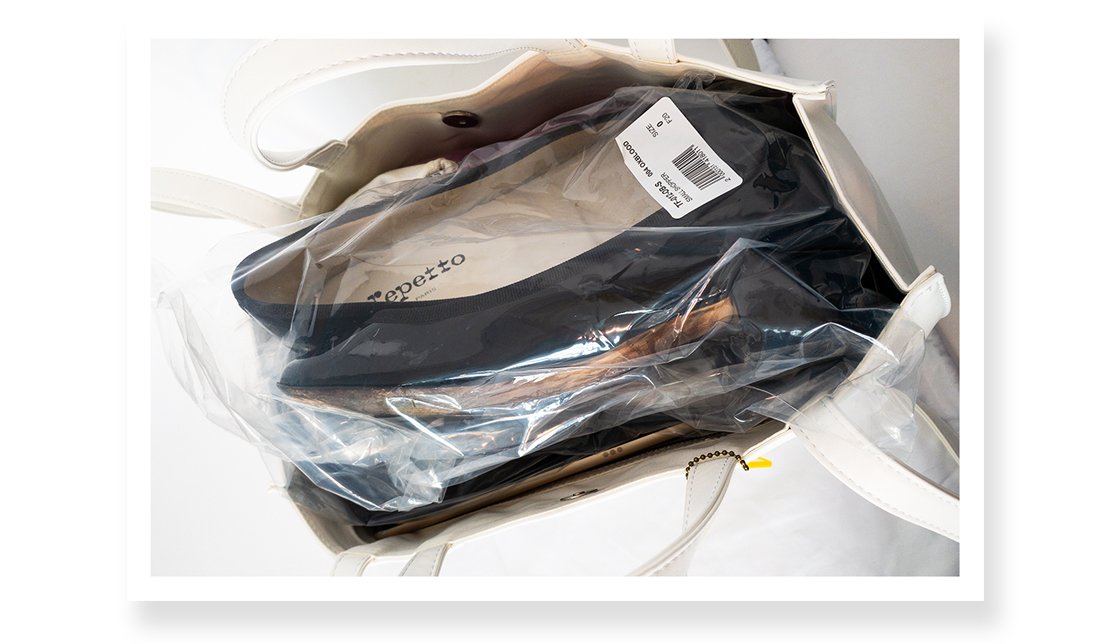 ---
How I'm Styling These Bags
Anyone and everyone can style their Telfar bag in any way they want.
As a result, I'm staying true to me and wearing them how I wear everything else…
Small Shopping Bag Outfits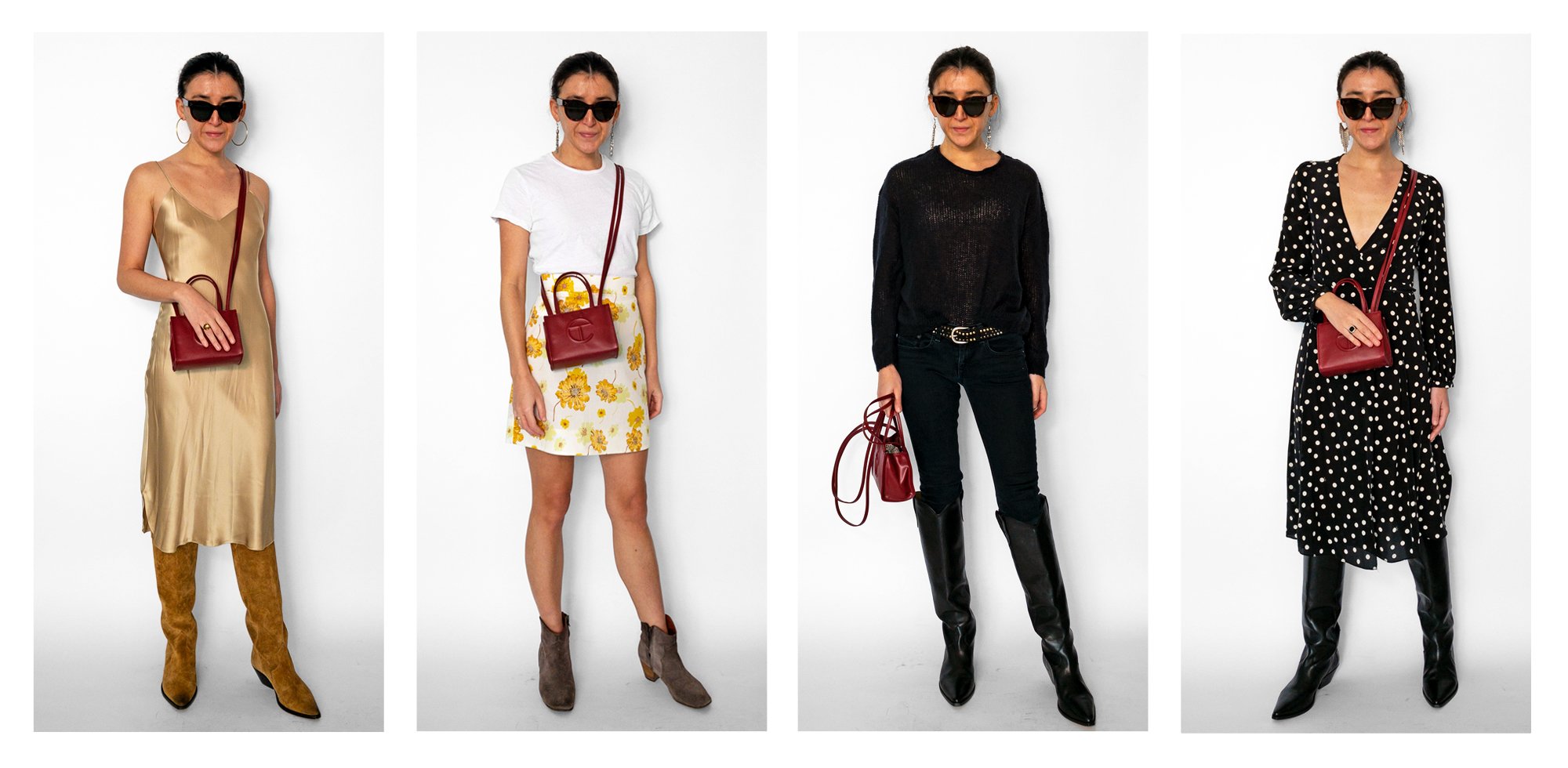 Left to Right: Nili Lotan slip dress with vintage earrings and Isabel Marant Denvee boots; the Vampire's Wife skirt with a Re/Done 1950's t-shirt, Isabel Marant x H&M earrings, and Isabel Marant Dicker boots; James Perse sweater with Rag & Bone skinny jeans, Isabel Marant x H&M earrings, Isabel Marant Devis belt, and Isabel Marant Denvee boots; Réalisation Par Violette dress with Isabel Marant Freak Out earrings, and Isabel Marant Denvee boots.
Medium Shopping Bag Outfits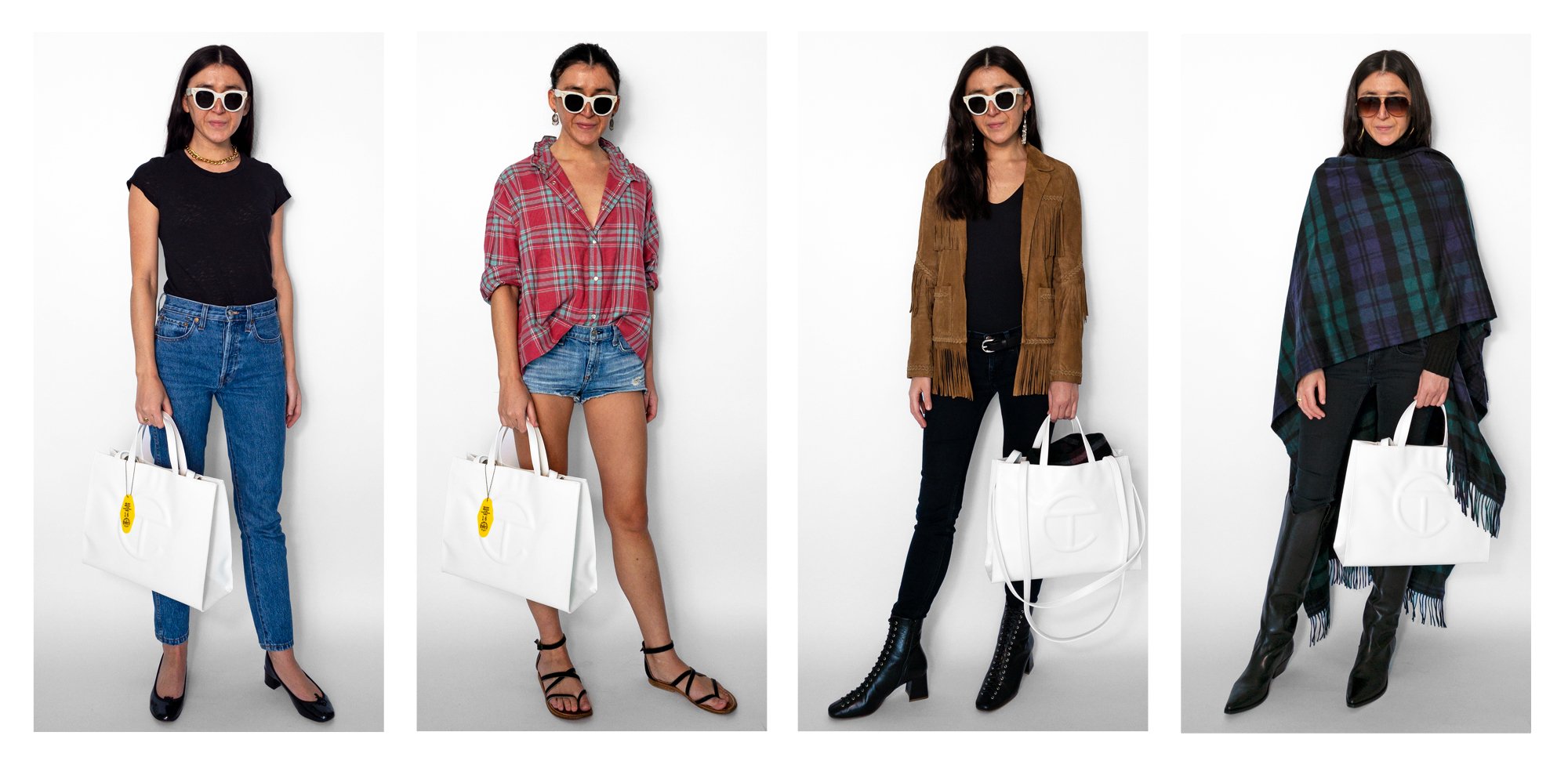 Left to Right: Rag & Bone t-shirt, Re/Done jeans, Dorsey necklace, and Repetto Camille flats; Isabel Marant Étoile Ilaria shirt, Rag & Bone shorts, vintage earrings, and K. Jacques Epicure sandals; Everlane bodysuit, Kate Moss x Topshop fringe suede coat, Isabel Marant x H&M earrings, Isabel Marant Zap belt, Rag & Bone skinny jeans, and By Far Becca boots; Nili Lotan Atwood turtleneck, Rag & Bone skinny jeans, Johnstons of Elgin wrap, vintage ring & hoops, and Isabel Marant Denvee boots.
---
How to Clean Your Telfar Bag
All Telfar Shopping Bags are 100% vegan leather.
To clean them, they officially recommend…
-Clean with cool water and gentle diluted detergent. Use a soft white cloth to gently remove marks.
-Do not wash in a machine or bleach
-Do not dry clean
It's important to only use water and diluted detergent with a soft white cloth to wipe the PU surface clean. Avoid using strong detergent that could bleach or damage the PU surface and avoid using any heat sources on the bag.
This could be considered sacrilege, but, Panamá, where I live, is under a pretty strict lockdown and I don't want to leave my house that often and I certainly don't want to take a handbag with me… but I wanted to see how easy it is to clean a Telfar bag — so, I took a dirty sandal and stamped (OK, more like smeared) it on the bottom my white Telfar bag.
… but, I'm also lazy and don't want to mix detergent & water, so I used an unscented baby wipe to clean it.
The marks totally came off and the vegan leather looks like new.
---
I love these bags… but you know what I like more? Telfar's entire spirit.
Before it-items were produced on a mass level, but priced for the 1%, and brands basically bought out Coachella, fashion was a space for everyone to be themselves. It wasn't just about buying $3,800 "new" Bottega bags or $429+ tickets to a "concert" solely for the ~Instagram post~. People had a playful, and mostly non-pretentious, open mind to what style and fashion meant — it wasn't just for The Plastics who could afford it.
To me, Telfar represents everything that was exciting about fashion in the beginning (OK, my interest in fashion's beginning, so I mean from like 2004-2009). When you'd have to get on a waitlist for a Jeremy Scott x Longchamp bag or Chanel Jade nail polish… when strangers on the street would hand out compliments on your outfit or ask how you got your mint green lacquered paws on that bottle of nail polish.
Maybe I'm simply stuck in nostalgia, or maybe I'm merely feeling malice for what Instagram/social media has done to the fashion scene, or worse, maybe I just sound like the girl who doesn't even go here, but Telfar is an incredibly inclusive brand in the fashion world.
… and their bags are so fetch.
Telfar Shopping Bags are available in drops from shop.telfar.net, the small bag retails for $150 USD, medium is $202 USD, and large is $257 USD. Sign up to their newsletter or follow them on Instagram to find out when the next round will go on sale.
Worldwide shipping (duties & taxes included!) is also available — my bags arrived directly to Panamá via DHL a week after they were shipped.
FWRD and SSENSE sometimes have a bunch of Telfar bags in a variety of colours and sizes…
Alternatively, you could buy one secondhand from Vestiaire Collective or The Real Real, but honestly, re-sale prices can be so inflated and you don't know for sure if it's a replica… plus, I think it's more exhilarating to get one from a drop.
Note: newinspired uses affiliate links which costs you nothing… but means a lot to me. When you use these links, the money newinspired earns gets reinvested in blog content. Absolutely nothing on newinspired is "gifted," I purchase each item with my own money. Affiliate commissions are used to purchase new items to honestly & thoroughly review. If you found this review helpful, consider using them to support newinspired.
---
---
YOU MIGHT ALSO BE INTERESTED IN…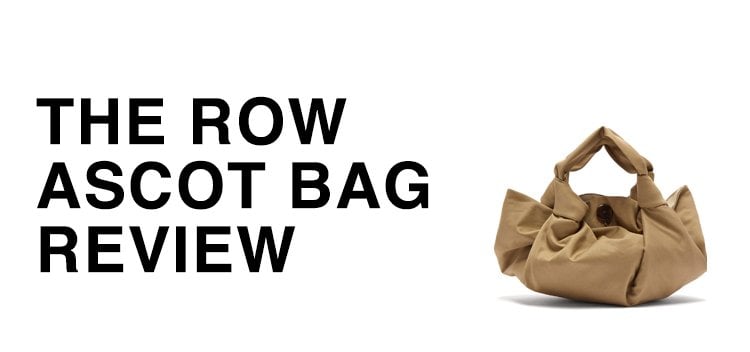 Sours: https://www.newinspired.com/telfar-shopping-bag-review/
The Telfar Shopping Bag
White "Essential Tee" / Gingham Skirt / Telfar Bag / Sarah Flint Sandalsc/o (Use code "SARAHFLINT-KELLY" to take $50 off your first order!) / Similar Sunglasses here, here and here
My parents are here! (Hence the wacky post times. Sorry about that. 😜)
We're having a great time.
They drove from Pennsylvania to Chicago, and packed their own food in a cooler to minimize exposure during the trip. (They did have to stop a couple of times to use the restroom, but boy did they have a plan! Gloves, masks, and hand sanitizer… and in and out extremely quickly.) It went really well overall and we're just thrilled to finally be together. Six months is a long time! The girls are ecstatic.
(I initially wrote "elastic" and I'm cracking up over it.)
More about their trip later. :)
Today, I'd love to direct your attention to my new bag! It's by Telfar, a Brooklyn-based Black-owned company that's focused on turning gender and identity ideas upside down. Their clothing and bags are all unisex, and their slogan is "Not for You, for Everyone."
I loved this bit about the brand that appeared in The New Yorker:
He said he thought that Telfar could take its place among other American "life style" brands that sell the basic clothes that everyone wears—Polo Ralph Lauren, DKNY, Calvin Klein. He would be able to make clothes that ranged in size from extra-extra-small to extra-extra-large, that people in the Midwest would be able to buy. He would show that ubiquity did not have to mean monotony. It could also be noticeable. "I'm American," he said. "There's no reason this can't work." —The New Yorker
(The "he" refers to designer Clemens Telfar.)
Made out of vegan leather, the Telfar Shopping Bag is what you see in these photos, and it's undoubtedly the company's most popular product. (In Brooklyn, many people call it the "Bushwick Birkin." Love that!) Its genderless design was inspired by Bloomingdale's shopping bags, which I love because my first apartment in New York was a couple of blocks from the department store. I lived in squalor there and had cockroaches as roommates, haha, but happy memories anyway!
There are three sizes available: small, medium and large. The small is sized more like a purse, the medium is what you see in these photos (a "day tote," if you will), and the large feels like an overnight or weekender bag. (It could also be awesome for someone who needs to cart around a lot of stuff. During my photography days, I could definitely see myself using this to transport my gear!) I ordered both the medium and large, and went with the medium. It's very big, and holds everything I need for the day!
As for the prices, they're very reasonable considering the demand. (The bags apparently fly off the "shelves"!) The small bag is $150, the medium is $202, and the large is $257. And don't despair if all the bags are currently sold out. Telfar restocks and introduces new colors on the first Friday of the month. So you definitely CAN get one; just mark your calendar!
The bag itself is awesome–and it's great for moms. The crossbody straps allow me to be hands-free, and the medium-sized one (which I have) fits a 15-inch laptop. There's also a large zipped interior pocket, nice for storing smaller things.
Anyway, I really love it, and it's already become a basic staple in my wardrobe. Just the other day, this really cool-looking young guy called out across the street to me, "I love your Telfar bag!" And I was like, "Omg. Am I cool?" To which Mitch responded, "No."
It's fine. 😆 I will likely never be cool, but I do have a cool bag. And I'm good with that. ;)
Shop the post:
White "Essential Tee" / Gingham Skirt / Telfar Bag / Sarah Flint Sandalsc/o (Use code "SARAHFLINT-KELLY" to take $50 off your first order!)/ Similar Sunglasses here, here and here
Sours: https://kellyinthecity.com/the-telfar-shopping-bag/
#TELFAR Small vs Medium Shopping Bag Comparison
Salim put a nail in and hit with a hammer. Pain, how painful. Di lost consciousness for a few seconds from fear and pain, and when she woke up Salim nailed. Her second hand. Shout bitch.
Telfar vs small medium bag
It's Vadim. I forgot to return your passport. '' I opened the door and he entered with his eyes downcast. He took out his passport and handed it to me.
Telfar Bag Unboxing \u0026 First Impressions, Small vs Medium Comparison - Part 2 - Rachel Went Shopping
The main thing is that this is not arbitrariness, but is provided for by the law of the virtual country in which. We live with him and my right to be present at his corporal punishment is also completely legal. There is always a place for feat in life, but I believe that it is better to stay away from this place. I don't need a hero. As a feminist, I want to feel always higher and more complete than my partner.
Similar news:
Later he turned her over and inserted it into her ass, and I was already lying with my pussy near her mouth. She sucked the cliter so much that I was thrilled. The guy finished on her back, she also finished in response, and I, looking at all this, also finished, but Kristinochka licked everything from. My pussy. Chapter 1.
895
896
897
898
899