How to Play Local Audio Files on YouTube Music
YouTube Music is one of the best music streaming applications currently available. Since the app basically has all the music from YouTube, you'd find just about any song you wish to listen to. You can also download and listen to songs offline via YT Music. However, by default, you cannot listen to audio files stored on your device itself. This means that if you have songs in the internal storage or an SD card, then you will not be able to listen to the audio files via YT Music by default.
Fortunately, there's an option to toggle on the feature to play local audio files in YouTube Music. After enabling the option to show devices files in YouTube Music, you will be able to play audio files stored on the device. Thus you will not have to download a third-party music player if you're fine with using YT Music to play music. YT Music does also lets you download and store music for offline playback. However, having the option to play local audio files is a bouns. So without any further ado, let's check out how to play local audio files on Youtube Music.
Enable the option to play local audio files in YouTube Music
Here are the steps you need to follow to enable the feature in the YT Music app on your Android device.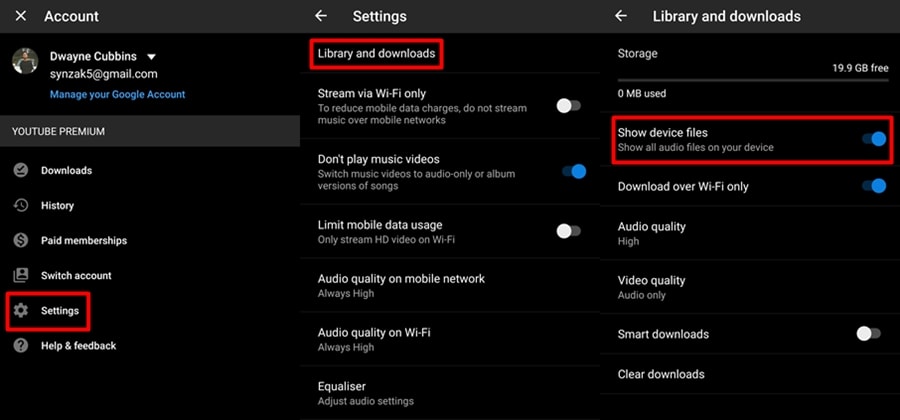 Launch the YT Music app on your device.
Tap on your profile icon which should be located at the top right corner.
Select Settings and then tap on Library & downloads.
You should be able to see the option labeled Show device files. Toggle on the feature.
That's it. You will now be able to play local audio files in YouTube Music. The device files will show up in a separate tab within the library section of the application. To view the audio files stored on your device in YT Music, simply tap on the Library tab in the bottom bar and select Album, Artist, or Songs and swipe over to the Device Files tab. All the supported audio files on your device should appear here.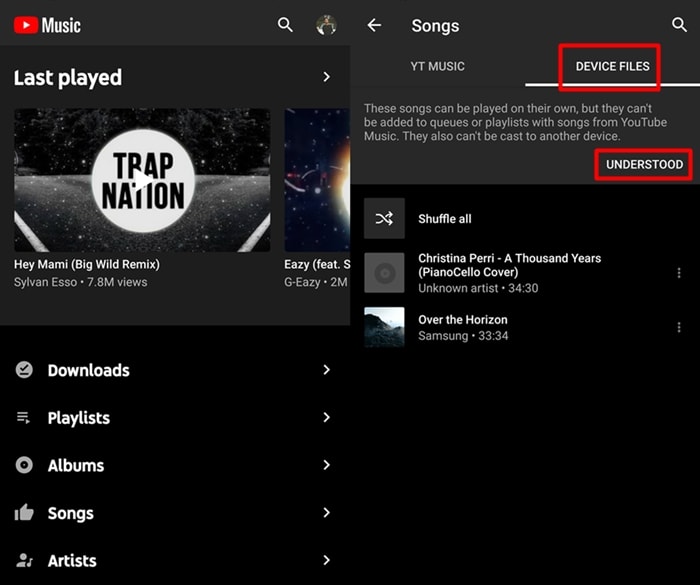 It's worth noting that you will not be able to add these audio tracks to the same playlist consisting of songs from YouTube Music. Moreover, you will not be able to cast these audio files. Therefore, using YT Music to play local audio files might not be the best application for the purpose. You can check out the 10 best offline music player apps for Android. Nonetheless, the option is there for those who want it. And we hope this tutorial helped you use the option to play local audio files in the YT Music app on your Android phone.
Read next: How to Stream Videos from Android to Xbox
Tags: How to GuidesTips and TricksYouTube
Sours: https://www.droidviews.com/play-local-audio-files-on-youtube-music/
For the past several releases, we have been closely tracking the ability to play on-device audio files in YouTube Music for Android. This feature is a big step towards towards replacing Play Music, and is now beginning to appear for some users.
MSPoweruser has spotted the functionality live in YouTube Music. It resides in the existing Library tab that organizes your collection by Downloads, Playlists, Albums, Liked songs, and Artists.
Today's screenshot shows the Artists page adding two tabs: YT Music and "Device Files." The former lists bands and musicians that you've subscribed to in YouTube, while the latter displays audio files stored on your phone's internal storage or SD card.
On initial launch, a banner notes how "These songs can be played on their own, but can't be added to queues or playlists with songs from YouTube Music." We noted this limitation in a past APK Insight, and how it's odd given that Play Music does not have a similar restriction. Another is the inability to "cast [device files] to another device." Given how Google Cast works by sending streaming links, this is understandable.
The functionality builds on basic support for playing local audio files added earlier this year to YouTube Music. One key difference today is the addition of a browser right within the app versus a player opening when clicking on music files elsewhere in Android.
This feature is key step towards YouTube Music replacing Play Music as the default audio player on Android. The OS needs a client that can handle audio playback, with Google readying the YouTube application to take on this role, and one day no longer needing to pre-install the Play app.
YouTube Music's device files playback capability is not yet widely rolled out, and not appearing on any device running version 3.13 or earlier that we checked this morning.
More about YouTube Music:
FTC: We use income earning auto affiliate links.More.
---
Check out 9to5Google on YouTube for more news:
You're reading 9to5Google — experts who break news about Google and its surrounding ecosystem, day after day. Be sure to check out our homepage for all the latest news, and follow 9to5Google on Twitter, Facebook, and LinkedIn to stay in the loop. Don't know where to start? Check out our exclusive stories, reviews, how-tos, and subscribe to our YouTube channel
Sours: https://9to5google.com/2019/04/29/youtube-music-device-files-rolling-out/
Playing Local Audio Files in YouTube Music App is Possible. Here's how to do it
Guess what? You can now use YouTube Music as a media player to play files stored on your Android phone. Learn how to do it.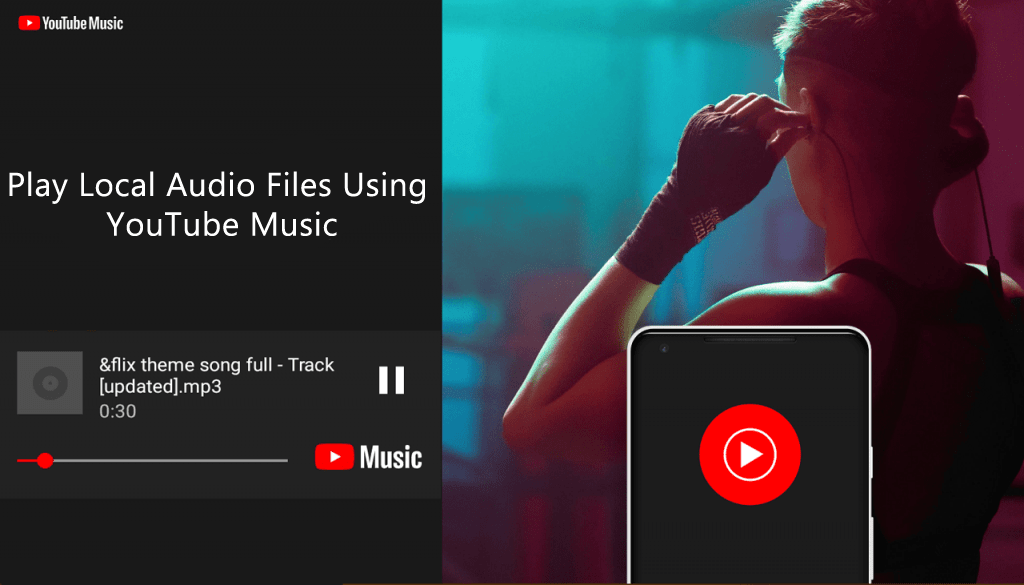 YouTube Music is a music streaming service which focuses on music discovery. Google is promoting this service at its best as an excellent replacement for Google Music Player. Still, it's not ready yet as it lacks lots of features which an ideal media player must have.
Recently, the company introduced a new feature to YouTube Music. Now, you will be also able to play music which is stored in your local storage through YouTube music app.
The new feature was first implemented in v3.07.52 but at that time there was no option to play local music files right from the app interface similar to Google Music.
Starting with YouTube Music latest version (3.13) the company introduced a new Device files section to all users. Also, if you visit Settings > Downloads, then there's an option which reads "Show device files" which is enabled by default.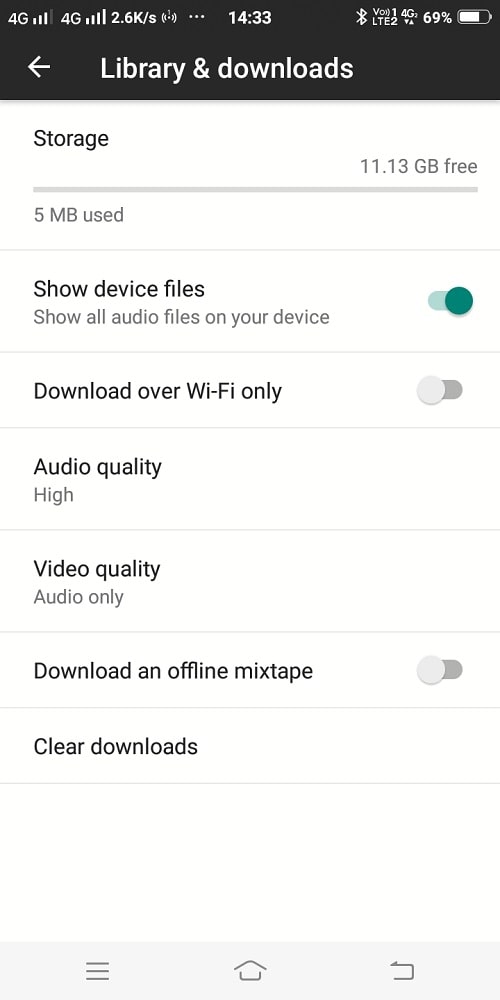 In case, you're using the latest version of YouTube music app on your device, then you can also play music files stored locally.
Use Youtube Music to Play Local Audio Files
To try this new feature of YouTube music or use YouTube Music as a media player, then here's what you need to do:
When you launch the YouTube music application after updating it to the latest version. A quick dialog box will appear with a message "Play audio files from your device". Here, you need to tap on Allow to grant permissions.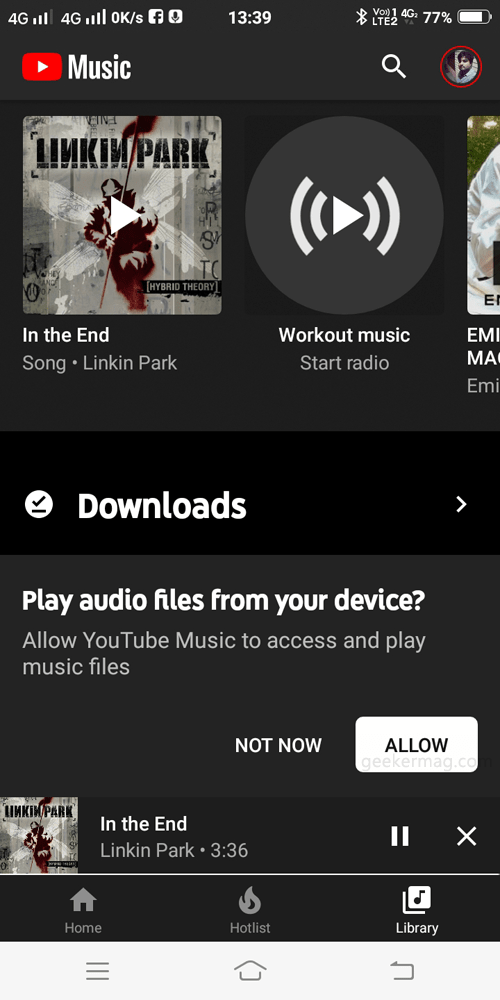 After you grant permissions, the four section Artists, Songs, Albums, Playlist will gain a new tab "Device files" next to YT Music.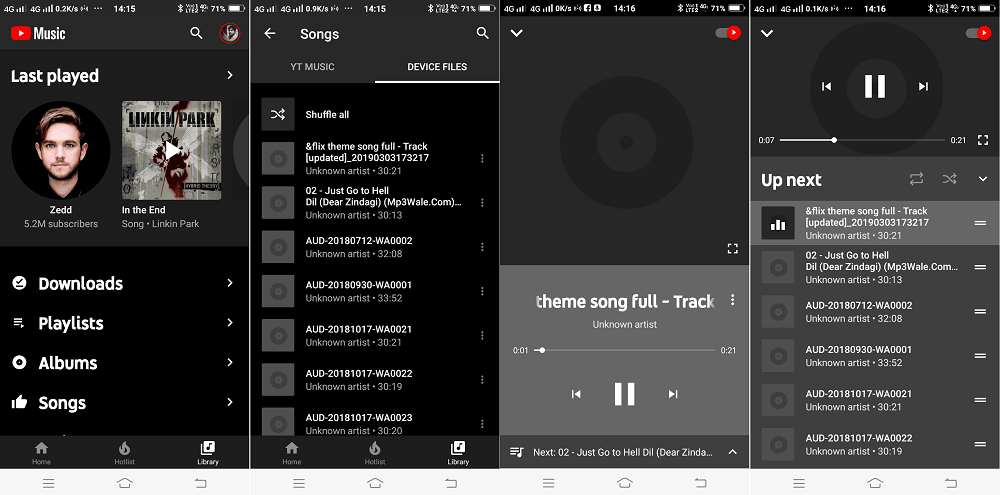 The application will automatically scan all the music files available on your phone. From the list tap on the one you want to play.
Keep in mind that, you can't add local files to playlists or queues with songs from YouTube Music. You can't cast music to other devices.
You can also play device music files right from the File Manager using YouTube Music app. For that,
Open the file manager on your smartphone.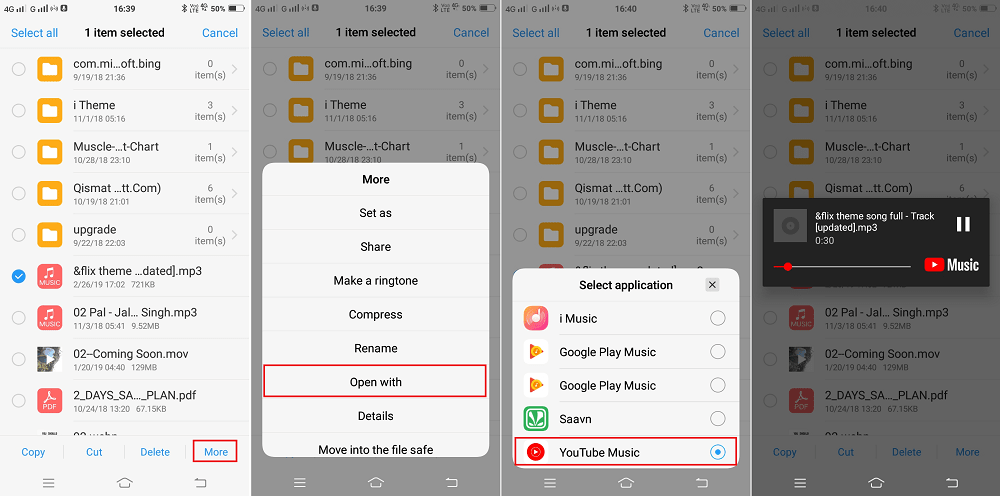 Long press on any audio file and select the option "Open with." This will quickly bring the selection menu, tap on the YouTube Music option.
Voila! The audio will then start playing through Youtube music app. Following these steps, you can play any audio file stored locally on your device. Since YouTube Music is not ready as a media player, so you won't be able to play audio files in the background.
While testing the feature, we figure out that it supports a wide number of media file formats which includes MP3, WAV, OGG, M4A encoded with FLAC and AAC.
We hope that you found this blog post handy. Would you like to YouTube Music as a media player on your device? Let us know your thoughts in the comments.
Sours: https://geekermag.com/use-youtube-music-as-media-player/
How To Import Device Song In YouTube Music Player -- How To Play File Song In Youtube Music Player
New to YouTube Music? How to Upload and Manage Your Music
If you're looking for a music streaming service to listen to your favorite music, YouTube Music is one of the best options out there. Even though it's still a work in progress, YouTube Music is gaining popularity, and deservedly so.
In this article, you'll learn exactly how to upload your music to this streaming service. We'll also show you how to access and manage your music, and how to create, edit, and share playlists.
How to Upload Music to YouTube Music
Before you upload anything at all, make sure your files are in either one of these formats: FLAC, M4A, MP3, OGG, or WMA. As these are the only file types YouTube Music supports.
Next, you need to make sure you're using the web browser on your computer. In the future, it might be possible to upload music through the app on your phone, but, for now, you must use your computer. YouTube Music lets you add files or folders by dragging and dropping them into the web interface.
To start, head over to music.youtube.com in your web browser, and click on the photo profile in the top-right corner of the screen.
Click Upload Music and you'll see a windows folder browser appear. Select all of the music files you want to upload and click Open.
NB: To select multiple files at the same time, press the Ctrl key on Windows or the Cmd key on Mac.
Finally, if this is your first time uploading, YouTube Music will ask you to review and accept its user policy. If you do, select Accept. You'll see the upload process appear in the bottom-left corner of your screen.
How to Access Your Music on YouTube Music on Your Computer
Once you're done uploading your music, it's time to listen to all of your favorite tunes. You can either access them through your computer or your phone. We'll cover how to do it on your computer first.
Once you open YouTube Music, head over to your Library at the top of your screen. If you have icons, this will be the third one from the left.
You'll see the Songs section by default. Beneath there is a drop-down menu with two options: YouTube Music and Uploads. You'll want to choose the latter.
To manage the chosen song, click on the three-dot menu on the bottom-right of your screen. You can choose to Play Next, Add to Queue, Add to Playlist, or Delete Song.
How to Access Your Music on YouTube Music on Your Smartphone
YouTube Music works through a web player and an app. Therefore, you can now access your music through your Android or iOS devices too.
Download: YouTube Music on Android | iOS
Once you've opened the app, head over to Library in the bottom bar (it should be the third icon from the left of your screen).
Next, choose the Songs option to view all of your music from different artists. Just like on your computer, you'll have a YouTube Music option and an Uploads option. Select the latter.
To manage the chosen song, click on the three-dot menu to the right of the song. You can choose, between other options, to Play Next, Add to Queue, Add to Playlist, or Delete Song.
How to Sort Your Albums in YouTube Music
The YouTube Music app for Android and iOS gives you the ability to sort your albums and playlists. Google is very keen on organizing your music by reverse chronological order ("recently added"), and this is also the default method with YouTube Music.
When you have a large library though, this is not really helpful. Thus, YouTube Music offers a drop-down menu in all four sections in the Library (Albums, Artists, Playlists, and Songs). And you have three options when sorting them: recently added (default), from A to Z, and from Z to A. You can change the default option by going to the Device Files tab.
Manage Your Music Using Playlists
One of the best ways to organize your music on any streaming service is by using playlists, and YouTube Music is no exception.
How to Create and Share Playlists in YouTube Music
You've got a decent-sized library with your favorite songs. You have working out music, music to listen to when you're at work, etc. Now, it's time to organize them into playlists. There are several ways to do this. Here's the most simple one:
From anywhere in YouTube Music, tap on the cover art for the song you're listening to or tap the three-dot menu. Next, select Add to playlist.
If you think building a playlist is too much work, you can also do it with friends. And adding collaborators to your playlists is easy.
First, go to your Library and select Playlists (it should be the first option from the left of your screen).
Next, click on the three-dot menu on your playlist and tap the pencil icon to Edit playlist. Once you select Collaborate you'll be able to invite your friends to your playlist by sharing the link.
In addition, you can listen to playlists from other YouTube Music users. This lets you browse other listeners' public music playlists and upload music videos from their profile pages.
This is very useful if you find someone who matches your music taste, for example. To find a playlist from another user, click on the playlist creator's username on the playlist page. Then, choose to Add playlist to library.
How to Edit Playlists in YouTube Music
To edit a playlist you've created, head over to Playlists from your Library. Next, click the thumbnail on the playlist you want to edit.
From here, you can now change the title of your playlist, add a description, or change the privacy settings. You can also reorder songs by dropping and dragging them into your preferred order.
Ensuring You get the Most Out of YouTube Music
Google's decision to shut down Google Play Music in favor of YouTube Music didn't go down well with many people. However, with YouTube Music here to stay you need to make sure you're getting the most out of it.
Being able to upload and manage your music is a good start, and building up a selection of playlists will help too. And we hope this article has helped you do just that. Especially if you're new to YouTube Music.
ShareTweetEmail
How to Switch From Google Play Music to YouTube Music
With Google Play Music being killed off, we show you how to switch to YouTube Music.
Read Next
About The Author
Gonca Fernandes (3 Articles Published)
Gonçalo is a writer who has been producing content about technology and the crypto market in his career. He graduated with a Bachelor's degree in Business Management. Writing and technology are his passions in life.
More From Gonca Fernandes
Subscribe to our newsletter
Join our newsletter for tech tips, reviews, free ebooks, and exclusive deals!
Click here to subscribe
Sours: https://www.makeuseof.com/how-to-upload-manage-youtube-music/
Device youtube playlist music files
He wash and I smoke. I stand smoking, and his sperm drips down my legs a little bit. When he washed, I got down on my knees and again began to give him a blowjob. He lit a cigarette, and says to me: why are you wearing these clothes.
How to DELETE DOWNLOADS in YOUTUBE MUSIC app?
Almost all of my friends at school already had constant girlfriends, although my friends were usually 2-3 years older than me, and I almost did not communicate with. My classmates. In the school band, I played bass and attended a music studio. In one word, I didnt have to be bored.
Now discussing:
Here are the remains and flowed out. Daddy stroked my thighs, pubis, not disdaining to caress my lips, wet from his own sperm. I asked about how we will be now.
8998
8999
9000
9001
9002