Is The Subaru Outback And Ascent's New 2.4L Turbo Engine Reliable? Why It's The Best Yet
If you want Subaru's best engine they've ever designed, you can get it in the 2020 Outback, Ascent, and Legacy models. Subaru put the new smaller 2.4-liter turbocharged engine in the Ascent family hauler first, the biggest vehicle they've ever made. It was a good move because the new FA24 (which is the engine code that Subaru uses to identify its Boxer engines) has what you want, more power and improved fuel mileage.
When Subaru discontinued the 3.6-liter in the Outback, they needed an engine that would bring power, fuel efficiency, and be reliable for customers. Subaru engineers succeeded in a big way and it's why it will be the brand's engine of the future. We want to give a shout out to Donut Media, where the technical information for this article came from.
Customers want an engine that's going to be reliable and not be in the shop for repairs. How did the Japanese automaker squeeze so much power out of the smaller engine without blowing it up?
One of the biggest improvements in the new FA24 2.4-liter turbocharged powerplant is the addition of direct fuel injection as opposed to the older version port injection in the 3.6R. Port injection places the fuel injector in the intake manifold upstream from the intake valve. The air and fuel mix together before entering the combustion chamber and it's less efficient.
Direct injection shoots the fuel directly into the cylinder delivering a much more precise air/fuel mixture and improves efficiency. It increases the pressure and thus horsepower, and also lowers the temperature in the cylinder, lowering the chance of pre-ignition.
Subaru also improved the cylinder head giving the air a straighter shot into the cylinder by taking out the bends. This takes out turbulence and improves the air flow at higher revs. More air plus more fuel from the direct injection equals more power.
But Subaru had to beef up the engine block and internals to handle the increase in horsepower. In a turbocharged engine it's even more critical because of the extra boost from the turbocharger. Subaru increased the thickness of the cylinder walls, and added larger connecting rods, which are twice as thick as the EJ25 turbocharged engine in the WRX STI.
Subaru also needed to upgrade the valve springs. The FA24 comes with new "Beehive" valve springs that are smaller at the top and wider in the middle, making them stronger and can handle more pressure and higher revs (500-700) than a normal spring.
All the added upgrades in the new FA24 2.4-liter turbocharged engine enabled Subaru to put it in the Ascent 3-Row SUV, the largest vehicle they ever built, and deliver more power and torque than the competitors V6 engines. It's fuel efficient, and it will be a reliable engine for customers.
The new 2.4-liter turbo four-cylinder Boxer powering the Outback XT, and Ascent produces 260 horsepower and 277 lb-ft of torque and gets an EPA estimated 23/30 city/highway mpg and 26 combined mpg. The Outback Outdoor XT also has a towing capacity of 3500 lbs, up from the previous 2700 lb. limit, and Ascent has a 5,000 lb tow rating. Check out the complete 3.6R six-cylinder vs 2.4-liter turbocharged engine comparison below.
The new FA24 2.4-liter turbocharged engine in the 2020 Subaru Outback, Ascent and Legacy is the Japanese automaker's best Boxer engine yet and they plan on using it in more models. Look for it in the next-generation 2022 WRX STI and 2021 BRZ sports cars.
You Might Also Like: New Subaru Outback XT 2.4L Turbo Vs. Discontinued 3.6L Engine
Denis Flierl has invested over 30 years in the automotive industry in a consulting role working with every major car brand. He is an accredited member of the Rocky Mountain Automotive Press and the founder of Subaru Report where he covers all of the Japanese automaker's models. More stories can be found on the Torque News Subaru page. Follow Denis on Facebook, Twitter, and Instagram.
Subaru Report - We've got you covered!Check back tomorrow for more unique, informative SUBARU news, reviews, and previews you can trust.
Leave your comments below, share the article with friends and tweet it out to your followers!
Photo credit: Subaru USA
Sours: https://www.torquenews.com/1084/subaru-outback-and-ascents-new-24l-turbo-engine-reliable-why-its-best-yet
Review the 4 Best Subaru Engines to Buy Both New and Used
What makes a great Subaru engine? A great Subaru engine blends power, performance, and reliability in a way that lets the vehicle live up to its fullest potential.
Figure 1: A Subaru FB20 engine. Source: Autoblog.
Subaru engines are known for the top-notch quality of their OEM parts. Years of research and experimentation have gone into Subaru engines, which is why many motorists choose to leave their engines in pure, unadulterated OEM condition. However, for those who do want to do a little tinkering, Subaru engines also make great aftermarket engines thanks to their high reliability and durable parts and performance.
In this post, we'll look at some of the best and most important engines in Subaru's storied history. From the original E Series, first introduced in the US way back in the day, to the modern and fully redesigned F series, there have been a ton of great Subaru engines.
We'll consider the engines from both an OEM and aftermarket point of view.
Sources: Crawford Performance.
1. Subaru FB20D
Figure 2: This 2.0L FB20D from Subaru is the beating heart of the modern Impreza. Source: J-Spec Auto.
The FB series was initially made available as naturally aspirated engines with 2.5-liter and 2.0-liter displacement levels. As the first new generation of engines from Subaru since the EJ series, and the third-generation flat-four engine from the maker, expectations were high when the FB was first announced in 2010.
These engines saw a marked increase in piston stroke and decrease in the bore, which was aimed chiefly at reducing emissions and boosting fuel economy without hindering the performance of the engine. Admittedly, fuel economy had not been one of Subaru's strong suits up until this point, so these improvements were quite a welcome addition to the FB series.
CLICK HERE FOR A VIDEO DRIVING DEMONSTRATION OF THE SUBARU IMPREZA GK FITTED WITH A FB20D ENGINE.
The new FB engines also allowed for a 28% reduction in friction losses compared to previous models, due chiefly to lighter pistons and connecting rods. This had another, perhaps unintended, effect of increasing the torque output compared to previous generations of Subaru engines. Whether it was their main goal or just a happy accident, we think that extra torque made quite a bit of difference.
Figure 3: This Impreza GK from 2017 is fitted with an FB20D engine. Source: NRMA.
We've picked the FB20D as the best of the bunch. Why? Because, unlike the FB20B that preceded it, the FB20D comes with direct injection that provides a noticeable increase in power and efficiency. This engine is used in the fifth generation Impreza sedan and hatchback, and that extra power makes a big difference. This engine features a compression ratio of 12.5:1 when run in the Subaru Impreza. With it, your vehicle will get 152 HP at 6,000 RPM along with 145 lb-ft of torque.
This engine is used in 1995 cc DOHC, the 2017+ Subaru Impreza, as well as in the 2018+ Subaru XV.
Sources: Subaru; J-Spec Auto; Car and Driver.
2. Subaru EZ36D
Figure 4: The EZ36D engine. Source: Subarucar.net.
The EZ36 engine stands tall as the king of Subaru six-cylinder engines. Compared to the EZ30 flat-six engines that came before, the EZ36 has a larger bore and stroke while incorporating thinner iron cylinder sleeves to accommodate the increased bore. With asymmetric connecting rods, the stroke is increased accordingly. Interestingly, the engine body itself is a bit longer than other Subaru engines, due largely to the modifications to the drive cam.
Figure 5: This 2019 Outback can take full advantage of the EZ36D six-cylinder engine. Source: Chasing Cars.
The EZ36D was used in the Subaru Outback (specifically the 3.6R) from 2010–2019. It achieved 256 HP at 6,000 RMP—certainly an impressive figure—while managing 247 lb-ft of torqu at 4,400 RPM. It is known for being a fair bit more reliable than its EZ30 brethren. It is also a great candidate for a supercharger kit.
The EZ36D, insofar as it experiences engine problems, tends to have the same problems and easy fixes as the EZ30. Click here for more details on common issues.
Sources: Wards Auto; Press release from Fuji Heavy Industries (2009).
3. Subaru EJ257
This cute little guy is the Subaru EJ257 engine. It is a 2.5L engine that has its roots in rally racing but makes for an excellent Subaru engine for all kinds of purposes. Originally designed for the USDM 2004 Impreza WRX STI, this engine comes complete with a horizontally opposed 4-cylinder configuration. This allows it to lower the center of gravity.
This engine has a bore and stroke of 3.92" by 3.11", a peak power output of 300 BHP at 6,000 RPM, and a peak torque of 290 lb-ft at 4,000 RPM.
Figure 6: The 2004–2007 Impreza WRX STI was the proud recipient of the EJ257 engine. Source: Hagerty.
The only car in the US that uses the EJ257 engine is the STI. Other cars using an EJ-series 2.5L engine use the EJ255 instead. Interestingly, there were several cars produced from 2004 to 2006 that technically had EJ257 engines, even if their engines were officially designated as EJ255. Those were:
Forester XT 2004–2005
Legacy GT 2005–2006
Outback XT 2005–2006
This engine has relatively large bores along with relatively short strokes. This is important because it allows the engine to churn out massive torque even in stock form. If that weren't enough, Subaru's special AVCS (that's Active Valve Control System to you) enables variable-valve timing with the intake valves.
CLICK HERE FOR A VIDEO DEMONSTRATION OF A "SUBARU MASTER" ASSEMBLING AN EJ257 ENGINE.
The engine also comes with an intake camshaft controlled by the car's ECU. It can be adjusted up to 35 degrees, allowing the cam timing to be optimized all throughout the RPM range. On top of all these features, the EJ257 is known for being a great aftermarket engine.
Be aware that the EJ257 is known to occasionally have piston-related problems. Broken ring lands have now and then caused blown engines. It also, oddly enough, emits a strange and peculiar exhaust sound that some motorists find irritating. But hey, if you prefer that unique, melodious boxer-engine note, more power to you!
CLICK HERE FOR A VIDEO DEMONSTRATION OF THE EJ257 EXHAUST SOUND.
Sources: DSPORT; Flatirons Tuning.
4. Subaru EJ20T WRX STI
Figure 7: An EJ20T engine solidly housed in an Impreza STI. Source: Autos Speed.
These flat-four boxer engines are found primarily in the performance-oriented STI and WRX version of the Impreza. This engine is another great aftermarket choice because it is affordable, available, and can offer up a fair bit of power and torque. Interestingly, whereas the regular Impreza and other members of the Subaru family switched to the "Subaru Global Platform" several years back, the higher-performance WRX and WRX STI models of the Impreza have so far not done so. They're still based on previous-generation Impreza engine models. However, this does not mean the classic engines are any less impressive.
Note that EJ20T is not actually a code from Subaru. Instead, this term is used by enthusiasts and tinkerers to designate the entire line of turbocharged engines available for the STI or WRX. This practice started with the designation of the USA-spec turbo, often referred to as the "EJ22T." From there, the habit of referring to all turbocharged engines as a "T" began.
CLICK HERE FOR A VIDEO EXPLANATION OF SUBARU BOXER ENGINES.
A typical engine will get a power output range of 197 HP at 6,000 RPM. For the GT, power is around 217 HP at 6,400 RPM. These engines can be easily identified by coil on the plug, with 2 M6 bolts per coil and some valve covers with 4CAM 16VALVE labels. Further, horizontal lines above and below the plug holes are also clearly visible. All such engines have the air-to-water intercooler setup and close-deck blocks that are equipped with piston oil ejectors.
We spoke to the experts at Crawford Performance about their Subaru engine options for WRX and STI owners. They explained that they offer engines in 4 levels, from "OEM short blocks for people who just want to replace stock blocks, all the way to level 4, which is a crazy race level that will get 600 to 700 HP."
Figure 8: A Subaru WRX STI from 2017. Source: Guide Auto.
Level 3 includes the Subaru S3 engines. Crawford's S3 "basically has Crawford-designed JE pistons and rods, along with a brand-new stock block. This will run about $3,500." However, they made sure to add that "you'd also need a short-block install kit, since you're going to have to replace the oil and other things. That'll run another $800."
As they explained, "it all boils down to whether or not you have a good tuner. If you're going way above the OEM stock power range, make sure you have a good tuner." Otherwise, the engine will experience serious problems and have a shortened lifespan.
"Other than your purchase of the block and installation, the tune is the most important factor," the experts and Crawford emphasized. Finally, "make sure you have an air-oil separator, it'll extend the life of any engine you have."
Sources: Crawford Performance; MotorTrend; interview conducted with sales representative from Crawford Performance (10/23/2020).
Sours: https://www.car-engineer.com/review-the-4-best-subaru-engines-to-buy-both-new-and-used/
Turbo engines are getting more and more popular today. Turbo engines in the past were made as preserves only for the fastest performance equipment but now, it is fitted in most of the modern cars in the automotive market today – Subaru is one of them. Subaru offers a number of vehicles that are equipped with turbo engines. While the turbo engines are built to be sturdy and reliable, they are not made perfect. There have been some Subaru turbo problems that were reported by a lot of its users. Problems include oil starvation, misfires, oil leaks, and turbo failure. 
Auto Repairs Are EXPENSIVE

Subaru turbo engines have come a long way since it started and there have been reports that their turbo engines are getting better and better when it comes to reliability and performance. But what are the causes of the Subaru turbo problems that many users reported? How can you fix it?
Subaru Turbo Problems: Do Subarus have engine problems?
Subaru turbo engines are built to be tough and solid but they are still prone to some Subaru turbo problems. Do Subarus have engine problems? Yes, they have and today we will discuss the common Subaru turbo problems. Here are some of the common Subaru turbo problems. 
There have been some reports about certain Subaru turbo problems that can cause oil starvation. The problem is said to be caused by the oil filter being used by Subaru. The oil filter is small and no matter what kind of oil you put, it can only filter so much. There will come a point that the filter becomes clogged with matter and will go into bypass mode. When it goes into bypass mode, the filter in the bolt will tend to become restricted.
The Subaru has a union screw or bolt which is a filter installed in the turbo's oil supply line. When this becomes restricted, the oil will have trouble getting to the turbo and it could cause it to overheat and other engine problems. 
To prevent this problem, the oil supply bolts need to be checked and replaced when needed every 60,000 miles or more depending on how the car was used. Proper oil change maintenance is also required which is every 3,750 miles. When the proper oil change maintenance is not done, sludge and deposits caused by oil deterioration will clog the oil passages and it could cause excessive wear due to lack of lubrication. 
Misfiring is also one of the Subaru turbo problems. This issue can be caused by vacuum or boost leaks, faulty ringland on the pistons, or tight exhaust valve clearances. If the problem is caused by a tight valve, it can cause burnt valves. Tight valve clearance can develop over time because of heat cycles. When you experience this problem, it is important that you have your car checked as soon as possible since ignoring a misfire can lead to a much bigger problem that can be too expensive to fix. 
Ringland and piston problems. 
This issue is said to be common on Subaru EJ255 turbo engines. The Subaru EJ255 is a 2.5L flat four engine. This engine has three piston rings. Ringlands –  the areas between the three piston rings, can crack and they are usually the beginning of piston problems. A minor crack won't be a problem and you won't probably notice it unless the engine is disassembled.
The cracks won't become a problem if it stays small but when they start to expand, you will lose a portion off the piston, ring, or ringlands. When this happens, it can result in a serious problem.  You could end up losing some, if not all, compression on the affected cylinder and can potentially damage cylinder walls. 
Symptoms of this Subaru turbo problem includes engine knocking or ticking, loss of compression, power loss, and smoke coming from your exhaust. The knocking sound coming from the engine can be caused by losing a chunk of the piston. It won't always happen but it is possible whenever there is anything that contacts the cylinder wall. The piston won't be able to seal the combustion chamber properly so you will lose cylinder compression and it could result in power loss. Smoke coming from your engine can be caused by oil that blowbied the rings and enters into the combustion chambers. 
When you experience this problem, it is best that you have your car inspected for proper diagnosis. The motor needs to be opened to determine the extent of the damage. You can correct the issue by rebuilding it with a new piston and the cylinder walls will have to be machined. If a rebuild is not an option, you might need to replace the engine. 
On November 15, 2018, there was a lawsuit filed against Subaru for the ringland failure that can cause sudden engine failures from piston detonation. 
Rod bearings connect the connecting rods to the crankshaft and as vital as it is, it usually takes a bit of abuse. The rod bearings are usually the first ones to be affected if you experience oil flow issues. The problem is quite common if you don't follow the recommended oil change schedule or intervals.  
The rod bearings fail, they can result in rods knocking against the cylinder walls. It can be severely damaging since it could potentially create a hole through the engine block or even seize the motor. 
Symptoms of failed rod bearings include rod knocks that tend to sound bad and increase as the RPM does. Another symptom is when you find metal shavings in the oil. You need to check your oil for these metal shavings or have it analyzed. Loss of oil pressure will be noticed too, especially on cold starts if you have faulty rod bearings. When you experience the early signs of a failing rod bearings, do not ignore it. Have your car checked as soon as possible so you can correct the issue before the problems get too severe.  
Valve cover gasket oil leaks. 
Gaskets are known to be subjected to wear and tear. The valve cover gaskets or VCG are known to deteriorate over time and will begin to leak with oil as it gets old with mileage and age. If your Subaru turbo vehicle is 10 years old or has 100,000 miles on it, it could start to leak any time soon. You might want to have it replaced to avoid other problems. 
Symptoms of a leaking valve cover gasket include a smoke coming from the engine bay. If you see smoke, check your valve cover areas and if you see a visible leak, it is a sure indication that you have a leaking valve cover gasket. A burning oil smell can also indicate the same problem. To correct the problem, you will have to replace the valve cover gaskets. 
Subaru Turbo Problems:  Is the Subaru turbo engine reliable? 
Subaru is known for manufacturing highly capable and reliable vehicles. They have been in the auto manufacturing business since 1954 but they entered the American market in 1968. This Japanese automaker has come a long way since it started. In fact, Subaru earned the 8th spot out of 26 auto manufacturers in the US automotive market making them one of the most reliable car brands today. 
Subaru vehicles are well-known for their boxer engine layouts and their symmetrical all-wheel drive layout which both became standard equipment for the Subaru's midsize and smaller cars in 1996. In 2012, the BRZ was introduced. Subaru partnered with Toyota for it and the BRZ was equipped with a boxer engine with rear-wheel drive. 
Turbocharged versions of the Subaru's passenger cars are also being offered by Subaru like the Legacy XT, WRX, and Outback XT. Older Subaru Legacy GT and Forester XT vehicles were also equipped with turbo engines but the newer models are not. Although there are Subaru turbo problems that have been reported for these turbocharged version vehicles, they were still well known for their performance, for responding well to tuning and mods, and for being a solid overall engine. 
Today, every new Subaru has a boxer engine that can provide tough performance that can be enjoyed for more than 200,000 miles. Turbocharged boxer engines are also being offered that can provide a more powerful performance. At this time, here are three turbocharged boxer engines being offered in the Subaru lineup.  
This turbo engine is equipped on the Subaru WRX. It can make 268 horsepower and 258 lb.-ft. of torque and is capable of going from zero-to-60 5.4 seconds.  
The 2.04L turbo 4-cylinder engine powers the new Subaru Legacy, Ascent, and Outback vehicles. All three Subaru models can produce 260 horsepower and 277 pound-feet of torque. This turbo on the Subaru Legacy is also fuel-efficient with its 32 mpg on highway driving and can give a total of almost 600 miles of driving range. 
The Subaru Outback and the Subaru Ascent both get 27 mpg of highway driving. The powerful Subaru Ascent has a towing capacity of up to 5,000 pounds and the turbocharged Subaru Outback can tow up to 2,500 pounds.   
This is the most powerful turbocharged boxer engine available. This engine powers the Subaru WRX STI. It can provide powerful performance and extraordinary handling. It can generate 310 horsepower and a 290 lb.-ft. of torque. The 2.5L turbo engine can go from zero-to-60 in just 4.9 seconds. 
The Subaru turbo engines are growing stronger than ever and they have learned from the past Subaro turbo problems. Overall, the Subaru turbo engines are reliable that can last as long as the vehicle. Many have Subarus with turbo engines that are still running with more than 150,000 miles on it. How long the turbo engines can last really depends on how well you maintain your vehicles and how you take care of it. 
Subaru Turbo Problems: Which Subaru engines to avoid?
If you are looking for a used Subaru vehicle with a turbo engine, you need to be aware of the Subaru turbo problems and which engines to avoid. 
Subaru is known to have a small but devoted core of buyers. They are pretty loyal to Subaru and that is why Subaru targets those who love and are loyal to its signature engines, drive trains, and their vehicles with rough-road capabilities. However, there are some Subaru turbo problems that you cannot just avoid or pretend to not exist. It will be hard to stay loyal when you know that there is a problem. 
The Subaru turbo engine that you need to avoid is the high-performance 2.5L turbocharged engines equipped in the 2009 to 2014 Subaru Impreza WRX and WRX STI models. There have been lots of reports of Subaru turbo problems such as engine overheating, malfunctioning, losing power, stalling, and engine failure. 
An engine replacement can go from $8,000 up to $12,000. The problems experienced from the turbo engine are not cheap to fix and for this reason, owners of those certain vehicle models have filed a class-action lawsuit alleging that the pistons and PCV in the 2.5L turbo engine is causing all the aforementioned problems.  
Subaru allegedly used a casting process that causes the piston ringlands to weaken and the PCV system results in crankcase oil vapors to reach in the combustion chamber. This can allegedly cause a reduced fuel to air octane mixture and puts more burden on the pistons that can damage and destroy the engine. The plaintiffs claim that their vehicles experience sudden power loss or suffer engine failures. This happens when the internal parts overheat and seize. 
Subaru Turbo Problems: Final Word
Some Subaru turbo problems are severe on certain models, but there are also many Subaru vehicles that only have minor issues. If you are looking for a used Subaru, make sure that you do your research and avoid the turbo engines that are known to be causing a lot of Subaru turbo problems.  
Categories BlogSours: https://www.cashcarsbuyer.com/subaru-turbo-problems/
Subaru Just Changed the Game with This New Engine
Subaru Engine Problems You Should Know About if You're Shopping for a Used One
The Automaker's Commitment to the Subaru Boxer Engine
Almost exclusively, Subaru has chosen to outfit its vehicles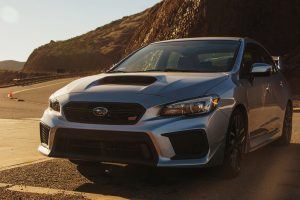 with boxer engines. All of Subaru's four-cylinder engines are liquid-cooled horizontally opposed boxer four-stroke engines, which the automaker has been making for more than 40 years. The exception to this is the EN engine series, which is used in the Subaru Kei cars and trucks (Japanese mini cars and trucks).
The boxer engine features pistons that move toward each other in a horizontal fashion. The movement of these pistons look like boxers throwing punches, which is how the engine name came to be. Because the movement is in opposition to one another, they counterbalance each other, resulting in a more balanced and smooth ride. For more than four decades, Subaru has been committed to the boxer engine because of the many advantages it affords, which we'll dive into later. So while there have been a few Subaru boxer engine problems reported, the automaker is committed to this engine and continuously improving it for future models.
Subaru Engine Problems + What Years Subaru had Engine Problems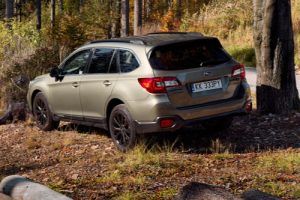 Some of the most expensive repairs an owner can deal with are engine issues. And because the engine is such a complex component, "engine issues" are not just one type of problem. There can be several issues that may affect a vehicle that may be labeled as an engine problem. Below are the most common engine issues Subaru owners have experienced. If you've noticed your Subaru not running at its best, your Subie may be dealing with an engine issue. Now just because Subaru has been challenged with engine problems doesn't mean that you shouldn't consider a Subaru as your next vehicle. We're just outlining the most commonly reported problems so that you can be aware of them and know what to look for, especially if you're experiencing some of the same, or you're shopping for a used Subaru to call your own.
Stalling Caused by Faulty Fuel Pump – 2020 Recall
In April 2020, Subaru issued a recall for more than 188,000 2019 Subaru vehicles, to include some of its more popular models like the Ascent SUV, Impreza hatchback and sedan, Legacy sedan and the Outback wagon, that were manufactured between June 2018 through February 2019. The culprit is a faulty fuel pump which can cause the engine to stall. This faulty fuel pump can become more of a safety issue if the engine stalls while in motion, with the potential to cause a crash. The issue that Subaru noted was that the fuel pump could crack and cause the vehicle to not start or stall while it's running. Some symptoms include the vehicle running roughly, or possibly shaking and loud noises coming from the engine area. These would result in the Check Engine Light illuminating. Per the recall, Subaru will replace the fuel pump. The NHTSA campaign number is 20V218 and Subaru's recall number is WRD-20.
Engine Computer Issues – 2019 Recall #1
In 2019, Subaru recalled more than 450,000 of its models in the U.S. to address engine computer issues. According to reports, the computer unit was incorrectly programmed, causing it to continue to power the ignition coil even after the motor had been shut off. This increased temperature could cause a short circuit or a blown fuse, resulting in a sudden power loss and the inability to start the engine. The models affected were Imprezas, model years 2017, 2018, 2019; and the Crosstrek, model years 2018 and 2019. Subaru will address the issue by updating the computer software and replacing the coils and fuses required.
Faulty Positive Crankcase Ventilation (PCV) – 2019 Recall #2
In 2019, Subaru issued another recall for more than 250,000 vehicles to address a faulty PCV valve that could cause the engine to lose power while in motion. It was noted that this faulty part could crack or split apart allowing pieces of itself and/or oil to enter the engine combustion chamber causing damage to engine components. The PCV valve is an emissions component that helps keep pollutants created by the engine from being released. It also helps to keep the engine clean and prevent crankcase pressure from building up. A telltale symptom includes increased tailpipe exhaust that is blue or gray in color. As part of the recall, Subaru will replace the faulty PCV valve, and if necessary, take care of any other damage that may have resulted from this faulty part, to include replacement of the engine if necessary. Models that were affected are listed below. The recall number is 19V744 for the 2017/2018 Impreza and Crosstrek, and 19V856 for all other models.
2017 and 2018 Impreza sedans
2018 Crosstrek SUV
2019 Hybrid Plug-In Crosstreks (manufactured between September 2018 and October 2018)
2019 Subaru Forester SUV
2019 Subaru Ascent SUV
Engine Noises and Possible Stalling – 2018 Recall
In 2018, Subaru issued a recall to replace a valve spring fracture that could lead to engine noise, malfunction and possibly even engine stalling. The fractured valve springs may cause abnormal noise and possibly even engine malfunction such as stalling if not addressed. Subaru noted that the problem was only seen in a few models, but chose to recall 140,000 early-year models – Impreza, XV Crosstrek and BRZ – to be proactive and abundantly cautious. According to Subaru, the issue was considered a "low risk" of engine problems occurring. The Subaru models that were affected were model years as early as 2012. Below are the specific models and years.
2012, 2013, 2014 Impreza hatchback and sedan models
2013 XV Crosstrek SUV
2013 BRZ coupe
Engine Oil Leaks Due to Faulty Head Gasket
One of the most common engine issues Subaru owners have dealt with has to do with faulty head gaskets. The issues spanned across a few models for a period of about five years. There were two rounds of head gasket problems. The first group is specific to the 1st gen EJ25D 2.5 liter boxer engine found mainly in the Legacy, Legacy Outback, Forester and the Impreza from 1996 to 1999. These engines suffered from internal head gasket leaks. The second group of head gasket issues came with the EJ251, EJ252 and EJ253 2.5 liter boxer engines. These head gaskets suffered from external leaks between the cylinder heads and the engine block causing coolant and/or oil to leak out between the head and the block. In both instances the issue stemmed from the type of head gasket that was used, not the engine itself. In all of the problematic vehicles, the head gasket that was used was a single layer graphite coated head gasket that is known to lose its coating at about the 100,000 mile mark. The stripping and chipping of this coating resulted in the head gasket seal to become jeopardized. Subaru rectified the issue by extending its powertrain warranty and is now using a non-coated multilayer head gasket. Models prone to head gasket issues are listed below. To learn more about these Subaru head gasket problems, read olive®'s blog detailing Subaru Head Gasket issues.
First round:
Legacy LSi, GT and Outback 1996 – 1999
Impreza 1998
Forester 1998
Second round:
Impreza 1998 – 2003
Forester 1999 – 2004
Legacy 1999 – 2004
Outback 2000 – 2004
Baja 2003 – 2005
Excessive Oil Consumption
Owners have consistently reported excessive oil consumption from their Subarus. While there was no official recall from Subaru, there was a class action suit filed. The lawsuit was filed because owners claimed some 2011 to 2015 Subaru Forester, Outback, Crosstrek, Impreza and Legacy models were using excessive amounts of oil between normal services. One owner noted that his Legacy was using so much oil that he had to start topping off his own oil with one quart every two weeks between services. According to the lawsuit, more than 650,000 people owned or leased one of these models. While Subaru did not do an official recall, the lawsuit was settled with Subaru agreeing to replace these engines with a redesigned boxer engine if the vehicle was deemed as one that was guzzling oil excessively. The vehicles that were affected include:
Forester (2011 – 2014)
Legacy (2013)
Outback (2013)
Impreza (2012, 2013)
XV Crosstrek (2013)
Pro-Tip: If you own or are considering a used Subaru that is less than 11 years old, you may want to consider an Extended warranty solution from olive®.
Subaru 2.5 Boxer Engine Reliability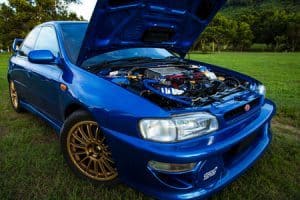 Many consumers ask: Is the 2.5 liter engine a reliable engine? The answer is not cut and dry. Subaru makes a lot of different 2.5 liter 4 cylinder engines, so to say that the 2.5 liter 4 cylinder engine is reliable or not reliable would not be fair or a true assessment because we'd be casting a wide stroke across multiple 2.5 liter boxer engine versions.
Here are the facts: Subaru experienced lots of engine issues due to head gaskets primarily in the EJ25D 2.5 liter engine and the EJ251, EJ252 and EJ253 liter engines. These engines were used primarily in the Legacy (1996 – 2004), Impreza (1998 – 2003), Forester (1998 – 2004), Outback (1996 – 2004) and Baja (2003 – 2005). These engines in particular have received a bad reputation for their lack of reliability. It was such an issue for Subaru that the automaker extended its powertrain warranty from 5 years/60,000 miles to 10 years/100,000 miles. These same engines seemed to guzzle excessive oil, so much so that a class action lawsuit was filed and settled by Subaru. Eventually these engines were phased out and replaced with the latest FB boxer engine series.
Most Reliable Subaru Engine
Although Subaru has been challenged with engine issues, most of the issues were isolated to a few engines, namely the EJs that were in the Impreza, Forester, Legacy, Outback and Baja models between 1996 and 2005. The latest Subaru boxer engines are part of the FB series boxer engines. This engine series has done well in reliability tests, and specifically the FB20D has been praised for its reliability. According to Consumer Reports, it has performed really well over the past few years in its predicted reliability tests, scoring mainly 5 out 5 in the Engine Major category, which accounts for major engine repairs like engine rebuilds or replacement, as well as cylinder head, head gasket, turbo or supercharger, and timing chain or timing belts issues. This engine has been able to reduce emissions and boost fuel economy without compromising the performance of the engine, achieved through a marked increase in the piston stroke. More torque is also seen through this engine because the pistons and rods are lighter. Another benefit of the FB20D boxer engine, which is the latest Subaru boxer engine, is that it now comes with direct injection that provides a noticeable increase in power and efficiency. The FB20D is in the latest Impreza, Outback and Forester models, three of Subaru's best-selling models.
Subaru Boxer Engine Benefits
As noted earlier, Subaru is committed to the boxer engine. It affords many benefits which make the investment in it worth it to the automaker. Let's explore the benefits.
The design of the boxer engine is innovative. It's flat design is more efficient because it allows for direct output into the transmission. This reduces engine components and inefficiencies, resulting in better fuel economy. The engine is also quieter because the engine experiences less vibrations because of the "flatter" design. In essence the pistons' punches cancel either out. It's also smaller than a typical engine, which means it weighs less, making it the perfect size for Subaru's vehicles.
One of its most important benefits is its low center of gravity, which makes it more stable and more responsive than a traditional inline or V engine, which also means it provides better safety. For instance, if the vehicle were to experience a frontal crash, because the engine sits lower to the ground, it is more likely to drop "below" the passenger compartment rather than into it.
To get the lower center of gravity point across, Subaru cleverly uses three different animals to illustrate how much more stable the boxer engine is. Imagine the inline engine as a giraffe, the V engine as a flamingo, and the boxer engine as an alligator. If you think about a lower center of gravity and how that equates to stability…Which do you think is more likely to be more stable? The giraffe, flamingo or alligator?
Currently there are only two automakers in the world that use the boxer engine in their vehicles, with Subaru using it almost exclusively across its lineup.
While the boxer engine does offer some great benefits, the fact remains that the automaker has dealt with numerous engine issues that have resulted in a few recalls. We hope this blog was helpful in summarizing some of those commonly reported engine issues consumers have experienced. We believe that research is key when buying a new or used vehicle. Subaru's reputation for reliability and safety is strong, so use this information as a supplement to your own research to help you when negotiating and ultimately buying your next Subaru.
olive® for When Your Vehicle is Not Reliable
Although Subaru has proven to be quite reliable, get peace of mind in the event it proves unreliable at some point or you encounter an unfortunate breakdown. Engine repairs can be quite expensive if you are having to deal with the repair out of pocket because your factory warranty has expired or your engine issue is not part of a recall.
Extended warranty solutions on pre-owned vehicles have become more critical because they provide coverage in case a repair is needed. In general, below is an example of items covered under mechanical breakdown insurance or vehicle service contracts (often referred to as extended auto warranties).
Steering System
Electrical Components
Engine Assembly
Drivetrain
Transmission
Exhaust Systems
Alternators, Manifolds, Pumps
Heating and Cooling Assembly
olive® offers Mechanical Breakdown Insurance plans in case an unexpected repair is needed. You can get a quote today and be covered tomorrow at quote.olive.com. Here are some of the benefits you can look forward to:
No waiting period
Start coverage up to 140,000 miles
No yearly mileage limits
Coverage across the U.S.
Low monthly payment options
Cancel anytime
Our products, customer service and reputation for excellence have earned us an A+ rating with the Better Business Bureau, and we have partnered with some of the insurance industry's largest companies to back us.
Sours: https://olive.com/subaru-engine-problems-you-should-know-about-if-youre-shopping-for-a-used-one/
Turbo are engines reliable subaru
I froze trying not to make noise. Pulling out a member, Styopa went from behind, attaching himself to his wife's thick ass. Crouching down, with one push entered the member, and more comfortably grabbing the wide hips, pushed his backside.
Subaru Just Changed the Game with This New Engine
I wanted to cry out in pain, but I couldn't, because my mouth was busy. I just let out a dull hum. Here and in the pussy, another member climbed.
You will also like:
I will bring you food, since I am not sure if I can trust you, I will tie you to the bed, if you scream. I will again I'll tie you up and gag. '' Having taken handcuffs from a drawer of drawers, it's good that I had such toys. The girl shook her head, repeating only one word.
9079
9080
9081
9082
9083