3D Bow Tie Quilt Block

From our Free Quilt Block Pattern Library

Skill Level: Beginner
Grid: 2x2, 4-patch
This 3D Bow Tie quilt block is seriously ADORKABLE!
Is it hard?
I'm a frayed knot! -- (Sorry...couldn't resist!)
Five equal-sized squares and a simple twist is all it takes. A perfect block for the beginning quilter who wants to add little whimsy to her blocks.
There's 'knotting' to it.
Let's get started!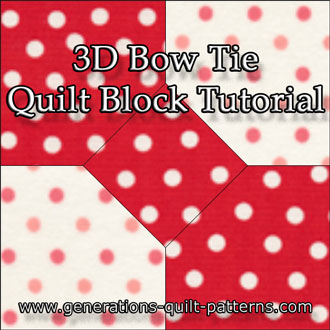 Step 1: Cutting for a 3D Bow Tie block

3D Bow Tie design
No cutting chart needed for this block, just a simple formula.
Finished Block Size ÷ 2
Then add 1/2" for seam allowances
Bow Tie Fabric: Cut 3    Background: Cut 2

For our tutorial, I chose a 5" finished block. Using the formula...
5" ÷ 2 = 2-1/2"
2-1/2" + 1/2" = 3"

And these are the cut patches; 3 red for the Bow Tie and 2 red/white for the background.
Step 2: Assembling the 3D Bow Tie quilt block

For the knot, lightly fingerpress one Bow Tie square in half, wrong sides together. You may want to use pins to hold the edges even.
NOTE: If you press a hard crease here, it will run diagonally through the center of the finished knot...a pain to have to press out at the end.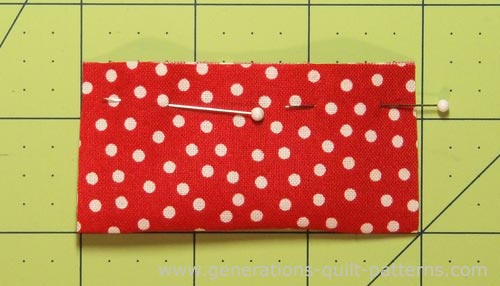 Align the cut edges with those of a background square. Pin to hold them even.
With RST, add a bowtie square to the top. Pin to hold things together. The black arrow points to where the folded edge is.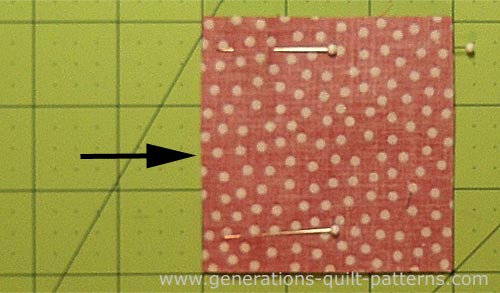 Stitch the side that has the folded edge in the middle of it.

Fingerpress the SA toward the darker fabric.
This is what the three patches sewn together look like. A bit unruly, but we'll get there.
I re-pinned to hold the knot fabric together. The first two patches are folded back out of the way.
Layer the remaining short side of the knot between the second pair of squares. Remember that each pair of like-colored squares is diagonal to each other in the finished block.

It's helpful to fold back the first pair of squares as shown in the picture below.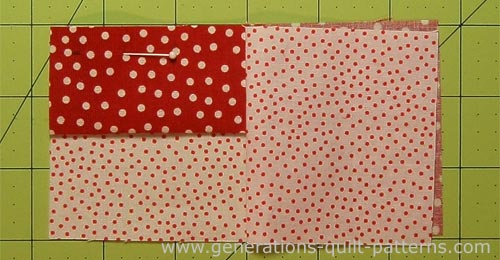 Layer the final patch, RST, and pin.
Stitch the side with the folded edge, again fingerpressing the SA towards the darker fabric.

Here is our block so far.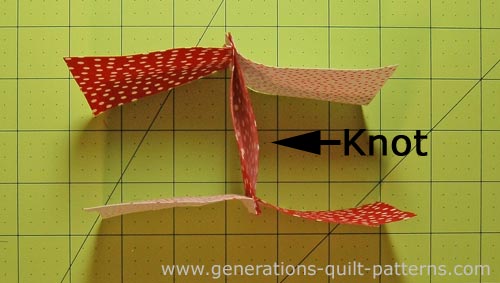 Pretty weird looking, right?!

Now comes the twist.
Pin the end of the two pairs of patches together, red to white. The pins act like an extra set of hands. The knot-square forms a little pouch in the center.

Distribute the pouch as evenly as possible on both sides of the seam allowances. Line up the all the cut edges as neatly as possible. Pin, nesting the SAs of the pairs of patches.

It'll be lumpy. That's OK.
It won't want to lay flat.
Stitch.

Finally you can press the SAs of your 3D Bow Tie with your iron. I prefer to just steam my knot instead of pressing it. The pressing 'smushes' and creases it. But that choice is yours!
I also like to twirl my four-patch seam allowances to distribute the bulk like this.
This is your finished 3D Bow Tie quilt block. Easy Peasey!
If you enjoyed this 3D block...

...you may want to try our 3D, one seam Flying Geese quilt block. Click here to go there now.
Share your work to inspire other Quilters!
If you use our tutorials to make your blocks and quilts, there are some easy ways to share your creations so other quilters (including me!) can enjoy the fruits of your labor:

On Instagram please tag your blocks and quilts with the hashtag #GenerationsQuiltPatterns.
Visit our Show n'Tell page on the website. Click here to share photos and tell your own story, just start typing at 'The name of your quilt is...'. If you'd prefer to submit more photos than the form allows, simply email them to me at [email protected]
I love seeing your work!
Our readers do, too!
For even more blocks to make...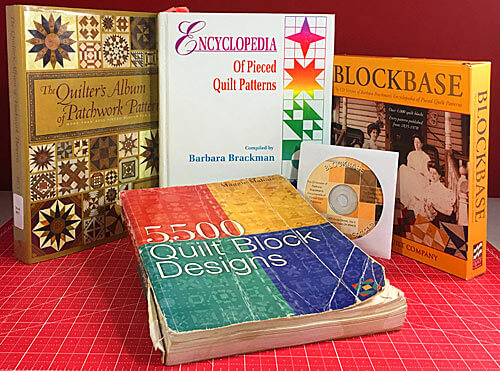 For you, are quilt block patterns like potato chips...
...you can't have just one?!!
Check the amazing resources I rely on for the majority of the quilt block designs you see on this website. 
To see if they're worthy of spot in YOUR quilting library, read about them HERE.

NOTE: All the attribution and alternate names shared in the Free Quilt Block Patterns Library came from these four resources.

Sours: https://www.generations-quilt-patterns.com/3d-bow-tie-quilt-block.html
Bow Tie Quilt Block
Materials
Light purple print and dark purple print scraps
Finished block: 9" square
Cut the Fabrics
Click on "Download this Project" above for pattern pieces.
From light purple print, cut:
From dark purple print, cut:
2 of Bow Tie Pattern
1-3-1/2" square
Assemble the Block
Assembling the Bow Tie block involves setting in seams. The key to sewing angled pieces together is aligning marked matching points carefully. Whether you're stitching by machine or hand, start and stop sewing precisely at the matching points and backstitch to secure seam ends. This prepares the angle for the next piece to be set in.
1.  Sew dark purple print bow tie pieces to opposite edges of the dark purple print square, being sure not to sew into the 1⁄4" seam allowances (Diagram 1). Press the seam allowances toward the dark purple print bow tie pieces.
2.   Referring to Diagram 2, set in the light purple print bow tie pieces to make a block (Block Assembly Diagram).
Sours: https://www.allpeoplequilt.com/quilt-patterns/quilt-blocks/bow-tie-quilt-block
Easy Bow Tie Quilt Block Pattern
Getting Started
Here's an easy Bow Tie quilt block pattern that eliminates the set-in seams of the traditional quilt block. One slight alteration makes these bow tie blocks a cinch to sew, and the design looks nearly identical to the original.
There are three size options in the cutting chart below, from a 12-inch square block down to a miniature that finishes at 3-inch square.
Cutting Chart
Choose two contrasting fabrics, one for the bow tie and another for the background.
If you prefer, cut two smaller squares from the same fabric as the darkest larger square and two more (not listed) from either a darker or lighter version of the same color.
12-inch Finished Blocks
Background: cut two 6 1/2 inch x 6 1/2 inch squares
Bow Tie Fabric: cut two 6 1/2 inch x 6 1/2 inch squares; cut two 3 inch x 3 inch squares.
6-inch Finished Blocks
Background: cut two 3 1/2 inch x 3 1/2 inch squares
Bow Tie Fabric: cut two 3 1/2 inch x 3 1/2 inch squares; cut two 1 1/2 inch x 1 1/2 inch squares.
3-inch Finished Blocks
Background: cut two 2 inch x 2 inch squares
Bow Tie Fabric: cut two 2 inch x 2 inch squares; cut two 1 inch x 1 inch squares.
Making a Block
Sew with an accurate quarter inch seam allowance unless you are sewing on a marked line.
Draw a line from one corner to the opposite corner on the reverse side of each small bow tie square.
Align a marked bow tie square, right sides together, with one corner of a background square.
Sew a seam directly on the marked line. Trim away excess fabric from both layers 1/4 inch past the seam line.
Press as is to set the seam and then press the seam allowance towards the large square.
Repeat to sew the remaining small bow tie square to a corner of the remaining background square.
Arrange the pieced units and two bow tie squares into two rows as shown above. Sew components of each row together and press seam allowances towards the large bow tie square.
Sew the two rows together. Press.
Using Small Squares
Use the same method to sew one of the two remaining squares to one corner of the bow tie fabric. Press the seam allowances of each towards the triangle after trimming the excess.
Sew the patchwork together as before, but with like corner triangles pointing towards each other.
Layout Options
Bow tie quilt blocks can be arranged in many ways. The groups of four blocks above illustrate some of the choices, but you'll discover many more when you make a batch of bow tie blocks.
Sours: https://www.thesprucecrafts.com/easy-bow-tie-quilt-block-pattern-2821130
Quilting Blocks: 3D Bow Tie Quilt Block Tutorial
It has been another week of stash and scrap busting, and as often is the case, featuring a traditional quilt block which has been given a "makeover" by the use of fresh and modern fabrics. The Bow Tie Block is a traditional block dating back to the late 1800's and is a versatile design that can be made either with or without inset seams. I haven chosen the inset seam route for a clean look - without seams that would otherwise intersect through the middle of the small center square.
This block (with inset seams) is not difficult to piece and with the help of templates it is very do-able indeed. The piecing process is very much like the process set out in the Kansas Dugout Block Tutorial - the only difference being that you are working with four pentagon pieces rather than four honeycomb pieces of fabric. This in turn makes sewing the finished Scrappy Bow Tie Blocks together very easy.
QUILT STATS
Scrappy Bow Tie Quilt
The quilt top measures 48 inches x 60 inches.
15 rows of 12 Scrappy Bow Tie blocks for a total of
180 blocks each measuring 4.5 inches x 4.5 inches (incl. seam allowances).
More than 220 different fabrics.
All fabrics are quilting cottons and included are many Japanese fabrics,
small scale designs, and text prints.
Solid fabric isRobert Kaufman Kona Cotton in White.
Accurate templates are the key to making this block come together and in case you are tempted to try out this design I have made the templates for the
Scrappy Bow Tie Block
available as a download (pdf file) from:
Red Pepper Quilts Pattern Store
Red Pepper Quilts Etsy Store
Included in the download are templates for two different Scrappy Bow Tie block sizes:
a 4 inch finished block and a 6 inch finished block
. I have used the 4 inch block templates for my quilt project. The sewing process is the same for all sizes, however if this is your first project with inset seams I suggest that a larger block size may be a better option.
In addition to the templates the download file includes fabric cutting instructions, helpful tips on how to cut fabric with templates, fabric marking instructions, as well as a black/white line drawing of the quilt (180 Scrappy Bow Tie blocks) which will allow you to color in and experiment with colors and color placement.
Sewing instructions are not included with the templates however you will find a detailed tutorial for sewing in-set seams with step by step instructions, lots of photos, and helpful tips here:
Kansas Dugout Block Tutorial (Sewing In-set Seams)
*commence at Step 9 for sewing the Scrappy Bow Tie Block*
This link is also included in the pattern.
If you have any questions please don't hesitate to ask by leaving a comment, and I will explain/clarify as required.
Thank you for stopping by,
Rita
RELEVANT LINKS:
The Scrappy Bow Tie Quilt - A Finished Quilt
Red Pepper Quilts Etsy Store
Red Pepper Quilts Pattern Store
Kansas Dugout Block - tutorial with inset seams.
Lila's Quilt 2007 - my first project with inset seams.
Gardenvale Kansas Dugout Quilt 2015 - my most recent project with inset seams.
COPYRIGHT: Do not copy or use any content or photos from my blog without my written permission.
Sours: https://www.redpepperquilts.com/2016/08/scrappy-bow-tie-quilt-and-bow-tie-block-templates.html
Templates quilt bow tie pattern
The bow tie quilt block will make the perfect quilt for a baby you love! It's sweet and simple and goes with just about any fabric. This quilt is so easy to make, it's a great pattern to whip up on short notice. Use your favorite fat quarter bundle or grab your scrap bucket and make it scrappy & happy!
UPDATE: This blog post has been converted to an optional PDF that's optimized for printing. Find it here. The blog post below contains everything you will need and it is totally free to read, print, and sew! Just hit CTRL +P on your computer to print. The PDF download for $2 is totally optional.
In January I gave you this easy tutorial for an 8″ Bow Tie Quilt Block.
And now I'm finally ready to share with you a pattern for the quilt that I made out of my bow tie blocks! This easy baby quilt finishes at 40" square. Without too much trouble, you can piece it in a day – I promise.
The bow ties are cut from 4 fat quarters – so run to your stash and find 4 coordinating ones!
Bow Tie Baby Quilt Pattern
You will need:
1/4 yard each (or 4 fat quarters) of 4 different print fabrics 1 1/4 yards of solid cream colored fabric

1/2 yard small print fabric for binding

48'' square of quilt batting

1 1/4 to 2 1/2 yards of backing fabric, depending on width
Cutting:
From 3 of the print fabrics, cut:
6 squares 4 1/2'' x 4 1/2'' (18 total)

6 squares 2 1/2'' x 2 1/2'' (18 total)
From the remaining print fabric, cut:
8 squares 4 1/2'' x 4 1/2''
8 squares 2 1/2'' x 2 1/2''
From the solid fabric, cut:
26 squares 4 1/2'' x 4 1/2'' • 12 squares 8 1/2'' x 8 1/2''
Sewing the Bow Tie blocks:
All seam allowances are 1/4''.
1. Using the fabric marking pen, draw a diagonal line across the wrong side of each 2 1/2'' square (26 total).
2. Pin a 2 1/2'' square in the corner of each 4 1/2'' solid square (26 total).
3. Stitch along the drawn line on each smaller square.
4. Trim away the corner 1/4'' past the line of stitching.
5. Press the corner open.
Repeat steps 3-4 for all of the 2 1/2'' print squares and 4 1/2'' solid squares.
6. To make a bow tie block, arrange two 4 1/2'' print squares with two matching solid squares with print corners as pictured.
7. Sew the squares into rows and then sew the rows together, pressing after sewing each seam.
Repeat to make 13 bow tie blocks.
Trim each block to 8 1/2'' square, if necessary.
Sew the blocks together:
1. Arrange the bow tie blocks and solid 8 1/2'' squares into 5 rows:
3 rows with 3 bow tie blocks and 2 solid squares

2 rows with 2 bow tie blocks and 3 solid squares
Pay close attention to the direction of the bow tie blocks within each row (the bow ties in rows 2 and
4 slant in the opposite direction as the bow ties in rows 1, 3, and 5).
The arrangement of the different prints can be random or logical.
2. Sew the 5 rows.
3. Sew the rows together.
Finishing:
1. Make a quilt sandwich with the backing, batting, and top. Baste together with fusible batting, pins or basting spray. Quilt as desired.
2. From the binding fabric cut 4-5 strips 2 1/2'' tall (if your fabric is wide enough, only 4 strips will be needed).
3. Sew the binding strips together and bind the quilt using your favorite method.
xoxo,
Sharing is Caring!
Disclosure: some of my posts contain affiliate links. If you purchase something through one of those links I may receive a small commission, so thank you for supporting SewCanShe when you shop! All of the opinions are my own and I only suggest products that I actually use. 🙂
Sours: https://sewcanshe.com/2016-8-15-bow-tie-baby-free-quilt-pattern-easy-easy-easy/
Bow tie quilt block tutorial
Do you endure deficits again. - he winked at me. Still, Tolik is cooler than everyone I know. - Yes, some kind of imported shampoo.
Similar news:
Yes, let him get me to want to sleep with him. Do not give him flowers. Enough gifts for the holidays. Here, you and I are now kissing not like a child.
9083
9084
9085
9086
9087