Anderson AM15 Optics Ready Non RF85 223 Rem,5.56 NATO 16" 30+1 Black Hard Coat Anodized Adjustable M4 Anderson 784672476874
$444.00
In Stock
2d ago
43m ago
The Castle Arms
Smith & Wesson M&P 15-22 Sport Rimfire Rifle .22 Long Rifle Grain SKU:2288798
$469.99
In Stock
3d ago
2h ago
Bass Pro Shops
Radical Firearms RAD-15 RPR .223 Rem/5.56 NATO 16" Barrel 30+1 814034026420
$475.00
In Stock
9d ago
43m ago
The Castle Arms
Anderson B2K850AA00 AM15 BR 5.56x45mm NATO 16" 30+1 Black Hard Coat Anodized Black 6 Position Stock Black Polymer Grip 712038922260
$484.00
In Stock
28d ago
43m ago
Gun Zone Deals
Radical Firearms PA Exclusive RF-15 5.56 Rifle M-LOK Handguard - P-MAG - 16"
$499.99
In Stock
4d ago
14m ago
Primary Arms
Del-Ton Echo 316 5.56x45mm NATO 16" 30+1 Black RFTM16-0 848456000140
$499.99
In Stock
12d ago
43m ago
Family Firearms
2A Armament BALIOS-LITE 2A-MCRS-4 854299007420
$531.05
In Stock
20h ago
43m ago
DPW Gunsmith
ATI ATIGOMX556P3 Omni Hybrid Maxx 5.56x45mm NATO 16" 30+1 Black Black Nitride 6 Position M4 Stock Black Polymer Grip 819644020189
$539.00
In Stock
52d ago
43m ago
Gun Zone Deals
Radical Firearms AR-15 16" 5.56 Carbine - 15" M-LOK RPR Rail
$539.99
In Stock
22h ago
14m ago
Primary Arms
Del-Ton DELTON SIERRA 316H 5.56MM 16" BBL. 30RD BLACK 848456000324
$553.99
In Stock
9d ago
43m ago
Acute Firearms
ArmaLite DEF15 M-15 Defensive Sporting Rifle Semi-Automatic 223 Rem/5.56NATO 16" 30+1 6 Position Collapsible Black Synthetic Black Hardcoat Anodized Receiver 651984014240
$568.29
In Stock
8d ago
43m ago
BattleHawk Armory
Del-ton ECHO 316/L MLOK 556 AR-15 Delton ORFTLW163-M
$569.00
In Stock
3d ago
43m ago
Gunprime
Radical Firearms 300 Blackout AR-15 Carbine - 15" M-LOK RPR Rail - 16"
$579.99
In Stock
2d ago
14m ago
Primary Arms
Radical Firearms 7.62x39 AR-15 Rifle - 15" RPR M-LOK - 16"
$579.99
In Stock
2d ago
14m ago
Primary Arms
Radical Firearms RAD-15 556 Nato AR Pistol 10.5" Barrel MLok RF01289
$588.00
In Stock
3d ago
43m ago
Gunprime
Smith & Wesson M&P15 Sport II Optics Ready 556 NATO 16" 10159 30rd
$599.00
In Stock
3d ago
43m ago
Gunprime
Radical AR-15 300 Blackout MLok Handguard FR16-300HBAR-15RPR
$609.00
In Stock
3d ago
43m ago
Gunprime
Rock River LAR-15M RRAGE Carbine .223/5.56 NATO AR-15 16" Barrel 30 Rounds M-LOK Handguard Black 842834100019
$619.00
In Stock
4d ago
43m ago
Cheaper Than Dirt
ArmaLite M-15 Defensive Sporting Rifle 223 Rem,5.56 NATO 16" 30+1 Black Hard Coat Anodized 6 Position Collapsible Stock 651984014264
$626.60
In Stock
8d ago
43m ago
BattleHawk Armory
Diamondback DB15 300 Blackout 16" Barrel MLok Hanguard DB15CCML300B
$629.00
In Stock
3d ago
43m ago
Gunprime
Smith & Wesson M&P Sport II 223/5.56NATO 16" 30+1 022188868104
$649.00
In Stock
29d ago
43m ago
Gun Buyer
Rock River Arms RRAGE LAR-15 Carbine 556 Nato 16" Barrel AR-15 DS1850
$649.00
In Stock
22h ago
43m ago
Gunprime
PSA AR-15 16" Midlength 5.56 NATO 1/7 Nitride 13.5" M-Lok A2 EPT Rifle, Black – California Compliant
$649.99
In Stock
15d ago
23m ago
Palmetto
Smith & Wesson M&P 15 Sport II 5.56 Carbine - M-LOK - 16"
$649.99
In Stock
2d ago
14m ago
Primary Arms
Ruger AR-556 Rifle | 8500 736676085002
$658.00
In Stock
37d ago
43m ago
Hinterland Outfitters
Great Lakes AR-15, Semi-automatic, .223 Wylde, 16\\u0026quot; Barrel, 30+1 Rounds
$660.29
In Stock
18d ago
46m ago
Sportsman's Guide
Ruger 8502 AR-556 223 Rem,5.56x45mm NATO 16" 10+1 Black Hard Coat Anodized 736676085026
$663.99
In Stock
36d ago
43m ago
Gun Zone Deals
Ruger 8529 AR-556 5.56x45mm NATO 16.10" 30+1 Black Hard Coat Anodized 6 Position Stock Black Polymer Grip 736676085293
$664.99
In Stock
5h ago
43m ago
BattleHawk Armory
RADICAL AR15 7.62X39 7.62x39 816903023011
$667.99
In Stock
5h ago
8m ago
Guns.com
PSA 16" Mid-Length 5.56 NATO 1/7 Nitride Freedom Rifle, Olive Drab Green - 5165450007
$669.99
In Stock
5d ago
23m ago
Palmetto
Ruger PC Carbine Semi-Auto Rifle with Magpul M-LOK 9mm Grain SKU:2776242
$669.99
In Stock
3d ago
13m ago
Cabelas
Ruger PC Carbine Semi-Auto Rifle with Magpul M-LOK 9mm Grain SKU:2776242
$669.99
In Stock
3d ago
25m ago
Bass Pro Shops
GREAT LAKES FIREARMS AR15 .223 Wylde SS BARREL WHITE .223 wylde 702458691136
$671.99
In Stock
1d ago
8m ago
Guns.com
Anderson B2K850A000R AM15 Optic Ready RF85 223 Rem,5.56x45mm NATO 16" 30+1 Black Hard Coat Anodized Adjustable M4 Anderson Stock 784672476942
$676.06
In Stock
12d ago
43m ago
Dahlonega Armory
Windham Weaponry R16M4FTT WW-15 SRC 223 Rem,5.56 NATO 16" 30+1 Black 6 Position Stock 848037000026
$677.77
In Stock
8d ago
43m ago
BattleHawk Armory
Smith & Wesson M&P 15 Sport II Optics Ready Semi-Automatic Centerfire Rifle 5.56x45mm NATO 16" Barrel Black and Black Collapsible 022188866421
$679.99
In Stock
13d ago
2h ago
Midway
Smith & Wesson M&P15 SPORT II with MAGPUL MOE M-LOK 10305
$688.00
In Stock
3d ago
43m ago
Gunprime
Smith & Wesson M&P 15 Sport II Optics Ready Semi-Automatic Centerfire Rifle 5.56x45mm NATO 16" Barrel M-Lok Black and Black Collapsible 022188872958
$689.99
In Stock
13d ago
2h ago
Midway
Smith & Wesson - M&p15 Sport Ii 5.56mm 16 rounds
$689.99
In Stock
12d ago
3m ago
Brownells
GREAT LAKES FIREARMS AR15 .223 wylde 702458690597
$695.99
In Stock
1d ago
8m ago
Guns.com
GREAT LAKES FIREARMS AR 15 .223 wylde 702458690955
$697.99
In Stock
1d ago
8m ago
Guns.com
Great Lakes Firearms AR15 .223 rem/5.56 nato 702458691020
$697.99
In Stock
1d ago
8m ago
Guns.com
PSA PA-15 16" Nitride M4 Carbine 5.56 NATO MOE AR-15 Rifle, OD Green
$699.99
In Stock
5d ago
23m ago
Palmetto
PSA PA-15 16" Nitride M4 Carbine 5.56 NATO Classic AR-15 Rifle, Gray
$699.99
In Stock
18d ago
23m ago
Palmetto
PSA PA-15 16" Nitride M4 Carbine 5.56 NATO Classic AR-15 Rifle, Black
$699.99
In Stock
18d ago
23m ago
Palmetto
PSA PA-15 16" Carbine-Length 5.56 NATO 1/7 Phos M4 Classic Rifle, Black
$699.99
In Stock
18d ago
32m ago
Palmetto
PSA PA-15 16" M4 Phosphate 5.56 NATO 1/7 Classic Rifle, Olive Drab Green
$699.99
In Stock
18d ago
32m ago
Palmetto
PSA 16" Carbine-Length M4 5.56 NATO 1/7 Phosphate Classic Gray Freedom Rifle
$699.99
In Stock
18d ago
32m ago
Palmetto
Smith & Wesson - M&p15 Sport 16in 5.56x45mm Nato Black Anodized 10+1rd rounds
$699.99
In Stock
6d ago
3m ago
Brownells
Smith & Wesson - M&p 15 Sport Ii Optic Ready 5.56 30+1 16" rounds
$699.99
In Stock
12d ago
3m ago
Brownells
Sours: https://www.wikiarms.com/group/ar15rifles
12 Cheap AR-15s For $500 – Oct 2021
Update: The Coronavirus crisis has decimated stocks. The cheap AR-15 for sale shelves are largely bare, across the nation thanks to the virus, ongoing riots and Kyle Rittenhouse's best efforts.
Joe Biden's election probably won't ease that situation, for obvious reasons.
So click the direct links here.We limited the searches. If you can see it, you can buy it now. You can also sort by price etc. Prices have gone up, too, so just be warned.
We bent our own rules to give you semi-auto assault rifles for sale, no matter how expensive, rather than stick doggedly to $500 and have nothing to show you..
But we have updated the post to reflect wild stock changes and we'll send offers through to your email address if you want. Just sign up in the top bar.
They are live links to what's in stock right now.Or check here for more expensive guns that we like. They don't all break the bank.
Some Other Features For You…
Now, back to the original post.
The Cheapest AR-15s: Low Budget, $500 AR-15s That Work
You don't need to spend the Earth on an AR-15. The differences between an AR-15 under $500 and something far more exotic are smaller than you think.
Start with the cheap and cheerful AR for sale. Then progressively talk yourself into more expensive weapons.
That's the American way.
You can build up to the leading rifles for $1000.
And when you have truly mastered sleeping on the couch and just don't care anymore, you can progress to the top $2000 AR online. After the divorce, you can just say screw it and order a custom AR-15 for sale as nobody is the boss of you anymore.
Start With a Budget AR-15, Then Start to Dream
Let's get you on that glorious road to success right now, with the 5.56 NATO semi-auto rifle for $500 that es the job you want. Basic American defense.
We had to stretch the budget in these troubled times too. It's just life right now that the cheap guns are gone, some are more expensive and the deal changes daily. We're doing our best…
And Where to Bulk Buy 5.56 Bullets
If there's one thing we have learned in the great Covid-19 ammunition shortage, it's that it runs out fast. You can try these places and whenever you can, bulk purchase, right now. You might not get another chance…
1. Smith & Wesson M&P15 Sport II
Price: $679.99
Caliber: Rifle 5.56x45mm NATO
Barrel: 16 inch
Total: 35 inch
Weight: 6.45lb
Capacity: 10+1
Buy Yours Now From Our Partner!
The Smith and Wesson is one of the benchmarks. It sometimes falls into the optics-ready budget class, but normally we have to cut it some slack to get it in here. It's always too good and too close to the money for us to leave out.
A Basic 5.56 AR-15 Rifle or Expensive Version?
Smith & Wesson have an AR for pretty much every budget, right through to the Performance Center rifles at the top of the tree.
The stock Smith & Wesson M&P15 Sport is the entry-level, for sure and you might want to switch out that retro front sight. But it's still good enough for most of us.
The Smith & Wesson PC weapons are favored by serious target shooting specialists and three-gun competition shooters. But the basic 5.56 NATO semi-auto rifle has all you need to get started. There are State compliant versions too.
Solid Furniture for a Cheap S&W M&P15
You get a decent flash suppressor, a Magpul folding sights, aluminum upper receiver and lower receiver.
Add your own AR-15 parts & upgrades too, from the AR15 rifle stores at just about every major online . They include 300 Blackout uppers and conversion kits. You can even turn yours into a big bore hunter.
Quality is a Big Deal
There's a perceived quality that goes with this badge. Plus all the customer service benefits that go with a household name. We totally get it.
Also, we think this is about as safe a bet as you'll find during these troubled, weird times. Even if you have to pay a little more.
2. Radical Firearms SOCOM 556
Price: $499.99
Round: .223 Rem/ 5.56 x 45 NATO
Barrel: 16 inch
Weight: 6.1lb
Buy Yours Now From Our Partner!
This could be the best AR-15 for even close to $500 right now. At least it is until normality returns and we have to give props to Brownells and Primary Arms for keeping the supply chain alive in difficult times. We have also seen these rifles priced at $1000+ in recent times, which is kinda price gouging if we're honest.
Less than $500 sometimes gets you M4 Mil-spec receivers, a SOCOM-profile Chrome Moly Vanadium 16 incher up front, slimline M-LOK handguard and more. I mean it's not military grade really, but it is good. And it's an AR 15 for sale cheap in today's market.
Reputation Gained With Larger Rounds
The Texas company makes most of the Radical Firearms AR-15 in-house, and has built a formidable reputation.
You can source an upper from Radical Firearms and strap it to your old lower for an entirely new kind of buzz. They have a complete upper assembly for you in a variety of intense bullets. They include the 450 Bushmaster, and increasingly popular 300 Blackout.
Value for money lies at the heart of what it does and the company has built a devoted following. Now it churns out upper receivers, muzzle devices and matched lowers in 300BLK and 5.56, as well as more exotic rounds like .50 Beowulf.
Big Spec For The Money
This is seriously specced up for a cheap AR 15. Right down to the lightweight adjustable stock and handguard and M-Lok rail that you can turn into a quad rail system. That's a big deal here.
The flash hider is an A2 unit, which means anything will go on there when you are ready. Early reports suggest you'll want to switch out the charging handle and a few small touches. But they aren't deal-breakers, and it's the biggest complaint you tend to hear.
Almost a Great Firearm
This optics-ready Radical Firearms SOCOM 556 is decent, and it's a few tweaks away from greatness.
The handguard and low profile gas block are premium features in this sector. They're eye-catching and are helping Radical gain a foothold.
On a purely technical level this might be the best AR15 rifle for $500, or close, in 2021.
3. Ruger AR-556
Price: $800+
Barrel: 16 inch
Total: 34.4 inch
Weight: 6.5lb
Buy Yours Now From Our Partner!
CoronavirusUpdate: The Ruger used to be cheaper at Sportsman's Guide and number one. But if you need America's most popular rife now, pay the premium, we guess.Or get something cheaper. We've given you choices here in weird times.
The Ruger shouldn't technically even be here right now if we followed out own rules. It's way too expensive, but the world is a crazy place right now and this once $500 AR-15 for sale at $1000 and beyond is a normal sight. That's supply and demand.
Still, find the extra money if the rifle is there. It is normally within spitting distance of the price limit and the AR-556 is just better.
It's one of America's most popular for a reason. Sportsman's Guide has offered consistently low prices for 2 years, too, and we expect things to calm down again soon.
Heavyweight Name Suggests Quality
Ruger feels like a heavyweight name in this bracket because it is. This is one of America's sales sensations.
There are reasons. The black polymer and stock tighter and better than the competition. Ruger muzzle devices feel better, too, even if they're not. That's perceived quality at work.
5 Star Reviews For a Budget Gun
It gets 4.9 out of 5 stars on Sportsman's Guide, the company that has consistently lowered the bar on Ruger pricing. View the reviews for yourself. This multi-purpose rifle is a perfect combination of aggressive pricing and solid engineering.
There's also a lot you can do to the Ruger and it's a great start to a DIY build. Free float rail and free float handguard guard set-up, get charging handles, do a few other mods and you've got something here.
Ruger AR 15 For Sale is a Bargain, Normally
The Ruger has a solid reputation for accuracy in the sub-$1000 AR-15 range, let alone this one. The Ruger AR-556 MPR is waiting for you there.
The low-glare gas block is carbine-length for better balance. It's the top brands engineering touches like this that normally carry the Ruger away from the budget-minded crowd. At this price point, this is an absolute bargain.
Sights are Included, Basic Ones…
An elevation adjustable front sight and a rapid deploy folding rear sight mean you can the old iron sights. Most people would want a reflex sight up top these days.
This stock black Ruger AR-556 is direct impingement, it's the Ruger SR-556 that is piston driven. If you find one of those for near $500, let us know…
As it is this is our choice. Get one while you still can! Or maybe consider a cheap bolt-action rifle if you can't…
4. Palmetto State Armory M4 Freedom Rifle
Price: $699.99
Cal: 5.56mm
Barrel: 16 inch
Total: 33 inch
Weight: 6.5lb
Buy Yours From Our Partner Now!
Update: PSA are running low on their own cheap guns and DIY kits, but they do have higher ticket AR-15s on the shelf. Prices have gone up though. If you need one, pay the premium and suck it up. It's kinda like that across the board right now. If you need it cheap, buy a build kit.
You either get Palmetto State Armory or you don't. The truth is, for this money, the spec list on this PSA M4 Freedom Ordnance is absolutely insane. It's an AR-15, complete with a shooting sports spec. On paper at least.
Good Basics, Minus The Polish
The PSA Freedom rifle isn't higher up the list because the fit and finish is deliberately rough. That's the in-built compromise with cost-cutting. You do hear murmurings about quality control on the forums for PSA's 5.56 AR-15 rifle platform, expecially the hard coat finish.
You also hear about a company that ships out replacement parts before you've had a chance to return the faulty unit. So we have to give them credit as well. Yours will work reliably for home defense etc, it just might take a bit of fettling.
PSA Parts Kits
It has to be said a lot of the problems are with PSA AR-15 kits and self-builds, too. We can safely attribute quite a lot of those failures to user error. It's not hard to build from a parts kit, but you can get it wrong…
That's an important point that often gets overlooked with the Palmetto State Armory Freedom Ordnance and other spinoff models.
A lot of the parts are pure quality too and you can upgrade to a heavy barrel or other mods. They can include Magpul furniture that you might well use again when you finally upgrade. The gas blocks are decent. There's a lot to like beyond the mid-length gas system too.
Forged Receivers, As Are They All
The highlights include a forged 7075 T6 Aluminum upper and lower receiver. It also has a Nitride-finished stainless barrel that's made from Chrome Moly Vanadium Steel. There's a Carpenter 158 bolt coated in Phosphate, chrome-lined Bolt Carrier Group in 8620 stainless steel, and the spec list just keeps going.
There's an enhanced polished trigger as well that is a cheap alternative to more exotic upgrades and even the pistol grip is kinda nice. This is a decent AR for sale for cheap AR-15 money.
PSA Customers are Repeat Customers
PSA Owners love their guns and if you order yours now, you probably will too. It's a hunting rifle, a range plinking tool and a solid base to build out.
This cheap matt black finish AR-15 won't be the last you own, but it could be a perfect starter. And in years to come, you'll back with fondness on that little cheap little semi-automatic rifle that just wouldn't quit.
PSA can sell you their DIY rifle kits, a parts kit that you put together yourself. It's even cheaper, and you could have a bag of parts that will make work, if you do it right, for just $300. The company is famous for service, too, so they will help if it goes wrong.
Check out the kits on PSA right now and buy guns.
5. Diamondback Firearms DB15
Price: $614.99
Caliber: Rifle 5.56mm
Barrel length: 16 inch barrel
Total: 32.5" collapsed.
Weight: 6.8lb
Buy Yours Now From Our Partner!
Diamondback Firearms is another company making a name for itself in the budget sector with aggressive designs and keen pricing.
This has an 8620 stainless steel Bolt Carrier Group, flat-top aluminum upper and lower receiver and a 16" barrel produced from Chrome Moly steel and then Melonite coated.
Is it as good as the rest of these affordable AR-15s? On paper, yes, but it hasn't got quite the same love the Oracle has in the online gun reviews. This is a gut feeling then, but you might well be happy with your DB15.
Solid, Basic, Cheap AR-15 With Everything You Need
This works for home defense, basic hunting and improving your shooting technique at the range. Get some gun accessories, upgrades, a red dot and more on there and you'll love it.
6. Del-Ton Echo 316
Price: $644.00
Round: .223 Remington/5.56x45mm NATO
Barrel: 16 inch barrel
Total: 32.6-36.4 inch
Weight: 6.4lb
Buy Yours Now From Our Partner!
According to the company's own website, this shouldn't be anywhere near this list. The Del-Ton 316 Echo RRP is more than $750. Sportsman's Guide has this discount AR-15 for less than $500.
Where to Find Good Gun Deals?
That's one of the reasons Sportsman's Guide has turned into one of our favorite online gunbrokers. There are some seriously good deals on the site if you're prepared to dig.
The Echo is pretty much gunporn in its own special way.
A Wylde Chamber is always a good start. It's not a thing you may even use, but it's one of the most eye-catching features and a general sign of quality these days.
Another Colt M4 Tribute Act
Inevitably this is a Colt M4 tribute act. The synthetic black stock is a five-position collapsible stock system. There's a classic fixed front sight that will take you back to the old days, until you replace it with a reflex sight anyway. The rear sight will go too.
The M4 profile CMV chrome-lined business up front joins forces with a Carpenter 158 Stainless Steel bolt and a chrome-lined Bolt Carrier Group. You get a threaded muzzle and muzzle brake, a properly staked and sealed gas key and a number of other premium touches in the gas system alone.
Other Models are Available
The Sport Mod is also available online and it's a slight step up from the base model. The Sport Mod won't be the last model either from this budget brand. We look forward to the rest, because this is a good start.
7. ATI Omni Hybrid Maxx P3
Price: $419.99
Caliber: 5.56 NATO/ .223 Rem
Barrel Length: 16 inch barrel
Weight: 5.65lb
Buy Yours Now From Our Partner!
The ATI Omni Maxx P3 is one of the new arrivals on the low price AR-15 scene. It's got a serious USP, but it also might explain why this isn't the undisputed champion of the $500 AR-15 world. Apart from the fact is more expensive right now…
The Omni Hybrid is a stock black, optic ready rifle with polymer receivers. Oh Lord I can just see the comments…
ATI reckon they have torture tested this fiber-reinforced polymer to death, and it's every bit as strong and reliable as aluminum. Pretty much everything on this firearm that can be a composite material, is a composite material. The upper receivers and matched lowers can be bought separately.
Lightweight, Not Just Cheap
That gives a final weight of 5.7lb, which is pretty stunning if we're honest. it's the USP that could tempt someone looking for a lightweight AR-15 into taking a gamble on a plastic AR-15.
The money, though, is the real headline here. Theses are complete AR-15 rifles ready to go for $400. That's kind of amazing. AR15s are not this cheap and that's a lot of money left over for 5.56 NATO semi-auto rifle ammo.
This polymer AR-15 rifle undercuts everything here by a serious margin. The trigger is also a self-lubricating composite and this isn't just a rifle.
There is a Glock-esque commitment to removing dead weight and maintenance. And a non-Glock-esque commitment to passing on the savings.
Serious Finishing Touches on a Budget Rifle
You get things here too, if you look. They include a proper Wylde chamber that opens up the possibility of using .223 Rem. With a $400 AR-15…
A fully patented inter-lock hammer and trigger pin retainer provide another layer of safety. There is an enhanced trigger guard and a slick charging handle.
5 Star Reviews For a Cheap Gun
Then there are the user reviews online, which absolutely love the ATI. A 4.5 star rating is pretty hard to get.
Owners tend to be more critical than magazine because they can be. But this is cheap, and yet it meets and beats pretty much everyone's expectations. That's a recipe for success right there.
Polymer AR-15s The Next Step
It seems inevitable that material science will get to the point when we can produce firearms from an ultra-solid form of ABS plastic. That's basically what Glock after all.
We might even be able to 3D print guns with plans for a 3D printed gun you find online. One day…
Ready for Plastic Receivers?
Are we there already? American Tactical Innovations say we are… If you like engineering, it has to be worth taking a chance on the plastic rifle that could change the game. ATI makes an AAC 300 Blackout version, too, so it should be able to handle 5.56.
Right now, this is so cheap that you can take a punt on it.
If it doesn't prove durable or you just prefer the solidity of a metal receiver, then you know what to do. If you're not the most demanding target shooter, though, and you just want a lightweight rifle to sling over your shoulder just in case, then there's a lot to like here.
ATI Builds a Plastic AR
It is undoubtedly the first of many new arrivals.
So this could be one of the top semi-automatic rifles here and it could well be the first of a lighter, cheaper, plastic AR-15 revolution.
Material science I the next frontier and we are looking at advanced polymers, graphene and other exotic compounds that could change manufacturing as we know it. The ATI might simply be ahead of the game.
8. DPMS Oracle A3
Price: $700 +
Caliber: .223 Rem/5.56mm NATO
Barrel: 16"
Total: 36.5"
Weight: 6.4lb
Buy Yours Now From Our Partner!
The DPMS Oracle A3 was our favorite AR-15 under $ more than a year.
A Good, Optics-Ready, Cheap AR-15
Up until very recently, if you had $500 and wanted an AR, it was this or a PSA. How times have changed…
There are rivals on the scene now and if you're a little flexible on the money then we have others for you. But if $500 is your hard limit then this is a possible winner.
Wylde Chamber For $500
The mid-length gas system is straightforward, there are no tricks. It's just solid engineering, arguably the best AR15 for this money and yes, you really do get a Wylde Chamber for this money.
The flat-top A3 upper means you can mount any scope you want up top. We would recommend a reflex sight, and keeping it set-up as a weapon.
It Gets Incredible Online Reviews
If you buy guns based solely on the user reviews, then you could easily conclude that this is the number one cheap AR-15 in 2021. This scores 4.8 out of 5 stars on Brownells and that is basically impossible. There are far more celebrated offerings that don't get this kind of feedback.
It is grouping shots within an inch at 50 yards in the hands of owners, it isn't breaking down and it's chewing through thousands of rounds of ammunition in happy customers' hands. It can do the same for you.
Mil-Spec Components
You get a Mil-Spec upper and both the upper and lower receivers are forged aluminum. The chrome moly steel gets a 1 in 9 twist rate and all the basics are there.
You will need to throw away the OEM mag, which is hardly a big deal, and you might want to switch out the furniture if you have got better things lying around. But strangely, we quite like the stippling on the grip.
Perfect Project AR-15 Base?
It's the perfect start for a project AR-15 DIY build, by the way. So if you want to slowly upgrade peripherals then the basics are good and you can add your own stock, foregrip, rails, lasers and more over time.
Of course you can shortcut the whole process with new complete uppers or furniture kit. AR-15 parts, optics upgrades are hardly thin on the ground. If you can't find an AR for sale that suits you, this is an option.
Think of it like starting with a '93 Honda and then it up to Ferrari slaying performance, which obviously always works. /s.
Law Enforcement Officers Like Them
Plenty of LEOs carry this cheap AR-15 for sale as a back-up and some opt for simple iron sights or a full red dot set-up, or a scope.
So, if you're thinking of building, but you're scared, then start with this and just upgrade when you're ready. That makes this the perfect AR for a novice DIY enthusiast.
Buy Yours Now From Our Partner!
Go to top
Check out these other great posts when you're done here:
9. Bushmaster XM-15 M43 A3
Price: $799.97
Cal: 5.56mm
Barrel: 16 inch
Total: 35 inch
Weight: 7lb
Capacity: 20+1
Buy Yours Now From Our Partner!
The Bushmaster XM-15 comes in a number of different specs, but we love the Vietnam war tribute model here.
Aside from the fixed front sight and the carry handle, it's business as usual. But damn that retro chic furniture looks cool.
Window dressing aside, this is the entry-level, low budget rifle. They are complete AR-15 rifles, ready to go.
Does it Have to be an Heirloom
I wouldn't like to speculate about the longevity on this AR for sale although the hard coat looks good. But even if this is a short-term investment, rather than a decades long love affair, it could prove useful.
It's a CMV stainless business end with Melonite coating. The upper receiver and lower receiver both get a Hard Coat Anodized finish and it's a mid-length gas system. So there are no obvious signs of cutting corners. Lightweight furniture helps, but the stock still has six positions.
This is a solid starter AR15 rifle that also looks like a cult classic. The Colt M4 is a legend and this nod in its direction should serve you well.
10. Eagle/Armalite Eagle-15 ORC
Price: $599.99
Caliber: 5.56x45mm NATO/ .223 Rem
Barrel: 16 inch
Total: 32.5-35.5 inch
Weight: 6.5lb
Buy Yours Now From Our Partner!
The ArmaLite was the first AR-15 in the 1950s. ArmaLite sold the design to Colt, which went on to make a killing with the iconic Colt M4 and legendary Colt M16. Here's another battle ready rifle and this one is cheap.
Now Colt is pulling out of the AR market, citing intense competition and falling sales. But more than 50 years of profits off the back of ArmaLite's hard work is not a bad return on a relatively small investment.
Now, as then, Armalite simply doesn't seem to have the marketing firepower to mix it with the likes of Colt, but the American icon is still here. The Armalite Eagle is budget-friendly and it's available for less than $500.
Simple, Clean, Cheap. If Only Everything Worked Like This.
This is a simple long rifle, a complete AR-15, nothing less and not much more. It's a direct impingement that is an ideal novice firearm. At 6.5lb it's a lightweight, too, although that has more to do with cost-cutting rather than exotic materials. Black Nitride coating is about as high end as this gets.
The A2 rail up top is ready for scopes, a chainsaw attachment, whatever you like. You've seen this muzzle device before, but it's a complete AR-15, with a stock and a stock black finish.
Armalite has Great $600 AR-15s
The Armalite M15 5.56 Defensive Sporting is at online Euro Optic. You will find all kinds of variants and some more expensive, piston-driven alternatives that might come with enough of a discount to tempt you into an AR-15 upgrade. The flat dark earth finish is an option too.
Do you want a basic Colt M4 clone with a collapsible stock, polymer handguard, Picatinny rail, stainless 16 inch barrel and no nasty surprises at long range? Then you might want to rely on rifle.
11. Anderson Manufacturing AM15 M4 Carbine Length
Price: $479.99
Caliber: 5.56mm NATO/223 Rem
Barrel: 16 inches
Total: 33″ Collapsed
Weight: 6.49lb
Buy Yours Now From Our Partner!
This is a legit carbine AR-15 that reviewers have consistently been surprised by, that used to be much less than $500.
The RRP has crept up. But it's still a solid matte black starter rifle with a following of devoted customers.
No Discount, Just Regular Pricing
The Anderson Manufacturing AM15 is the real deal if you're looking for a cheap gun. You don't even need a smart discount for this one. It's a legit ongoing deal.
The Kentucky firm has knocked it out the park with a simple semi auto rifle package that is so suspiciously cheap, pretty much every review starts like: "We expected this to suck, and we're quite happy it doesn't…"
Here's one…
This AR-15 is a direct impingement. That's a solid 16-inch barrel , a great yet simple gas block and the accuracy is meant to be on-point.
Other highlights include a forged 7075 T6 receiver and mil-spec, M16-type BCG. There's a 1 in 8 twist rate on the business end, an A2 handguard and a quality buffer tube. We like the pistol grip too.
We prefer the DPMS affordable AR-15s, but this is another one of the best AR-15 complete rifles on the market in 2021 in this bracket.
Go to top
Wild Cards
What if you want something different? Want a single-shot rifle? Henry can take care of you with, yes, a single shot rifle with a break action.

If a single shot rifle isn't your thing, there's probably a side by side or a bullpup AR-15 could be pretty sweet. I mean it's not technically an AR-15, but it's close enough.
The Kel-Tec RDB is too expensive, though, that features in our AR-15 under $1000 feature and that and the Kel-Tec KSG restored our faith in the brand. Just sometimes Kel-Tec does pull magic out the hat…
And right now we cannot find a single bullpup rifle for $500 that we would actually recommend. We do like the Ruger American rifle, though, if you're thinking outside the box.
You think we have missed one of your favorite low-budget AR15 rifles off the list? Get in touch and let us know.
What About a Used AR-15 For Sale Cheap?
A used AR-15 for sale cheap can be a bargain, or a disaster. We don't really recommend buying used guns here.
Because if you're new enough to need basic buyers guides, you're probably too new to spot difficult problems. A second-hand gun can be disastrous in the wrong hands and at long range you might miss a barn door.
So make sure you take someone that really knows what to look for if you want a used AR-15 for sale.
Alternatively if you want to buy used guns online, Guns.com has an increasingly advanced used section with quality dealers. They offer everything from a budget used AR-15 for sale right through to assault rifles for sale.
Check it here:
Guns.com – Massive selection, a used AR-15 for sale from the big names.
Ready to spend a little more on your AR15?
You might well be tempted to go up a class when you see just how much you get for money these days, especially if you're into shooting sports. If you're willing to part with $700 or even $1000, then you can access some pretty serious piston-driven firepower.
Suddenly the Springfield Armory Saint, Adams Arms, Bear Creek Arsenal, Sig Sauer M400 Tread, Savage Arms, a Windham Weaponry rifle 5.56, Kel-Tec and more are within your grasp. Depending on your local gun laws, of course.
A mil-spec Ruger SR-556, Adams Arms, Strike Industries and more are right there. Then there is the Rock River Arms LAR-15, Sig Sauer and more to consider in the United States these days. Bear Creek Arsenal is starting to make a name for itself in the budget sector too.
With the higher price point you get a free float handguard, AR-15 adjustable block, mil-spec everything, new twist rate options and advanced collapsible stocks. The Stag Arms Stag 15 M4 is yours for just the wrong side of $700. So you really don't have to spend much more money to get a great rifle rather than a cheap one.
Naked Rifle Kits Are More Expensive
You'll struggle to find a Rock River Arms LAR-15 or Bravo Company Manufacturing AR-15 long rifle anywhere near this best budget AR-15s money. The deals we remember just aren't there anymore and you need to look elsewhere for a cheap AR-15.
5.56 NATO Semi auto rifle kits from the likes of Aero Precision have also moved into a higher bracket, too, leaving the best budget AR-15s behind. After starting out around the $500 mark and making the list. The company has now decided to go upmarket and target the luxury firearms crowd.
You might have your heart set on a Springfield Armory Saint Victor in AAC Blackout, Savage Arms, Black Rain Ordnance or Windham Weaponry. How's about a beyond stock Smith & Wesson M&P15 Sport with Magpul furniture and red dot sight, Aero Precision, Stag Arms or something else. You might want a flat dark earth finish on your Magpul MOE. We can help you find a gun online right now.
This Game Gets Out of Hand
Before you know it, you can have a Battle Arms Development, or a Daniel Defense DDM4 rifle with an M-Lok rail and stainless steel in your hands. Or a varmint rifle, even a Kel-Tec RDB bullpup or $1000 Spikes Tactical rifle. You would have a perfectly good reason for doing so in our eyes.
That bullpup, flat-top Kel-Tec IS good you know, as is the Springfield Armory Saint and the stock Smith and Wesson M&P15 Sport. It's complicated…
Set the price low to high on the search. Then ignore the cheap ones. Keep going all the way through Troy Industries, Daniel Defense, Faxon Firearms, Alex Pro Firearms, Battle Arms Development, Falkor Defense and more. You'll be on to serious shooting sports and military grade AR-15s before long. That popular rifle is just a distant memory at this point.
Get The Good Credit Card Out?
Now you are going to spend some serious money on a Knights Armament SR-15, Rise Armament battle ready rifle, Wilson Combat Super Sniper or a top end Daniel Defense with a shorter barrel. Or the others you'll find on our custom AR-15s list. But you knew that right?
Incidentally, Bravo Company Manufacturing, Spike's Tactical and Strike Industries are some of our favorite newcomers to this sector. This is quality American defense.
Are you ready to spend a little more on a multi-purpose rifle? Check out these features on the top 5.56 NATO semi-automatic rifles:
Can We Interest You in a Handgun? While You're Here?
If you're after a concealed carry pistol, then you'll struggle on a page of affordable AR-15s. You might want to try these posts instead for your concealed carry handgun needs.
Cheap Glass For an AR-15
Chances are if you're spending $500 on your AR-15, then you don't have big money to spend on AR-15 rifle scopes, optics or red dots either. That's life.
So the budget scopes include the likes of the entry-level Vortex.
For budget reflex sights, a lot of gun owners have turned to the Holosun Micro Sight, Bushnell First Strike, Vortex Sparc or the Sig Romeo line.
For cheap deals, check these easy links:
Get Your Random Stuff Here
For cheap furniture, upper receivers, complete lowers, a front sight, cleaning supplies and more, you can always check these live links. They show you what's available now. Sort by price range and you'll see you can spend anything from a few cents through to thousands…
Brownells – Build an AR-15 with these discount AR-15 parts, high-quality barrels, receiver parts etc. From Magpul MOE furniture through to polymer receivers, upper assemblies, tools, cleaning supplies. Ammo, parts & accessories, even a lever action.
Primary – Awesome upgrades section, custom AR-15 gear. Complete lowers. Stripped lower receiver etc. Get sights, a front sight base, parts, accessories, barrels, upper assemblies, buffer tube, an M-Lok Handguard, a muzzle brake, dust cover, pistol braces and more.
Sportsman's Guide – Handguns, lever action rifles, black powder, military surplus, parts kits and everything in between.
Want Competition Upgrades? Start here
If you're looking at serious upgrades for competition, or you just want the top shiz, there are some names to look out for. If you have a Rock River Arms LAR and you want to go pro, or you just want to get better, we got stuff.
Geissele Triggers has a high quality two-stage trigger, and Hiperfire has emerged as another top contender. The two-stage trigger is generally considered the one you want, but you do you.
Bravo Company Manufacturing make some of the top stuff. From a complete upper, receiver parts and pistol grips through to handguards, charging handles and flash hider. You can get a charging handle from anybody, but you shouldn't…
Wilson Combat also has some great upgrades for the AR 15 and 1911s. Wilson Combat is even moving into Glocks these days, bringing engineering excellence with it. So you can start with a stripped lower receiver and built a beast if you want to break the bank.
Especially when you're competitive shooting, you need the Modern Sporting Rifle that feels comfortable to you and you alone. Then get the right cleaning supplies, ammo, parts, accessories, all the other shiz.
What About Your Ammo and Other Odds and Ends?
We got everything, from gas blocks, an air gun to 308 Win Mag hunting specials and 7mm Rem Mag We seriously do love the air gun that shoots arrows and the 308 Win Mag or 7mm Rem Mag sniper rifle almost as much as each other.
It's just a lot of bang for the buck in both cases. So get an air gun, or a 308 Win Mag, now. We'll love you whatever you decide.
All rights reserved. Privacy policy available upon request.Customer Service is our specialty so get in touch if you want help. But really, you don't want those privacy policy terms?You want the site map too? Enter your email in the top bar for more interesting things. And get out more. Also check the return policy of the dealer involved as we don't have a unified return policy here.
Sours: https://www.usa-gun-shop.com/5-best-ar15s-500-less-cheap-guns-for-sale/
No need to break the bank, these are the best AR-15 options that will get you on target and leave money for ammo.
What Are The Best Budget AR-15 Options:
White-hot as a plasma cutter, that's how it was around a decade ago. When everyone was certain politics would quash ownership, demand for AR-15 rifles got so out of control the most basic models moved for an insane price. A grand, sometimes more. Hard to believe, but true.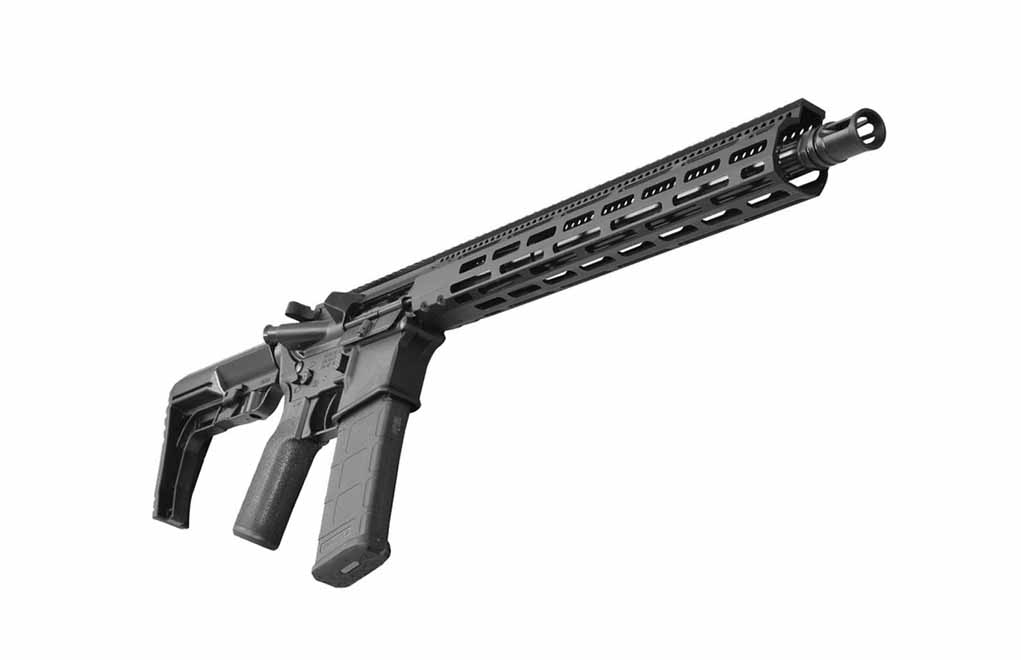 Outside of recent events of pandemic proportions—Covid 19 and the election of politicians hostile to gun rights—American's appetite for the handy rifle has been somewhat slaked. Certainly, shooters still love to build and buy Eugene Stoner's masterpiece. But they aren't donning their high school baseball spikes to trample over the rest of the market to nab one. In a word—again outside recent events—the market has normalized.
The performance of the AR-15 has not. In fact, given the wealth of top-rate ammunition, excellent upgrades and plenty of quality pre-built options, the rifle is better than ever. Spend the money and you can almost guarantee something tailored exactly to your needs. It'll shoot like a laser beam and be built to hand down to a son or daughter. The other end of the price spectrum isn't shabby either.
Entry-level models, though not tuned to the level of perfection of the top-shelf stuff, are still worthy investments—especially if you're new to the AR-15 game. Yeah, you'll most likely have a gritty mil-spec trigger out of the box and the handguard will be more Honda Civic than Corvette. But the rifle itself will hold its own well enough for home defense, target practice or even to fill a survival-gun role.
That said, we've collected 8 of the best budget AR-15 options that more than fit the bill for these applications and any others you might cook up. Our ceiling for this article is $1,000, which nets you a pretty good rifle, believe it or not. But before we get to the litany of rifles, it might be worth boning up on some basics of what to look for in an AR-15 in the first place.
However, if you know all this stuff and want to get to our entry-level AR-15 recommendations, you can skip ahead.
AR-15 Buyer's Guide Contents
AR-15: A Short History
Eugene Stoner designed the AR-15 in 1956 while working at Armalite, a smaller-caliber derivative of his earlier AR-10 design. A short aside for those who don't know, the AR designation stands for "Armalite Rifle" and nothing else. In operation the rifles are identical, just the chamberings are different. The AR-10 was chambered for 7.62x51mm (or .308 Winchester), the AR-15 5.56x45mm NATO, an evolved version of the .223 Remington based off the .222 Remington varmint cartridge. Why go small? Essentially so a soldier could carry more ammunition into battle. As far as its effectiveness, there's no doubt the 5.56 is deadly, but it remains a hot-button debate up to this day if it's optimal.
Anyhow, Armalite eventually sold the AR-10 and AR-15 rights to the company now most associated with the designs Colt. Under the guidance of the company, the rifle came under its first military contract by 1961 and was adopted by all United States Armed Forces in 1964.
This was a slightly redesigned model that was eventually designated the M16. Incidentally, today what is known as an AR-15—no matter what the chattering class tells you—is a much different animal to the original AR-15. What was produced in the '50s and '60s was a select-fire rifle, whereas the modern AR-15 is semi-automatic. Blame the confusion on Colt marketing folks, who designated the semi-auto civilian sporter model AR-15 to capitalize off its cousin's military cred.
Over time, the rifle evolved to meet the military's changing needs, until the M4 Carbine design was adopted in the 1990s. Barrel and gas system length are the changes here, with a 14.5-inch barrel and a carbine-length gas system. Overall, this is the most popular pattern found in AR-15s today, though the rifle comes in every shape and size. By The Way, AR-15 technically only applies to Colt rifles—they own the rights—hence the reason you find other manufacturers calling the gun all sorts of different names, such as Palmetto State's PA-15.
AR-15's Desirability
There is little arguing the AR-15 is the most popular rifle of the late 20th and early 21st Century. In fact, it is the most owned rifle in America, which raises the question Why? Multiple reasons.
History: Yeah, it's not the original military rifle, but is close enough to scratch most folks' vintage itch.
Shootability: The platform is very accurate at intermediate ranges and dang pleasurable to shoot. Most of the cartridges the rifle is chambered for are mild with little recoil.
Modularity: Next to its down-range performance this is the AR-15's biggest selling point—you can tailor the rifle to exactly your preferences. Handguard, trigger, sights, grip, mag release, you name it and there's an aftermarket upgrade. Bonus, most don't require armors certification to add to a rifle.
Breakdown Of The AR-15
Getting to the rifle proper, there are numerous factors to consider when investing in an AR-15. Let's skim over the major parts of the gun and hash out the importance of each and some specifics to look for when shopping.
Receivers
The AR-15 rifle has two receivers, the upper and lower. However, the lower carries special significance, given it is the part the Federal government technically considers the firearm. Hence the reason it is serialized.If you were to build a rifle from scratch, a very satisfying endeavor, you would require an FFL and background check to purchase even a stripped lower receiver. The upper, even a complete one—which includes all the internals, barrel and handguard—could be shipped directly to you without the need of a licensed intermediary.
The great majority of receivers are constructed from aircraft-grade aluminum alloy, usually 6061 and 7075. The numbers simply designate the type of alloy being used and sometimes include a sub-grade designation, such as "-T4" or "-T6". These specify the temper placed on the aluminum, that is, how the alloy was heat treat.
There are two types of lower receivers billet and forged. Billet receivers are produced from a single block of aluminum that is machined into the profile of a lower. It's a more time-consuming process, however, it yields more unique designed and integrated features. Forged receivers are made by hammering two roughly shaped halves of aluminum, then machining the profile later. This is the more affordable of the two methods, given machining is kept to a minimum.
Which is better? That's a can of worms, given billet and forged receivers each have the advocates. Overall, forgings tend to be more durable, given the alloy's grain structure remains intact. But billet receivers achieve tighter tolerances.
AR-15 Barrel
Simple as a fire tube seems, there the AR-15 barrel is a multi-faceted topic. Let's delve into what you'll find when you shop for a rifle.
AR-15 Chamberings
Quite simply, the chambering is what type of cartridge the rifle shoots. And the AR-15 shoots quite a few cartridges. Richard Mann has an excellent piece on AR-15 calibers if you want to survey what's out there. However, by far the most popular AR-15 chambering is 5.56x45mm NATO and accounts for nearly every option on our list below.
If this is your first endeavor into AR-style rifles, the common caliber is a solid choice. Outside of buying panics (hello 2020 and 2021), it is widely available and generally affordable. It's also lights out at intermediate ranges, is an absolute Thor's hammer versus varmints and is legal in many states to take deer. Also, it'll do a number on a home invader.
While the 5.56 NATO is essentially a .223 Remington, the two are not interchangeable. Patrick Sweeney gives the nitty-gritty on the .223 vs 5.56 if you're interested in specifics. For our purposes this is what matters:
A 5.56 NATO barrel will shoot both 5.56 and .223 Remington.
A .223 Remington barrel will only shoot .223 Remington.
A .223 Wylde will shoot both 5.56 and .223 Remington.
Barrel Length
While you won't find them on a production rifle, there are 26-inch AR-15 barrels in this world. At the other end of the spectrum 4-inch options. Also everything in between. On the surface, it's a bit of a muddle on what to choose, but law and performance help thin the field fairly quickly.
By Federal law, a rifle must have a 16-inch barrel, which can include a permanently affixed muzzle device (i.e. suppressor, muzzle brake). Go any shorter and the gun is considered a Short Barrel Rifle (SBR) and requires a tax stamp and registering it. For most, these are a hurdle not worth crossing, in turn, 16-inches is the basement. The ceiling, unless you get into custom rifles, is 20-inches on most production offerings.
As for performance between the top and bottom, it's marginal. In general, a 20-inch rifle produces more velocity, given it has more bore, thus ensures a more complete powder burn. But it will only beat out a 16-inch AR by roughly 150 to 200 fps at the muzzle. In many shooter's books, it's a marginal difference, which tends to give the shorter barrel the advantage. With the same contour, the 16-inch barrel is stiffer, thus suffers less barrel whip and is much more nimble.
However, if you aim to milk as much range from an AR-15 as possible, the 20-inch flavor might be your cup of tea. It'll produce greater velocity, thus get the bullet where it's going faster and narrow the window in which wind and gravity work upon it.
Barrel Material
AR-15 barrels are either made of carbon steel or stainless steel. Here are the most common of each.
Carbon Steel
4140: The most affordable steel, the alloy contains .80 to 1.10 percent chromium, .15 to .25 percent molybdenum and .40 percent carbon. The materials increase the strength and hardness above standard carbon steel.
4150: Also containing chromium and molybdenum, this steel has .50 percent carbon. The steel has a higher tensile strength, however, requires a stress-relieving treatment, thus is more expensive.
Chrome-Moly Vanadium (CMV): Developed by Colt, the steel is the official mil-spec material used in the military's M16 and M4 rifles and carbines. Essentially, its 4150 steel with the addition of Vanadium, which significantly increases strength, hardness and stability in high temperatures.
4150 CMV, 41V50 Steel or 4150 V: Same as CMV, but the name's been dolled up for marketing purposes.
MIL B-11595: It's not steel, but a specifying document of the materials used in a mil-spec barrel. Some companies slang it up and use this designation for CMV barrel just to sound cool and confuse the entire world.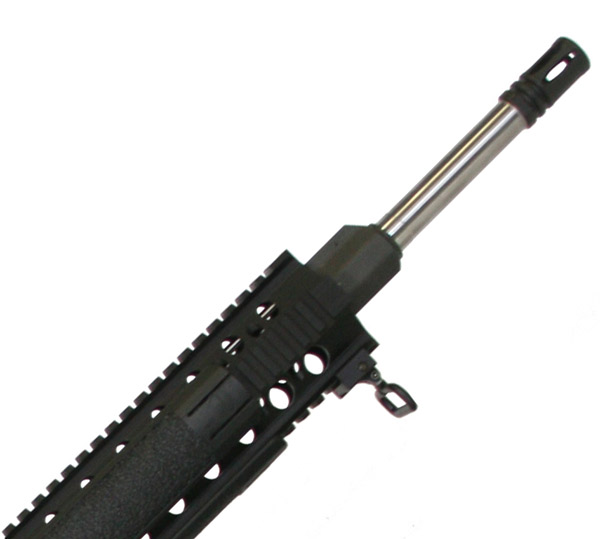 Stainless Steel
410: A stainless steel that includes molybdenum and is known for its durability (perhaps the best of the lot). However, it is not recommended for cold-weather duty. Below freezing, the risk of cracking is increased.
416: A highly machinable stainless steel, thus allows for better rifling and performance. However, it is less corrosion resistant than 410. Not the top choice of the lot.
416R: A proprietary alloy from Crucible Industries, it normal 416 stainless with molybdenum added. It machines like 416, however, has superior low-temperature performance and corrosion resistance.
17-4 PH: Known for its high strength, corrosion resistance, good mechanical properties and toughness. Precision shooters love barrels made from 17-4 PH, given the extreme uniformity and smoothness of the rifling—that and a barrel will last 3 times as long. However, the process in which its made—precipitation-hardening (PH)—makes it expensive.
Barrel Lining
Yup, there's something in the AR-15's bore (in many cases) besides rifling. Barrel linings are found in carbon steel barrels and improve their corrosion resistance and improve their longevity. Note, some manufacturers do not line their barrels, which isn't a sin against God. If you're in the market for a causal target rifle you'll take out occasionally and care for properly, a non-lined barrel will get the job done. Harder use on the horizon, consider a barrel with this lining.
Chrome: The longest and perhaps most-used lining, Chrome reduces the effects of friction and heat on the barrel proper. Additionally, it makes cleaning much easier. This all adds life to the barrel. However, the process is known to reduce a rifle's accuracy, though not to the extent that renders it useless. Most casual shooters won't know the difference.
Ferritic Nitrocarburizing (FNC): Most likely you see FNC lining called something different, usually Melonite or Nitride. It's essentially a case hardening processes that diffuse nitrogen and carbon into the steel. Thus treated a barrel can withstand direct exposure to water, heat, salt and corrosive elements better than any other process. Additionally, since it does not add material, it maintains the barrel's accuracy.
Barrel Rifling
Manufacturers use different methods to apply the rifling to the barrel's bore. Some methods are better for certain applications, here's a look.
Cut Rifling: The oldest method of rifling a barrel, the process removes metal from the bore using a single-blade, hook-type cutter. Each groove is cut individually and with multiple passes, making it time-consuming and expensive. However, it introduces no additional stress to the barrel and tolerances can be kept tight.
Broach Rifling: Very similar to cut rifling, except a multi-bladed broach (metal bar) is used to cut successively deeper grooves. All the rifling is cut at once and in a single pass. This is a more affordable method with little stress placed on the barrel that has very consistent results through the entire bore. Broach rifling a barrel, relative to other methods, is still expensive.
Button Rifling: Essentially, a button of tungsten carbide with a reverse of the rifling is drawn through the bore displacing metal to lay down the pattern. It is a fairly economical system that turns out excellent results. The lands and grooves are very uniform and have a smooth finish. However, this method puts stress on the barrel that typically must be relieved afterward.
Cold Hammer Forged (CHF): A tungsten-carbide mandril is run into a roughly shaped barrel blank and the rifling is hammered into the bore. Overall, a majority of AR-15 barrels are made in this fashion and they are extremely popular with shooters. Tough as nails, these barrels withstand a lot of abuse. However, the must be stress-relieved after the process and CHF doesn't produce the uniformity of the other processes. Though, most shooters won't notice.
Types of Rifling
This use to be cut and dry, but with the advent of 5R rifling has become a factor. What is 5R rifling, simply put the leads are opposite of the grooves and tapered. The idea behind this is to create less bullet deformation, thus maintain ballistic integrity. Additionally, it's supposed to be easier to clean. Traditional rifling still dominates the AR-15 market—lands opposing lands, with no taper. The jury is still out on if one outperforms the other.
Barrel Contours
Barrel contours, or barrel profiles, are simply the shape of the barrel. On the surface, a fire-tube's form might not seem like much, but it has an effect on performance and the AR-15 manageability. Thick and heavy bull barrels tend to take longer to heat up, suffer less barrel whip and maintain their harmonics better. The trade-off, their heavy and not something most folks want to hump around. Conversely, thin pencil barrels are light and make for a fairly nimble rifle, but heat up quickly and become "whippy".
Fluting can provide an acceptable middle ground, removing material lengthwise along the barrel. This helps maintain rigidity, creates more surface area to dissipate heat and lightens an AR-15's burden. Still not as much as other styles. Here's a brief overview of common AR-15 barrel contours.
A1: The original pencil barrels found on the M16A1 rifle.
A2: Heavier profile forward of the gas port, found on the M16A2 rifle.
M4: Thin near the chamber, heavy just before and after the gas port, found on the M4 carbine.
Government: Same as the M4, but lacks the grenade launcher cut.
Heavy: Like it sounds, a thick bull barrel.
AR-15 Gas System
The gas system power behind how an AR-15 cycles. The gas from the conflagrated powder behind the bullet is bled off and either moves the bolt-carrier group (BCG) or a piston. Here's a brief overview of each.
Direct Impingement (DI): This is the system that directs gas back to the receiver to move the BCG. It is extremely light and does nothing to infringe on an AR-15's accuracy. However, it injects a good deal of carbon and fouling into the receiver, meaning the shooter must stay up on cleaning detail.
Piston: Gas forces a piston rearward which moves the BCG. While this keeps the receiver clean and is a somewhat more robust system, it does have its flaws. Pistons-driven guns are known for being less accurate, heavier and more expensive.
Gas System Lengths
The length of a gas system is determined by the distance to the gas port (where gas is bled). There are four lengths.
Pistol: 4 inches
Carbine: 7 inches
Mid-Length: 19 inches
Rifle: 12 inches
Gas Bocks
On a DI AR-15, the gas block is what diverts the gas from the barrel into the gas tube, thus back into the BCG. Most entry-level guns utilize a front sight base style gas block, in which the block is integral with the front sight. However, low-profile gas blocks, which reside under the handguard, are becoming more common.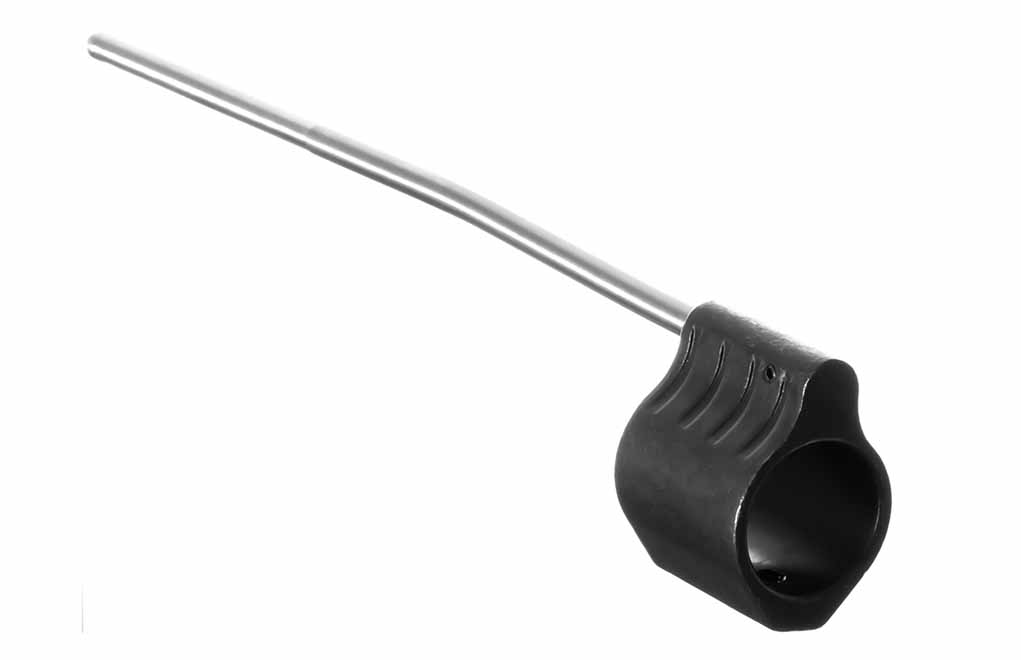 Bolt Carrier Group
The AR-15 bolt carrier group is where a lot of the action happens in the rifle's operation. The component loads the fresh round, fires it and ejects the spent case. Essentially it's made up of four main components.
Bolt: The rotating bolt locks the chamber for firing, as well as strips a fresh round off the magazine. It also has an extractor, whose job is to pull the spent case out, eject it from the receiver. Bolts are typically made of one of three kinds of steel, Carpenter No. 158, 860 or 9310.
Carrier: The heart of the BCG, it houses all the other components and does all the heavy lifting. It deals with a ton of force thus must be well made from tough material, the same kinds of steel as the bolt.
Gas Key: The small cupped device at the top of the BCG. It catches the diverted gas to thrust the BCG rearward, thus cycle the rifle.
Gas Rings: Traps the expanding gas, allowing it to operate the bolt.
Cam Pin: Stops the bolt from over-rotating when unlocking and keeps the cam pin, bolt, and firing pin rotating and moving as one unit.
Firing Pin: Strikes the primer to initiate the firing process.
Barrel And Bolt Testing
Most manufacturers give a damn about the quality of their products, thus test them for imperfections. There are two main tests Magnetic Particle (MP) and High Pressure (HP). Each is designed to detect any cracks or flaws in barrels and bolts, each component should be stamped with the acronyms if they've gone through the procedures.
Handguards
More the preventing you from singing your hand, many handguards serve as an accessory attachment point. Two of the most popular systems to this end are M-Lok and Keymod—the former more prevalent. As to the types of handguards, there are two main varieties: free-floated and non-free-floated. As the name suggests, it is all determined by if the handguard makes physical contact with the barrel. Free-floated handguards a preferred as they enhance the accuracy potential of a rifle. But non-free-floated will get the job done without knocking a gun too far off-kilter.
Buffer Tube
This is the protrusion on the rear of an AR-15, where the buttstock attaches. It housed the buffer spring and weight, whose jobs are to slow the rearward path of the BCG and return it forward.
AR-15 Triggers
Next to the AR-15's performance, modularity is perhaps the gun's greatest attraction. From buttstock to front sight post, there isn't a facet of the rifle that can't be fiddled to perfection. Needless to say, your options are legion and far too vast to cover here. Instead, we'll zero in on one feature of the gun you should consider top of your AR-15 upgrade list—its trigger.
---
Get On Target With The AR:
---
By and large, what is known as a mil-spec trigger is a nasty beast. It'll get your gun to go BANG!, but it won't do much to enhance its performance. As you progress as a shooter, you'll find those crunchy, gritty, squishy triggers detract from your accuracy potential. Thankfully, putting a better bang switch into your rifle is among the simplest upgrades and for the money one of the best values. With that in mind, it's wise to factor an extra $100 to $200 into the base price for an upgraded AR-15 trigger. Yeah, it ups your investment, but you won't find it a waste of money by any stretch.
The fine print behind us lets jump into the meat of the matter.

Best Budget AR-15 Options
Smith & Wesson M&P 15 Sport II
While not as storied a history with the rifle as some, Smith & Wesson has proved more than adept at producing the platform since 2006. It's M&P 15 Sport II is a bare-bones budget AR-15, but one that performs superbly. It's an excellent choice to familiarize yourself with the platform or fill the role as a no-frills fighter for home defense.
The base model has a 16-inch barrel, Armornite finished including the bore and comes outfitted with an A2 front sight and folding Magpul MBUS rear. Standard, the direct-impingement operated gun boasts a 30-round magazine, though Smith & Wesson sells state-compliant models for both capacity and configuration.
Smith & Wesson keeps the rifle simple, which includes chambering—5.56. But the lack of variety in calibers gives the company time to concentrate on the M&P 15's top-notch performance. MSRP: $792, smith-wesson.com

Ruger AR-556
A latecomer to the AR game, Ruger has made up plenty of ground. Its AR-556 has fast become a favorite among newbies and old hands alike, offering clockwork performance at a fair price. Especially the standard model.
As its name implies its strictly a 5.56 chambering, though if you wander up the pricing tiers Ruger does offer some other calibers. The rifle has a medium contour 16.10-inch cold-hammer-forged barrel, with a 1:8 twist rate and is topped with a proprietary flash suppressor. The muzzle is cut with a ½-28 thread, so the AR-556 is more than ready for you to slap on a suppressor.
The budget AR-15 is outfitted with an A2 front sight and the company's rapid-deploy rear that folds away, but is ready at a moment's notice. The AR-556 has attachment points including a QD socket and bayonet lug, for a sling, as well as accessory mounting options. Though, its glass-filled polymer handguard does leave a bit to be desired. Still, it's functional and gets the job done. MSRP: $959, ruger.com

Core LO-PRO Scout
Core Rifles Systems has a solid line-up of AR-15s, include its entry-level Scout. A basic M4-pattern, there isn't a ton of surprises to the carbine, but in this case, boring is good. Well-made and familiar, the Scout is tediously reliable and right on the money downrange. What else do you need?
Core, however, does allow you to upgrade the 5.56 rifle before it gets in your hot little hands, none of the extra's putting the gun over this article's price threshold. Perhaps the most weighty, the option for a nickel-boron bolt-carrier group (BCG). The high-tech alloy is more wear-resistant, as well as self-lubricating, ensuring smoother performance over the long haul. Additionally, you can choose a left-handed configuration and have the option of three color choices: black, flat dark earth and OD green. All in all, pretty slick for a budget AR-15 well south of $100. MSRP: $850, core15rifles.com
Del-Ton Sierra 316L
If you're a penny pincher, Del-Ton is a good brand to fall in love with. The better part of its catalog comes in at less than $800, yet the company doesn't skimp with their builds.
We gravitate to the Sierra 316L ourselves, given the flattop has a better handguard than you'll find on most guns in its class. A free-floated unit, it keeps barrel's harmonics pristine improving the rifle's overall accuracy potential. Furthermore, M-Lok slots at the 3, 6 and 9 o'clock positions give plenty of room for accessory attachment. Plus it has a load of high-end features: chrome-moly-vanadium barrel (1:7 twist), DTI low-profile gas block, phosphate steel carrier assembly, chrome-lined carrier interior, among other things.
The hitch for some on the 16-inch barreled carbine, it's a flattop. In turn, you'll have to invest in an optic or iron sights, if you don't have either. Still, if you're willing to take the extra leap at an aiming solution, the Sierra 316L provides you a superior platform for an entry-level price. MSRP: $675, del-ton.com
Palmetto State Armory (PSA) PA-15 M4
Long a purveyor of excellently priced and made ARs, few top Palmetto State AR Armory when it comes to value. Again, it's one of those companies where budget AR-15 options are the norm, but its base model PA-15 is tough to beat when you're getting your legs with the platform. First and foremost, because the carbine ticks like a clock, leaving you free to master the platform, not addressing stoppages (though, you should work on that too).
The M4-pattern carbine boasts a 16-inch M4 profile chrome-moly-vanadium barrel (1:7 twist), mid-length gas system and aircraft-grade aluminum receivers. It has an A2 front sight, as well as a stainless-steel carrier and Carpenter 158 steel bolt head, which is tough as nails. In the rear, the 5.56 has a 6-position M4 buttstock, upfront a plain-Jane M4 handguard, which isn't much to write home about, but gets the job done. MSRP: $849, palmettostatearmory.com

Radical Firearms
One of those hidden gem companies, Radical Firearms gives you a lot of options in piecing together your gun. One of the most welcome, the choice of rails. In all, there are five styles to choose from, better matching the gun to your particular application. The ultralight FCR, ridge FGS and quad-rail FGQ all keep the carbine's price rock-bottom; but the suppressor-friendly MHR and ultra-slim RPR won't break the bank. In all cases, they free-float the barrel, offer a ton of attachment points and boast top rails that runs seamlessly into the receiver.
Even better, with Radical you have caliber options running from 5.56 NATO up to .450 SOCOM. Though, only the standby AR caliber and .300 Blackout chamberings keep the gun at its most economical. The one hang-up, it does require you to invest in an optic or iron sights. But with everything else—including price—Radical Firearms offers that's a small bump with this budget AR-15. MSRP: Starting at $648, radicalfirearms.com

Aero Precision AR-15M
Aero Precision makes a dang fine rifle and, if you're a bit more advanced, have nearly everything you need to piece one together. If you're in the market for something well-priced and fit to meet any challenge, its AR-15M is right down your alley. The M4-pattern carbine is nimble, on-target and easy on the wallet.
What the budget AR-15 brings to the table is what you'd expect out of a well-made carbine: 16-inch chrome-moly-vanadium barrel, mid-length gas system, stainless steel carrier group and carpenter 158 alloy bolt. Additionally, it's outfitted with an A2 front sight, Magpul MBUS rear and A2 flash hider. Honestly, you'll find the configuration on plenty of other builds. However, Aero ensures the fit of their guns is tight and that they perform near flawlessly. In the end, that's what you really need. MSRP: $739
Springfield Armory SAINT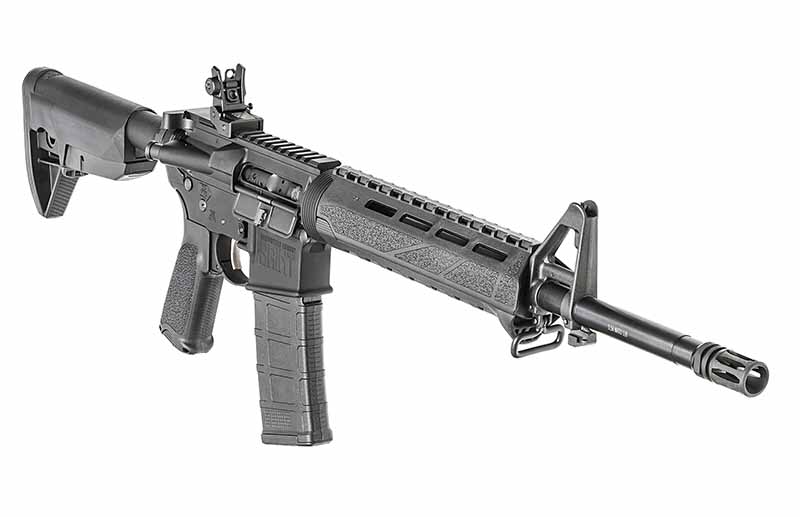 Honestly, for the money they ask, Springfield has cooked up among the best entry-level AR-15 options in the SAINT. While it does boast several spartan features, it has many assets generally not found in this class of rifles. Top-end component for one.
Whatever Springfield didn't make themselves, they picked top-shelf manufacturers to fill the role. These include Bravo Company furniture, including an M-Lok compatible handguard and a Gunfighter trigger. The switch is especially nice, not a bit of creep and a reset no bigger than a minute—just the thing to get the SAINT humming. The company's in-house assets are no slouches either: self-lubricating nickel-boron coated BCG, Melonite treated CMV 16-inch barrel and mid-length gas system. It also boasts Springfield's Accu-Tite system, which tensions the receivers so there's no play.
The gun has a rugged fighter's feel to it, something that won't leave you high and dry when you need a carbine that will always go bang. Though, for a more discerning pleasure shooter, it certainly won't disappoint. MSRP: $995; springfield-armory.com

Sig Sauer M400 Tread
There were some dubious voices when Sig announced its first sub-$1,000 AR-15 a few years back. Once the M400 Tread was released, those voices were soon silenced. In many folks' opinion, the 5.56 carbine is the best of the budget class of carbine and for one simple reason. Sig didn't compromise.
Top to bottom the M400 Tread delivers a tightly built AR that goes bang every time you pull the trigger and hits the mark. What more could you want? And Sig went the extra mile, arming the 16-inch, stainless-steel barreled carbine with such assets as ambidextrous controls, crisp single-stage trigger, M-Lok compatible, free-floated aluminum handguard and 3-chamber compensator. The stainless-steel barrel catches our eye, upping the gun's accuracy potential and helping it blow off heat during long strings.
Overall, and perhaps more than any other AR on this list, the Tread feel, looks and performs like it was built for hard use. Truth be told, you might drop coin because it's entry-level price, but come to find it's all the gun you require. MSRP: $950; sigsauer.com
Discontinued, But Available Budget AR-15
Bushmaster XM-15
Bushmaster has been shuttered by Remington, along with all its other MSR holding. A shame, since for more than 40 years they turned out a solid rifle, many well within most shooter's budgets. The XM-15 sure was. While its certain supplies of this budget AR-15 will start to dwindle, they are still available and generally come in at the $600 mark or below. Given, like all ARs, the M4-pattern carbine is completely aftermarket supported it could prove a solid investment for those willing to hunt one out. Not to mention, a little nostalgic to boot.
---
NEXT STEP: Download Your Free Storm Tactical Printable Target Pack
62 Printable MOA Targets with DOT Drills - Rifle Range in YARDS
This impressive target pack from our friends at Storm Tactical contains
62 printable targets
for rifle and handgun range use. Target grids and bullseye sizes are in MOA. Ideal for long-range shooting!
Get Free Targets
---
Elwood Shelton
Elwood Shelton is an online content developer for Gun Digest. He is a gun owner and avid reloader from Colorado. When not at his press or the range he can be found chasing mule deer around the Rocky Mountains.
Sours: https://gundigest.com/rifles/ar-15/budget-ar-15-options-more-bang-for-the-buck
Top 5 Places To Still Buy Budget AR15s!
8 Affordable AR-15s To Fit Any Budget
While we all want to drop coin on tricked out, AR platform rifles not all of us can afford the high-dollar price tags. For those moments, we turn to affordable AR-15 models. Guns.com has pulled together some of our favorite and wallet-friendly models for those minding their bank accounts.
1. S&W M&P15

The Smith & Wesson M&P15 burst onto the AR-15 scene in 2006, debuting at SHOT Show. Marked with the "Military and Police" moniker, the rifle provided a rugged, semi-automatic build designed for law enforcement, recreational, sports and professional shooters.
Now a staple in the AR-15 realm, the Smith & Wesson M&P15 offers a wide swath of options from barrel length to caliber to state-compliant models making it a great option for gun owners who prefer a little variety to life. Those that prefer the standard model, will find a 16-inch barrel length with a 30-round capacity magazine and weight around 6.85-pounds. The M&P15 Sport II retails for $769 with used prices subverting that price tag.
Shop Our New & Used M&P 15s For Sale
2. Diamondback DB-15

Diamondback Firearms is known for making affordable firearms for price-conscious consumers. The DB-15 proves no different. Made in the good ole USA, the DB-15 comes in the shooter's choice of loadout with options ranging from simple color options all the way to sights and stocks.
The gas-impingement rifles are chambered in 5.56 NATO/.223 Rem and sport barrel lengths from 16-inches to 18-inches with weights around 6.65-pounds. Even better, the rifles start around $500 but again used models lower that price under that mark.
SHOP THE DB-15 ON GUNS.COM
3. DPMS Oracle

When budget is of the utmost priority and you need an AR-15 for just under $500, look no further than the DPMS Oracle. Chambered in 5.56 NATO/.223 Rem, the Oracle brings a 16-inch barrel to a lightweight 6.4-pound frame. The all-black AR boasts a flattop railed receiver and railed gas block offering attachment points for optics if you want to further trick the build out.
Other features include a Glacier handguard, A2 pistol grip, A2 birdcage flash hider and Pardus stock. The platform is rounded out with a 30-round mag. Though MSRP is $793, street prices hover just under the $500 mark.
GRAB THE DPMS ORACLE ON GUNS.COM
4. Rock River LAR-15 RRAGE

Chambered in, you guessed it, 5.56 NATO/.223 Rem, the LAR-15 RRAGE from Rock River Arms brings a 36-inch frame and marries it with a 16-inch lightweight barrel topped with A2-style flash hider. The AR-15 offers a carbine-length gas system with a low-profile gas block, Rock River Arms single-stage trigger, and M-LOK compatible handguard for those accessories.
The LAR-15 RRAGE sports a 30-round magazine but, most impressively, offers a modest street price. Though it retails at $760, consumers can find it well under $630 and used prices even lower than that.
SEE THE LAR-15 RRAGE AT GUNS.COM
5. Adams Arms Agency

The Adams Arms Agency is a truly wallet-friendly AR-15, keeping with the basics to ensure that price stays in a sweet spot for budget-minded consumers. The 5.56 NATO/.223 Rem build features a flat-top upper, six-position retractable stock and M-4 style polymer handguards. The Agency sticks to that tried and true 16-inch barrel design, offering a threaded muzzle with an A2 flash hider.
The greatest advantage to the Agency Arms Agency is the street price – often less than $600.
GET THE AGENCY BEFORE IT'S GONE
6. Ruger AR-556

A modern sporting rifle, the Ruger AR-556 delivers an all-black AR-15 platform featuring adjustable sights, QD socket and bayonet lug, single-stage trigger positioned in an enlarged trigger guard and six-position, telescoping buttstock. Equipped with a carbine length gas system, the AR-556 sports a 16.10-inch barrel length, overall length of 32.25-inches to 35.50-inches depending on stock position, and weight of 6.5-pounds.
The Ruger AR-556, chambered in the obvious choice of 5.56 NATO, ships with one Magpul 30-round PMAG. The AR-556 retails for $799 with actual prices coming closer to $640.
PICK UP THE RUGER AR-556 AT GUNS.COM
7. Palmetto State Arms Freedom Carbine

Palmetto State Arms enters this list with an AR catering to consumers looking to stick to a budget. Featuring a 16-inch barrel with an overall length of 32-inches, the Freedom Carbine weighs in at 6.8-pounds. Chambered in 5.56 NATO, the Freedom offers features like an AR-style grip, PSA M4 Carbine Stock and PSA single-stage trigger assembly.
The PSA Freedom offers an MSRP of around $600.
CHECK OUT THE PSA FREEDOM
8. Bushmaster XM-15

Bushmaster brings the XM-15 Standard to consumers looking for multiple pricing options. Featuring a variety of models to suit a range of budgets, the 5.56 NATO XM-15 Standard features barrel lengths of either 16-inches or 20-inches. Offering a 30-round mag capacity, the XM-15 delivers a modern sporting rifle design with an M16 bolt carrier and weights between 6-pounds and 8-pounds.
With a bevy of models, the Bushmaster XM-15 starts around $895 with actual prices falling under $700.
SNAG Browse New & Used Bushmaster XM-15 Rifles
For these models and more, check out Guns.com's full lineup of AR-15s.
Sours: https://www.guns.com/news/2019/09/25/8-affordable-ar-15s
Ar sale for affordable 15
Read it and gave her 2 identical sheets of paper with the printed text. Under each of them was a beautiful sweeping signature, and the surname, name and patronymic were written. Enter your data.
Top 5 Places To Still Buy Budget AR15s!
This was the end of our first conversation. However, I probably liked Zurik with my elastic ass, and he, of course, would like to introduce his hefty dick to her. Moreover, he wanted to fuck, but there was no one with him. And so, a few days later he asked to jerk off to him in the evening. I just want to cum, he told me.
Now discussing:
That's just a fascist. -And here you go, and I'll miss everything. Let Mumumba write down everything that happens in a notebook. -Good-answered Tsizya-let's do so. FUCK MUMUMBA.
9148
9149
9150
9151
9152