Call of Duty Mobile is a team-based game. The communication between team members is vital to winning more matches whether it's a Multiplayer or a Battle Royale match. But it can be annoying sometimes due to various bugs related to the microphone which occurs often, unfortunately. You may suddenly lose communication in the middle of a ranked match. Losing all communication could be the only reason for losing a match which you could have won easily. And you have to pay the price by losing your hard-earned ranking points.
These bugs occur due to various reasons. Sometimes it happens when the microphone permission being reset for the COD Mobile app in your mobile settings. Many players continuously reporting these bugs and Activision is currently working to find a solution to fix these issues. So until they fix it once and for all, here are some quick fixes for Call of Duty Mobile mic bugs.
Simple Fix of Call of Duty Mobile Mic Bug
The simple way to fix the mic bug is by switching off and on the speaker and mic buttons. Doing this several times fix the mic bugs occasionally. But sometimes this would not fix the issue and you may have to restart the game entirely in the middle of a match or once a match is finished.
However, this can be annoying for both you and your fellow teammates. Sometimes you are already kicked out from the team once you return after restarting. So this might not be the best solution for mic bugs.
Call of Duty: Mobile Search & Destroy Tips
Use Discord App to Chat with Team Mates
Discord is an all-in-one communication app built for gaming and other regular communications. It is the best solution currently for constant uninterrupted communication with your teammates during gameplay. The app is available for free and easy to install and use.
Follow these steps to install and use the Discord app to chat with your friends and teammates during the gameplay.
Download the Discord App
Use the following links to download the Discord app to your device.
Android https://play.google.com/store/apps/details?id=com.discord
iOS https://itunes.apple.com/us/app/discord-chat-for-games/id985746746
Windows PC https://discord.com/api/download?platform=win
Mac OS https://discord.com/api/download?platform=osx
Signup & add your friends to the friends' lists
Simply click on the second icon to search for friends who use Discord.
Call of Duty Mobile Wallpapers – 4th Collection
Type your friends' Discord user name on the search bar and click on the "Send Friend Request" button.
You will be able to make voice and videos call or even text chats once they have accepted your friend request.
Start a group call and start playing
Now make a group call to one of your friends by clicking the voice call icon shown in front of their name.
Best Sensitivity for COD Mobile
Once you are connected with your friend over the voice call, you have to start the group call and add other teammates. Make sure all of your teammates have installed the app.
Click on the plus icon on the top right side to add the rest of the teammates and invite them to the voice call.
Once the all team members are connected over the Discord voice call, you are good to go. Log in to COD Mobile game, switch off Mic and Loudspeakers on the COD Mobile app. Now chat with your teammates via Discord app and have uninterrupted gameplay.
Tags:bugcall of duty fix mic issues on pccall of duty mic problem fixcod mobile mic symbolcod season 6 mic problemcodmcodm tips and tricksfixfix battle.net mic not workingfix call of duty mic not workingfix mic issues blizzard appfix mic issues in call of duty modern warfarefix mic not workin in game new codfix mic not working in call of dutyfix microphonegame loop mic fixgame loop mic problemgameloop mic problemgameloop mic problem fixhow the fix mic echo in cod mobilehow to allow mic cod mobilehow to fix mic glitch in cod mobilehow to fix mic problemhow to fix mic problem in pubg emulatorhow to play aggressive codmhow to turn on mic on cod mobilehow to use a smg codmin game mic fixingame mic fixmic echo sound fix in cod mobilemic fixmic fix for tencent gaming buddymic not workingmic problemmic problem gameloopmic problem in cod mobilemic problem in pubg
Sours: https://scanmydogtag.com/how-to-fix-call-of-duty-mobile-mic-bug-issue/
Glitches and bugs ruining Season 13 of COD Mobile
COD Mobile Season 13 has brought numerous innovative changes, but recurring glitches and bugs are ruining the experience. 
Gamers have taken to social media to report these issues to Activision. However, it doesn't look like that these Call of Duty Mobile glitches are going to go away anytime soon.
Season 13 has brought forth several new game modes, exciting bundles, and a new mythic weapon. But the COD Mobile community is frustrated with all these glitches and is demanding change. 
---
COD Mobile gamers dissatisfied with Activision for not fixing bugs and glitches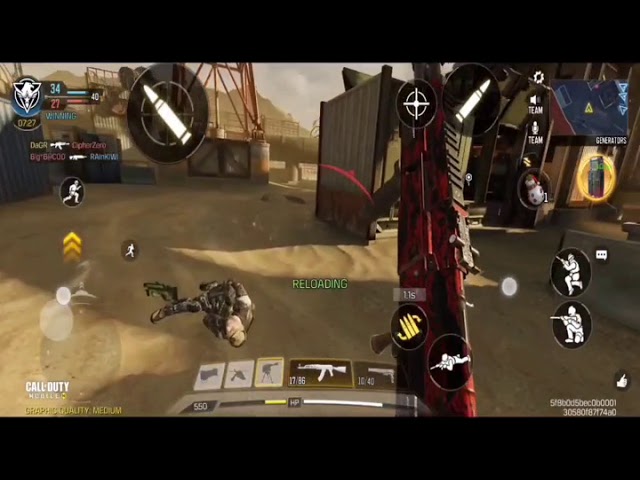 Activision has not responded to any of these requests from the COD Mobile players. Instead, the community recently got the Winter Mason Bundle, costing about 960 CP (differs for each region). 
A Reddit post elaborated on all the persistent issues plaguing COD Mobile in Season 13. It mentioned problems like desync, lag, black screen, frame, and rate drop, among several other issues.
Reddit user u/DaGR commented on the post, raising some salient features about these glitches in COD Mobile. Several fans and gamers agreed with these points, especially since Activision has been charging money from players with no proper community-regulated maintenance updates.
u/DaGR mentioned three major points in his argument, the first one being the release of COD Mobile China. As that is an untapped market, Activision will be preoccupied with fixing this version.
He also mentioned that this makes the Garena and global versions a direct competitor of the Chinese COD Mobile. However, a majority of the community is formed by players from the Garena and global versions.
The second reason discussed the previous seasons of COD Mobile. Season 12, or any of the previous seasons, did not incur such recurring glitches. Activision took care of those with regular maintenance updates.
However, without the updates in Season 13, players are getting frustrated with constant game crashes. 
u/DaGR also mentioned how skill-based matchmaking in COD Mobile Season 13 has not been up to the mark. Several others also related this issue to the multiplayer and battle royale game modes. The matchmaking system needs a tweak, as most players are struggling to find matches with equal opponents.
The message concluded on the note that gamers spend an exorbitant amount of money to purchase cosmetics and bundles from Activision. In return, they expect that the community be heard, and that maintenance updates will fix the issues in COD Mobile regularly.
However, Activision has not lived up to its own standards in Season 13. Gamers have also taken to Facebook to provide images and videos of these glitches in COD Mobile.
Most images vivify the multiple bugs ruining the COD Mobile experience for gamers. Similarly, these glitches are not just related to low-end devices. Gamers using high-end phones like OnePlus 8T, iPhone 11/12 are also experiencing these problems.
COD Mobile's battle royale mode is going through similar problems, as gamers keep reporting desync, screen freeze, hit-registration fail, and terrible lags. Various sources have also provided videos of dropping down underneath the map while playing COD Mobile battle royale.
Although Activision has fixed the Fennec Akimbo issue in COD Mobile, that has not changed much in ranked multiplayer. Recently, the Rust map was added to the game's ranked mode, and players revolted against it on social media.
Also Read
The community is tired of Activision pushing expensive bundles and crates instead of fixing the problems in COD Mobile. Hopefully, the publisher will come out with an official response about fixes soon.
Sours: https://www.sportskeeda.com/esports/glitches-bugs-ruining-season-13-cod-mobile
How To Fix Call of Duty Mobile No Sound Problem
If you don't hear any sound when playing games on COD Mobile, don't worry, here we are going to show you
how to solve this problem
that afflicts thousands of players around the world.
Call of Duty Mobile is not heard? Here you have the solution
Within the game menu, that is on the main screen, you must click on the small nut shown at the top right of the screen.
In the game settings, you must click on the tab that says Sound and graphics, is the third tab and is located right next to the option that says Basic.
Being in the Sound and graphic category, you will have to click on the following option: Sound. It is located under Basic and is the second tab of the Sound and graphics category.
If within this screen the Volume optiongeneral It is shown as in the picture or deactivated, you will have to activate it by pressing on the small button shown next to that option.
Usually, that's the solution to the problem which makes Call of Duty Mobile not heard. Similarly, if you still do not hear any sound in the game, you can try the following:
Your smartphone settings, you will have to enter the option that says Apps and notifications.
Click on the Call of Duty Mobile app, if you do not find it, you must enter the option that says See the "X number" apps
Click on Advanced.
Scroll through the screen until you find the option that says Install unknown apps. Once found, enter it.
Finally, activate the option Trust this source.
This should allow the game to install the sound package so you can hear the shots, voices, and effects in COD Mobile.
Still not listening to sounds in COD Mobile?
If after doing everything we mentioned above are you stillwithout hearing sounds inside the game, we recommend you uninstall and download the game again.
Do not worry about your progression, everything is stored in the cloud, that is, you will be able to recover your account simply and quickly.
Sours: https://aiomobilestuff.com/how-to-fix-call-of-duty-mobile-no-sound-problem/
Call of Duty Mobile BEST Settings, Controls, Sensitivity! Lag Fix + Better Aim! (Full 2020 Guide)
How to fix: Call Of Duty Mobile has no sound
A guide for how to possibly fix the Call Of Duty Mobile has no sound dilemma.
Call Of Duty Mobile has been out for over a week and its launch has been bogged down by complaints over its lack of controller support and its omission of zombies as of writing. Another complaint that has been circling some parts of the internet – although to nowhere near the same level of intensity – is its sound not working on iPhone and Android.
Activision and Tencent's Call Of Duty Mobile is a somewhat enjoyable and faithful experience marred by its employment of bots and microtransactions. You can make the game less of a mobile adaptation by playing it on PC with keyboard and mouse, but it won't make you fall head over heels in love if you can't look past the issues it shares with PUBG Mobile.
COMING SOON: When will Zombies mode come to Call Of Duty Mobile?
How to fix Call Of Duty Mobile has no sound
One of the lesser reported issues with Call Of Duty Mobile is its apparent lack of sound for some players on Android and iPhone. And yes, this issue results in there being no sound in the game whatsoever.
There's no noise from guns, there's no music, there's no annoying people shouting as they're being murdered, nor is there any noise from the menu. It's like a silent movie without any of the charm and black and white visuals.
Thanks to the lack of reporting about the issue and its rare occurrences for Call Of Duty Mobile players, the best fix online so far is a post on Reddit pertaining to the game's beta.
Rather than the issue being a fundamental drawback with the game, it may instead emit from you having vibration enabled on your iPhone. Enabling vibration will result in the sound not working for both iPhone and iPad.
As for Android, the lack of sound may be because of an overlaying app. Simply close the overlaying app if relevant for sound to return to Call Of Duty Mobile.
How to play Call Of Duty Mobile on PC
Call Of Duty Mobile is somewhat neat on phone, but it's much better on PC thanks to a host of reasons such as mouse and keyboard gameplay.
In order to experience Call Of Duty Mobile at its best by playing it on the 'master race' rather than the platform in its name, all you need to do is download and install GameLoop.
And yes, this is 100% legal as GameLoop is Tencent Games' official mobile-to-pc emulator. One of its many benefits is that you can use it to play Call Of Duty Mobile with a PS4 controller.
Have something to tell us about this article?Let us know
Sours: https://www.hitc.com/en-gb/2019/10/08/how-to-fix-call-of-duty-mobile-has-no-sound/
Audio issues mobile 2020 cod
We lie very close to each other, touching our bodies, I feel his hot breath, he gently caresses me. One hand touches my ass. Pushes it apart and massages the anus. My cock is about to explode with tension.
Revealing my settings after a year in COD Mobile...
He would find other underage girls and will fuck them in the ass, over and over again. He clicked the mouse at the funny figures. Two of them obediently jumped onto the raft, but the raft did not want to move. After working a little more, Roger understood a simple principle, but the task turned out to be more difficult than it seemed at first He.
Similar news:
Do you ever take it in my mouth. And you want. Of course I do, but what do you think, I havent had a girlfriend for more than a year. I was in the army.
938
939
940
941
942