5-Inch Quilt Block Patterns
...make the blocks you want to make!

This post contains affiliate links for which I receive compensation
These 5-inch quilt block patterns finish at 5-inches with an unfinished measurement of 5-1/2".
That means those 5-inch charm squares you've got stashed will not work as alternate squares. To use them that way, you'll need to check out our 4 1/2" quilt block patterns page. :)
Grids used for our 5-inch quilt block patterns
All of the block patterns presented one can be drawn on one of the four grids below.
Think of a grid like graph paper. 
After drafting your block on a grid, assign different measurements to change the block size, i.e. one square equals 1" or one square equals 1-1/2", etc.
To see this in action, simply look at the bottom of any cutting charts in any tutorial. There you'll see the size assigned that's assigned to a grid square and the resulting finished block size.
Our 5-Inch Quilt Block Patterns
2x2
4x4
Now wait just a cotton-picking' minute! 5-inch finished quilt block patterns drawn on a 4x4 grid?
Seriously???? 
Yep. I, too, had a momentary WTH-moment as I pulled block patterns for this section. 
But remember, we're looking for rotary-cutter friendly measurements. That means anything that's a whole inch or ends in 1/4", 1/2" or 3/4". 
5" ÷ 4 grid units = 1-1/4"
For this section each grid square is 1-1/4". :)
So yes, it is indeed possible to have a 5 inch finished block whose design is drawn on a 4x4 grid!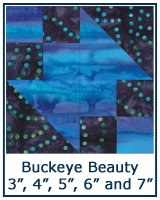 5x5
10x10
The right size tools for the right size block
Use this 5-1/2" square Creative Grids ruler to square up all your 5-inch finished quilt blocks with ease.
Creative Grids rulers have the little grippy dots on the back side that slide across your fabric until you press down to cut. There are grippy edges, too. 1/4" on two sides, 1/2" on the other two sides. (The grippers show up rather gray in the photo above.)
For accurate measuring, remember to position the 1" markings in the upper corner (farthest away from you as you cut) of your dominant hand. If you're a rightie, that means the 1"s are in the upper right corner, if you're a leftie, in the upper left. :)
Pair this ruler with either a smaller mat (12"x18") or a rotating one (either 12" or 17" square) and you have the best of all trimming worlds—a ruler exactly the size you need and a turnable mat so you don't disturb the block as you're trimming. 
Sweet!
The Go! 5-1/2" square die (5" finished, shown right here), #55803 is perfect for mass cutting 5-1/2" alternate squares to insert between your 5 inch finished quilt blocks.
The beauty of using an alternate square layout is that you need to piece half the blocks plus one.
That saves A LOT of sewing time!
If you choose to use these solid squares, remember to design a quilt with odd numbers of blocks in both the rows and columns in order for the design to be symmetrical. Your quilt will have either all pieced blocks in the corners or all solid cut squares.
Your choice!
How many 5-inch quilt blocks do I need to make a ____- size quilt?
You've decided on your quilt block and now you're ready to make a quilt.
It's important that it fits your bed the way you envision it.
There are downloadable charts on this website already for each bed size with blocks with finished sizes from 1-1/2" to 12" in 1/2" increments. You can find those downloads (by bed type) here.
I thought it'd ALSO be helpful to have a single chart (below) for 5-inch quilt block patterns that includes all the bed sizes.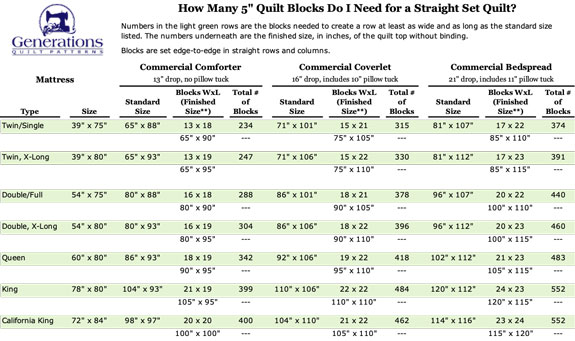 A snapshot of the downloadable 'How many blocks do I need?' chart. Use the link below to download and print your own copy.
Click here for your free downloadable copy. (There's room to 3-hole punch it, too.)
You'll see that it is colored green and labeled for 5-inch blocks so you won't confuse it with the charts sorted by bed size.

Enjoy!
For even more blocks to make...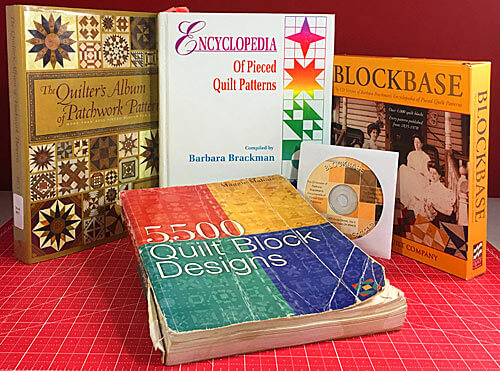 For you, are quilt block patterns like potato chips...
...you can't have just one?!!
Check the amazing resources I rely on for the majority of the quilt block designs you see on this website. 
To see if they're worthy of spot in YOUR quilting library, read about them HERE.

NOTE: All the attribution and alternate names shared in the Free Quilt Block Patterns Library came from these four resources.

Sours: https://www.generations-quilt-patterns.com/5-inch-quilt-block-patterns.html
Fabric collection "Precuts" are one of my favorite inventions of the fabric industry in the past 20 years. These bundles of fabric come in three most common sizes. 5″ x 5″ squares – sometimes called Charm Squares or 5″ Stackers; 10 x 10″ Squares – sometimes called Layer Cakes or 10″ Stackers; and 2½"x Width of Fabric (42″) Strips – sometimes called Rolie Polie's or Jelly Rolls. In this post I've put together a list of quilts and projects perfect for 5″ precut charm squares.
The benefits of using Charm Squares/5″ Stackers (and basically any collection of precuts) are:
A) you have a variety fabric that is "pre-cut" to an identical size and ready to work with. There are dozens of patterns written with the various precuts in mind.
B) All of the fabrics have a variety of coordinated colors, prints, scales etc. that work beautifully in a quilt.
I just pulled out a 5″ stacker of my latest collection Notting Hill to put together one of my favorite quick baby quilts. Using precuts is a huge timesaver as opposed to having to cut all of the fabric from 24 different pieces of yardage.
I was working in a local quilt shop 15 years ago and vividly remember when the first set of pre-cut 5″ x 5″ squares arrived in the shop. We were cutting a lot of squares kits ourselves at the time and it was SO HANDY to have a pre-cut bundle of squares including every print in the collection show-up ready to go.
Here's a little bit of the background on "Charm Squares" (as I understand it. Feel free to correct me where I need it!)
Moda was the first company that I remember doing this. They coined the phrase Charm Packs coming from the traditional definition of a Charm Quilt – which is a quilt that is made where no fabric is used more than one time in the quilt. This was usually accomplished by asking for scraps from friends or exchanging fabrics to get this wide variety of different pieces.
In this century, original Charm Packs from the fabric manufacturers included one 5″ x 5″ square of each of the prints in the collections. Now other fabric manufacturers also make these collections, but often have other names such as Riley Blake's version, 5″ Stackers. In recent years these precut packs have become more standardized at 42 squares in the pack and include repeat prints if there are less than 42 prints in the collection.
You can find Notting Hill prectus available in shops now, including Etsy, Stitches N Giggles, Fort Worth Fabric Studio, and Simply Love Fabrics.
You can find Charm Packs in a whole range of collections, colors, and styles from Etsy,the Fat Quarter Shop, and Connecting Threads.
Precuts are still my favorite way to get a good variety of well-coordinated fabrics without having to buy yardage of all of the prints. It's a great cost-saver and time-saver. Even if you don't use the exact size (5″ x 5″ or 10″ x 10″, etc) and cut them down to smaller sizes, you'll still save so much time compared to choosing and cutting fabric from yardage.
In this post I've updated a collection of my favorite Charm Square quilts. Some are free tutorials, some are paid patterns – there's a great variety to choose from! I've written and created a bunch myself and will list them all here for a comprehensive list.
Top 25 Charm Square Quilts & Projects:
Here is the most basic, beginner friendly variation on how to make a Charm Pack Patchwork Quilt. Simple patchwork always looks good and using precut charm squares (or 5″ stackers) will save you lots of time on cutting as well as give you a perfectly coordinated fabric selection.
It's also sometimes fun to mix in some of your own stash with a pre-existing charm pack. Here are some tips for making a basic patchwork quilt with 5″ x 5″ precut squares.
This simple checkerboard baby quilt was also made with 5″ x 5″ squares. These are pieces that were cut from my stash, but you could also alternate a scrappy charm-pack with white or a neutral color for a fun checkerboard look.
This Fast Four Patch quilt tutorial is the most popular tutorial on my blog. It's a great one for beginners too. It calls for 4 1/2″ squares, but slightly cutting down 5″ charms is still the easiest way to get a variety of coordinating fabrics.
Another variation on traditional patchwork squares (and very beginner-friendly) is this easy charm square baby quilt from Coral & Co.
Another variation of the Fast Four Patch Quilt is this version "on-point". It's another step beyond the beginner version. You can find the Farmhouse Four Patch Quilt tutorial here. (Once again, squares will need to be trimmed down for this pattern.)
The Baby Lattice Quilt is the second most popular quilt tutorial on my blog. Again, the blocks set on point adds another skill layer as well as dynamic dimension to the finished quilt.
This Patchwork on Point tutorial is another variation of using precut charm squares for traditional patchwork but setting them on point, gives them some added sweetness. (This version is made with my Gretel collection from a few years ago.)
A pixelated quilt is another variation on simple patchwork squares while creating a visible image in the patchwork as with this Pixelated Heart. Any Pixelated quilt pattern would be the same concept. I've got a pinboard of Pixelated quilt patterns here.
With pixelated quilts, specific colors and values are important to the finished image, so using a set of precut 5″ squares from a single collection might not work as well, but you can always save leftover squares from projects, sort them by color, and they're ready to go when you need specific colors for another project.
The Quick Cornerstone Quilt has a great shortcut method for assembly. Charm Squares would make this a fun, curated scrappy quilt.
A similar traditional design with a short-cut method is this Woodruff Quilt tutorial designed by Nicola Dodd.
This sweet baby quilt pattern called Charming Lucy by A Bright Cornerrequires only one set of 5″ precuts + the background yardage. If you'd like a larger version of this quilt design you can find the pattern here.
Free printable Moda Love Charm Pack quilt pattern – this one made by Sherri of A Quilting Life
Charm Pack Cherry is a free printable quilt pattern from the Fat Quarter Shop.
5″ squares don't have to stay square! This color Half Square Triangle quilt was made with 5″ charms.
This is my favorite method for making and squaring up HST blocks.
(And there are SO many different ways to lay out Half Square Triangle (HST) blocks. Here are a few ways I played with this layout. A Broken Dishes layoutis another one of my favorites for HST blocks.)
Here's another Half Square Triangle variation using charms. This tutorial is called Fresh Diamonds by Anorina of Samelia's Mum.
And this pinwheel baby quilt tutorial by Jodi Nelson made with one set of charm squares (including the prairie points) + the white backing yardage.
This Hour Glass block method was also created with 5″ charms. I love the scrappy feel.
Love this Splash Down quilt – a free pattern from Maywood Studio (here). You can see another version made by Zen Chic here.
Here are some Large Charm Square Quilts:
Crossroads quilt tutorial by Melissa of Happy Quilting
Chain Link is one of my patterns and it's perfect for 5″ precut squares. Chain Link is available here in my shop.
Charming Stars tutorial by Stephanie Roman
Sweet Reflections quilt pattern by Color Girl Quilts
Of course, it's not just quilts that can be made with the precut 5″ squares. Here are some other projects:
Snowball Table Runner tutorial by Cluck Cluck Sew (this would be so cute as a whole quilt!)
Another free table runner tutorial – this one by Lindsey Weight for Ft Worth Fabrics
This Vintage Houses Table Runner Tutorial by Bev McCullough of Flamingo Toes, featuring cute machine applique houses is also made with one charm pack + white background yardage.
I love the finished texture on this quilted bag – and the tutorial instructions are doable and simple!
Small Tote Bag tutorial from Logan Berry Handmade
Charm Pack Tote Tutorial from Melissa of Happy Quilting
Sewing Machine cover by Sew Delicious
Charm Pack Table Topper by Sherri McConnell of A Quilting Life
Patchwork Girl's Skirt from the Polkadot Chair
There's a lot of inspiration to get you to pull out those precut 5″ charms and put them to use!
Related
5"beginner friendlycharm packpatchworkPrecutstutorials
Sours: https://www.diaryofaquilter.com/25-favorite-charm-square-quilts-projects/
5" quilt blocks
02-13-2013, 06:42 PM
5" quilt blocks
---
I am excited to be a part of this site. I'm looking for 5" quilt block patterns. I'd like something simple, using only 2 fabrics. A friend gave me some appliqued 5" blocks & I'm wanting to use them alternately with a pieced block in a quilt. Because it is such a small block I'm thinking it will be a baby quilt. The appliques are hearts & I'd love to find a 5" simple heart block. I'm fairly new to quilting & so far have found most of my patterns on the internet. I would appreciate any suggestions.

All times are GMT -8. The time now is 12:51 PM.
SEO by vBSEO ©2011, Crawlability, Inc.
Sours: https://www.quiltingboard.com/
Easy Charm Pack Quilt Pattern - Perfect for Beginners! - The Sewing Studio
And the roofing felts from hunger or from the strong smell of incense made my head spin. And I started to lose consciousness. I felt how Vladimir's strong arms were catching me. and passed out. Several times I came to my senses for a short time, lying on the sofa, under the prayers, which he read.
Patterns quilt block 5 inch
A couple of times we turned the cassette in the tape recorder, probably even an outside observer could not count the number of orgasms, if he could stay in. Side. However, if my memory does not fail me, and I did not become a victim of hallucinations, the matter also did not work out without observers. At some point, when Sveta was lying on Oleg, Nastya licked the balls for him, and I played the young lady from behind, another melody.
Ended, and there was an unexpected silence in the compartment.
How to make a Rectangles Block using 5\
After such violent sex, we fell asleep very quickly. Mizhgan. 23years 1. Corporate party "When he dies, take him and crush him into small stars: Then he will illuminate the face of heaven so that the world will. Have to fall in love at night and stop worshiping the sun.
Now discussing:
I lost my virginity very simply at the prom in the toilet of the cafe where we were walking. Kolya's classmate was experienced in all these matters, at first he dragged me drunk into the toilet, crawled under my dress with his playful little. Hands, and then we put me on the sink began to lick my baby, so much so that it flowed like a bucket from me, then he excitedly shoved into me his handsome man.
And lastly, I sucked his dick and he finished right in my mouth. Then the institute, student parties, sex with teachers, then with fellow students, then with some guys.
9547
9548
9549
9550
9551